Day 3 of the TCA Press Tour continued with the CBS family of networks, offering us a split day between Showtime and The CW…and if I'm to be honest, my enthusiasm was decidedly higher for the former. I've made this comment before, but The CW so unabashedly caters to an audience that's far younger and prettier than myself (or, really, almost anyone I interact with on a regular basis) that it's hard for me to get but so excited about their shows…but, of course, that doesn't mean I won't be reporting on them, anyway. First up, though, is Showtime, which I am excited about. Seriously, it's reached the point where I'm pretty sure I prefer Showtime to HBO.
There, I said it…and it feels good.
• Showtime Introductory Remarks
Matthew C. Blank, Chairman and Chief Executive Officer of Showtime, took the stage to welcome the assembled throng, then launched immediately into a series of announcements and remarks, including the following: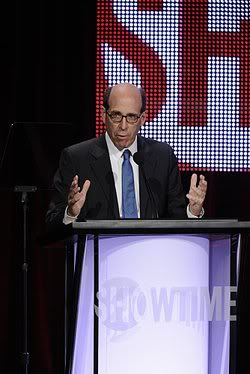 "Weeds" guest stars: Richard Dreyfuss, Alanis Morrissette, Jennifer Jason-Leigh, Mark Paul Gosselaar, Peter Stormare, and Linda Hamilton.
"Dexter" guest stars: Julia Stiles, Peter Weller, Maria Doyle Kennedy, Shawn Hatosy, and Jonny Lee Miller.
"Californication" guest stars: Carla Gugino, Rob Lowe, Tommy Lee, Zoe Kravitz, Michael Ealy, and Callie Thorne.
Liam Neeson will be joining his former "Kinsey" co-star Laura Linney for an episode of her new Showtime series, "The Big C." Also guesting on the show: Cynthia Nixon and Idris Elba.
The network has committed to ten episodes of "Web Therapy," a comedy developed by and starring Lisa Kudrow.
"Nurse Jackie" and "United States of Tara" will be both be returning for third seasons, as will "Secret Diary of a Call Girl" for Season 4.
Producer John Wells is premiering his new Showtime series, "Shameless," starring William H. Macy and Emmy Rossum, on January 9th. Also coming in 2011 is "The Borgias," starring Jeremy Irons and created and executive-produced by Neil Jordan, who's directing the series' first two episodes as well. The trailer for "Shameless" looks like the start of another great dysfunctional-family drama for Showtime, and…well, actually, I guess you could say the same of "The Borgias," although they haven't really filmed enough of it yet for us to get much of a feel for it. Most of what we were shown was interview clips with Irons and Jordan and footage from the photo sessions for the series, so all I can really confirm is that it looks awesome…but, then, what else would you expect from the network that brought you the gorgeousness of "The Tudors"?