Day 3 of the TCA Press Tour continued with the CBS family of networks, offering us a split day between Showtime and The CW…and if I'm to be honest, my enthusiasm was decidedly higher for the former. I've made this comment before, but The CW so unabashedly caters to an audience that's far younger and prettier than myself (or, really, almost anyone I interact with on a regular basis) that it's hard for me to get but so excited about their shows…but, of course, that doesn't mean I won't be reporting on them, anyway. First up, though, is Showtime, which I am excited about. Seriously, it's reached the point where I'm pretty sure I prefer Showtime to HBO.
There, I said it…and it feels good.
• Showtime Introductory Remarks
Matthew C. Blank, Chairman and Chief Executive Officer of Showtime, took the stage to welcome the assembled throng, then launched immediately into a series of announcements and remarks, including the following: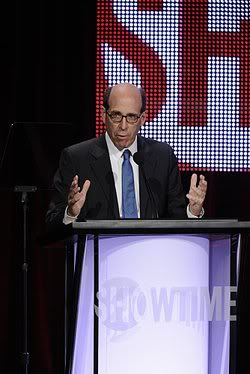 "Weeds" guest stars: Richard Dreyfuss, Alanis Morrissette, Jennifer Jason-Leigh, Mark Paul Gosselaar, Peter Stormare, and Linda Hamilton.
"Dexter" guest stars: Julia Stiles, Peter Weller, Maria Doyle Kennedy, Shawn Hatosy, and Jonny Lee Miller.
"Californication" guest stars: Carla Gugino, Rob Lowe, Tommy Lee, Zoe Kravitz, Michael Ealy, and Callie Thorne.
Liam Neeson will be joining his former "Kinsey" co-star Laura Linney for an episode of her new Showtime series, "The Big C." Also guesting on the show: Cynthia Nixon and Idris Elba.
The network has committed to ten episodes of "Web Therapy," a comedy developed by and starring Lisa Kudrow.
"Nurse Jackie" and "United States of Tara" will be both be returning for third seasons, as will "Secret Diary of a Call Girl" for Season 4.
Producer John Wells is premiering his new Showtime series, "Shameless," starring William H. Macy and Emmy Rossum, on January 9th. Also coming in 2011 is "The Borgias," starring Jeremy Irons and created and executive-produced by Neil Jordan, who's directing the series' first two episodes as well. The trailer for "Shameless" looks like the start of another great dysfunctional-family drama for Showtime, and…well, actually, I guess you could say the same of "The Borgias," although they haven't really filmed enough of it yet for us to get much of a feel for it. Most of what we were shown was interview clips with Irons and Jordan and footage from the photo sessions for the series, so all I can really confirm is that it looks awesome…but, then, what else would you expect from the network that brought you the gorgeousness of "The Tudors"?
• The Big C
If Showtime can take a person suffering from a multiple-personality disorder and make a sitcom out of their situation, then it should come as no surprise that they'd be willing to take on the challenge of making cancer funny, but when you see "The Big C," you'll discover that laughter is only one of the things you'll experience while watching the show. As you might expect, much of the humor within the series is of the "you've got to laugh to keep from crying" variety, but let's face it: life is funny, and if you don't try to find the funny in everything, you'll have a really depressing ride ahead of you.
"I had had a conversation with a network executive about what they were looking for and what they wanted to buy, and the response had been, 'We want something that's relatable,'" said executive producer Darlene Hunt. "At the time, I had a couple of friends who were battling cancer, and it occurred to me that I didn't know anybody who wasn't battling cancer who wasn't doing it with a sense of humor. And so I, in trying to find something I could sell that people would want to watch and would respond to, that was kind of what we talked about."
The show stars Laura Linney as Cathy Jamison, a woman who has just received the diagnosis that changes her life and, at the same time, makes her realize how much shorter that life has suddenly become.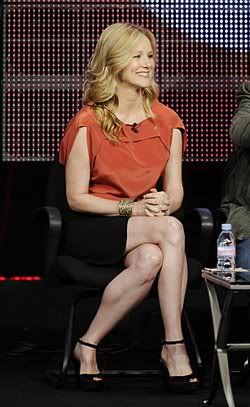 "When this script came to me," said Linney, "what hit me the most was the theme of time and what do you do with time, what are the choices that we make, how we spend our time, the fact that we all have a limited amount and that it's a privilege to grow old. That's something that I think a lot of people have forgotten in this very fast-paced world where youth is overly celebrated, so it was meaningful to me. It was more what the whole story was about than just the wonderful character that's there. Clearly, I thought was something that I could spend some time with and would be challenged by, but more than anything else, it's more, for me, about time."
In addition to starring the show, Linney will also be serving as one of its executive producers, but she laughed when asked what this title means. "What it has allowed me to do is that I don't have to keep my mouth shut if there's something that I see (or) if there's an idea that I have," she said. "We also sort of have our areas that we have more involvement in. Mine deals much more with the atmosphere on the set and how things function day to day."
"The thing you need to know about Laura is she really is executive-producing." said Linney's fellow executive producer, Jenny Bicks. "I mean, this is an actress who is showing up for concept meetings and production meetings long before her call. She's being humble, but she wears many hats, and she wears them very well. She's a good hat-wearer."
When a show's central character has been diagnosed with terminal cancer, you can be forgiven for wondering just how long the series can possibly go on, but you probably also won't be surprised to learn that this is something the producers have already considered.
"Every season is a season," explained creator Vivian Cannon. "In the pilot episode, it's the first day of summer. So the first season of the show would be summer, the following would be autumn, and so on."
As far as how long Cathy can be expected to live, "I think the thing that we wanted to do going in was just be truthful about the disease," said Bicks. "The thing about melanoma – she's at Stage 4 melanoma – there's a truth to how long, generally, you will live, but at the same time, there's a huge amount of research coming out, a huge amount of clinical trials, which has kept us busy, making sure our research is up to date. We don't think in terms of when or if are we going to kill her because it's much more about the exploration of what she's going to be doing while she's alive. It honestly really is that. But if it comes time that she goes, she goes. We are not going to be afraid of that. And the nice thing about doing it on Showtime is that we don't have to sugarcoat the situation that she's in."
I was originally going to wrap up my discussion of "The C Word" with a comment from Hunt about how the show shouldn't necessarily be the go-to place for those who have just been diagnosed with cancer and are looking for how to proceed, but I think it's much more appropriate to close with a trifecta of observations which emerged from the panel as a result of someone asking Linney what advice her character would give to someone who had just been diagnosed with cancer. I think you'll agree that the comments reveal that this is a show written, produced, and starring folks who are treating their subject appropriately: with respect, intelligence, and, yes, a sense of humor.
"I don't think (Cathy) would give any advice," said Linney. "I don't think she'd give any advice at all. She's pretty self-consumed at the moment, and I don't think she would dare take anyone's advice. But she's learning from experience. She's learning from the mistakes that she makes. She's learning from the actions that she does that are positive. And more than trying to have a bucket list, I think she's trying to figure out who she wants to be more than what she wants to do. Although what she wants to do is certainly part of it, there's a lot of fun stuff that she does do because there's a sense of liberation in a way…which is so odd. When you're dying, you're sort of liberated to do what you want to do. You give yourself permission. So I don't think she would dare to (give advice). I think everyone's experience with a terminal disease is so deeply personal and so deeply unique to the person and the context in which they're living and the relationships that they have."
"We wanted to kind of turn some expectations on its ear a little bit," said Hunt. "You know, there's a lot of support groups, and there might be a handbook for if you get diagnosed, some places to go, some advice, some books to read, but I think some things that we wanted to explore is what would be, like, a knee-jerk reaction to just wanting to feel good and live life differently and on your own terms and…things that weren't maybe typical."
"I think the key is, she's not the pinup child for how one goes about dealing with cancer," said Bicks. "She's one woman in one place in time dealing with this specific kind of cancer and this is how she's doing it. I don't think we set out to try to deliver lessons on how to do it, except maybe…I would hope that people watching it at least will feel like, you know, don't wait until you get cancer to make yourself happy.
"I am the affirmative action cancer survivor of this group," Bicks continued, "and I'm sure many of you have been through it or know people who have been through it, and there isn't one way that you go through it. I think that's the most important thing. You're going to have very odd reactions, very funny reactions, and tragic reactions. It's all part of life."
Is your curiosity piqued? Well, this is your lucky day: Showtime has made the first episode of "The C Word" available to everyone…yes, even you, sir…for advance viewing. Check it out, and let me know what you think!
• The Real L Word
There's no point in – if you'll pardon the expression – beating around the bush on the matter of "The Real L Word": I don't tend to watch reality shows, and the only reason that I'd find myself watching this one is that I'm a straight male, and everyone knows that most straight males are – if you'll pardon the word – titillated by lesbians. Throw in the fact that the first season of the show is only a few weeks from wrapping up, and there's really only one thing from the panel that needs to be addressed: are we ever going to see the kind of nudity on this show that we saw on the original "L Word"?
"You should check out this Sunday's episode," said executive producer Jane Lipsitz.
"I think Episode 7 is going to make up for the whole entire 1 through 6 not having that shock value," said Rose Garcia. "Without giving away too much, it's probably going to be…well, there's only one word: epic. That's all I can say."
"Honestly, Episode 7 really, I think, was pioneering on many levels," said Whitney Mixter. "The thing is, in terms of nudity, I think we had different boundaries. I know for myself when I went into it, I said, 'If I'm going to do it, I'm going to go in a hundred percent, just, like, balls to the wall,' for lack of better phrasing. And I said I wasn't going to close the door, whether it was the kitchen, bathroom, or bedroom. It was just basically, for me, about whether my…well, the partner I was with at the time was comfortable, because we are consenting adults. I'm very, like, sex-positive, comfortable with my body. And I think it's time for women to really, like, own that and step up to the plate. Men have been doing it for years. So I think that with my storyline, you'll see several sexual situations and some nudity throughout the season, but it definitely increases in the next three episodes."
"In other words," said Nikki Weiss, "if you have not watched anything, this would be the one."
• Dexter
Even if you weren't watching "Dexter" last season – and, unfortunately, I have to admit that I wasn't, though I have really good intentions about catching up soon – it's still very possible that you might've heard the rumble about John Lithgow's Golden Globe winning performance as Arthur Mitchell, a.k.a. the Trinity Killer. And the season finale…? Viewers are still talking about it, and ever since it aired, they've been chomping at the bit to find out where Dexter's path will take him now that the love of his life is dead.
To get at least a little bit of insight into what we can expect, let's start by looking at the trailer that Showtime has released to get folks jazzed for the new season:
I'll tell you, man, that makes me want to throw aside all of the TCA stuff I've got on my plate and just watch "Dexter" for the next few days…but since that's not an option, I'll go ahead and offer up a few highlights from the panel.
Although that trailer would have you think that Seasons 4 and 5 were conceived jointly, they actually weren't. "We rarely go beyond one year, because that has to have a season-long arc that has its own story from start to finish," said executive producer Sara Colleton. "But when we got to the end of Season 4 and after the finale, it very quickly became clear to us what Season 5 had to be about. We felt we needed to start the season right where we left off so that the audience would participate in seeing Dexter deal with the blow-back for his culpability in Rita's death. To cheat that would be to cheat our audience."
It may not surprise you, however, that no one amongst the cast was particularly forthcoming with details about what we might expect to see in Season 5.
When asked if Vince Masuka's off-the-job interests and DVD collection might result in him figuring things out than others might not, C.S. Lee offered the kind of answer that revealed nothing but his own optimism, saying, "I certainly think it's a possibility. You know, he works in close proximity with Dexter, and we share labs. That certainly can happen. You know, I certainly hope he doesn't get too close to that. He will have to be the next one to go!"
When Jennifer Carpenter was asked where her character, Debra, would be going this season, she would only say, "She's going to work. You know, she's literally going to work, hiding there, being seen there."
Not much to work with, right? Fortunately, the show's executive producers were willing to offer up at least a little bit more information.
Chip Johannssen tackled the matter of how the police are once again taking a long, hard look at Dexter this year. "Obviously, from the clip, it's going to be spearheaded by Quinn in some form," he confirmed, "and it's really going to look a lot different because, first of all, he's going to have more actual information. He's not going to be this bull in a china shop thing just going after Dexter. And the other thing is, because he isn't the bull in a china shop, this sort of outsider in the bull pen, Quinn has, you know, found a home there, which is one of the nice things about this show, I think, that there's this kind of work environment that feels very family-like. He's going to have a much, much more difficult time eventually pushing forward with this investigation as kind of the personal relationships around him weigh on him. So it's going to look a lot different."
We were also able to get at least a tiny bit of insight into what we can expect from three of the season's most notable guest stars, Peter Weller, Julia Stiles, and Jonny Lee Miller.
"Peter Weller is going to be a big problem for Dexter, especially in the back parlor," said Johannssen. "We called (the character) Weller when we originally conceived him, and then we had to change the name once we got the guy we had actually wanted. So he's kind of an ex-cop, a kind of cocaine, cowboy-era guy who gets into some trouble with the corruption thing and ends up kind of posing a problem for Dexter.
"We are taking a break this year from what has been the way we've plotted out our seasons in the past four years, which is to have one, sort of, season-long adversary for Dexter," said Colleton. "And we thought this was the perfect year, because of what Dexter has gone through, to take a break from that. And so, as he's going through different stages of his grief, really, even though, for Dexter, it's completely unarticulated and it's a range of human emotion that he doesn't know what he's feeling, but as he goes through different stages, there will be different characters who will come in, who will interact. And so, as the season progresses, some of these characters interlock, but it's a very — the through line is, this year, Dexter's atonement, and different people help him along the way in different capacities. And that's why we have a very interesting array of new actors.
"We have an ensemble this year with Jonny Lee Miller and Julia Stiles and others that help illuminate what Sara is talking about, which is this discovery of atonement," said executive producer John Goldwyn.
"Yeah, one of the things we wanted to do this year was shake up that single big bad, especially in the wake of John Lithgow, and it did seem like the thing to do was try to top the baroque serial killer thing," said Johannssen. "Also, given where Dexter was coming from, it does become a series about atonement. He's not a character who experiences guilt or grief like any of us would, so it's not his intention starting out, but the season kind of becomes about this as he slides into it. As Michael (C. Hall) sometimes says, he trips into it, this kind of oddly human experience, at a time where he just feels that everything that he has done that had to do with connecting with humanity has melted down in this horrible, horrible way. The last thing he wants to do is be involved with people, and yet part of the amazing thing about this character, who is so outside of everybody and so alienated, is that he keeps trying to claw his way back in. In the wake of Rita's death, you see that over the course, really, of the whole season."
• Episodes
Hey, everybody, Matt LeBlanc's back!
Those of you who just made cricket sounds should be ashamed of yourselves. If you'd been on "Friends" and hadn't had much luck making the move to films, you would've jumped at the chance to spin off your character into his own sitcom, too. Besides, it's not LeBlanc's fault that "Joey" kinda sorta sucked, y'know? For my money, the guy deserves another shot at success…and, frankly, I've been excited at the prospect of seeing his new Showtime series, "Episodes," ever since the network released this promo in conjunction with the last TCA tour:
Funny stuff, right? Mind you, it's only a promotional trailer and won't actually be part of the show, but it's still a good look into the sensibilities of the series, which will finally make its debut in a few months. To keep us enthused, we were provided with a couple of scripts and shown a few clips from what they've filmed thus far, and I have to tell you: I'm very psyched. If you want to call LeBlanc a one-note comedic actor, fair enough, but if that's the case…well, what can I say? I never fail to laugh at that one note.
LeBlanc certainly seems to be happy about being back…as well he should, since he hasn't really done much of anything since "Joey" left the air in 2006.
"There were a few network shows that came and went that crossed my desk and I said no to," said LeBlanc. "You know, 12 years, every day, was a lot. It was a great time, but I wanted to take some time off and spend time with my daughter and just sort of take some time away from the business. It's nice to be back now in something with writing that I have real faith in, with a cast that's really talented, and it was a lot of fun.
"I got a call from Jeffrey (Klarik) and David (Crane), and they said, 'What are you doing?' I said, 'Just hanging out. Nothing.' And they said, 'We have an idea. Let's get together.' So I met them for lunch, and they pitched me the idea, and I committed right there at the table. It's been a real joy to have them on set every day. There was no writing staff on this. David and Jeffrey wrote all of them by themselves in advance. So when we got to shooting, unlike episodic television, where the writers are off in a room with a staff breaking episodes, they were on set every frame that we shot. And it really helped to give life to the voices that they created, and it was a real joy. I think everybody really enjoyed that.
"It was a little different," LeBlanc admitted. "This is single camera versus multi camera in front of an audience, so when the punch lines came up and you say the punch line and there's no crowd laughing, it's a little unnerving. But aside from that, I think we had a really good time, and I think it shows."
The premise of "Episodes" revolves around a married couple who are forced to endure the process of taking the popular British sitcom that they've created and turning it into an American sitcom, but executive writer Jimmy Mulville assured us that the series will not have as much of an industry-insider feel as its concept might imply.
"I think what happens to the couple is it's not about television," said Mulville. "This whole thing is about a triangle. Beverly and Sean come to Hollywood. He wants to go there. She's reluctant, but she loves him. So she goes, and they try and make this work. Enter Matt LeBlanc. There the triangle is formed, and it's about that, really. It's about a comedy about these three people and the brilliant characters very beautifully drawn at the network, and they all conspires to make a mess of these people's lives. So a marriage goes through a real crisis, and the backdrop is this crazy world of network TV, which apparently Jeffrey (Klarik) and David (Crane) know quite well."
"It's sort of about show business like 'I Love Lucy' was about show business, you know?" said Klarik. "I mean, it's really on the periphery of all of our stories. The story's really about the three of them and their dynamic."
"And hopefully that's what the audience will invest in," said Crane, "It's really about what happens between the people."
• CW Executive Session
And so we enter the realm of The CW, beginning with a few introductory remarks from Paul McGuire, the man who handles publicity for the network. McGuire offered up his Top Ten Favorite Moments in TCA History, but there are so many inside jokes within the list that there's no point in sharing all of them. Still, there are a couple worth mentioning…
10. Music impresario Ron Fair is the first panelist in press tour history to reference Jean-Paul Sartre…and during the infamous Pussycat Dolls session, no less. Critics are unswayed by the show's clear female empowerment theme.
8. Two words: "Shasta McNasty." Come to think of it, two more words: "Desmond Pfeiffer."
6. At the NBC panel for miniseries "The '60s," original hippie Wavy Gravy nods off and audibly snores. If you remember it, you weren't there.
1. Indefatigable reporter Joe Adalian, does a Tommy Lee Jones, chasing the Fugitive…in this case, Jamie Tarses…down a swank hallway of the Pasadena Ritz-Carlton, followed by the biggest gaggle in press tour history. ABC executive sessions: once exciting, always exciting.
Actually, that last one was pretty much just for the TV geeks…but if you know who Jamie Tarses is, trust me, it's a riot.
After a few words from Paul Hewitt, it was time for the executive session from Dawn Ostroff, the network's President of Entertainment, who offered up the following tidbits of information:
The fifteenth cycle of "America's Top Model" is going to be focusing on the high fashion world. "We have models, designers, judges, and photographers who are all very respected in the high fashion world," said Ostroff, "and our prize for the fifteen cycle is going to be the cover of Italian Vogue, which is considered to be the most influential magazine in the world for the fashion business."
The first few episodes of the new season of "Gossip Girl" were filmed in France. We saw some footage, and it looks like the usual cheese but with an international flair…and by calling it "cheese," I'm trying to hide the fact that, although I almost never watch it when it actually airs, I invariably devour the "Gossip Girl" full-season DVD sets whenever they're released.
Fans should not be concerned about the changes that are going on behind the scenes of "Supernatural." "Eric Kripke, who has been a fantastic creator/executive producer of the show, felt that the show really should go on, that he still had more stories to tell," said Ostroff. "Sera Gamble, who has been a number two on the show for a while, was eager to kind of step up and take on the role of executive producer. While Eric is still involved on a day-to-day basis, Sera is really running the show. And Bob Singer, of course, is there. He's been there all along as well. When they came in and pitched us ideas for the season, we were really excited about the direction that they wanted to go in, a bit of a throwback going back to the first season, a bit of a switch in the characters where Sam is a little bit more like Dean and Dean is going to be a little bit more like Sam. But they had some innovative ways to approach the season. We all thought it probably will be maybe even stronger than last year. So we are excited that the show will be back.
"I don't know if you saw the show in the first season," Ostroff continued, "but it was pretty much they were hunting something different every single week, and they're going to go back to that format. The one twist aside from the guy's personalities kind of changing a bit is that their mother's side of the family is going to turn out to be hunters also, and so there'll be some storylines involving their mom's side of the family. I think we're all feeling really enthusiastic about 'Supernatural.' Everybody on the show still feels that there's a lot of juice left in the characters, and we hope it goes on for more seasons, for sure."
The door has been left open for Michael Rosenbaum to return and reprise the role of Lex Luthor. "We have left the door open, we hope that he will come back, but we don't know if that will happen, but we've certainly left the door open," said Ostroff. "They do have the entire season planned out, and I think it's going to be a really thrilling last season for them. I know that a lot of the actors and the writers…I mean, everybody feels this sense of wanting to give the audience a really fulfilling season finale, and so I think it won't disappoint. The big villain this year is going to be Darkseid, and I can tell you that they're going to have Brainiac back. They're going to have Supergirl back. They're going to have Hawkman back. So they've got a lot of interesting surprises."
(Ostroff also acknowledged that talks have begun to see if there are other possible DC Comics properties to adapt. "We haven't picked anything up to develop yet, but we would love to see something on the air, so we're going to work on it.")
And, lastly, The CW currently only has one show set to premiere at mid-season. It's a reality show called "Shedding for the Wedding." I don't think you really need to know any more about it than that.
• Nikita
Oh, sure, you've seen "Nikita" before, both as a movie and as a series on the USA Network. But have you really seen "Nikita"? Apparently not, according to executive producer Craig Silverstein, who has – along with fellow producer McG – done his best to make the "La Femme Nikita" concept fresh.
"Warner Bros. had that title ('Nikita'), and, you know, my first thought was that I love 'Nikita,'" said Silverstein. "I love all those iterations of it. My second thought was, 'It's been done.' Could it be done fresh? Could we have a take where you didn't know how this story was going to end? And that's when I came upon the idea of following Nikita after she had left the agency which is a chapter that's never been told, and at the same time doing justice to the origin story of Nikita, that dark fairy tale of taking a girl and changing her life, changing her identity, and the kind of 'My Fair Lady' aspect, the 'Pygmalion' aspect of transforming her into a killer, a beautiful killer and giving her etiquette lessons and all that stuff. We're doing that with the character of Alex. So you're kind of following Nikita. You're also following Alex, who is not Nikita. So you don't know which way this girl is going to go. You don't know how the story is going to end. So it's not a rehash."
"Also, I think we're all very excited about the notion of empowered female characters, and we like those shows," said McG. "And you meet someone like Maggie Q, and you can hear it just in the first couple of questions she answered, she's a very extraordinary talent. You meet someone like that, you get excited about the notion of a show like this being on the air, and I have very fond memories of those shows. From my experience with 'Charlie's Angels,' on down, it's just I like the idea of empowered female characters that don't apologize for being beautiful, but are very, very intelligent and multi-dimensional, and I think Maggie nails that voicing."
• Hellcats
After I watched the pilot for "Hellcats," I immediately went to Facebook and indicated that, although I wanted to embrace the cheesiness of the show, I ultimately found it so ridiculous that the only thing I could find to latch onto were the cheerleaders…and that just made me feel old and lecherous. While watching the preview for the show that was played before its TCA panel, though, I was surprised to find that my reaction had softened somewhat: I still don't think it's great, but damned if the clips didn't make me smile. Also, as a father, it would be disingenuous for me to pretend that I don't sympathize with the idea of somebody's daughter struggling to pay for their college education and having to fall back on a cheerleading scholarship in order to get to law school.
In short, it's still not really my cup of tea, but I'm starting to be more appreciative of where they're coming from.
One of the other critics tried to paint the show as an anti-"Glee," with cheerleaders coming across more as heroes than villains, but executive producer Kevin Murphy seemed mystified at the suggestion.
"If there's any sort of antecedent to this," he said, "it goes back to those, like, awesome aspirational sports movies from the late '70s and the early '80s, like 'Breaking Away' or 'Vision Quest' or 'Flashdance.' It's really about finding characters who are in difficult circumstances, often economic circumstances, who kind of come together, and they form these relationships that happen in sports teams, where sort of a de facto family is found and built. This is a show for either optimists or people who are interested in learning the trade. I think the catch phrase for Ashley (Tisdale's) character is 'Positive outcomes only.' So I would hesitate to say anything is anti on this show."
Murphy was, however, willing to accept the premise that "Hellcats" is to dancing what "Glee" is to singing.
"Yeah, I think that, absolutely, the dancing is a huge component of the show," he said, "but it exists very much with one foot in the world of the characters, because I think that nobody is going to tune in to the show to watch the awesome three minutes of dancing that we are going to provide. They are going to tune in because they really care about what's going on with Marti and her law career and what's going on with the relationship between the two central girls and the family relationships. That's really, I think, where the sweet spot where the show lives. I would never have the temerity to try to compete with 'Glee' in terms of razzle dazzle and music things and, you know, all of that. They've got that territory pretty well staked out."
As far as the casting process for Savannah, played by Ashley Tisdale, and Marti, played by Alyson Michalka, Murphy seemed pretty amused when telling the story about how they came into their roles.
"For Ashley, when she came in, I laughed my ass off, and I wanted to get up and hug her at the same time," he said. "I think that Ashley is an actress who can sort of hold multiple colors in the same palette, and the thing that's really wonderful about her take on Savannah is that she can be chirpy and annoying as a character, and at the same time, she's so irresistible that you just…you want to hang out with her and be her friend. And as far as Aly…it was just a long and arduous process finding Marti. I don't know if you realize this, but when you actually walked out of the room, I just had one of those moments that you only see in, like, MGM musicals. I was, like, 'Okay, well, that was Marti!' That was the only time I had met her until we had callbacks, and there just never was anyone else. It's like that mixture of sort of determination and grit and assertiveness and vulnerability. Again, it's a case where there's so much going on. I'm being kind of goofy about it, but…I'm so lucky to have both of you."
I could go on about "Hellcats," but I don't know that there's any point, really. It's a show about cheerleaders. You'll watch it or you won't. But if you feel like you need more details from the panel, let me know, and I'm sure I can oblige.
• Gossip Girl
As I indicated above, I'm kind of a closet "Gossip Girl" fan: I don't care enough about it to watch it only a week basis, but I'm the first to devour it when it hits DVD, so, basically, I won't be watching Season 4 'til sometime next summer. For better or worse, though, the presence of Ed Westwick on the panel kind of answers a question left unanswered in the Season 3 finale…or, as Paul Hewitt put it, "Spoiler alert: Chuck Bass lives!"
Westwick offered no details about how Chuck managed to escape certain death, but he did provide insight into the experience of shooting the first episodes of Season 4 on location in Paris…and how insane the French fans were.
"It was pretty crazy," he said. "But they were parked outside our hotel most days, so I was holed up watching the remaining games of the World Cup semifinals from the comfort of my hotel. It was absolutely nuts, but the show of support was fantastic down there. Everyone was great, so it was amazing. Good times."
Thankfully, executive producer Josh Schwartz was willing to give up a little bit of info about Chuck's fate. "Well, obviously, where we left Chuck at the end of last season was in a pretty dramatic place," he said. "And, you know, reconnecting with that character and where Blair's head is at regarding Chuck. And, obviously, you know, there are some photos that have been circling through it in the promos where you see them in a French location seeing each other, and that very act in itself will have explosive consequences for the rest of the season as well as introducing Clemence's character."
That would be Clemence Poecy, if you're wondering, and she's made quite an impression on the cast already. "I was just absolutely blown away by Clemence," said Westwick. "I think she's absolutely fantastic. I had to, like, catch myself in moments in the scene and remember how much you're supposed to be acting. She was really, really great, so, you know, another great dynamic to bring to the team.
"And a really fresh, different energy for our show," added executive producer Stephanie Savage.
"Yeah, definitely," agreed Westwick.
So what can we expect from "Gossip Girl" after the gang gets back from Paris?
"We're doing Fashion's Night Out," said executive producer Joshua Savran. "It's an event that we're doing in the third episode. We are sort of dealing with that in multiple episodes, the planning of it, the people that are involved with it on the New York side, which is a really fun, great event in New York City that happens in September that our characters of our world can really fit in."
"And we've had incredible participation and cooperation from Vogue magazine and all of the people who are really creating Fashion's Night Out, having cameos on our show, bringing models in," said executive producer Stephanie Savage. "We shot in Diane von Furstenberg's store, and she showed up."
"She was great," agreed Savran. "It's just been really fun. It's one of the things I most love about 'Gossip Girl' is the events every week and sort of just dreaming up new events and new places for the characters to go. And I think we have a lot of great ones coming up."
"Katie Cassidy has a big, nice, juicy arc this season that I think is going to be a lot of fun and raise a lot of trouble," said executive producer Josh Schwartz. "It's always good to have a character who can come in and turn everybody on their heads and stir the pot."
Now that "Mercy" has been canceled, we'll be seeing more of Michelle Trachtenberg…and we do mean that literally, based on the shot of Georgina Sparks that we saw in the preview trailer. (If you're not taking the hint, she appears to be with child.) Taylor Momsen will also be returning, though the producers are loathe to give out any details about her return, aside from the fact that it will likely take place at some point during the first half of the season.
"We want to keep it a little bit up in the air," said Savage. "Obviously, her character left at the end of last season in a fairly dramatic fashion, and it felt kind of anticlimactic to just have her appear at the beginning of this season as if all of that didn't happen. So we're excited about being able to create some tension while she's not in the show and bring her back with as much drama as possible at the right moment."