CBS's big day of TCA panels kicked off with an Executive Session from the one and only Nina Tassler, the network's President of Entertainment, who brought us the following tidbits and newsbriefs:
"The Big Bang Theory": The show is moving to Thursdays. "Certainly, it was difficult, but not in the sense that you don't have complete faith and belief in the show," said Tassler. "The time felt right. The show is certainly enjoying an extraordinary amount of support and love, and this was a great opportunity for us to really move it into a strategic place and open the night."
"Survivor": The new season of the popular reality series will find the castaways divided into Young vs. Old. The members of the La Flor Tribe will all be aged 30 or younger, while those in the Espada Tribe will all be 40 or older.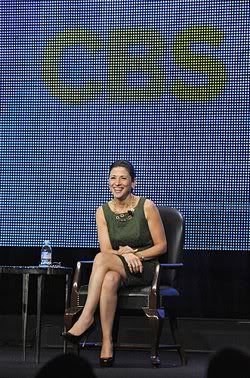 "Undercover Boss": Four of the companies which will appear in the show's second season have been revealed: NASCAR, DirecTV, Chiquita Brands, Inc., and Great Wolf Resorts.
"CSI: Crime Scene Investigation": Justin Bieber will be playing a character in the season premiere, playing a character that is "quite different from his wholesome real-life persona."
"CSI: Miami" and "CSI: NY" timeslot changes: "Going into this season, we had very strong development, we really wanted to get a number of those new dramas on the air, and both 'Miami' and 'New York' are still strong players for us, so we said, 'Look, we can use them to improve the time periods they're going into, as well as support new shows that they're launching side by side with.'"
"Criminal Minds: Suspect Behavior": Janeane Garofalo has been added to the cast.
New gay characters: GLAAD will no doubt be pleased to hear that, according to Tassler, there are three on the horizon for the new season. "You're going to meet Alicia's brother in 'The Good Wife,' a gay character. We're also going to be adding a new character to 'Rules of Engagement.' Jeff and Audrey's surrogate will be a member of Jeff's softball team, and she's a lesbian. We're also going to be recurring a character in '$#*! My Dad Says,' the character Tim Bagley played." I'm particularly happy to hear about that last one, mostly because the scenes between Bagley and William Shatner are arguably the funniest in the pilot.
After Tassler's remarks and Q&A were completed, she evacuated the stage in order for the day's show panels to begin, starting with…
"The Big Bang Theory"
At first glance, the fact that "The Big Bang Theory" is the only pre-existing CBS show to get its own panel on the network's TCA day would lead one to deduce that it's because it's so popular. In reality, though, it's much more likely that the series got the spotlight because they want to make sure it's still a major player when it returns on Sept. 28th and shifts on the CBS schedule from Mondays to Thursdays. Ah, but who cares why they're here? It's just good to see the gang again. Johnny Galecki, Jim Parsons, Kaley Cuoco, Simon Helberg, and Kunal Nayyar were all in attendance, along with creators / executive producers Chuck Lorre and Bill Prady, and, as usual, they gave us some great, fun stuff.