Finally, things are starting to get interesting. CBS has released its schedule for Fall 2010, and, wow, talk about shaking things up. Thursday nights were already wreaking havoc on my viewing schedule, and now it's only going to get worse. Check out what the network has done, see what they've added to their line-up (including behind-the-scenes videos), and be sure to leave your comments below!
MONDAY
8 – 8:30 PM: How I Met Your Mother
8:30 – 9 PM: Rules of Engagement
9 – 9:30 PM: Two and a Half Men
9:30 – 10 PM: Mike & Molly: a comedy from Chuck Lorre ("Two and a Half Men," and "The Big Bang Theory") about a working class Chicago couple who find love at an Overeaters Anonymous meeting. Officer Mike Biggs (Billy Gardell) is a good-hearted cop who sincerely wants to lose weight. Mike's partner, Officer Carl McMillan (Reno Wilson), is a thin, fast-talking wise-guy, who despite his teasing encourages Mike on his road to slimness and romance. While speaking at an O.A. meeting, Mike meets Molly Flynn (Melissa McCarthy), an instantly likeable fourth-grade teacher with a healthy sense of humor about her curves.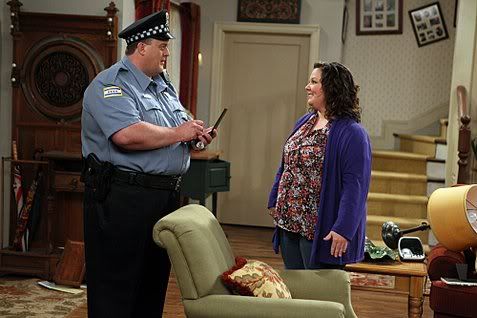 For Molly, focusing on smart choices isn't easy because she lives with her sexy older sister, Victoria (Katy Mixon), and their mother, Joyce (Swoosie Kurtz), both of whom flaunt their healthy appetites and slender figures. Mike also faces temptation at the diner he and Carl frequent, where they've become friends with the Senegalese waiter, Samuel (Nyambi Nyambi), who finds trying to eat less a foreign concept. For Mike and Molly, thanks to their mutual love of pie and the desire to resist it, finding each other may have been worth the "weight." Chuck Lorre and Mark Roberts are executive producers.
10 – 11 PM: Hawaii Five-0: a contemporary take on the classic series about a new elite federalized task force whose mission is to wipe out the crime that washes up on the Islands' sun-drenched beaches. Detective Steve McGarrett (Alex O'Loughlin), a decorated Naval officer turned cop, returns to Oahu to investigate his father's murder and stays after Hawaii's governor persuades him to head up the new team: his rules, her backing, no red tape and full blanket immunity to hunt down the biggest "game" in town.
Joining McGarrett is Detective Danny "Danno" Williams (Scott Caan), a newly relocated ex-New Jersey cop who prefers skyscrapers to the coastline but is committed to keeping the Islands safe for his 8-year-old daughter; and Chin Ho Kelly (Daniel Dae Kim), an ex-Honolulu Police Detective wrongly accused of corruption and relegated to a federal security patrol, who is also a former protégé of McGarrett's father. Chin's cousin, Kono (Grace Park), is a beautiful and fearless native, fresh out of the academy and eager to establish herself among the department's elite. McGarrett vows to bring closure to his father's case while the state's brash new FIVE-0 unit, who may spar and jest among themselves, is determined to eliminate the seedy elements from the 50th state. Peter Lenkov, Alex Kurtzman and Roberto Orci are executive producers.