Day 3 of the Winter 2011 TCA Press Tour ran me ragged, moreso than any day which preceded it and, I feel rather certain, than any day to follow. Very rarely has it ever come to pass that I schedule a day full of one-on-one interviews and have every single of them go off without a hitch, and you can probably already guess that yesterday wasn't an exception to that rule. I should probably just be happy that I got some of them, though: the way things were looking, I wasn't entirely convinced that I was going to get any of them.
The last day of the cable portion of the tour began with breakfast with the members of the Rainbow Networks: WEtv ("Joan & Melissa: Joan Knows Best" and "Braxton Family Values"), IFC ("Onion News Network" and "Portlandia"), and AMC ("The Killing"). Shifting ballrooms, we next listened to A&E ("Breakout Kings") and Lifetime ("Seriously Funny Kids" and "Amanda Knox: Murder on Trial in Italy"), but…do you detect a trend here?…we soon moved back to the other ballroom to get the scoop on stuff from Hallmark ("Goodnight for Justice") and Starz ("Camelot," "Spartacus: Gods of the Arena," and "Torchwood: Miracle Day"). Lastly, it was – oh, dear – back to the other ballroom again. This time, however, HBO kept us sitting still for the duration of the afternoon, giving us looks into "Mildred Pierce," "The Pee-Wee Herman Show on Broadway," "Cinema Verite," "Game of Thrones," "Too Big to Fail," and "The Sunset Limited."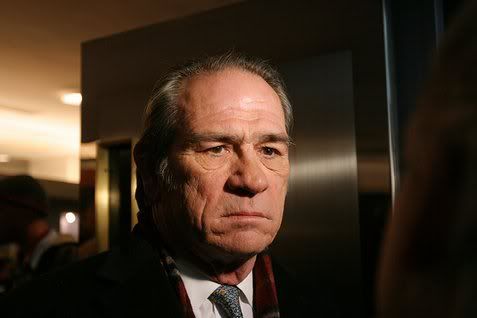 My problem, however, was this: I had to keep bowing out of this panel and that in order to participate in various roundtables and one-on-one interviews. Worse, one of the roundtables – stand up, please, Tommy Lee Jones – was shifted from a perfect location on the schedule into a spot which utterly disrupted almost all of the interviews that followed. In the end, though, I did manage to participate in two roundtables for "Game of Thrones," including one with author George R.R. Martin, I and two other writers sparred with Mr. Jones (surviving the encounter without having any of my questions ridiculed or dismissed outright has earned me some sort of entertainment journalism merit badge, I feel certain), and still managed to chat one-on-one with the too-sweet-for-words Eve Myles ("Torchwood: Miracle Day") as well as John Hannah and Peter Mensah ("Spartacus: Gods of the Arena").
The evening event was brought to us by Hallmark, and it took place at the Tournament House…as in the Tournament of Roses…in Pasadena. It was a pleasantly low-key event which began with cocktails and featured a classy sit-down dinner. What I'm saying, basically, is that it was old-school in all the right ways, including familiar TV faces like Doris Roberts, Marion Ross, and Marilu Henner, who regularly found herself holding court about her superior autobiographical memory. I also had an opportunity to sit down and chat with 11-year-old Kiernan Shipka, who plays Sally Draper on "Mad Men." What a little sweetheart.
Okay, that's it for the Day 3 wrap-up. Time for your daily dose of my favorite quotes…
1. "I knew that I was doing a lot of plastic surgery, because Melissa, one time, called me when (my grandson) Cooper was four years old and they had 'Return of the Mummy,' and he ran to the TV and went, 'Grandma, Grandma.' But I think plastic surgery come on, guys. You know. How many people have you interviewed…if you had a stitch for every if you had a dollar for every stitch in the face of someone you've interviewed, you wouldn't be sitting here. You know what I mean? It's part of our business." – Joan Rivers, "Joan & Melissa: Joan Knows Best" (WEtv)
2. "It is literally impossible to be more ridiculous than Fox News or MSNBC. It's actually impossible. It's happened multiple times that we'll be kind of talking and brainstorming a joke in the writers' room, we'll get excited about it, and then it's literally on the FoxNews.com website. So I think we have to kind of embrace that closeness. And the excitement for us is not being a parody of 24-hour news, but we are real news. Those are our competitors in a kind of slightly different world, and I think that believability is also part of what's exciting about it. We've had online cases where, for example, last year there was a case where we published a story about Neil Armstrong now saying that the moon landing was a hoax, and all these papers in Bangladesh picked it up. There was a story about the Make-A-Wish Foundation being bankrupted by a child who wishes for unlimited wishes, which is pretty out there. It went on MySpace, which is kind of the Internet hub for morons, and we got this letter from the Make-A-Wish Foundation that was, like, 'We're getting hundreds of e-mails every hour, people who are concerned.' So how ridiculous those things are, I think, really kind of opens up a lot of doors for us." – Will Graham, "Onion News Network" (IFC)