AskMen.com has announced its 9th annual list of the "Top 99 Most Desirable Women," and, man, did their readers come out in droves to make their opinions known. More than ten million votes were cast in this, the site's ranking of women who best represent the qualities of the ideal girlfriend or wife, but since this is Premium Hollywood, we thought we'd take a gander at a handful of the list's actress inclusions and offer up a few of our favorite film and TV appearances by these women.
(#7) Scarlett Johansson
Best Work: The obvious pick here is "Lost in Translation," of course, since it's generally considered to be Johansson's breakthrough performance, but she also received a great deal of praise for her turn in Peter Webber's "Girl with a Pearl Earring." With that said, however, let's not forget about her work for Terry Zwigoff in "Ghost World," which was strong enough to earn her the long-term career that her co-star, Thora Birch, was unable to maintain.
Guiltiest Pleasures: "The Perfect Score." It's a spiritual descendant of "The Breakfast Club," but while it's in no way as good as that John Hughes classic, it's a pleasant teen comedy with a nice ensemble cast. Also worth catching on a rainy Sunday afternoon is "Eight Legged Freaks," a slight but fun throwback to '50s sci-fi monster flicks.
A Must to Avoid: "The Spirit." 50,000,000 movie critics can't be wrong.
(#10) Kate Beckinsale
Best Work: "Cold Comfort Farm" was actually a TV movie, but it still remains one of the most thoroughly enjoyable items on her resume, with an all-star British cast which includes Stephen Fry, Ian McKellen, Rufus Sewell, Miriam Margolyes, Joanna Lumley, Freddie Jones, and Eileen Atkins. She was also quite good in her film debut, as Hero in Kenneth Branagh's adaptation of Shakespeare's "Much Ado About Nothing," and clearly had a ball portraying Ava Gardner in "The Aviator."
Guiltiest Pleasures: As Ross Ruediger has said, despite the significant werewolf and vampire population in the first two "Underworld" films, the real star of those flicks is Kate's well-costumed ass. On a related note, "Van Helsing" is nowhere near as good as it ought to be, given all of the Universal monsters at its filmmaker's disposal, but it's still a pleasant enough timewaster. And, dammit, I have a soft spot for "Serendipity," too. C'mon, people, it's John Cusack. The guy's had a free romantic-comedy pass from me since "Say Anything."
A Must to Avoid: "Tiptoes." There are a lot of items on Ms. Beckinsale's filmography that could make it into this category ("Brokedown Palace," for instance, is on my short list of the worst films I've ever paid to see in a theater), but when you come right down to it, you just can't beat a film where Gary Oldman plays a dwarf named Rolfe.
(#15) Jessica Alba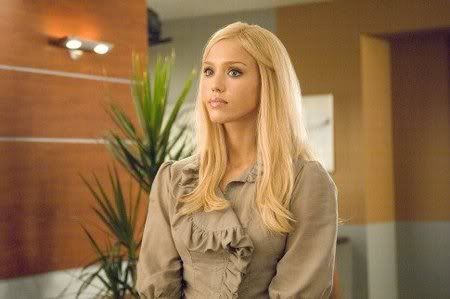 Best Work: "Sin City." She's a stripper, fer chrissakes. How do you beat that? Answer: you don't. But if you've never investigated the two seasons of her Fox TV series, "Dark Angel," you really should. It was produced by James Cameron, and although it's a little silly at times, it's full of action. At this rate, I'm hoping for a "Dark Angel" revival sooner than later.
Guiltiest Pleasures: The "Fantastic Four" movies are in no way as good as the property demands, and Alba comes in just under Julian McMahon as the most miscast person in their casts, but, hey, a comic book movie is a comic book movie. If you turn off your mind, there's still fun to be had. Also, "Never Been Kissed" is clearly a Drew Barrymore film, but Alba's part of the cast, and I've always liked it.
A Must to Avoid: "Good Luck Chuck." Just call him Dane "Career Killer" Cook.
(#25) Penelope Cruz
Best Work: They're all in Spanish, aren't they? Take your pick from "Belle Epoque," "Volver," "Open Your Eyes," "Live Flesh," or "All About My Mother." Any of them are valid choices.
Guiltiest Pleasures: "Woman on Top" was such an unabashed attempt to make Cruz into a mainstream Hollywood sensation that it was never going to be high art, but it's still an enjoyable rom-com. And while "Vanilla Sky" remains the least of Cameron Crowe's films (yes, I'd even rank "Elizabethtown" higher), it's mindbending enough to keep my attention…or maybe it's the combo of Cruz and Cameron Diaz that's responsible. Eh, either way. Also worthy of note is "Sahara," where she's an oasis in a film otherwise designed to appeal to girls who need their McConaughey fix.
A Must to Avoid: "Masked and Anonymous." Bob Dylan hasn't been infallible in several decades, but he hit a new low with this flick. Thankfully, neither Cruz nor anyone else was permanently affected by appearing alongside him in it.
(#42) Angelina Jolie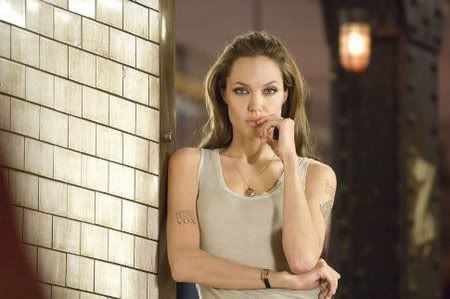 Best Work: First and foremost, if you've never seen Jolie's work in the HBO film, "Gia," then head over to Netflix and rent it post haste. Once you get into her cinematic work, you can't forget about her supporting role in "Girl, Interrupted," which is arguably where she came of her own as a viable actress. In recent years, however, her best work has been in "A Mighty Heart" and "Changeling." (C'mon, even if you didn't like the film, you have to give her credit for her performance.)
Guiltiest Pleasures: "Hackers." There was never any competition. Oh, sure, you could list half a dozen movies here, including the "Tomb Raider" flicks, "Sky Captain and the World of Tomorrow," "Mr. and Mrs. Smith," or "Wanted," but I'm always going to come back to "Hackers." It's a great little film, and she co-stars with the man who would later suffer from tumor-induced visions of George Michael performances, Mr. Jonny Lee Miller. But I would be remiss if I didn't also give a shout-out for "Cyborg 2," which contains the incredible trifecta of Jolie, Elias Koteas, Jack Palance.
A Must to Avoid: "Life or Something Like It." If you want to see a good movie about TV journalism, rent "Broadcast News." If you want to see a bad one, then rent "Life or Something Like It." (And if you want the worst possible double feature in the genre, follow it up with "Up Close and Personal.")
(#81) Katherine Heigl
Best Work: It has to be "Grey's Anatomy," doesn't it? For as pleasant a turn as she offered in "Knocked Up," she's still very much struggling to escape from her role as Dr. Izzie Stevens, and she's got a long way to go. Then again, playing Izzie helped her escape from being remembered solely as "that chick from 'Roswell,'" so there's every reason to believe that she'll eventually make it to full-fledged film star status. As a closing note, if you go way, way back, you will find that she was a member of the cast of Steven Soderbergh's highly underrated "King of the Hill," a film very much worthy of rediscovery.
Guiltiest Pleasures: She probably doesn't bring it up very much, but I'm totally giving Heigl a shout-out for her work as Casey Ryback's niece, Sarah, in "Under Siege 2: Dark Territory." (We can only hope she will reprise the role in the long-discussed third film.) Better than it ought to be is "The Ringer," but if a flick with Johnny Knoxville as the lead isn't a guilty pleasure, I don't know what is.
A Must to Avoid: Movie-wise, we're going with "Bride of Chucky," but if you want a truly painful experience, hunt down Heigl's role in the made-for-TV prequel, "Romy and Michelle: In the Beginning." Ye gods, that's bad.
To check out the full list of the Top 99 Most Desirable Women, head over to AskMen.com.