Although NBC has, in the wake of their decision to cancel Jay Leno's prime-time show, spoken openly about their desire to restructure their late-night line-up to offer a half-hour of Leno, then "The Tonight Show with Conan O'Brien" and "Late Night with Jimmy Fallon," it's taken until today for Conan to break his silence on the matter…with a great big "no."
The New York Times' Media Decoder column has offered up the full text of O'Brien's formal statement, and you should absolutely read it in full, as it's a ballsy missive that'll make a whole lot of his fellow comedians (not to mention quite a few TV critics, including myself) stand up and cheer. But if you're just looking for the highlights, here they are:
* "It was my mistaken belief that, like my predecessor, I would have the benefit of some time and, just as important, some degree of ratings support from the prime-time schedule."
* "I sincerely believe that delaying 'The Tonight Show' into the next day to accommodate another comedy program will seriously damage what I consider to be the greatest franchise in the history of broadcasting. 'The Tonight Show' at 12:05 simply isn't 'The Tonight Show.' Also, if I accept this move I will be knocking the 'Late Night' show, which I inherited from David Letterman and passed on to Jimmy Fallon, out of its long-held time slot. That would hurt the other NBC franchise that I love, and it would be unfair to Jimmy."
* "I cannot express in words how much I enjoy hosting this program and what an enormous personal disappointment it is for me to consider losing it. My staff and I have worked unbelievably hard and we are very proud of our contribution to the legacy of 'The Tonight Show.' But I cannot participate in what I honestly believe is its destruction."
* "I currently have no other offer and honestly have no idea what happens next. My hope is that NBC and I can resolve this quickly so that my staff, crew, and I can do a show we can be proud of, for a company that values our work."
Okay, first of all, as I said above, this makes me want to stand up and cheer, because Conan's getting screwed by NBC, plain and simple, and I think it's awesome that he's not just going to bend over and take it. But with that said, I can't see the network doing anything other than saying, "Oh, you're not going to do it? Fair enough, then we'll put Jay back into 'The Tonight Show,'" because they're certainly not going to give Leno his walking papers.
What do you think Conan should do?
UPDATE: I just popped over to see what was being said about the matter at Deadline.com, and it seems as though there's a meeting going down at NBC-Universal…or, at least, there was at 1:45 PM PST. According to Nikki Finke, "On one side of the room are NBCU bigwigs Jeff Gaspin and Marc Graboff. On the other side of the room are O'Brien's reps: manager Gavin Palone, WME agent and board member Rick Rosen, and the newest member of Team Conan — Hollywood litigator Patty Glaser who was hired on Sunday and is WME's legal shark of choice."
Per Ms. Finke…
My insiders say O'Brien's reps didn't want him to do (release the statement). "They were not thrilled. They told him it would undercut his negotiating leverage," one source revealed to me. "But Conan wouldn't listen to them. He wanted to make it." When Conan read the statement to the staff, "he broke up. He began to cry," one of my insiders reveals. "Because for 17 years he was working towards The Tonight Show, and now he says he's prepared to walk away from it. That's an amazing thing. An amazing thing. But he takes very seriously the fact that The Tonight Show baton was passed to him."
Here at Premium Hollywood, we can sum up our position on the matter in three words: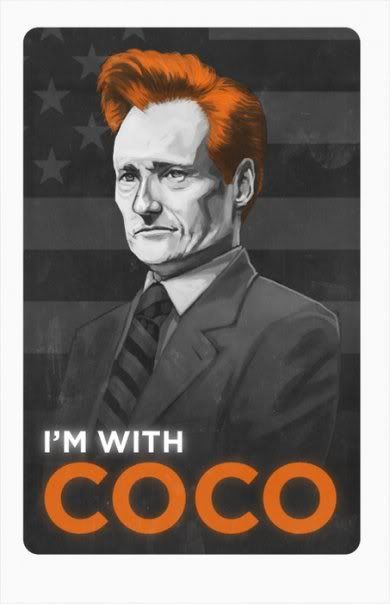 'Nuff said.