Last night's "American Idol" results show was a bit different than the past two weeks, because there was no mentor working with the contestants, and instead the theme was popular iTunes downloads. That meant guest appearances from #1 artist Lady GaGa and also from last season's Idol, David Cook.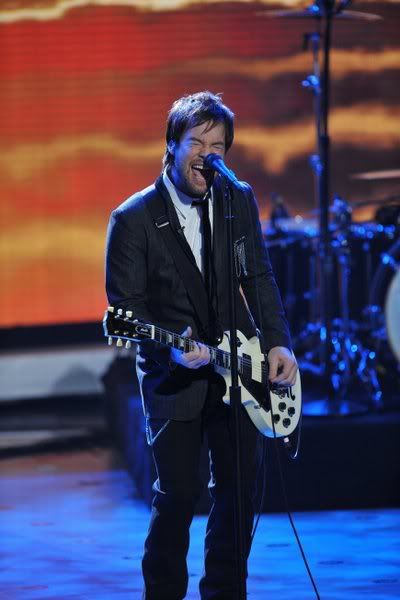 But first they recapped the previous night's performances, along with snippets of the judges' comments. Here was a gem from Paula that I forgot to write about yesterday, when she was draping praise over Adam Lambert: "True genius does not fulfill expectations, true genius shatters expectations." Ugh. How much did you hire someone to write that for you, Paula?
Then after showing a typical day in the life of the Idol hopefuls, there was a group performance of Journey's "Don't Stop Believin'" and it wasn't awful. Scott even got to play the piano instead of wandering around the stage aimlessly and trying not to trip on national TV. And Adam got to do a real scream, not a forced one.
Then, on to business….Ryan Seacrest broke them up into groups of three–Kris, Matt and Megan; Adam, Lil and Allison; and Scott, Danny and Anoop. He asked which of them we thought was the Bottom 3. I knew better…there would be one from each group to make up the bottom. Then David Cook arrived to sing his new single, "Come Back To Me" and was presented with a platinum album. He started tearing up, and for good reason…he told Seacrest that in 2006 he sold 1000 copies of an album he released on his own, and now he sells 1 million copies of his major label debut in 3 months, thanks to the power of the show. Damn.