"American Idol" just gets more full of itself. From the way they that "Tell them what they've won, Don Pardo" announcer that brings out the judges and perpetually peppy Ryan Seacrest, to Simon drawing a mustache on Paula and laughing so much that he can't deliver a fair critique of Allison. Just get over yourselves, people! It's about the singers, or at least should be.
What follows is a recap of last night's Motown performances, with the great Smokey Robinson coaching the finalists, and the great Berry Gordy in attendance. Keep in mind these are grouped into the good, in-between and bad based on my opinion, not the judges.
THE REALLY GOOD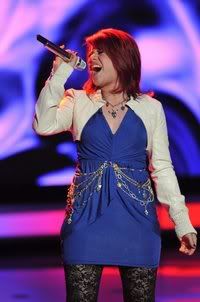 Allison Iraheta was in the pimp spot last night, and she hit a long fly ball that would have cleared two baseball fields. She sang "Papa Was a Rolling Stone" and I think we all keep forgetting Allison is just 16, because she has ridiculous pipes, and shows almost no signs of being nervous. Randy said it was "blazing hot," Kara said "wow," Paula said she looked fantastic and sounded awesome, through her Crayola mustache, and Simon said, through giggles, that it was one of Allison's best performances yet. No, it WAS her best Simon…you were too busy acting like a 5 year old to notice. How in the world was Allison in the bottom 3 last week? Well, she shouldn't be tonight.
THE PRETTY GOOD
Matt Giraud took on Marvin Gaye's "Let's Get It On." Look, this is the exact song I was quoted in a Fox News article on, saying that no Idol hopeful should attempt it. But Matt actually did the song justice. I kept thinking he is no Marvin Gaye, but he did the best he could. Randy said it was challenging but that Matt did a nice job, Kara said she thinks all the girls watching liked it and that Matt is coming out of his shell, Paula said it was a nice job and Simon said it was a brilliant choice and a cool performance. Considering Matt went first, that's pretty damn good.
Kris Allen strapped on his guitar and sang another Marvin Gaye song, "How Sweet It Is," and while at times I felt like I was falling asleep, Kris really showed us why he's here with a strong voice. Kara said Kris made his mark with his own version of the song, Paula said he's coming into his own, Simon said it was a smart choice but that Kris just needs to start believing in himself, and Randy said Kris is hitting his stride.
Danny Gokey sang "Get Ready" and he was all over the stage, including some synchronized dancing with the backup singers….and he was awesome. Dude's voice just gets stronger each week, and even though this wasn't his best, Danny is a serious contender. Paula said Danny's talent is undeniable, Simon thought it was clumsy and amateurish, Randy disagreed with Simon, saying he has a "dope voice," and Kara said she loved Danny's personality but that this performance was just good, not great.
THE IN-BETWEEN
Forgive me for not seeing stars when Adam Lambert takes the stage, but I think the judges as well as most of America see something in this kid that I don't. If he didn't look like a movie star there is just no way he'd be here. Actually Adam looked more like Elvis last night with his slicked back hair and slick suit. And he sang Smokey's own "Tracks of My Tears." It was a tender, on-pitch performance, but to me it was incredibly safe. Not to the judges. Kara said Adam is showing his artistry and that it was one of the best of the night, Paula said he's in his own league, Simon said it WAS the best of the night, and Randy said it was undeniably hot. Guess what, Randy….I deny that it was hot!
Anoop Desai did another tender song, "Ooh Baby Baby," to go along with last week's "You Were Always on My Mind." It was pretty good and he showed his strong vocal skills again, but to me it was kind of boring. Kara said it's a hard song to sing and that Anoop is showing what a beautiful voice he has, Paula said he's confident and has a sweet falsetto, Simon said it was a great vocal but that Anoop looked half asleep (I completely agree!), and Randy said it was good but that Anoop needs to bring more energy next time. And yes, there should be a next time.
Lil Rounds sang "Heat Wave" and while I love Lil, it was kind of awkward. It was pitchy in spots, too fast and not the type of song to showcase her awesome voice. Randy said Lil is a great singer but that this was not a great song choice, Kara said Lil looked great but that she didn't nail the song (her dress was flimsy and she had a wig on), Paula said she disagreed with Kara, that she thought Lil DID nail it, and Simon said it was an authentic tribute but that it was a poor song choice. Simon also correctly pointed out that with Motown week, this could have been Lil's "moment" with the proper song choice. I agree with that assessment as well.
THE BAD
Scott McIntyre came out with pink pants, prompting America to collectively break out into "who dressed him, a blind person?" jokes. Scott sang "You Can't Hurry Love" and it was as close to karaoke as you can get without being karaoke. Paula said Scott brought something different to the song, Simon said it was not very good and that when Scott sang the line "How much more can I take?" Simon was thinking the same thing (props to Mrs. Mike for also pointing this out before Simon did), Randy agreed with Simon, saying it was a "hotel performance," and Kara said she liked the song and the tempo but that Scott didn't nail it.
Megan Joy Corkrey is starting to get on my nerves. She sang "For Once In My Life" in her weird style that is now over-done and getting old. And it just wasn't very good. Randy said he liked Megan's outfit but that the performance was bizarre and "a train wreck," Kara said it was "not you" and that there were some bad notes, Paula said Megan has stunning beauty but that she chose the wrong song, and Simon agreed, saying Megan looked good but sounded horrible. And can we say something about that awful tattoo on her right arm? I mean, kudos to the tattoo artist, but it's incredibly distracting.
Michael Sarver did "Ain't Too Proud To Beg" and he's going to be begging to stay on the show after a pretty bland, bordering on awful, performance. Paula even couldn't say anything nice, likening it to a Vegas show, Simon said he couldn't wait for it to end and that Michael has no chance of winning this thing (ouch!), Randy said the song was too big for Michael, and Kara said he didn't show enough artistry. I'd be really surprised if Michael isn't kicked off tonight.
So there you have it. I think it's pretty clear cut that the bottom 3 will be Michael, Scott and Megan, and possibly Lil. Smokey will sing a duet with Joss Stone, and other performances will be by Ruben Studdard and the great Stevie Wonder! Wow, this is going to be awesome. Of course, there will an awful group performance, a dumb Ford video and some more uncomfortable banter between Ryan Seacrest and the judges. See you tomorrow with the results….