You're familiar with Jason's "Blu Tuesday" column? Well, given how many TV-DVD sets continue to hit the market on a weekly basis, it occurred to me that it might not be such a bad idea to do a regular round-up of the highlights of what the TV geeks out there…and, obviously, I count myself among their number…can look forward to finding on store shelves on a given week. And, thus, I bring you…
This Tuesday in TV-DVD!
Yeah, I know: it's not a great title. But at least you can't claim there's any false advertising.
Let's get started, shall we?
* Battlestar Galactica: The Plan: I was able to talk with Dean Stockwell on Friday about this new flick, but at the time, I hadn't seen it yet…and, y'know, you can't bluff when you're talking to Cavil, so it was a little embarrassing when I had to admit my ignorance. Fortunately for you, John Paulsen has since reviewed it for us, giving it four stars and providing this warning: "Newbies who are considering jumping into the series should not — I repeat SHOULD NOT — start with 'The Plan,' for three major reasons: 1) this was meant as an epilogue, not a prologue, 2) it could be extremely confusing, and 3) there are way too many secrets that would be revealed in one fell swoop. Don't do it." Listen to the man, I beg you.
* Monty Python: Almost the Truth – The Lawyer's Cut: If saw my posting about my trip to NYC to attend the Python reunion on behalf of this film, then you already know I'm partial to this set. As such, you don't really need to see my proper review of the full-length documentary on Bullz-Eye, but if it helps, I'll just offer up the last line, in which I state, "If you're looking for the no-holds-barred story of the group (but not their subsequent solo projects, which – aside from what they're doing currently – are ignored), then this is definitely the place to go." It's also worth noting that there are a couple of other Python DVDs which have in no way coincidentally emerged this week, but while I'm sure "Monty Python: The Other British Invasion" and "The Best of Monty Python" have their merits (and, indeed, I believe the former will soon be reviewed by our own David Medsker), there's no question that "Almost the Truth" is the absolute must-own of the bunch.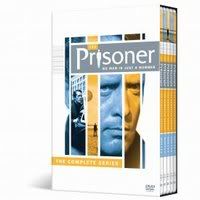 * The Prisoner: The Complete Series: Speaking of things which are in no way coincidental, it's fair to say that we wouldn't be getting a reissue of this classic cult show from the '60s were there not a new version on the verge of premiering. I am guilty of having never seen the original, and I don't forsee having the time to dive headlong into it before the "re-imagining" airs on AMC in November. That's probably not a bad thing; I'll likely enjoy it more as a result. But, by God, I will watch the original "Prisoner" one of these days!
* The Fugitive: Season Three, Vol. 1: We're still a season away from Richard Kimble finally catching up with the one-armed man, but if you keep buying them, then one presumes that we'll finally get to see that final episode on DVD one of these days.
* Mannix: The Third Season: Mike Connors is Mannix! What, like I need to say anything else? Well, okay, if you need further selling points, this season features Robert Reed as a semi-regular (as Lt. Adam Tobias), and guest stars include a post-"Wild Wild West" Robert Conrad, soon-to-be "M*A*S*H" stars Mike Farrell and Larry Linville, a superhero (Yvonne Craig, who played Batgirll) and a super villain (Lee Meriwether, who played Catwoman), and future Bluth matriarch Jessica Walter.
* Patton 360: The Complete Season 1 / Life After People: The Complete Season 1 / Dogfight: The Complete Series Megaset / World War II: 360 / The Wild West: See, the brilliant thing about naming your network The History Channel is that it gives you a tremendous palate to work with, from the Wild West to World War II to some futuristic world where the human race has completely died out. You'd go broke trying to buy everything these guys put out…seriously, it feels like it's close to half a dozen new titles a week…but give them credit: the quality tends to be solid.
* Saturday Morning Cartoons: 1960s, Vol. 2 / Saturday Morning Cartoon: 1970s, Vol. 2: All I really need to do to sell you on these sets is to list off their contents, which is precisely what I'm going to do. The '60s volume contains episodes of "Johnny Cypher in Dimension Zero," "Peter Potamus," "The Flintstones," "The Porky Pig Show," "Frankenstein Jr. and The Impossibles," "The Adventures of Aquaman," "The Herculoids," "Space Ghost and Dino Boy," "Superman," "The Jetsons," "The Road Runner Show," "Magilla Gorilla," and "The Tom and Jerry Show." The '70s volume contains episodes of "Help! It's the Hair Bear Bunch," "The New Adventures of Gilligan," "Sea Lab 2020," "The Amazing Chan and the Chan Clan," "Shazzan," "Yogi's Gang," "The Bugs Bunny / Road Runner Hour," "Valley of the Dinosaurs," "The Tom and Jerry / Grape Ape Show," "The Banana Splits Adventure Hour," "Inch High Private Eye," and "The New Adventures of Batman and Robin." If you ain't sold now, you ain't never gonna be.
* On the Road with Charles Kuralt, Set 1: At last, a collection of the revered CBS newsman's most notable contribution to television journalism. Let's hope they keep rolling them out at a steady clip.
* The Guardian: The First Season: Once "The Mentalist" took off, it was only inevitable that we'd get a release of Simon Baker's previous series on DVD. I don't think I ever saw a single episode of the show when it was on the air, but it certainly had its fans…including my mother-in-law, who's been swooning over Simon ever since.
* Tales from the Darkside: The Second Season: As mid-'80s anthology series go, this one was more consistent than most. Some of the celebs involved this time around include Lisa Bonet, Jerry Stiller, Darren McGavin, Phyllis Diller, Seth Green, Marcia Cross, and the inestimable Abe Vigoda.
Other releases this week:
* Trial and Retribution: Set 3
* The Diary of Anne Frank (BBC)
* The Barbara Stanwyck Show, Vol. 1
* Dr. G: Medical Examiner – Season 1
* National Geographic: Dogtown – Friends in Need
* The Secret Saturdays, Vol. 2
And, lastly, we should make mention of Adult Swim in a Box. An unabashed cash grab (one which the packaging freely admits), but in addition to including "Aqua Teen Hunger Force: Volume 2," "Space Ghost Coast to Coast: Season 3," "Moral Orel: Season 1," "Robot Chicken: Season 2," "Metalocalypse: Season 1," and "Sealab 2020: Season 2," the box also offers the previously-unavailable pilots for the unproduced series "Korgoth of Barbaria," "Welcome to Eltingville," "Perfect Hair Forever," "Cheyenne Cinnamon," and "The Best of Totally for Teens."