The movie side of the show biz world might not have anything of the magnitude of the big news from Team Coco to talk about today, but there's plenty of interesting borderline-almost-news to mention in an ironic way…
* I don't know whether there's some sort of game of managing expectations going on or if interest really is limited to younger males and no one else, but I'm starting to hear rumblings that "Kick-Ass" is not expected to kick ass do hugely well at the box office this Friday. If so, then Matthew Vaughn has got to be one of the least lucky talented mainstream directors ever after generating so much excitement with his film, at least in the fanboy realms.
My main rumbling comes via this Playlist piece which alleges that nothing has been done to expand the interest in the film beyond those who've never heard of the comic book.  Literally speaking, that's not true because I'd never heard of the comic book before hearing about Vaughn's film of it, though I am certainly a member of the Geek American community. The main thrust of the piece itself is actually on the possibly stronger hopes for "Scott Pilgrim vs. The World" which, as a commenter offers, does seem to have more cross-gender appeal. It also has a well known star and the comic genius Edgar Wright going for it. We'll see.
In any case, Vaughn appears to be doing what all prudent directors do before their next big film comes out, lining up the next gig just in case the current film really does tank. This story is a glorified rumor, but it does look possible that Vaughn's next gig might involve a gangster/science fiction vampire comic book written by, of all people, controversial English talk show host and film geek, Jonathan Ross who is leaving the BBC because of a scandal caused, I kid you not, by tasteless prank phone calls. Here, he'd get a promotion. In any case, I'll always remember him for "The Incredibly Strange Film Show."
* Never fear, however, "Iron Man 2" will be here in 26 days. Of course it'll do ridiculously well, but I remember some naysayers just before the first movie came out. Seems all those good reviews were a bit worrisome and even smart people like Michael Phillips and A.O. Scott, if memory serves, were worried the movie was a little too good to make monster bucks.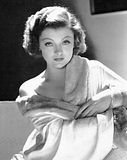 * The biggest news in my personal movie world is word via the Los Angeles Times of the resurrection of the statue that classic-era superstar Myrna Loy ("The Thin Man," "The Best Years of Our Lives") posed for when she was just a young student and which graced the front of my alma mater for decades. As the News Editor of the Venice High Oarsman ("Rowing, Not Drifting") back in the pre-pre-pre-pre MySpace era, I was on the Myrna-vandalism beat. This gladdens my heart. A picture, however, would have been nice. Maybe I'll get to work on that a bit later.