Can't say as I saw that one coming, but, hey, fair enough: I always knew I'd watch him wherever he turned up, and it's not like there's anything inherently wrong with TBS…well, not anything that a purge of any and all series containing the words "Tyler Perry's" in its title couldn't fix, anyway.
Here's the story, straight from TBS: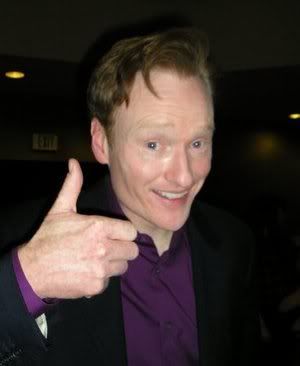 Comedy icon Conan O'Brien is joining TBS to host a late-night talk show that is expected to debut in November. The Emmy-winning comedian's new program will be followed by "Lopez Tonight," which will shift to a midnight time slot.
O'Brien began talks in earnest with TBS just last week, after George Lopez personally called him to ask that he consider joining the network's late-night line-up.
"I can't think of anything better than doing my show with Conan as my lead-in," Lopez said. "It's the beginning of a new era in late-night comedy."
Said O'Brien: "In three months I've gone from network television to Twitter to performing live in theaters, and now I'm headed to basic cable. My plan is working perfectly."
O'Brien and Lopez will give TBS a dynamic lineup in late-night television. TBS – which has built a programming slate that appeals to a young, diverse audience – expects O'Brien to be a long-term addition to the network's late-night landscape. O'Brien will host his hour-long, yet-to-be-titled show Mondays through Thursdays at 11 p.m. (ET/PT).
"Conan has been the comedic voice for a generation. TBS already has a huge audience of young comedy lovers, and Conan's show will give these fans even more reasons to watch our network," said Steve Koonin, president of Turner Entertainment Networks.
With the addition of O'Brien's show, TBS will establish two hours of late-night talk. "Lopez Tonight," while just a few months old, has already become a destination show for a diverse audience. The "Lopez Tonight" audience is young as well, with a median age of just 34.
"For decades, late-night TV has been dominated by broadcast television," Koonin said. "Now, with a young audience and a growing late-night lineup, TBS is set to be the choice of comedy fans for years to come."
So what are your thoughts on Conan's move to TBS? From my perspective, it was becoming increasingly clear that Fox was never going to successfully clear the hurdles set by their affiliates, and even if they had, they probably wouldn't have been nearly as tolerant of fluctuating ratings – huge numbers upon his return, a probable big drop immediately thereafter, then middling out as people figure out which host they want to watch regularly – as TBS almost certainly will be. TBS can afford to let Conan build a presence on their network, whereas Fox…well, I think we all know how forgiving Fox is with their low-rated series.