The Jay Leno Show (Mon., Sept. 14 @ 10:00 PM, NBC)
The competition:
• Monday: "Castle" (ABC), "CSI: Miami" (CBS)
• Tuesday: "The Forgotten" (ABC), "The Good Wife" (CBS)
• Wednesday: "Eastwick" (ABC), "CSI: New York" (CBS)
• Thursday: "Private Practice" (ABC), "The Mentalist" (CBS)
• Friday: "20/20" (ABC), "Numb3rs" (CBS)
Starring: Jay Leno
Producers: Debbie Vickers, Larry Goitia, Jay Leno, Jack Coen, Stephanie Ross ("The Tonight Show with Jay Leno")
Network's Description: Marking a new era in television, Jay Leno, recently named America's Favorite TV Personality by the 2009 Harris Poll, moves from late night to primetime on September 14 when his series becomes the first-ever entertainment program to be stripped across primetime on broadcast network television. The series promises more comedy in the 10 o'clock hour and will showcase many of the features that have made Leno America's late-night leader for more than a dozen years.
The Buzz: About as mixed as buzz can be. This is the most controversial maneuver in the past several decades of television history, a Hail Mary by the people at the Peacock. It's highly possible that the people who've abandoned "The Tonight Show" since the tall, skinny Irish kid took over have just decided to go to bed early for a change and are fully prepared to start watching their old buddy, Jay, in his new locale. Then again, maybe they won't. It's a crazy crap shoot, this series, and all that us critics can do is sit back and see what the viewers decide to do.
Pilot Highlight: None, obviously, due to the live nature of the show.
Bottom Line: If you like Jay Leno, you'll like the show. If you don't, you won't. It's really as simple as that. But will you watch the show? Leno has the right attitude by acknowledging outright that he doesn't expect to beat original programming, only anticipating that they'll probably start to take home the ratings gold once the reruns start. I like Leno as much as the next guy, but I like scripted dramatic programming better. For that alone, I'm not exactly rooting for him to succeed. But with that said, I'm mostly just curious to see what's going to happen.
Trauma (Mon., Sept. 28 @ 9:00 PM, NBC)
The competition: "Dancing with the Stars" (ABC) "Two and a Half Men" and "The Big Bang Theory" (CBS), "Lie To Me" (Fox), "Gossip Girl" (The CW)
Starring: Aimee Garcia, Anastasia Griffith, Billy Lush, Cliff Curtis, Derek Luke, Jamey Sheridan, Kevin Rankin
Producers: Peter Berg, Sarah Aubrey, Dario Scardapane, and Jeffrey Reiner ("Friday Night Lights")
Network's Description: The first high-octane medical drama series to live exclusively in the field where the real action is. Like an adrenaline shot to the heart, the show is an intense, action-packed look at one of the most dangerous medical professions in the world: first responder paramedics. When emergencies occur, the trauma team from San Francisco General is first on the scene, traveling by land, by sea or by air to reach their victims in time. From the heights of the city's Transamerica Pyramid to the depths of the San Francisco Bay, these heroes must face the most extreme conditions to save lives — and give meaning to their own existence in the process.
The Buzz: Although the instinct is to say, "So NBC closed the doors on 'E.R.,' only to kick off a new medical show," the better point of reference here is the classic '70s series "Emergency" (with Jamey Sheridan making his bid to be remembered as the Robert Fuller of his generation), albeit with the inclusion of the necessary soap-opera elements required by today's audiences.
Pilot Highlight: Like the aforementioned series, it's all about the accidents that led to the Trauma team being sent out, then the resolution of those situations, but the money shot here is definitely the helicopter crash.
Bottom Line: If they tone down the melodrama and keep the action ramped up as high as they do in the pilot, then the excitement may be enough to draw in an audience.
Mercy (Wed., Sept. 23 @ 9:00 PM, NBC)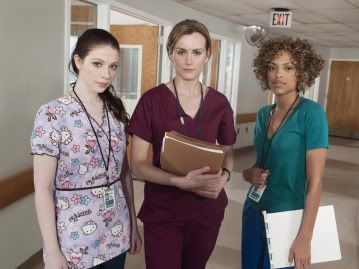 The competition: "Hank" and "The Middle" (ABC), "The New Adventures of Old Christine" (CBS), "So You Think You Can Dance" (Fox), "America's Top Model" (The CW)
Starring: Jaime Lee Kirchner, Taylor Schilling, Michelle Trachtenberg, James Tupper
Producers: Gail Berman ("Buffy the Vampire Slayer," "Angel"), Lloyd Braun ("Accidentally on Purpose"), Liz Heldens ("Friday Night Lights")
Network's Description: A new medical drama about the lives of the people who work at Mercy Hospital seen through the eyes of those who know it best – its nurses. Nurse Veronica Callahan has just returned to Mercy Hospital from a tour in Iraq and knows more about medicine than all of the residents combined. Together with fellow nurses Sonia Jimenez, who turns the heads of everyone in the hospital, and Chloe Payne, a naïve newcomer who learns to deal with the difficulties of working in a challenging and sometimes unsettling profession, they navigate the daily traumas and social landmines of life and love both inside the hospital and out in the real world.
The Buzz: You'd think that getting bumped up to a fall premiere due to the postponement of "Parenthood" (as a result of star Maura Tierney's medical woes) would be a good thing, but since the network had already put one medical show onto the docket, most people are rightfully wondering, "Isn't it overkill to add a second one?" Yes, and it would've been even if "Mercy" was any good…which it really isn't. There's a whole lot of chatter about how nurses deserve your respect. Of course they do. But they also deserve to be better presented on television than they are here.
Pilot Highlight: Nothing immediately leaps to mind. Yes, seriously.
Bottom Line: How ironic that the last show to be added to the network's fall line-up is likely to be the first one to depart it. If you must watch only one medical drama on NBC this year, be sure it's "Trauma."
Community (Thurs., Sept. 17 @ 9:30 PM, NBC)
The competition: "Grey's Anatomy" (ABC), "CSI: Crime Scene Investigation" (CBS), "Fringe" (Fox), "Supernatural" (The CW)
Starring: Joel McHale, Chevy Chase, Gillian Jacobs, Alison Brie, Yvette Nicole Brown, Danny Pudi, John Oliver, Donald Glover
Producers: Dan Harmon ("The Sarah Silverman Project"), Joe and Anthony Russo ("Arrested Development")
Network's Description: A smart comedy series about higher education…and lower expectations. The student body at Greendale Community College is made up of high-school losers, newly- divorced housewives, and old people who want to keep their minds active as they circle the drain of eternity. Within these not-so-hallowed halls, the show focuses on a band of misfits, at the center of which is a fast-talkin' lawyer whose degree has been revoked, who form a study group and, in "Breakfast Club" fashion, end up learning a lot more about themselves than they do about their course work.
The Buzz: The mere fact that Chevy Chase has deigned to take a regular series role is enough to get people interested (not that his recent screen work has been that stellar, but after being burned by his talk show, you know he'd never return to TV unless he thought he really had something stellar), and McHale's cult fanbase from "The Soup" is psyched at the idea of seeing their hero in a sitcom. Throw in the "Daily Show" fans who know Oliver's value from his years as Senior British Correspondent, and people are chomping at the bit to see this added to NBC's Thursday night comedy line-up.
Pilot Highlight: More than I'm prepared to count, but they include Abed's recitation of "Breakfast Club" dialogue, the "Soup" in-joke of Troy referring to McHale's character as "Seacrest," and virtually every time John Oliver opens his mouth.
Bottom Line: When I watched it, I was convinced that I was watching the funniest sitcom of the new season. I was not wrong.