Last night on Fox's "Hell's Kitchen," they recapped last week and Charlie getting the heave-ho. Giovanni was pissed at Seth and thought Seth should have been sent packing, but Seth argued that he was going to fight in the "game." Yikes. Robert then did a hilarious Ramsay impersonation for his fellow chefs.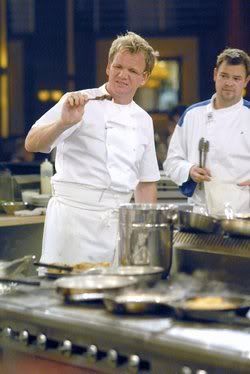 They then had a Hell's Kitchen breakfast, where the teams had to feed a hungry group of kid football players and cheerleaders. Seth vowed that he could make great eggs Ramsay-style but he was horribly slow in the kitchen, slowing his whole team. The red team won by delivering more meals and were rewarded with a day at a posh Beverly Hills hotel pool. The guys, meanwhile, had to clean up the dining room and prep both teams' food for the dinner service.
Ben and Danny were fighting because Danny had claimed he was the team's best chef and the guys didn't finish the prep work in time. That pissed off both the red team and Ramsay, but both teams performed horribly at the dinner service, especially Giovanni, Coi, Seth, and Ben. Oh, and J left a lettuce "butt" in someone's salad..yuck. Ramsay was so pissed off he shut down the kitchen and declared no winners last night. He asked each team to nominate two chefs for elimination. The red team chose Colleen and Lacey, and Lacey was annoyed and said Coi should have been the other one on the chopping block. Seth and Ben were nominated from the men, and Ben was pissed about it.
In the end, it was Seth sent home, because Ramsay just couldn't take his lack of experience anymore, and the guys breathed a sigh of relief. Meanwhile, Ramsay then sent Lacey to the blue team to even things out, which then made the ladies all breathe a sigh of relief as well. It should be interesting to see how that all works out. Lacey for Seth? Not a great trade-off.
See you all next week…