If you've checked out Bullz-Eye's TV Power Rankings for April 2009, then you've already seen the site's picks for the top 20 shows currently airing, several honorable-mention entries, and what series they're most excited to see return. Given the way new programs are popping up constantly throughout the year, however, it was always inevitable that the voting for the Power Rankings would close just as a few promising series were making their debuts but before their consistency could be properly gauged. Here, then, are five shows which, at least as it stands right now, look like they have the potential to be ranked next time around.
1. "Party Down," Starz. It's a longstanding Hollywood tradition for producers to build themselves a gaggle of go-to actors who they can always count on to make an appearance in one of their projects, and although it's Joss Whedon who has one of the most recognizable posses on television, it's clear that Rob Thomas is building a pretty solid one, too. In "Party Down," which focuses on a Hollywood catering company helmed by aspiring actors and actresses, you can't go more than a few minutes without seeing someone who once appeared on "Veronica Mars." Ryan Hansen is the only "Party Down" regular who held the same status on "Mars" as well, having played Dick Casablancas, but Adam Scott ("Stepbrothers"), Ken Marino ("The State"), and Jane Lynch, who most recently proved hilarious in "Role Models," all made visits to "Veronica" at some point or other. Enrico Colentoni had an unforgettable nude scene in the first episode of "Party Down," and it looks like Kristen Bell will be turning up in the season finale.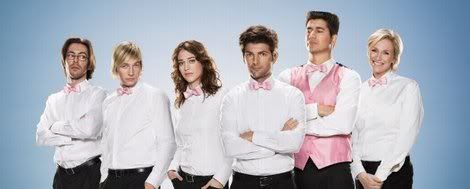 Paul Rudd is one of the other co-producers of "Party Down," and it's clear he had a hand in bringing some of his favorite talent onto the show as well. Martin Starr, late of "Freaks and Geeks," is here, and after scoping out IMDb, it looks like Ken Jeong will be turning up in a future episode. With all this talent, you won't be surprised to learn that this is arguably the funniest new show of the spring season…if seasons even still exist, that is…and is already shaping up to be the place for cool comedians and actors to guest-star. "Crash" may have been a bust as Starz's first original series, but count on "Party Down" to do for the network what "Mad Men" did for AMC.