If you've checked out Bullz-Eye's TV Power Rankings for April 2009, then you've already seen the site's picks for the top 20 shows currently airing, several honorable-mention entries, and what series they're most excited to see return. Given the way new programs are popping up constantly throughout the year, however, it was always inevitable that the voting for the Power Rankings would close just as a few promising series were making their debuts but before their consistency could be properly gauged. Here, then, are five shows which, at least as it stands right now, look like they have the potential to be ranked next time around.
1. "Party Down," Starz. It's a longstanding Hollywood tradition for producers to build themselves a gaggle of go-to actors who they can always count on to make an appearance in one of their projects, and although it's Joss Whedon who has one of the most recognizable posses on television, it's clear that Rob Thomas is building a pretty solid one, too. In "Party Down," which focuses on a Hollywood catering company helmed by aspiring actors and actresses, you can't go more than a few minutes without seeing someone who once appeared on "Veronica Mars." Ryan Hansen is the only "Party Down" regular who held the same status on "Mars" as well, having played Dick Casablancas, but Adam Scott ("Stepbrothers"), Ken Marino ("The State"), and Jane Lynch, who most recently proved hilarious in "Role Models," all made visits to "Veronica" at some point or other. Enrico Colentoni had an unforgettable nude scene in the first episode of "Party Down," and it looks like Kristen Bell will be turning up in the season finale.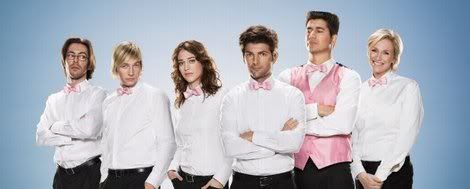 Paul Rudd is one of the other co-producers of "Party Down," and it's clear he had a hand in bringing some of his favorite talent onto the show as well. Martin Starr, late of "Freaks and Geeks," is here, and after scoping out IMDb, it looks like Ken Jeong will be turning up in a future episode. With all this talent, you won't be surprised to learn that this is arguably the funniest new show of the spring season…if seasons even still exist, that is…and is already shaping up to be the place for cool comedians and actors to guest-star. "Crash" may have been a bust as Starz's first original series, but count on "Party Down" to do for the network what "Mad Men" did for AMC.
2. "Better Off Ted," ABC. When I talked to Bill Lawrence a few months ago, he seemed pretty pleased about the fact that ABC was pleased enough with the ratings of the final season of "Scrubs" to use it as the lead-in for one of the network's new comedies. I'm pretty pleased, too. ABC is notorious for putting unlike series together, but this time, they found a nice blend. "Better Off Ted" comes to us from Victor Fresco, who brought us "Andy Richter Controls The Universe," and the skewed sensibilities of that show definitely carry over to this one. The only difference is that "Better Off Ted" ostensibly takes place in reality rather than fantasy, introducing us to the world of Veridian Dynamics and its head of Research and Development, Ted Crisp, played by Jay Harrington. Although the people within the office often feature traits that you may recognize from your own place of employment, it's probable that you've never found yourself placed in suspended animation for the scientific good, like poor Phil Myman did. (By the way, it's good to see Jonathan Slavin again, another "Andy Richter" alumnus.)
Portia de Rossi plays Veronica Palmer, Ted's boss. She's about as detached from her emotions as a woman can be, which is probably the only reason that she and Ted were able to have a brief fling and yet still manage to keep things all business between them afterward. Unfortunately, Ted's longstanding one-affair-per-company rule means that he isn't able to pursue the woman he really has feelings for: Linda, played by the ever-cute Andrea Anders. For Anders' sake, I'm really rooting for this show to take off. It's not like she doesn't keep getting work, but between "Joey" and "The Class," they're liable to name a sitcom curse after her if she doesn't watch out. The various inventions and products devised by Phil and his laboratory cohort, Lem (Malcolm Barrett), are what really drive the show and make it stand out from the average sitcom. Here's hoping they continue to create for more than just one season.
3. "Harper's Island," CBS. As I've said elsewhere, I'm not 100% convinced that this show will prove to be game-changing television, but I'm totally behind the concept of a self-contained, single-season series where we're guaranteed a definitive conclusion. The premise, just in case you haven't caught the countless promos, revolves around friends and family attending a wedding celebration on a secluded island off the coast of Seattle. The island was also the scene of an infamous series of murders several years prior, which makes completely unsurprising when the wedding guests begin to die one by one. Who will survive? We shall see. It'll be interesting to find out just how much gore this murder mystery will be allowed to dole out during the 10 PM timeslot on a broadcast network.
4. "Kröd Mändoon and the Flaming Sword of Fire," Comedy Central. As much as love several of the shows which air on Comedy Central, they're often more than a little hit-and-miss with their original programming. This collaboration with BBC Two, however, is one of the most impressive projects in the network's history, offering up a parody of the sword and sorcery genre with production values that seem almost inappropriately strong. Seriously, it looks gorgeous…and, moreover, it's actually quite funny as well. Granted, the appearance of Sean Maguire in the cast was a little disconcerting, given that he'd been in the not-very-funny-at-all "Meet the Spartans," but then you see Matt Lucas of "Little Britain" fame playing the show's resident baddie and see the gorgeous India de Beaufort ("Run Fatboy Run") as the female lead, and you realize, "Say, maybe this really will be worth watching." And so far, it very much has been.
5. "Parks and Recreation," NBC. It was a toss-up as to whether this spot would go to "Southland" or ABC's "The Unusuals," but in the end, I've gotten too many laughs from the work of Greg Daniels in the past to be able to dismiss anything with his name on it. Unfortunately, all I've seen thus far of "Parks and Recreation" is the pilot, since I missed last week's episode and NBC.com has opted not to put it online for viewing, but with the cast of Amy Poehler, Aziz Ansari, and Rashida Jones tackling the ever ridiculous world of governmental bureaucracy, the comedic potential is tremendous. All that really remains to be seen is if the format, which is so disconcertingly similar to "The Office," can evolve enough to make "Parks and Recreation" feel as though it has an identity of its own.
Any other new shows which you think have the potential to pop up on the next TV Power Rankings? Leave 'em below!