Day 7 of the TCA Press Tour technically began on Day 6: just as the ABC all-star party wrapped up, Fox hosted a cocktail party which doubled as an early check-in for their day of the tour…and, better yet, it was hosted by Will Arnett and Keri Russell, the stars of one of Fox's upcoming new sitcoms, "Running Wilde."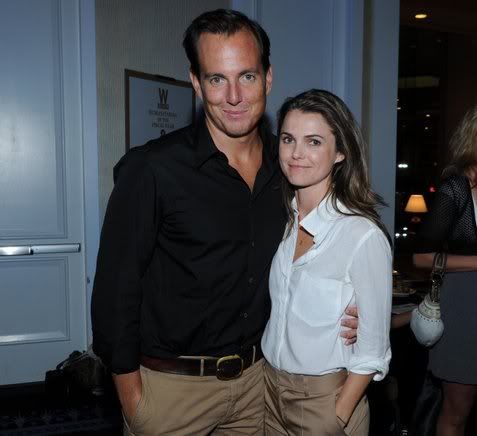 You'll get more details about the show in due time, since there was a "Running Wilde" panel as well, but for now, I'll just mention that two other individuals affiliated with the show made unexpected appearances at the early check-in: executive producer / co-creator Jim Vallely and co-star Peter Serafinowicz.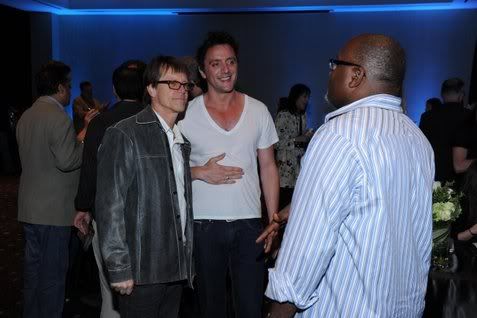 I didn't really get a chance to chat with Russell (she was pretty well surrounded from the moment she arrived), but I did talk to Arnett for a few minutes. Thanks to my wife, though, I ended up having a relatively lengthy conversation with Serafinowicz and Vallely. I knew I'd recognized Serafinowicz, and he quickly reminded me why: he had his own series in the UK, one which many YouTube clips reveal to be extremely hilarious. Indeed, he's the one who told me I should check them out, particularly his Beatles-related parodies, of which he's quite proud. No wonder he was cast to play Paul in Robert Zemeckis's "Yellow Submarine" remake.
In a strange "small world" moment, I also learned that Jim Vallely is the father of Tannis Vallely, the actress who played Janice, the glasses-wearing, cello-playing prodigy on "Head of the Class." She's now on the casting side of the business, having worked on such films as "X-Men Origins: Wolverine," "Indiana Jones and the Kingdom of the Crystal Skull," "Oceans' Thirteen," and "It's Complicated." Eventually, my wife and I grew tired and retreated for the evening, but it would only be a few hours until we were back in the thick of it again, this time for the real beginning of Day 7.
Breakfast was brought to us by the casts of "Human Target" and "The Good Guys," shows which, back in the days when the networks weren't too cheap to spread their series across a two-day period, would've earned their own panels. Instead, we had to settle for chatting with them over bacon and eggs, bagels or donuts, and that sort of thing. In truth, the only person I really had the chance to speak with was Jackie Earle Haley on "Human Target," and that was mostly because I feel like I kinda sorta know him (he's friends with Bullz-Eye's own Ross Ruediger and, as a result, has come to recognize me on sight as "Ross's friend"), but as you can see, everyone was in the house from both series.
Soon enough, the actors headed out to start their own days, and having finished our breakfast, we took our seats and prepared for the first panel of the morning to begin.
Lone Star
"Lone Star" is a great FX series. Unfortunately, it's on Fox, and I'm not entirely sure that broadcast audiences are going to be willing to sit still for a show which moves at a such a slow, studied pace…but, hey, I'm a TV critic. It's my job to get the word out on a series like "Lone Star" and tell you to watch it. The premise finds James Wolk playing a second-generation conman who's living two lives, with a woman he loves in each of them, and has a crisis of conscience that makes him unwilling to give up either of them. Despite the fact that it doesn't have anything even remotely resembling an in-your-face vibe, there's always a chance that audiences could come for the cast – which includes Jon Voight, David Keith, and Adrienne Palicki – and stay for the drama.
That's certainly what Fox is hoping for, anyway.
"My understanding was that (FOX) were looking to try a cable show on network," said executive producer Kyle Killen, "and if we signed up with them, they would give us the leeway to really try that. You know, when you go out and you pitch shows, the truth is the things that you watch, the things that you love — 'Breaking Bad' and 'Mad Men' — they're dirty words in pitch meetings because they're shows that have a number of viewers that would not — it would get a show canceled on the network. So even if you respect them creatively and you want to say, 'This is what we hope to be. This is what we want to put on air,' your people will tell you, 'Talk about 'Dallas.' And I think at FOX, it wasn't a dirty word. At FOX, they felt like the only reason those shows aren't more popular is because they're not on FOX and because they don't have this machine. They don't have this opportunity behind them. And I think we're going to get that."
When asked how long "Lone Star" could sustain itself with its current one-man-two-families premise, executive producer Amy Lippman admitted that the show would need to reinvent itself periodically, not entirely unlike…you guessed it…"Breaking Bad."
"We look at shows that start with a very strong premise and by Season 2 have turned it in some way," said Lippman. "I think that's our challenge: to keep it going, to keep it fresh and not to replay the same dynamic over and over again. We certainly have a sense of where we're going this season with it, with the understanding that, if we're lucky enough to be back in front of you next year, that something will be significantly changed in the show."
"Also, the show has a lot of different levels to it," said executive producer Chris Keyser. "There's no question that the con is going to run all the way through. In fact, there are a number of cons that you'll see played out, but the truth is also that we have a very broad, I guess, traditional soap canvas as well. There are two full families, and I think when Kyle wrote the pilot, he constructed in a lot of really clever television ways those triangles that give you a lot of plot to play with. There are three children whom Clint Thatcher has to deal with. There are two wives. There's a triangle there. There are two fathers. So we have a lot of things we need to deal with. If anything, I think we're finding that, as we begin, there's so much to do, that we need to parcel it out from episode to episode."
"I think we want to err on the side of being aggressive with plot and having things change and feel dynamic as opposed to feeling like we are treading water episode after episode," said Killen. "The things that you're interested in, the questions you want answered, I think that we want to be aggressive about taking them on. At the same time, it really is at its heart not just about the Swiss-watch mechanism of it all. It's about these characters and the fact that the situations that they're in they approach like real people would. So I think that's where the soap side of it comes in. It's not just giving people their fix. That's actually what's important, so that you understand why they do what they do with respect to the cons that move forward."
James Wolk is no doubt going to be labeled one of the fresh faces of the new fall season, since he's really only known for his work in the TV movie "Front of the Class," where he played a teacher with Tourette's Syndrome, an experience which kinda sorta put him on the map. ("Maybe I was a like small city you've never heard of," he said with a grin, "but on the map.") He loved working on that project, and he's equally psyched about the prospect of tackling "Lone Star."
"'Front of the Class' was a true story. This is not necessarily a true story, but the role is just as rich, and the world is just as real," he said. "So I'm really excited to sink my teeth into this with this truly exceptional cast and everyone involved, with the writers and directors. As soon as I read the script, I knew that this role had something very special in it. Originally it was written a bit older, so it was a question of, 'Can I be honest and true in this role? Can I really do justice to an audience that would watch it and actually believe in it?' And it was a really interesting ongoing conversation between myself and people that help me make decisions and these wonderful people you see behind me, and we figured out after a few auditions that, yes, this could work, and I was elated. I was so excited because I thought that this role is something that could really continue to challenge me, and it's a really wonderful role. It was on the page. Kyle wrote a script that it was clear, I think, with all of our characters that there was some real stuff to play here, which I think is what ignites this cast and excites us that we're going to go into a series where we'll be challenged every day."
Running Wilde
I try to avoid putting chunks of the transcripts from these panels into my coverage, but sometimes a panel demands that you offer your coverage that way, just so you can get a feel for the rapid-fire back and forth going on between the panelists…like, say, this one:
Q: I have a question in the back, in the right. Keri (Russell), what inspired you to do a sitcom?
MITCH HURWITZ: Don't be thrown by the way he said "sitcom."
WILL ARNETT: But really run with the "inspired" part.
Q: A half-hour comedy, scripted show.
MITCH HURWITZ: Yeah, why did you decide to do a "crapcom"?
Q: I wasn't implying…
MITCH HURWITZ: No. I'm sorry. Of course I did. It's self-hatred. I'm sorry.
If you'd asked me after the panel, I couldn't have told you how Russell answered the question, but the word "crapcorm" has stuck with me ever since.
(For the record, Russell replied, "I just wanted to be interested, and it was interesting to me. I've been reading a lot of film scripts that were kind of more of the same, and the type of movies I really did want to make weren't being green-lit, and this came my way, and it was just too good to pass up. And then I flew out and met these guys, and they were so wonderful. It was fresh and exciting, and I thought I'd try it.")
Hurwitz is excited at the prospect of working with Arnett on a show where he's more central to the series, as opposed to "Arrested Development," which was obviously more of an ensemble situation
"This is a true romantic comedy," said Hurwitz. "He really does have great skills as an actor and can play a wide range of things, but because he is so funny, and funny is such a striking quality, people tend to use that quality of his in movies and in guest spots on things, and you know, the fun for us in working with Will is finding those levels and finding those surprises and those dramatic moments, just like the fun with Keri is finding those moments where she's more comedic, where she's not the voice of reason. She has such a likability and such a relatability that I think there's going to be a lot of fun to be had with playing against types for both of them."
Hurwitz is, of course, aware that critics will be unable to resist making comparisons between "Running Wilde" and "Arrested Development," especially now that it's been announced that David Cross will be joining the cast in a recurring capacity.
"I think we very much loved doing 'Arrested' and do miss it, and it's why we do want to make the movie still, but this is a different project," he said. "It has just a different set of rules to it. I think there's real peril in trying to repeat yourself and trying to apply rules that applied to something else to a new project. I will say Kevin Reilly has been unbelievably helpful in helping us ground this, and I really feel like he is helping me get out of my comfort zone, and it is kind of easier sometimes to write those dislikable characters because they do funnier things. And the next step for me is to try and go past that a little bit and have some courage about stepping into a new area."
Okay, time for another transcript excerpt. This one took place when Stefania Owen, who plays Russell's daughter on the series, was asked what it's like to serve as the voice of reason on the show.
STEFANIA OWEN: Well, in "Running Wilde," everyone is kind of, like, childish, and I'm the one that kind of gets them to…I'm sort of the mature one, and everyone is stupid and immature.
MITCH HURWITZ: You're not just talking about people on this panel, right? You're talking about the characters.
STEFANIA OWEN: Um…
Q: Are you like that in real life?
STEFANIA OWEN: What do you mean? Mature?
Q: Ultra-mature while people are stupid around you.
STEFANIA OWEN: I can be stupid too. But sometimes if…if it's, like, serious, then I am mature. And it depends.
MITCH HURWITZ: There's something about…I think she and the Steve character have the most in common in a way.
WILL ARNETT: They're both raised in very protected environments and kind of secluded.
STEFANIA OWEN: And they all want the spotlight to be on them…
WILL ARNETT: (Interrupts) I was talking.
Unsurprisingly, "Arrested Development" continued to be brought up throughout the panel, but Hurwitz offered a particularly telling response when asked if he's worried about bringing yet another series with a unique comedic sensibility to Fox.
"I personally worry about success, that having to continue doing it is far more perilous for me than the fear of it being canceled," he said. "I guess I would describe as a hope of it being canceled. I don't sound sincere when I say this, but I really am sincere in saying 'Arrested' was an amazing experience and an amazing opportunity, and I'm very grateful to FOX and 20th for letting us do it for three years. When I look at the climate of television today, I don't think you could do it. Maybe you could do 'Arrested Development,' but you couldn't necessarily do a show that took as many risks right off the bat, and that they gave me a lot of room to play, and I never had any entitlement or expectation that I deserved to just keep that on the air forever. They stayed with it for a long time.
"I'm certainly happy to be back at FOX," Hurwitz assured us. "I think they do some very interesting and adventurous things, but on top of that, you know, Kevin Reilly has just really been terrific to work with. As we've all experienced this, the three of us wrote this together. And we went through nine, ten drafts of this thing, and every time Kevin would give us some very specific idea, and we would curse, and we would gnash our teeth, and then we would say, 'He's right. It's getting a little better. It's getting a little better.' We are still reshooting the pilot. We're going to go off and reshoot about half the pilot because of some very insightful comments that he's made and some recasting and things like that.
"We were very rushed in making a very ambitious pilot, and we were rushed because our favorite directors, the Russo brothers, were doing another show, which got picked up at ABC, so we didn't have them until the last minute. We didn't have a lot of prep, and I think we had like six or seven days of post from the end of shooting to deliver the thing. It's a very short amount of time. And that affects everything. That affects casting. That affects how much time you get to spend with the characters finding it. So, you know, we threw a lot of stuff out there very quickly, and we were able to look at it and say, 'You know, here's where we're not as invested in the characters.'
"But even as we were writing it in the original drafts, it always kind of bumped us," added Arnett. "One of us, at some point, would be, like, 'Is this really the thing that we wanted? Is this really working?" And at the time when you're under all this pressure and you don't have the time and/or the money to change it, it's hard to sometimes identify exactly what those problems are."
"Hopefully, the show will be very funny," said Hurwitz. "A lot of what we've already written and our reshoots…just to look at Will alone, everything this guy does is going to be funny. But it's different. I think there's a burden associated with 'Arrested Development' that it's a…what's the phrase when it's a high-class problem to have? You know, we're glad to be working. We're glad to be trying to do something that appeals to a wider audience. I think if we can make that move, if we can get a big audience interested in the show, more and more of our subversion, hopefully, will be able to come out."
Executive Session
The Fox executive session is always good for a few interesting announcements and/or news briefs, so when Peter Rice, Chairman of Entertainment for the Fox Networks Group, and Kevin Reilly, FOX President of Entertainment, took the stage, we were all keeping our fingers crossed for some good material. We had resigned ourselves to little or no insight on the new season of "American Idol," and that's what we got, but Rice was at least kind enough to kick off the proceedings by addressing the recent changes with the series.
"In early June, I met with Ellen," began Rice. "We talked about the season and her feelings about the season, and, really, the idea that she wasn't comfortable. She didn't feel like it was a good fit for her. I tried to persuade her that it would be different in the future, but ultimately we came to an agreement that we would begin to look for new judges. We were doing that anyway because Simon was leaving. And as that played out over the course of the summer, that we would come to an agreement to either say to her we can't replace you or to say that we feel that we can move on without you, so that's sort of where we got to last week. It was precipitated in great part by this morning. We felt confident that we could come up with a panel that didn't include Ellen as a judge. And at the same time, we knew we were coming here on Monday, and I thought it would be very disingenuous to sit here and to talk about Ellen being on IDOL next year when we knew that wasn't going to be the case. So we decided to announce that last week. That created another round of speculation about who would be replacing Ellen and who would be replacing Simon on the judges' panel next year.
"The only thing I can tell you with absolute certainty right now is that no one has signed a deal yet on either side of the camera to join 'American Idol' next year who wasn't on it last year. And I know that that is it's not particularly a fun announcement. It's certainly not the choice I would have made, but it is the truth as we sit here today, that there are no signed deals with anybody. There has been tremendous speculation, and we live in a world where you guys are tremendous at the job that you do and you find out information, as you should, as journalists. And then we have to respond to that information. I can tell you that much of the information that has been written is accurate. And some of the information that has been written is wildly inaccurate. I'm not going to get into either confirming or denying which ones they are, but it does make it difficult for us and the job that we're trying to do and the business that we're trying to run. And at times, that is in conflict with the business that you're trying to run. You're trying to break stories, and we're trying to run a television network and work with producers on television shows. And when we're working with the No. 1 television show in America, that scrutiny is enormous. So I wish I truly wish that we were going to walk out a panel of judges for next year and that that could be a celebration for us and we could engage with you on that. I'm really sorry that that's not going to happen. If we had signed deals, we would have done that. I can imagine that there are a tremendous amount of follow up questions to that which might be fantastic questions, and I'm not going to get into that speculation and I'm not going to live in sort of a fish bowl of a blow by blow account of casting the show right now, however much fun that would be for you or for your readers, which I recognize is the truth. So I'm sorry if that might lead to an endless round of, you know, "I'm not going to speculate on that," but it is the truth that we are, sitting here today, dealing with.
"We start the auditions with the judges in mid September," Rice concluded. "We certainly plan to have a judges' panel in place and signed by then, and as soon as we have that, we will announce it."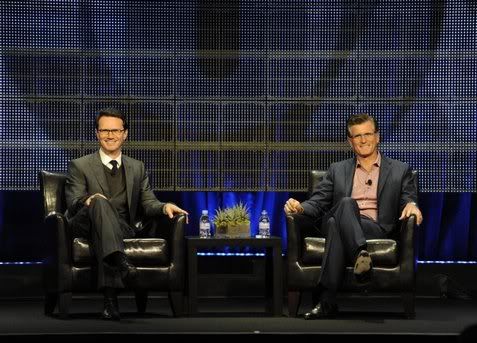 Okay, now that that's out of the way, we can talk about something besides "American Idol"…or, at least, we could if that hadn't continued to be the predominant theme of the panel. At the time, Rice refused to confirm or deny the return of Nigel Lythgoe as producer of the show (it has since been announced that, yes, Lythgoe will be back in the fold come next season), nor would he be tempted into saying anything at all about Kara DioGuardi's fate. There were many more questions about the show, but none of it was terribly illuminating. Ultimately, we're going to have to do exactly what Lee had been indicating all along: wait.
In the end, the only thing that *I* really cared about during the session was when the topic of conversation shifted over to the potentially-awesome sci-fi series, "Terra Nova," which we'll be seeing on Fox sometime next year…and by "next year," we don't mean January. They're actually going to hold the series until next fall, though the talk is that they'll do something like they did with "Glee," where they tease viewers with the pilot in the spring and then make 'em wait for the series 'til the fall.
"It was mainly due to the scope of what this show is going to take," Reilly said of the delayed premiere. "You know, we got into it knowing it was going it be ambitious, knowing that we had enormous you know, some groundbreaking digital effects we were bringing to it. We had to create an entire world and mythology. But frankly, even locking in a location has had a unique set of challenges. A lot of the world will be created digitally, but we're trying to find a prehistoric world. We've explored everywhere from Louisiana to Hawaii to Australia to Orlando. Each has had its pluses and minuses. We're getting very close to locking in a location. It's actually been very, very exciting. We've got a great team. We've seen a lot of design work. It really became apparent, to do this show right, we were going to need the time. So we decided to make a virtue of it, slow it down for this season.
"The two advantages of doing the spring are the following: we're going to be able to do the pilot right, have an enormous jump on that on the marketing side, hopefully recreate the same thing we did with 'Glee,' let people understand the show, give them materials over the summer that we've already shot, invest them in it. Secondly, in success, this is a show that needs to be ahead in cycle. This is not a show where they can finish on one week and three weeks later, it's on the air. That's just not going to be possible. We need to be ahead of it. This cycle sets us up for that."
"One of the other things about that is — and this tends to be more of an issue for movies than for television — when you're doing something which has a tremendous amount of the visual effects in it, if you're trying to then sell it and you're trying to sell something of scale and spectacle and the visual effects aren't done, it's hard to say, 'It's this huge adventure,' and the images you're showing are not large in that same way," said Rice. "I think that, by slowing it down in that way, we will be able to present the images and the spectacle to the audience in a way which reflects the show that we're going to be making."
"We have our team of writers, we have Jon Cassar, who was our in-house director of '24,' joining us," said Reilly. "So we've got really the A-team on it, doing a lot of work right now, generating stories and scripts and material and prepping location. Alex Graves is going to direct. All the elements that have come in have been top-notch. So hopefully, this will be better for it."
American Dad
Time for lunch…and for a table read from the voice cast of "American Dad," featuring Seth MacFarlane, Matt Weitzman, Mike Barker, Scott Grimes, Wendy Schaal, Dee Bradley Baker, and Erik Durbin. I'm not a huge "American Dad" fan, but if previous TCA tours have taught me nothing else, it's that table reads are fun whether you like the show they're reading from or not. You just kind of get caught up in the laughter around you. Plus, this was a slightly unique one, in that they actually brought the animation for the final act of the episode and showed it to us because they were so proud of the animation. I don't want to spoil it for you, but suffice it to say that it's a Christmas episode – title: "For Whom The Sleigh Bell Tolls" – and involves a stand-off with Santa Claus. Good times.
Arguably the most surprising revelation to come out of the session is that "American Dad" is working almost a year and a half ahead of schedule, with their table read for next year's Christmas episode set for next week, but we also got word about several guest stars who'll appear in the upcoming season, including Burt Reynolds, Anjelica Houstin, Hayden Panettiere, Jason Alexander, Carl Reiner, Ed Asner, Grace Park, and Lou Diamond Phillips, who'll be playing Stan's half-Native-American brother in the Thanksgiving episode.
Raising Hope
Fact: there is a moment within the pilot of "Raising Hope," Fox's new sitcom about a young man having to suddenly adapt to the responsibilities of being a father, that made me laugh harder than anything I've seen on television in probably two years. That alone made me want to make sure that I'd be in attendance for the show's panel, but I was further sold on being there when my wife and I spotted Cloris Leachman playing piano in the lobby of the Beverly Hilton. It was a rather surreal experience to see her sitting there, tinkling the ivories for any and all in attendance. Little did I know that Ms. Leachman's appearance on the panel would ultimately prove to be an even more surreal experience.
QUESTION: Were you guys afraid when you were conceiving this premise that, you know, the mom being executed with the baby present and all that fun little setup might be a touch too dark?
CLORIS LEACHMAN: We think it's funny.
GREG GARCIA: I checked with Cloris, and she thought it was funny. We had different versions. We had versions where she got executed, electrocuted, but it didn't take and then she stayed alive, and then we toyed around with different things. It's dark, but I thought it was dark in a funny and absurd way, and it seemed like an interesting way to get this family a baby, so I figured we would go for it.
CLORIS LEACHMAN: Is she killed or not? I don't know.
GREG GARCIA: She's no longer with us.
CLORIS LEACHMAN: Over?
LUCAS NEFF: Yeah.
CLORIS LEACHMAN: That's sort of dark, isn't it?
No, "sort of dark" is the original title of the show, which was "Keep Hope Alive." (The baby's name is Hope.) But I digress. You can tell from the above excerpt that, yes, Cloris Leachman is still hilarious and remains a master of comedic timing. The problem is that she's prone to eccentric tendencies that she sometimes takes beyond the point of being funny, and we were witness to such an occasion a few minutes later, which went a little something like this…
Q: This is for Cloris Leachman.
CLORIS LEACHMAN: She left.
GARRET DILLAHUNT: She left years ago.
CLORIS LEACHMAN: She had lunch first. Then she left.
Q: I'm way over here if you want to make eye contact.
CLORIS LEACHMAN: Could you stand, please, and say your name? Stand up, please.
Q: Hi.
CLORIS LEACHMAN: What's your name?
Q: I'm Ed.
CLORIS LEACHMAN: Who?
Q: Ed.
CLORIS LEACHMAN: Ed?
Q: Ed.
CLORIS LEACHMAN: Ed? Sit down, Ed. Next question. I'm not comfortable here. I have to sit near you… (Gestures to Greg) …or I won't be happy.
GREG GARCIA: Want to come down here?
GARRET DILLAHUNT: (Shaking his head) Every day.
(At this point, Cloris stood up and Dillahunt carried her chair down to the other end of the stage, next to Garcia. Predictably, it was at this point that she changed her mind about where she wanted to sit.)
CLORIS LEACHMAN: You sit there. I would — you sit near him. I would rather sit near her. (Gesturing to the seat next to Martha Plimpton, which is where Dillahunt had been sitting)
GREG GARCIA: When the music stops, you have to be in a chair.
CLORIS LEACHMAN: Ed, the next guy left, so you have to ask your question. Stand up, please.
Q: Seriously?
CLORIS LEACHMAN: Get up.
Q: All right. Yes, ma'am.
CLORIS LEACHMAN: Take a breath and just relax.
SHANNON WOODWARD: Cloris, I'm not sure if I should be insulted that you wanted to move.
GREG GARCIA: This is why I told the studio we need 14 hours a day to shoot.
Q: I'm afraid this question is going to be entirely fruitless. You're going to answer however you want. Can I sit down?
CLORIS LEACHMAN: No. You stand and ask the question.
Q: Make sure to make everybody else stand too. Anyway, your character in this program seems to sort of drift in and out of senility, which I don't think you're doing on stage, but…
CLORIS LEACHMAN: That wasn't funny. He was not funny.
Q: …but are you hoping to get a little bit more to do in future episodes?
CLORIS LEACHMAN: No. I just love it like this.
Q: To sort of parade around in your bra?
CLORIS LEACHMAN: I like to stand near him when he's just about to enter in the kitchen while she's putting on some dreadful, but carefully picked out, frozen food for the rest of them. What was the question?
GREG GARCIA: We have lots of fun stuff planned for Cloris' character. It's not just — she's not just going to be in and out of being lucid. There's a lot of fun stuff, and we find out some history of her character, and we're going to find some really fun stuff for her to do.
GARRET DILLAHUNT: Sit down.
CLORIS LEACHMAN: Did you sit down yet?
Q: Yes.
CLORIS LEACHMAN: Thank God.
Okay, enough borrowing from the transcript. You get the idea: Cloris can be crazy. Not everyone thought it was as funny as I did, but I laughed pretty hard…up to a point. She stayed on a roll for a few more minutes, with the highlight being the frustrated declaration, "I'm so sick of Betty White," but after a misguided attempt at getting a little blue with her material (one which Plimpton decried as "makeup trailer talk"), Leachman wisely let her castmates and series creator Greg Garcia have a chance to take center stage.
The big question to Garcia was in regards to the similarities between this show and his previous series, "My Name Is Earl," which he didn't hesitate to address.
"I think there's some things that are similar and a lot of things that are different," he said. "I feel like the way it's shot and the look of it will be somewhat like 'My Name Is Earl' because I kind of fell in love with that style. I like very much to try to do a little movie every week, so we'll continue to try to accomplish that. Other than that, I think that it will be more grounded in spots. It's similar. But this is a lower-middle income family whereas 'Earl' was thieves and criminals and such. So it's slightly elevated from that."
Masterchef
I know what you're thinking: just how many shows does Gordon Ramsay need, anyway? Hey, I don't blame you. But if you've ever been in the room with the guy when he's holding court (and I realize most of you haven't), he never fails to be an entertaining speaker…and, you may be surprised to hear, he's impeccably polite, making sure to thank everyone for their questions, often going so far as to praise them.
The fact that are so many different faces of Gordon Ramsay led one critic to ask him if he ever gets tired of having to put on an act – if, indeed, it is completely an act – for his various series.
"It's a very good question," he said. (See?) "I think what we have to do is understand the different situations in terms of 'Kitchen Nightmares' is something that, in our minds, you know, throwing the last lifeline in a way that we help try to turn these places around. 'Hell's Kitchen' is professional chefs. This is something that is completely different in terms of it's an amateur king foodie that wants to step into the world of food on a bigger platform, and there's no service connected. We're high-pressure at moments with the wedding, for instance, and we're very fortunate to go off and cook for the guys and girls at Camp Pendleton for their last meal before they go back to Afghanistan. We put them in those kinds of situations, and it's not running a service or handling a service of a restaurant because I don't think everyone on 'Masterchef' wants to go and open a restaurant."
"Can I comment on that?" asked "Masterchef" judge Joe Bastianich. "I think that, in the past, Gordon has dealt with professional cooks and chefs, as he said. And they need to be treated in a certain way, and that's the way we do in our profession. I think in 'Masterchef,' with amateur cooks and truly home cooks, you see a side of Gordon…you see probably Gordon as husband, father, home cook. How does he interact with his family? How does he cook at home? And I think that that's more the nurturing sensibility that he has and is what transmits itself in this show."
"Trust me, if they felt they weren't giving their all as contestants or they were taking the easy option out, he would let them know," said executive producer Mark Koops. "The honesty and integrity that all of them brought then was to judge the dish as a dish and judge them on were they doing the best they could each and every time. So with that sometimes came praise, but sometimes with it came criticism and stern words."
"Absolutely," agreed Ramsay. "When it goes wrong, it goes wrong, and let's be honest: even when we make mistakes, it's in the process of learning, so we can't be as hard on them because they're not getting paid $60-, $70,000 as a line chef working for Wolfgang Puck. These are individuals that are dying to do well in this industry but have never been given the chance."
When asked if he was eager to have that softer side come out on the show, however, Ramsay answered the question by launching into an anecdote.
"Joe summed up one challenge," he began. "We had a wedding, and I thought we were going to make history by cooking for the wedding and having the divorce on the same day. Because the main course wasn't coming out, and things were going seriously tits up. However, we turned it around, and Joe turned around and said, 'My God, you know, I've understood you properly now. You're like a fine wine. The longer you leave him, the more mature he gets.' So, you know, we do have good days as well where it runs to perfection, even on 'Kitchen Nightmares' and even on 'Hell's Kitchen.' So it's not all shouts and screaming."
The "Masterchef" panel wrapped up with Ramsay testing the assembled critics to see which one of them had the most discerning palate by asking us to determine the ingredients contained within a batch of gazpacho that had been whipped up for us. The winner would receive a free dinner at one of Chef Ramsay's restaurants. Suffice it to say that I did not win, but for what it's worth, it's not like the person who did win necessarily had the most discerning palate, either. They just happened to be the person who named the final ingredient…which, for the record, was vegetable stock.
From there, it was time for a sundae break brought to us by Fox's Sunday Night Animation Domination block of programming. I must admit, however, that I had to bail out of the proceedings for the sake of my own well-being: I was so tired and worn out that my hands were shaking, and I absolutely had to take a nap, lest I literally pass out in my chair. But thanks to Fox Publicity, I do have a photo from the event…
…and thanks to the TCA, I have a transcription of the subsequent event – the "Glee" panel – and can therefore still bring you the highlights:
Glee
First off, Ryan Murphy and Ian Brennan – the show's co-creators, writers and executive producers – were asked how they envisioned the show's future insofar as dealing with the progression of the students through the school. Would it be a case of treating each season as a year of school, consistently ending with the glee club going to finals?
"We haven't thought about that," admitted Murphy. "We obviously have to deal with the cast and the fact that, you know, the show will hopefully go many, many years. We've sort of mapped out the first four years with our original cast. But I think, you know, we have an obligation to be true to the high school experience. I don't want to sort of do a thing where we wake up and Episode 5 is five years in the future and they're all living in the same condo complex. I don't know. We haven't really talked about that.
"We know the first four years," he said. "The thing about the show is you do sort of have a set of competitions that are true. You have sectionals and regionals and nationals, and then one year we want to go to Copenhagen or Moscow for the International Show Choir Competition. Beyond that, we just have the first four years mapped out."
Executive producer Dante de Loreto discussed the trials of securing song clearances for the show. "We always have a fair amount of lead time to clear the music," he said, "but even still, there are some songs that have such complex titles that it can take more time to clear than we actually have…although we rarely run into that. For the most part, everyone's been very enthusiastic about how respectfully we use the music. It's a show about music and about arts education and about arts in the school. And I know Ryan has received some fantastic mix tapes."
"Yeah, I got a mix tape from Paul McCartney a couple weeks ago," revealed Murphy. "It was amazing. I thought I was being punked."
He wasn't.
"It just sort of came out of the blue," Murphy said, "and it was in a package and it was sort of handwritten, and it was two CDs and it said, 'Hi, Ryan. I hope you would consider some of these songs for 'Glee,'" and then it said 'Paul.' And I opened it up and I think that it was 'Michelle' and it had, like, these huge songs. But I know that he is — so I've heard through our wonderful people at FOX, Geoff Bywater – is a fan of the show and just admires and loves that it's about art education. I mean, I was gobsmacked. I grew up with that guy. So, of course, we are going to do something with…I don't think a whole episode, but something with him."
(Note to Murphy: Seriously? Paul McCartney's a fan and you're not sure you'd dedicate a whole episode to him?)
As far as future guest stars, Murphy revealed that Cheyenne Jackson will be appearing as the coach of Vocal Adrenaline, John Stamos will be coming on the show to serve as Matt Morrison's rival, and Kristin Chenoweth will be making a return appearance as well.
Indeed, Murphy was surprisingly forthcoming about what we could expect to see in Season 2 of "Glee," though the revelations often came in conjunction with reflections about Season 1.
"I think we had such a whirlwind of a year," he said. "We didn't know what we were doing when we started. We were kind of making it up as we went along. But the one thing that really clicked for me is when we went on tour, which was instantly sold out, which was amazing, and all the kids were there, and they would come out. Some of them would have two lines, three lines, and they got these huge ovations, and they had their sort of mini fan clubs, and I felt instead of going bigger and overstuffing Season 2, which I think people would expect us to do, let's go under it. Let's really sort of dwell on a lot of these supporting characters like the Santana character, the Brittany character and the Mike Chang character and the Tina character. So we're giving all those actors big storylines this year because I think people want to know about them. And last year because we were with IDOL in the second half of the season, I personally kind of blew it out. Like that Madonna episode had nine numbers, which was insane. So we're scaling back a little bit and concentrating a little more on the stories, and now I think we're going to do five or six songs, but that's just because I thought we were learning as we went."
The season premiere will be called "Auditions" and focuses on the idea that daily life is an audition for everyone, not just high school students, while the third episode of the season is faith-focused and finds the "Glee" kids discussing what God means to them. There will be a Britney Spears themed episode at some point, with one other themed episode set for after the Super Bowl, though Murphy will only describe it as "a tribute to a musical artist that we're in negotiation for." Similarly, Murphy is attempting to wrangle Susan Boyle for this year's Christmas episode, though she's apparently not been locked in yet. There's also going to be an episode during the second half of the season which will feature original songs, something which comes about when the students get an assignment to write their own music.
Bring it on, Murphy. We're ready.