Day 7 of the TCA Press Tour technically began on Day 6: just as the ABC all-star party wrapped up, Fox hosted a cocktail party which doubled as an early check-in for their day of the tour…and, better yet, it was hosted by Will Arnett and Keri Russell, the stars of one of Fox's upcoming new sitcoms, "Running Wilde."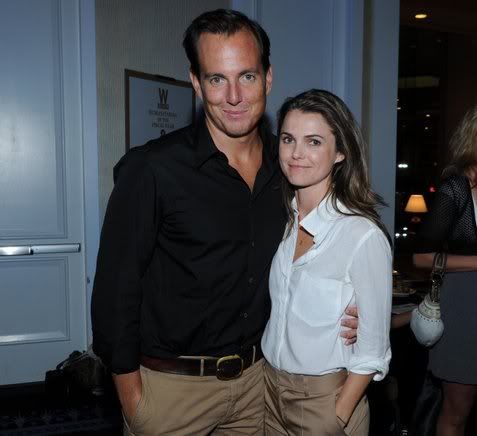 You'll get more details about the show in due time, since there was a "Running Wilde" panel as well, but for now, I'll just mention that two other individuals affiliated with the show made unexpected appearances at the early check-in: executive producer / co-creator Jim Vallely and co-star Peter Serafinowicz.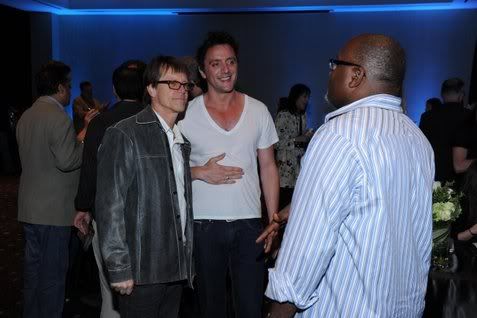 I didn't really get a chance to chat with Russell (she was pretty well surrounded from the moment she arrived), but I did talk to Arnett for a few minutes. Thanks to my wife, though, I ended up having a relatively lengthy conversation with Serafinowicz and Vallely. I knew I'd recognized Serafinowicz, and he quickly reminded me why: he had his own series in the UK, one which many YouTube clips reveal to be extremely hilarious. Indeed, he's the one who told me I should check them out, particularly his Beatles-related parodies, of which he's quite proud. No wonder he was cast to play Paul in Robert Zemeckis's "Yellow Submarine" remake.
In a strange "small world" moment, I also learned that Jim Vallely is the father of Tannis Vallely, the actress who played Janice, the glasses-wearing, cello-playing prodigy on "Head of the Class." She's now on the casting side of the business, having worked on such films as "X-Men Origins: Wolverine," "Indiana Jones and the Kingdom of the Crystal Skull," "Oceans' Thirteen," and "It's Complicated." Eventually, my wife and I grew tired and retreated for the evening, but it would only be a few hours until we were back in the thick of it again, this time for the real beginning of Day 7.
Breakfast was brought to us by the casts of "Human Target" and "The Good Guys," shows which, back in the days when the networks weren't too cheap to spread their series across a two-day period, would've earned their own panels. Instead, we had to settle for chatting with them over bacon and eggs, bagels or donuts, and that sort of thing. In truth, the only person I really had the chance to speak with was Jackie Earle Haley on "Human Target," and that was mostly because I feel like I kinda sorta know him (he's friends with Bullz-Eye's own Ross Ruediger and, as a result, has come to recognize me on sight as "Ross's friend"), but as you can see, everyone was in the house from both series.
Soon enough, the actors headed out to start their own days, and having finished our breakfast, we took our seats and prepared for the first panel of the morning to begin.