It's Grand Ole Opry Week on "American Idol," meaning the contestants last night had to sing country music songs by anyone who belongs to the Opry, including recently inducted member and former Idol champ Carrie Underwood. Opry veteral and country music legend Randy Travis spent the week in Hollywood training and mentoring each contestant. Country week can be challenging for most of the finalists at best, and painful for viewers at worst. But honestly, there wasn't anything last night that was so hideous you knew for sure what tonight's results would be. At least, that's how I saw it. Here is a recap of the very good, the good, and the mediocre:
THE VERY GOOD
Allison Iraheta sang Patty Loveless' "Blame It On The Heart" and while I had my doubts about this young (16!) hopeful, Allison proved last night that she is not only going to hang around a bit, but that she could be a contender to win it all. Her voice is just sick. Kara said Allison can sing anything in her own style, Paula said it was rock solid, Simon said it was good but tuneless in spots, and Randy strongly disagreed with Simon, saying it was "dope." I agree, it was dope.
Danny Gokey came out dressed in this weird white jacket that made him look like the Stay Puft Marshmallow Man from "Ghostbusters." Really, whose idea was that? Danny started off slowly with Underwood's "Jesus, Take the Wheel," but in the chorus he soared to heights that few in this competition can match. And to be honest, I hate this song. Kara said the second half of the song was amazing, Paula said it was brilliant, Simon agreed with Paula but said he hated the marshmallow suit and that it looked like Danny was going on a polar expedition, and Randy agreed with Kara that he only liked the second half of the song.
Anoop Desai was close to being eliminated last week, so he knew he had to step up his game. And he did just that, with a solid performance of Willie Nelson's "You Are Always on My Mind." Paula declared, "Anoop is back!" and that he touched her heart (please…), Simon said Anoop went from "zero to hero" and that it was an excellent song choice, Randy said he showed great skills and that he loved the arrangement, and Kara said Anoop took a classic song and made it sound amazing. Indeed.
Matt Giraud closed the night with Carrie Underwood's "So Small," but did a really cool piano version of it. This kid is a dark horse…..remember, his day job is as a dueling piano player, and his only blemish so far was that awful Coldplay song a few weeks ago. Kara said there is nothing small about Matt and that he is a true talent, Paula said it was authentic and honest, Simon said Matt doesn't get enough credit for his vocal skills the way Adam and Danny do, and Randy said it was his favorite performance of the night.
THE GOOD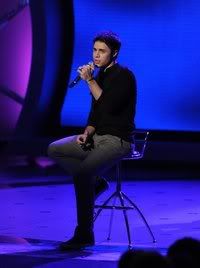 Kris Allen put his guitar aside and performed Garth Brooks' "To Make It For My Love," and I thought it was a bit safe and somewhat boring even. But not the judges, who loved it. Paula said she was pleasantly surprised and that Kris showed a vulnerability. Does anyone else not understand what that means in "American Idol" terms? Simon said it was terrific and that Kris actually has a shot to win it all, Randy said he liked that Kris took a chance, and Kara said she didn't even feel like it was a country song.
Adam Lambert did the obscure Dilana version of Johnny Cash's "Ring of Fire" and this week, I actually bought into the hype. I thought it was cool and that Adam showed some real skills with his vocals and the arrangement. Randy Travis was a bit spooked, both by Adam's choice of arrangement and by his black nail polish. Kara said it was strange but she liked it, Paula said Adam stands out and stayed true to his style, Simon said, and I quote, "What the hell was that?" and called it "indulgent rubbish," and Randy said he disagreed with Simon and thought it was fresh and hot.
Lil Rounds took on Martina McBride's "Independence Day," and it's hard for me to believe she hasn't been exposed to much country music as she claims, because she lives in Memphis. But anyway, it wasn't Lil's best, but she still displayed some powerful vocal ability in the chorus. Randy said the chorus was the best part, Kara said Lil is a great singer, but it took a while during the song for her to show it, Paula said everything is going right for Lil, and Simon said he likened the performance to someone being asked to sing a song she doesn't know very well at a wedding. Huh? I really didn't think it was that bad.
THE MEDIOCRE
Okay, so Michael Sarver is the only contestant who country music comes naturally to, since he is a Texas oil rig worker. Michael did Garth Brooks' "Ain't Going Down 'Til the Sun Comes Up," and it was, for me, just okay. Michael is obviously talented but it was a bland performance. Randy said it was a cool choice but didn't show him a lot vocally, Kara said we got to see Michael's personality, Paula said it was fun, and Simon used the words "clumsy" and "karaoke."
Scott McIntyre sang Martina McBride's "Wild Angels" and while I'm not a huge fan of Scott's, it wasn't bad at all. Not as good as everyone else, but not bad. Paula said it was another impressive performance but that she wants to see Scott without the piano, Simon disagreed and ridiculed Paula but he didn't think it was a great song choice, Randy said it was "not hot," and Kara said Scott needs to up his game next time. If there is a next time, that is.
Alexis Grace sang Dolly Parton's "Jolene" and she has a great voice but didn't really show much of it last night. Randy said it as a great choice but not a great performance, Kara said Alexis lost her edge this week, Paula said it was effective, and Simon said it was just okay and called it a "soundalike" performance. That's a more polite way of saying "karaoke." But I don't disagree with any of those assessments.
Megan Joy Corkrey was sick with the flu this week, so she gets extra credit for being a trooper. And her version of the classic "Go Walking After Midnight" wasn't bad, but was a bit weird, even for Megan. Randy said he was quite impressed, Kara said it was the perfect song and gave Megan credit for battling the flu, Paula also called Megan a "fighter," and Simon said he thought it was better than last week's showing. I'm not sure about that, but okay.
So there you have it. I believe they said Brad Paisley is performing tonight, and hopefully he will sound better than Kanye West or Kelly Clarkson did last week. As for who will be eliminated, that's a tough call this week. Really, it's going to be a tough call every week this season, because the talent bar is so high. But here it is…..Michael, Lil, Scott and Megan and maybe even Alexis are going to be at or near the bottom, and honestly, I think this is the week Scott goes home. I'd love to hear what you all think, so please leave your comments below. Thanks for reading and we'll be back tomorrow with the results…
Oh, but first, check out this recent article by Fox News columnist Randee Dawn about the importance of song selection on "American Idol," an article in which I was quoted.