Got a TV geek on your Christmas list but don't know what to get them because you're petrified that they might already have all the obvious picks? As someone who falls into that demographic (and therefore has to make a very explicit list for my family every year), I understand where you're coming from, so please allow me to do my part to help but you and the poor bastard you're waiting 'til the last second to shop for. Sure, the list is a little all-over-the-place, but all of these items have landed in stores since last Christmas, and…hey, at least it's in alphabetical order!
1. Adam 12: Season Two – Rescued from Universal's indifference by the good folks at Shout! Factory, it holds up about as well as any show produced by Jack Webb (which is to say that the acting is more than a little stilted), but it's been tricked out with commentaries from actual Los Angeles police officers, which make for entertaining and interesting listening.
2. Beauty and the Beast: The Complete Series – Ron Perlman may be best known these days for his work in FX's "Sons of Anarchy" and the "Hellboy" franchise, just as Linda Hamilton is probably destined to be remembered as the definitive Sarah Connor, but once upon a time, they were the stars of a rather unlikely romance on CBS. This complete-series set offers little new for those who've already purchased the individual season sets except an interactive trivia game, some "newly reconstructed love letters" from Vincent which don't sound like they're being read by Perlman, and a nice looking box, but it's a strange, fanciful, and romantic show that your mom, wife, sister, or…oh, hell, even you might like it.
3. Comedy Central's TV Funhouse – Given that it takes the style of a kids show from the early '70s and blends it with dark, surreal, and sometimes downright filthy humor, it's only halfway surprising that this series didn't find a following, but it will undoubtedly come to be remembered as one of the great lost comedy classics of the decade. Robert Smigel obsessives will notice that a few things are missing from the show's original airing, but there's still plenty here to make you laugh and groan for hours.
4. Drak Pak: The Complete Series – Sometimes, you include an item for personal reasons, but the idea of the kids of Dracula, the Wolfman, and Frankenstein's Monster teaming up to form a crime-fighting team that battles against a guy who looks suspiciously like Vincent Price is one that had me watching every Saturday morning. Sadly, it only lasted a single season, and watching it now, I can kind of see why, but it's still a fun flashback for those who remember the show from its original run.
5. The Equalizer: Season One – The idea of a British guy being a bad-ass was complete anathema to Americans until Edward Woodward came to CBS in the '80s and asked the questions, "Got a problem? Odds against you?" Stewart Copeland's soundtrack keeps the action placed squarely in the appropriate decade throughout, but that only serves to make the trip back in time more enjoyable.
6. Friday the 13th: The Series – Season One – Despite the title of the show, it's not actually a continuation of the wacky misadventures of Jason Voorhees. Instead, it's more of an anthology series which takes place in a quaint little antique shop and follows the stories of various cursed antiques. It's generally more cheesy than creepy, but it has its chilling moments if you're willing to wait for them.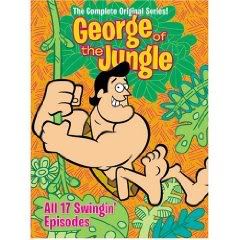 7. George of the Jungle: The Complete Original Series – God only knows why it took this Jay Ward classic to make it to DVD in a complete-series set, but at least it's finally here. If you're only familiar with the Brendon Frasier live-action flick, then it's time you got schooled on the real thing…and, even better, if you've got kids, then you can pretend you're buying it for them. On a related note, though, I'd be curious to see the stats on how many fans of the show from my generation were first introduced to the series after "Weird Al" Yankovic recorded a cover of the theme song. (I'd hate to think I'm the only one.)
8. Hustle: The Complete Seasons 1 – 4 – There's a whole lot of "Ocean's Eleven" in this BBC series about a bunch of British con-men and one elder American flim-flam man (played by the great Robert Vaughn), but you'll also be able to see some of the spirit of TNT's new series, "Leverage." It's a lot of fun, and although it gets a bit formulaic, it's always a gas to see how these folks pull off their various cons.
9. Intelligence: Season One – If you're from the Great White North, then it'll only take the words "from the creator of 'Da Vinci's Inquest," but if you're an American, then try this on for size: it's like a Canadian version of "The Wire." No, seriously. There's a lot of wiretrapping of criminals and politics between governmental agencies going on. Plus, if you haven't gotten enough Matt Frewer from his sporadic appearances in "Eureka," he's all over this series, too.
10. Jericho: The Complete Series – Watch the first episode to get the concept down, keep going 'til you start to think things are getting a little dodgy, then skip to the halfway point of Season 1. From there, you'll be hooked 'til the bitter end…and, then, when it ends, you'll be just as bitter as the rest of us, especially when you check out the alternate ending to the final episode and see how things could have gone.
11. The Kill Point: The Complete Miniseries – Any time someone wants to dismiss Spike TV as nothing but mindless entertainment for brain-dead jocks, I say, "Yes, you're almost totally right…like, we're talking 99.7% accuracy…but, honestly, 'The Kill Point' was pretty good." Donnie Wahlberg and John Leguizamo headline the cast in this miniseries about a bank robbery gone wrong, and though it goes a bit long (it's almost six hours in length), it's still filled with action and gripping drama.
12. Lovejoy: Season Two / Lovejoy: Season Three – Ian McShane is best known to Americans as Al Swearengen, owner of the Gem Saloon on "Deadwood," but the Brits…yes, he really is English…remember him most fondly for his role as the somewhat unscrupulous antiques dealer known only as Lovejoy. He's a bit of a cad, that one, but McShane's charisma makes women swoon no matter what their nationality.
13. Masters of Science Fiction: The Complete Series – Here's a story that'll make you want to go punch someone at ABC in the face. The network had a damned fine science-fiction anthology series last year, one which featured appearances by Malcolm McDowell, Anne Heche, Sam Waterston, Judy Davis, Terry O'Quinn, Elizabeth Rohm, Brian Dennehy, and John Hurt, had episodes directed by Mark Rydell ("On Golden Pond"), Michael Tolkin ("The Player"), and Jonathan Frakes ("Star Trek: First Contact"), and offered up adaptations of stories by Robert Heinlein, Howard Fast, and Harlan Ellison. So what did they do with it? Well, first, they sat on it for several months. Then, the network's President of Entertainment dismissed it as "a low-cost initiative that we tried," enigmatically calling it "very unseen" and "a little bit problematic," even though the advance screeners for the series showed a good-looking, well-written, and well-acted anthology series. But, you know, the network's always right, so they buried the show instant-death timeslot of Saturday nights at 10 PM, where virtually no-one saw it. Damn, ABC, what did "Masters of Science Fiction" ever do to you? Oh, well, at least they released it on DVD.
14. New Street Law: The Complete Second Season – Still mourning the loss of "Boston Legal"? Well, this isn't nearly as good as the adventures of Denny Crane and company, but it puts a nice British spin on your typical legal drama, and it'll remind you a lot of "The Practice."
15. The Odd Couple: The 3rd Season / The Odd Couple: The 4th Season The Odd Couple: The 5th Season– There aren't many comedic duos who provided as many laughs in the '70s as Jack Klugman and Tony Randall. For as much of a stamp as Matthau and Lemmon put on their parts in the film version of Neil Simon's classic play, the sheer number of episodes of the "Odd Couple" TV series made Klugman and Randall the definitive Oscar and Felix for me, and you can't go wrong with any season of this show.
16. Parking Wars: Best of Season One – Truth be told, I've never watched a single episode of this show, but my wife is a huge fan, so I'm putting on here based on her love of the series. In a nutshell, it's a reality series about employees at the Philadelphia Parking Authority as they ticket, boot, and tow cars, with all the bleeps you'd expect to hear from the tow-ees when they show up at the impound lots. Actually, now that I've written this sentence, I kind of want to watch the show.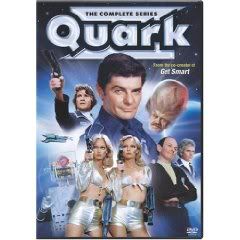 17. Quark: The Complete Series – I don't know that you could necessarily get away with calling this sci-fi parody one of Buck Henry's forgotten classics, but when I was seven years old, I thought it was the funniest thing on television. Few agreed with me, apparently, given that its sum total of episodes isn't even in the double digits, but watching it now, it might not be drop-dead hilarious, but I can actually appreciate the element of parody a lot more.
18. Robot Chicken: Season Three – No, it doesn't include the "Star Wars" special. But it does include guest voice appearances from Snoop Dogg, Masi Oka, Skeet Ulrich, Katee Sackhoff, Joss Whedon, Stan Lee, Nathan Fillion, Robert Culp (as Bill Maxwell from "The Greatest American Hero," no less), Robin Tunney, Zachary Quinto, Clark Duke, Sarah Michelle Gellar, Joel McHale, Master P, Ludacris, Cee Lo, and five members of the "Saved by the Bell" cast. Perhaps most importantly, though, Billy Dee Williams turns up to voice Lando Calrissian. That's gotta count for something, "Star Wars" fans!
19. Soap: The Complete Series – Even the diehard "Soap" fans probably wouldn't claim that this comedic melodrama maintained the same level of quality from start to finish (and, really, how could it have when Robert Guillaume left after a few seasons?), but – possible blasphemy alert! – I still think it works better overall than "Mary Hartman, Mary Hartman." Not that the latter series wasn't funny at times, but it could never hope to compete with a series that offered up a cast featuring Billy Crystal, Richard Mulligan, Katherine Helmond, Robert Mandan, and the aforementioned Mr. Guillaume, among others. One word of warning, however: it might be convenient to have the whole series in one convenient set, but the packaging's for shit.
20. Two Fat Ladies – Health food, my arse. This pair isn't afraid to take you and your arteries on a trip through some of the tastiest dishes in the UK. And don't get cocky and say, "Well, that's why one of them has died," because she actually bought it from lung cancer than from heart disease. If you're smart, you'll give this to that special someone a few days before Christmas, so they'll have access to the instructions on how to make the Ladies' Christmas dinner: egg mousse, roast goose with pate and prune stuffing, Swedish red cabbage, and Christmas pudding ice cream bombe. In a word, yum.
21. Ultraman: The Complete Series – If you don't see what's so great about Godzilla and his ilk, then you probably need not apply to the adventures of Ultraman, a Japanese creation about a member of a special police force who's able to transform into a giant robot. Makes fighting crime a bit easier, true, but it also seems to have increased the number of monsters attacking Japan exponentially. I was getting ready to suggest that you steer your Mighty Morphin Power Rangers loving kids toward "Ultraman" instead, but then I realized that I didn't even know if the MMPRs were even still on the air anymore! I'm so freaking old…
22. The Vice: Season One / The Vice: Season Two – Do we really need another police drama? Oh, wait, it's British…? As a card-carrying Anglophile, then I say, "Yes, we do!" Throw in a bit of prostitution and some drug use, which "The Vice" does, and you'll be sold, too.
23. Wanted: Dead or Alive – The Best Of – Steve McQueen is one of the great bad-asses of 20th century cinema, but before he made it to the big screen, he was busy kicking ass on television as bounty hunter Josh Randall. Not everyone's a huge Western fan, though, so if you want to dip your toe into the water of McQueen's most famous TV effort, this nine-episode collection is a good way to go.
24. The X-Files: Revelations – I might be in the minority here, but, frankly, I really liked this summer's "X-Files" movie. No, it wasn't about aliens, but, really, who cares? It was Mulder and Scully together again, and that's all I went into the flick looking for, anyway. Anything else was gravy. But with that said, if you were disappointed, then this collection of classic "X-Files" episodes is a nice palate cleanser. And if that doesn't work for you, tough, because it's not like there are a whole lot of shows that start with "X" to choose from, y'know?
25. The Young Indiana Jones Chronicles, Vol. 3: The Years of Change – Get ready for a profound sense of deja vu, but…I might be in the minority here, but, frankly, I really liked this summer's "Indiana Jones" movie. But, then again, I also know a lot of longtime Indy fans who didn't dig the TV series that served as an elongated prequel to the films. You really can't go wrong with the DVD release of the show, however, particularly if you're A) a history buff, or B) want your kids to learn something but don't have the heart to take away their TV privileges to make it happen. If they like what they see, don't forget that there are two other volumes waiting for them.
26. Zoom: Back to the '70s – I don't have quite the same sentimental attachment to this series as I do "The Electric Company," but when it comes to force-feeding my child the TV shows of my youth, this one's still gonna be on the menu. So will she zoom, zoom, zoom-a zoom? You're damned right she will.
If you still need more items for consideration, head over to our friends at TVShowsOnDVD.com for a full calendar of every TV-DVD set released during 2008.