When it comes to TBS's original programming, I was never afraid to indicate my disappointment with the way the network perpetually left the late, great "My Boys" floundering on their schedule without any other series that matched its comedic tone, and having watched the pilot for their new series, "Glory Daze," an hour-long comedy which looks at life in college circa 1986, I have an immediate fear that I could well see history repeat itself…and that would be very disappointing, indeed.
Not that it's necessarily the most original concept in the world, you understand. Even if you were to set aside the not-insignificant number of college-life movies that exist, from "Animal House" and "Back to School" to "Van Wilder" and "Old School," you'd still have several top-notch TV series which have tackled the same topic, including "Greek," "Undeclared," and…wait, "The Paper Chase"? Who put that in here?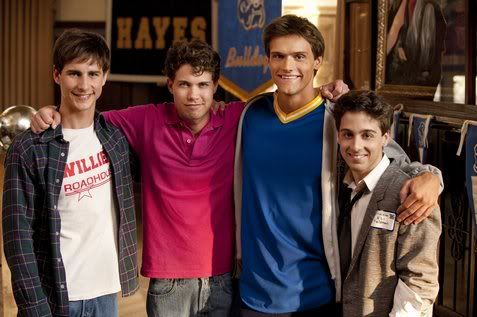 Well, anyway, you get my point: "Glory Daze" is not the first show about college to come down the pike…and, yet, I was immediately intrigued by the twist of having the show take place in 1986. I admit, the predominant reason it intrigues me is because I actually started college in the fall of '87 (although if I find out that at least half of the writing isn't over the age of 40, I shall disassociate myself from the program post-haste). That, and the fact that I heard "Make a Circuit with Me" by the Polecats played during the pilot, which earned the show some serious street-cred points.
Here's what TBS's press release on the show has to say:
Big hair, New Wave music and acid-wash jeans – TBS is returning to 1986 fo the new, one-hour comedy series "Glory Daze." Set on an Indiana college campus, "Glory Daze" features a cast fresh faces, including Kelly Blatz ("Aaron Stone"), Callard Harris ("Sons of Anarchy"), Matt Bush ("High School"), Drew Seeley ("Freshman Father"), Hartley Sawyer ("Killian"), and Julianna Guill ("My Alibi"). Tim Meadows ("Saturday Night Live," "Mean Girls") also stars as a recently divorced, very liberal professor with a chip on his shoulder.
"Glory Days" premieres on TBS Tuesday, November 16, at 10 PM (EST / PST). "Glory Days" follows the fun – and awkward – misadventures of four freshmen as they navigate college life, trying to figure out who they are and who they want to be. Joel (Blatz) is a typical guy next door who is determined to keep his focus on pre-med, at least until he meets his unattainable dream girl, Christie (Guill). Eli (Bush) is a virgin who desperately wants to be cool. Jason (Seeley) is a buttoned-down conservative, attached at the hip to his preppy girlfriend. Brian (Sawyer) is a star baseball player strugglign to get out of his father's shadow. Together, the guys agree to check out fraternity houses, finally coming to the steps of Omega Sigma, where they are greeted by pledge recruiter Reno (Harris). Intrigued by the fraternity's cool factor, their fate is sealed. They begin a journey that will make a lifetime of memories.
Yeah, I have a bad feeling that the show could well slip into the trap of making too many jokes about things that haven't yet happened – there's already been a moment where two students make disparaging comments about the concept of "electronic mail" – but having just suffered through the excruciating experience of watching "Blue Mountain State: Season One," I am hard pressed to dismiss any college show which appears to be more interested in focusing on the bonds of friendship rather than sex, drugs, and binge drinking.
Not that there won't be plenty of all of those things going on in "Glory Daze," too. I mean, hell, it is a show about college.
And speaking of that, now it's your turn to participate: what are some of your own favorite college memories? Leave 'em in the comments section below…and, remember, you get bonus points if the memories in question originally took place between the years 1986 and 1991!