Last night, Day 2 of Season 8 of "American Idol" on FOX brought us many good performances, and golden tickets to Hollywood. Sure, there were lots of the usual horrendous auditions, but the producers chose to focus on the talented ones, and there were a higher percentage of them than there had been in Phoenix the night before. Here are the lowlights and highlights…..
THE BAD
Chelsea Marquardt kicked things off, and while she was a really pretty girl, she was an awful singer, like all-over-the-place awful. At least she can go be a model if she wants to….Brian, a 20 year old kid from KC, sang an ARETHA FRANKLIN tune, and that should be your first cue that he sucked. But dude had a hard time accepting his fate, and they showed him crying followed by a nice montage of other contestants who didn't pass their audition bawling and/or screaming like they were in pain.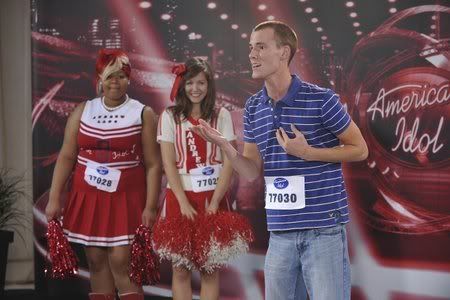 No, really….There was "banana boy," a humorous one dressed in yellow who used a real banana as a prop….Jasmine, a 17 year old girl from Nebraska with a love for jazz and a very bad voice….Andrew, who came with two cheerleaders to help his cause, was not a bad singer, but while the judges were first considering sending him through, they decided in the end that Andrew was not ready…..