Last night, Day 2 of Season 8 of "American Idol" on FOX brought us many good performances, and golden tickets to Hollywood. Sure, there were lots of the usual horrendous auditions, but the producers chose to focus on the talented ones, and there were a higher percentage of them than there had been in Phoenix the night before. Here are the lowlights and highlights…..
THE BAD
Chelsea Marquardt kicked things off, and while she was a really pretty girl, she was an awful singer, like all-over-the-place awful. At least she can go be a model if she wants to….Brian, a 20 year old kid from KC, sang an ARETHA FRANKLIN tune, and that should be your first cue that he sucked. But dude had a hard time accepting his fate, and they showed him crying followed by a nice montage of other contestants who didn't pass their audition bawling and/or screaming like they were in pain.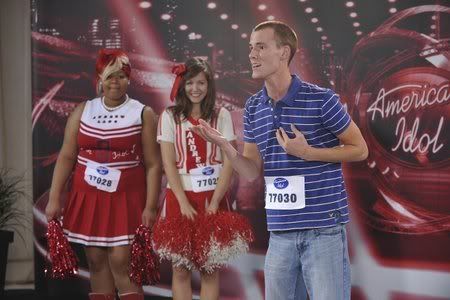 No, really….There was "banana boy," a humorous one dressed in yellow who used a real banana as a prop….Jasmine, a 17 year old girl from Nebraska with a love for jazz and a very bad voice….Andrew, who came with two cheerleaders to help his cause, was not a bad singer, but while the judges were first considering sending him through, they decided in the end that Andrew was not ready…..
Michael McEllander, a distant relative of Hank Williams (really?), was maybe one of the worst contestants of the night, and Mia, a 27 year old "janitorial engineer" by day, attempted Minnie Ripperton's "Lovin' You" with little success.
THE GOOD
There is a good chance the winner of Season 8 is going to be from this round in Kansas City, the home of last season's champ David Cook, because some of these auditions were just stellar. Ashley Anderson kicked off the good ones last night with a rendition of a Leona Lewis song and that immediately won brownie points with Simon Cowell, who helped discover Lewis….Casey Carlson took on Vanessa Carlton's "A Thousand Miles" and it wasn't great in my opinion, but the judges loved her and saw something….Von Smith did a very loud and emotive version of "Over the Rainbow" and if he tones things down, can go pretty far….Jason Castro's little brother Michael, who admitted that he never tried singing until about three weeks before the audition, obviously comes from a talented family because he has some pipes too, though he has a bit more flair than his older brother who was a finalist last season….Matt, a 27 year old father and husband who put his singing career on hold for a few years, wowed the judges with his take on "Ain't No Sunshine," and even Simon appreciated the guy's enthusiasm and drive….
Jessica, who was shown telling her hard-of-hearing grandmother that she was going to audition for the show, did the grandma and her family proud….India and Asia, two rapping sisters, both attempted to sing separately and while Asia wasn't good enough, India was more than good…Jamar and his "California Dreamin'" was appropriate, and though he was also a loud and emotive singer, there was no doubt he had great vocal chops….Danny, Jamar's best friend, and whose wife sadly passed away recently, was still battling grief but dude has an amazing voice as he showed on "Heard It Through the Grapevine." Keep an eye on this guy, I just have a feeling about him…..Anoop, who didn't look the part but had a killer voice, moved on to Hollywood….Asa Barnes sang Michael Jackson's "The Way You Make Me Feel" by Michael Jacksona and when asked by Simon why he chose it, replied, "Because I like the song." Good answer, and great voice….Dennis, who had a dream about Simon Cowell saying he was one of the best auditions, had an initial nightmare as Simon said he "hated" the performance, but this kid somehow convinced the other judges to let him through…..and finally, the show ended with Lil Round, whose family recently lost their Memphis home in a tornado. Lil took on Stevie Wonder and just knocked it out of the park, prompting all of the judges to claim that she was one of the best auditions they had ever seen. Folks, Lil is going to be in the Top 12, and make sure you remember that you read that here. She is just awesome and is going to be a star whether she wins this thing or not.
That's it for this week…..in the coming month we will have six more audition rounds….ugh. But we know it's a long season anyway. Please spread the word about this blog to your friends and family who follow the show, and let's have some fun with it!