Glee (Wed., Sept. 9 @ 9:00 PM, Fox)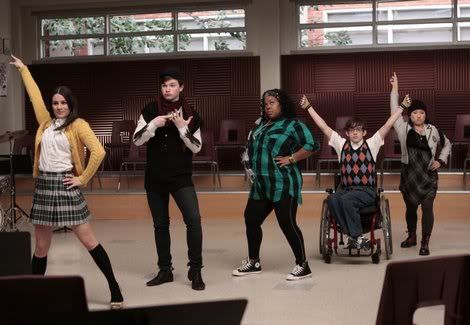 The competition: "Modern Family" and "Cougar Town" (ABC), "Criminal Minds" (CBS), "Law and Order: Special Victims Unit" (NBC), "The Beautiful Life" (The CW)
Starring: Jane Lynch, Jayma Mays, Corey Monteith, Lea Michele, Dianna Agron, Matthew Morrison, Jessalyn Gilsig, Chris Colfer, Patrick Gallagher, Kevin McHale, Jenna Ushkowitz, Amber Riley, Mark Salling
Producers: Bradley Buecker, Brad Falchuk, and Ryan Murphy ("Nip/Tuck"), Zachary Woodlee ("Eli Stone")
Network's Description: A one-hour musical comedy that follows an optimistic high school teacher as he tries to transform the school's Glee Club and inspire a group of ragtag performers to make it to the biggest competition of them all: Nationals. McKinley High School's Glee Club used to be at the top of the show choir world, but years later, a series of scandals have turned it into a haven for misfits and social outcasts. Will Schuester, a young optimistic teacher, has offered to take on the Herculean task of restoring McKinley's Glee Club to its former glory with the help of fellow teacher Emma Pillsbury. It's a tall order when the brightest stars of the pitch-imperfect club include Kurt, a nerdy soprano with a flair for the dramatic; Mercedes, a dynamic diva-in-training who refuses to sing back-up; Artie, a geeky guitarist who spends more time avoiding bullies than chasing girls; and Tina, an awkward girl who needs to suppress her stutter before she can take center stage. Will's only hope lies with two true talents: Rachel Berry, a perfectionist firecracker who is convinced that show choir is her ticket to stardom; and Finn Hudson, the popular high school quarterback with movie star looks and a Motown voice who must protect his reputation with his holier-than-thou girlfriend, Quinn, and his arrogant teammate, Puck. Driven by his secret past, Will is determined to do whatever it takes to make Glee great again, even though everyone around him thinks he's nuts. He's out to prove them all wrong – from his tough-as-nails wife Terri Schuester to McKinley's cheerleading coach Sue Sylvester to an über-hip world that thinks jazz hands and sequined tuxedos litter the road to infamy rather than pave the way to Hollywood dreams.
The Buzz: Crazy insane. (Insane? Crazy?) Fox's decision to air the pilot for the show back in May and let it simmer for the summer was one of the strongest marketing moves in recent television history, as evidenced by the ridiculous amount of iTunes downloads of the songs from the show, and while having the cast turn up at Comic-Con might've seemed out of place at first, given how close the lines for "glee club members" and "comic book and sci-fi aficionados" lie on the geek flowchart, it shouldn't have. And now they're preparing to tour the malls of America…? The buzz buzz buzz you're hearing in the drum of your ear is the sound of "Glee."
Pilot Highlight: If you didn't want to leap to your feet and applaud at the end of their performance of "Don't Stop Believin'," you are dead inside. Dead, I say.
Bottom Line: It's going to be like having a new volume of "High School Musical" airing every single week, except with sensibilities falling closer to "Freaks and Geeks." If it isn't a huge hit, and if the soundtrack to the show isn't one of the biggest selling albums of the holiday season, I will be shocked…and crestfallen, too, as I'm totally in the "Glee" club as well.