TUESDAY
No Ordinary Family (Tues., Sept. 28 @ 8:00 PM, ABC)
* The competition: "NCIS" (CBS), "The Biggest Loser" (NBC), "Glee" (Fox), "One Tree Hill" (The CW)
Starring: Michael Chiklis, Julie Benz, Romany Malco, Autumn Reeser, Kay Panabaker, Jimmy Bennett, Stephen Collins
Producers: Greg Berlanti ("Eli Stone"), Jon Harmon ("Tru Calling"), David Semel ("Life"), Morgan Wandell
Network's Description: The Powells are about to go from ordinary to extraordinary. After 16 years of marriage, Jim feels disconnected from his workaholic wife, Stephanie, and two teenage children, Daphne and JJ. To encourage family bonding time, Jim decides the family will join Stephanie on her business trip to South America. When their plane crashes into the Amazon River, they barely enjoy a moment to celebrate their survival before returning to the grind of everyday life. But they will soon realize that their lives have been forever changed. Each member of the family starts to show signs of new, unique and distinct super powers. Will their newfound abilities finally bring them together or push them further apart? For the Powells, embarking on a mission to understand their new abilities becomes the key to rebuilding their family life, as they learn what defines and unifies them. Despite the fact they can collectively lift a car, run at lightning speed, read your mind and calculate the dimensions of the Eiffel Tower — all before you say "superhero" – they are first and foremost an average family with everyday problems.
The Buzz: Decidedly strong at Comic-Con, as you'd expect, and there's no question that ABC's treating it as a major player in the season, given all of the intrusive pop-ups promoting the series during its current programming. The big question, though, is whether or not non-nerds (and as a nerd myself, please understand that I'm simply using this phrase as to separate us cool kids from those other people) can be sold on the show.
Pilot Highlight: Perhaps unsurprisingly, the members of the family discovering their respective abilities make for the most fun, but as for the best of that bunch, it's a tie between Jim learning how to jump and Stephanie speeding around the track.
Bottom Line: The pilot is a heck of a lot of fun, offering a sense of humor and a sense of adventure that's more like a live-action "Incredibles" than another "Heroes," but given the tough competition, superhero fans had better tune in from the get-go, keep on coming back for more, and spread the good word on the show for all they're worth if they want "No Ordinary Family" to stick around.
Detroit 1-8-7 (Tues., Sept. 21 @ 10:00 PM, ABC)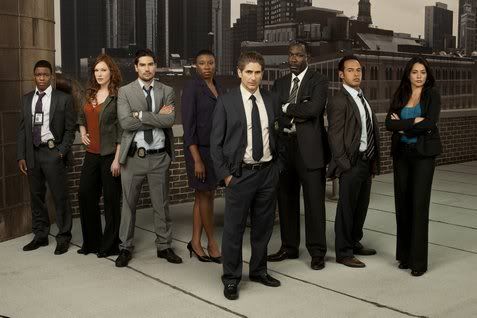 * The competition: "The Good Wife" (CBS), "Parenthood" (NBC)
Starring: Michael Imperioli, James McDaniel, Aisha Hinds, D.J. Cotrona, Jon Michael Hill, Shaun Majumder, Natalie Martinez, Erin Cummings
Producers: David Zabel ("ER"), Jason Richman ("Bangkok Dangerous"), Kevin Hooks ("Prison Break"), David Hoberman ("Monk"), Todd Lieberman ("The Kill Point")
Network's Description: What does it take to be a detective in one of America's toughest cities? Follow one homicide unit as Detroit's finest reveal the crisis and revelation, heartbreak and heroism that characterize these inner city cops in this series shot entirely in Detroit, Michigan. There's the damaged but driven Detective Louis Fitch, a wily homicide vet who is the most respected — and most misunderstood — man in the division; Detective Damon Washington, Fitch's new partner, who finds the first day on the job is a trial by fire, complicated by the imminent birth of his first child; Detective Ariana Sanchez, sexy, edgy and beautiful, who has emerged from a rough background to become a rising star in the department; narcotics undercover cop John Stone, a streetwise smooth talker, clever and quick with a smile made for the movies, who is teamed with Sanchez — a combustible pairing rife with conflict and sexual tension; Sergeant Jesse Longford, a 30-year veteran and sage of the department struggling with his impending retirement from the force and the city he loves, who, together with his partner, Detective Vikram Mahajan — a fully Americanized son of Indian immigrants — form an amusing mismatch of experience and enthusiasm, intellect and instinct, old school and new world, but whose combined skills have never encountered a case that couldn't be cleared; and all are headed by Lieutenant Maureen Mason, a strong-willed single mom struggling to balance home and work. The unit works with the primary medical examiner, Dr. Abbey Ward, who has an unusual hobby in her off-hours-roller derby. The men and women of Detroit Homicide are as smart and tough as they come. They have to be, as they struggle with their own inner demons, using only their sharp sense of humor to keep them grounded while working the neighborhoods of the historic Motor City.
The Buzz: The show earned a few headlines when it had to deal with an impossible-to-predict change from its original faux-documentary format after a real death in Detroit during the filming of an episode of A&E's "The First 48" led the city to ban camera crews from following cops around. The producers, of course, have put the most positive possible spin on the situation, but given that it was one of the few things that instantly helped the show stand out from its fellow police dramas, you know it had to hurt, especially since there hasn't really been any buzz about the show.
Pilot Highlight: The conclusion to Washington's first day as a detective. You won't see it coming, and it wipes away many of your concerns that the show might wallow in schmaltz.
Bottom Line: The cast is strong, but the show still ends up feeling like a typical cop drama. Having both Imperioli ("Life on Mars") and McDaniel ("NYPD Blue") back on the beat is nice, and the last scene of the first episode will no doubt bring just about everyone who's watching back for Episode #2, but it still may not be enough to help "Detroit 1-8-7" compete against two shows that absolutely do have buzz.