Last month, I had a chat with Kevin Nealon in conjunction with his most recent gig for TBS (he's the standing host of their funniest-commercials specials), and during the conversation, he dropped a little bit of info about his upcoming stop-motion animated Nick at Nite series, "Glenn Martin, DDS":
"It's about a family who's traveling around the country in an RV called the Molar Express. I play Glenn Martin, DDS, and I'm working my practice out of the RV. My wife is played by Catherine O'Hara, and we have a couple of kids. It's a dysfunctional family, and it's along the same lines of 'Family Guy' and 'The Simpsons.' We go to different parts of the country each week and get into a bunch of trouble. It's stop-motion animation, and they really did a good job with it. I was really impressed with the results."
It's a good thing I was able to get Kevin's comments on the show during our conversation, however, as the TCA panel dedicated to the series was very much under the control of the show's executive producer, the one and only Michael Eisner. The show was introduced to the crowd by Cyma Zarghami, President of Nickelodeon and MTV Networks Kids and Family, and we would soon know why she was smirking when she asked Eisner, "Michael, do you want to say something before we start?" Worse, most of the things he had to say really didn't serve to illuminate us very much about the show…or, at least, no more so than Kevin already had last month.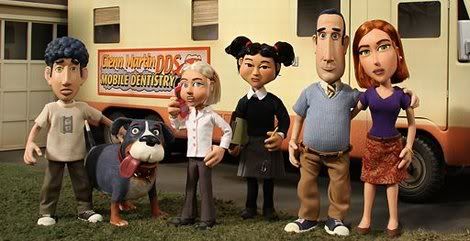 We did, however, learn at least one new thing: "Glenn Martin, DDS" will have a laugh track.
Co-creator Eric Fogel acknowledged that it was something they had experimented with a little bit before finally deciding to go with it, but "we all just really enjoyed the experience with the laugh track. Somehow it seemed like it elevated the experience, made the characters feel more real in a way."
"It's kind of tongue in cheek, too," said Nealon, "because you know there's not a live audience watching it. I think it goes with the whole feel of the show."
"I like to imagine that there's actually an audience of clay puppets out there laughing at the show," added Fogel.
Here's the trailer for the series:
I miss the old days of stop-motion animation just enough to be curious about the series on general principle, and while Kevin Nealon might not be my favorite "Weekend Update" anchor, I do think he's a funny guy. In other words, I'll be tuning in when "Glenn Martin, DDS" premieres on Nick at Nite on August 17th.