Kevin Nealon's been a familiar face on television since his days as a cast member on "Saturday Night Live," but in recent years, he's become more known for his work on Showtime's long-running series, "Weeds." Those who can't afford the premium stations, however, may also see him pop up as the host of TBS's "World's Funniest Commercials" specials. Won't you please join us for…
Kevin Nealon: Hey, Will! How are you doing?
Bullz-Eye: Hey, Kevin, good to talk to you!
KN: Yeah, you, too!
BE: So this is not your first time around the block for TBS.
KN: No, it's not! It's starting to add up. (Laughs)
BE: So how did you come to hook up with them in the first place?
KN: Oh, gee, let me see if I can remember. It's been about…oh, I'm guessing eight years now? Seven or eight years. I think they just kind of came to my agents with this offer to host this show, and I always loved funny commercials. You know, one of the reasons – like a lot of people – that I watch the Super Bowl is for the commercials during it, so I was into that. And, also, I went to school for marketing and learned a lot about commercials then, and I was going to be in advertising, but instead I went into comedy. So there's a big interest there for me.
BE: Do you have a favorite commercial from this most recent special that really stands out?
KN: Well, there are a couple that I like. There's one…I think it's for Berlitz Language School, where a guy's on the phone and he's trying to find out how to spell "Def Leppard" because he's doing a tattoo on somebody's back. And it's all in subtitles, but the woman goes, "Do you mean 'deaf' as in hearing, or 'death' as in dying?" He goes, "Um, I'm not sure." Then he looks to the person's back, where he's just made the tattoo "deaf." That's a cool one, and there's another one for Tabasco that's from Belgium, where they show a streaker running across a soccer field, the cops are chasing him, and then they stop the action and say, "An hour earlier," and they show him in a restaurant having Tabasco sauce. They kind of back up the whole thing, from the soccer field leading back up to when he used the Tabasco.
BE: So where did you film this special? I know you film them on location in various places.
KN: Oh, yeah, we've done them everywhere! Well, not everywhere, but we've done them in California, in Paris, New York. This one happens to be in Chicago, which is great, because I love Chicago.
BE: You've also still got "Weeds," which continues to roll along nicely.
KN: Yes, "Weeds" is doing great. We're in the fifth season, about nine shows into filming, and the second one's aired already, so that's going good. People are liking it.
BE: I know you've got a couple of high-profile guest stars this season. You've had them in the past, but this time you've got Alanis Morissette playing an obstetrician.
KN: Yes, she plays the OB/GYN / abortion doctor. (Laughs) And we've got Jennifer Jason Leigh playing Nancy Botwin's sister.
BE: So how have you felt about the way your character has evolved? At the end of last season, you kind of told your wife to bring it on, as it were…
KN: Yeah, well, we've seen his whole marriage fall apart from the beginning, and him having a job at the beginning, having some guidance in his life. And now he's not married, has no real job, and…he's kind of in a free fall.
BE: Where do you see him going?
KN: Well, he's definitely going to rock bottom… (Laughs) …especially if he doesn't alter his course. But hopefully he'll fall in love, and this woman will straighten him out, or at least try to straighten him out. But he doesn't usually have a good sense of character when it comes to meeting women.
BE: What led you to write your book, "Yes, You're Pregnant, But What About Me?" Was it a spontaneous decision?
KN: Well, I had met Judith Regan, who's a publisher, a couple of years ago, and she had just seen my act and wondered if I'd ever written a book. I said, "No," and she said, "You should think about writing one." And I said, "Well, I've thought about it, but it just seems like it'd be a lot of work." But she said, "I'd like to work with you on something," and for about a year and a half, I was trying to think of something. We'd call each other once in awhile, and finally I came up with…well, I should say that first my wife got pregnant, and then I finally came up with the idea of talking about going through the pregnancy as an older dad-to-be. And then once I started doing that, it kind of stirred up a lot of my own childhood memories and what my parents were like, so it kind of became sort of an autobiography.
BE: Actually, you mentioned your stand-up. Are you still touring around with that? I certainly enjoyed your performance when I saw you in Virginia Beach.
KN: Oh, thanks! Yeah, I'm still doing it. I don't have any specific tour, but I go out a lot here and there. Since we're filming "Weeds" right now, I'm not going out much, because I'm stuck in L.A. But come August and the autumn, I'll be out touring around for a few months.
BE: I know "Aliens in the Attic" is forthcoming, though I didn't know it until I saw the stand-up in the theater the other day.
KN: Yeah, I have a small part in it. I play the father, and I take my family on a fishing trip and try to reconnect with my son, and I'm joined by my brother, who's played by Andy Richter, and his family. And the kids have this little run-in with these small, aggressive aliens.
BE: Lots of family fun?
KN: A lot of family fun. We shot that in New Zealand, which is supposed to look like Michigan, I guess.
BE: I hear they look very similar.
KN: Well, it looks just like Michigan, except for all the kiwi trees.
BE: When does your new series, "Glenn Martin, DDS," premiere?
KN: On August 17th, I think.
BE: Can you tell me a little bit about it?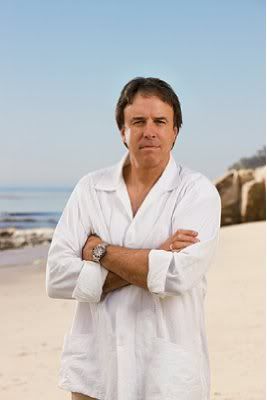 KN: Yeah, it's about a family who's traveling around the country in an RV called the Molar Express. I play Glenn Martin, DDS, and I'm working my practice out of the RV. My wife is played by Catherine O'Hara, and we have a couple of kids. It's a dysfunctional family, and it's along the same lines of "Family Guy" and "The Simpsons." We go to different parts of the country each week and get into a bunch of trouble. It's Claymation, stop-motion animation, and they really did a good job with it. I was really impressed with the results.

BE: The obligatory "SNL" question: do you have a favorite sketch that didn't actually make it to air that you still have a fondness for?
KN: I did a character called "Mr. No Depth Perception." I did it once, and I just could not get the second one on. I kept bringing it up at table read, but it never quite made it to air. That'd be one.
BE: Of the various "SNL" films that you've appeared in, do you have any favorites of your cameos?
KN: Do you just mean regular films, or…
BE: Well, I was referring to films starring members of the "SNL" family, like Adam Sandler and…
KN: Oh, okay. Well, it's mostly Sandler films I've done, though I did do a (David) Spade movie. What was that one called?
BE: That'd be "Joe Dirt."
KN: Ah, yes. (Laughs) I had a small part in that one. But I think my favorite would have to be "Happy Gilmore."
BE: What's your favorite project that you've worked on that didn't get the love you thought it deserved?
KN: My first marriage…? (Laughs) Boy, y'know, I've written a couple of screenplays, and…in fact, me and Conan O'Brien and Robert Smigel – he used to write for "Saturday Night Live" – and Dana Carvey wrote a script called "Hans and Franz: The Girlyman Dilemma," and it was going to be co-produced with Arnold Schwarzenegger, and he was going to co-star in it. We had a deal with Sony, we got paid to write it, and it was a musical, but it never got made because…I think Arnold kind of backed out at the last minute because he was getting cold feet because "The Last Action Hero" had come out, where he was parodying himself. But it was a really funny script, and I wish it could've seen the light, because I think it would've done really well.
BE: What was "Champs" like? I never caught it, but a show produced by Gary David Goldberg and Bill Lawrence…? It seems like it would've been great.
KN: Yeah, "Champs" was a really well-written show. It was the show I went to after leaving "Saturday Night Live," and Gary David Goldberg created it. It was produced by DreamWorks; it was their first sitcom. It was well-written, but I think maybe it had a little too much heart, and it took too long for people to connect into it. But I thought it was good, and it had Tim Busfield, Ed Molinaro, and Paul McCrane. The character I played was interesting. He was going through a divorce and kind of moping around. I wish that had gone. I've done a couple of sitcoms that didn't take.
BE: I remember "Hiller and Diller," with Richard Lewis.
KN: Yeah, that was another high-profile one. We were in a great timeslot, and it was by Babaloo Mandel and Lowell Ganz, produced by Imagine. So I was good hands both times. I don't know what happens with thoset hings, if it's too many cook sin the kitchen or too high expectations, but that one fizzled out after about eight airings, too.
BE: Anything else going on in the near future you'd like to plug?
KN: Yeah, I've got a stand-up special that'll be airing on Showtime in October. It's called "Now Hear Me Out," and I'm excited about that. Oh, and I just finished filming a movie with Nick Swardson called "Born to Be a Star," but I'm not sure when it'll be out.
BE: I'll see if I can hunt up a date. (Writer's note: it's set for 2010, and the premise of the film sounds funny. Per AceShowbiz.com, "A small-town nerd stumbles upon a family secret, His quiet and demure parents were famous porn stars in the 1970s. This motivates him to leave Northern Iowa for Hollywood, hoping to follow in their footsteps and fulfill his destiny as the biggest adult-film star in the world.") Great talking to you, Kevin!
KN: Good talking to you, too, Will!