Adrian Hodges has been beloved by fans of BBC America's ever-growing sci-fi lineup ever since presenting them with "Primeval," which he created along with Tim Haines, but they'll soon have a new reason to give him a hug when they seem him on the street. Americans may not be familiar with the 1970s British TV series known as "Survivors," but, hey, that's okay: it just means that they'll be able to dig into Hodges' new take on the series – which premieres this Saturday night on BBC America – without any preconceptions. Plus, as you'll soon read in my chat with Mr. Hodges, which took place a few hours after the TCA panel for "Survivors," he's taken great pains to make sure even those who are familiar with the original series will, by the end of the first episode of this new version, realize that he's got plenty of surprises in store for them, too. Oh, and listen up, "Primeval" fans: you'd well to read beyond the bits about "Survivors," as we chatted about the status of the third series of "Primeval" as well as the oft-discussed feature film based on the show. There's also some stuff about other items on Hodges' C.V., and…well, you'd just better go ahead and read it for yourself, hadn't you?
Adrian Hodges: Wow, look at your recorder. I used to do a bit of journalism when I first started out, but my tape recorder was… (Holds his hands several inches apart, then laughs) That's technology for you!
Bullz-Eye: Hey, mine's shrunk by two or three times in size just in the past few years! (Laughs) Well, first off, I just want to say that I'm a big "Primeval" fan.
AH: Thank you! Cool!
BE: I was not familiar with the original 1970s version of "Survivors," but I take it that you were at least somewhat of a fan of it.
AH: Yeah, I was, in that kind of general way we are when we're kids and we watch TV. I was maybe 15 or 16, something like that, and I remember very clearly the impact of the first episode. If I'm honest, I'm hazy about some of the other, later episodes, but I do remember the extraordinary shock of the imagery of a husband dying, of things that were stand-out images in my head, and you carry that through the years. It was something I remembered very well, so it was really kind of great to be asked to have another look at it, you know?
BE: So they pitched it to you, then?
AH: They did. What happened was that I'd done "Primeval," as you know, and I was very actively looking for a genre show that I could do in a slightly…well, in Britain, it's in a later timeslot. Something that was a bit more…I don't want to say more adult, because I think that "Primeval" is adult, but not a family show in the same way. However you define "family." (Laughs) So "Survivors" was perfect. BBC had had this great success with reviving "Doctor Who," so they were looking at some of their old shows and saying, "Well, that one wouldn't work, but maybe this one would." And "Survivors" was one they thought might work again, so they basically came to me and said, "What do you think?" And I thought it was great, not so much because of the set-up, not just because of the post-apocalyptic thing, which is fascinating, but it's kind of not the point. The point is what happens afterwards, and that's the fun of it for me as a writer, 'cause you don't often get a chance to write about people in the most extreme situation. So that's why I wanted to do it.
BE: What was the profile of the original show? Was it semi-high? I ask because I'm a kind of an Anglophile, so I was surprised that I hadn't heard of it.
AH: I don't think it was, really. In terms of being a success at the time, it was, but it wasn't, like, a thing like with "Doctor Who," where you carry that memory with you, and so that when it was revived, there was this huge desire to like it. It was one of those shows where…people didn't want to not like "Doctor Who." They wanted to like it. It was a nice thing to happen, and it doesn't often happen. There aren't many shows that people are so fond of that they can go with that attitude to them. Usually, as you know, when you remake or re-imagine a show, you get the opposite reaction, which is that people don't really want you to do it, because they liked it the first time. And, now, there's been such an acceleration of remaking of formats. It's a very dangerous area. I thought "Survivors" was a good one because it was a success at the time, which proved that it was a strong idea, but it wasn't so well known that it would be something that everybody would be saying, "Oh, but you didn't do that scene, you didn't do it like this, you didn't do that." The truth is, it was the best part of 40 years ago, and it's not a classic. It's a very good show. The first episode of the original is a model of brilliant series set-up writing, and, indeed, much of the rest of it. But it is fundamentally a show which was well-liked but probably not as well-remembered as some. Not everything can be a classic, you know. That's the way it is. I couldn't believe that "Edge of Darkness" was being remade. It's amazing, after all these years, to suddenly see it. So stuff comes around.
BE: So did you revisit that first episode of "Survivors" before you made this new version, or did you just kind of go from memory and dive into the new version?
AH: I watched the whole of the first series before I started writing, and I don't usually do that with things where there's existing material. I mean, in a completely different genre, I've just done a new version of a film called "The Go Between." I've adapted the L.P. Hartley novel, and I didn't look at the film of that, because I deliberately didn't want to be influenced by it. I've only looked at it relatively recently, and it's interesting to see what they did and what I did, and that's fine. But with "Survivors," I thought that it was…well, because I was basing some of my material on that original material, it seemed respectful and sensible to look at the way they'd done it, and also to remind myself what they'd done well and maybe what they hadn't done quite so well, just to see how it would go. I always knew I was going to move away from that version quite quickly, but I wanted to make sure that whatever was good…I mean, I'm not crazy: if it's good, I'm going to do it again. (Laughs)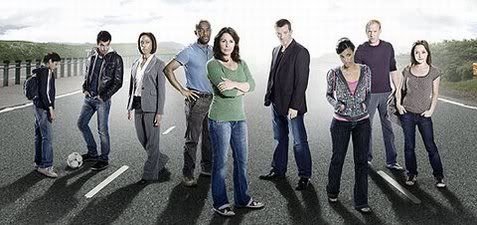 BE: How did you go about selecting your cast? Was it a case of finding folks you'd worked with in the past, or was it more of a standard audition process?
AH: There's a little bit of that. I mean, because of the way television works, as you know, there's a certain pressure to use a certain profile of actor in certain roles. We knew we needed a leading lady that meant something to the British audience, and that's, in truth, not that big a pool of people. It's tough to find exactly the right person, particularly a woman who's grown up, a woman with children who's believable as an ordinary woman. So Julie (Graham) was actually pretty straightforward, because she was one of only one or two who really fit the bill…and, luckily, she wanted to do it! So at that point, we closed that. That was done. The other guys…it's an interest process. Paterson (Joseph), funnily enough, was a very early choice, and then we went 'round the houses looking at other people and then came all the way back to Paterson. And that sometimes happens, 'cause it's a bit like when you get something right first time, and you think, "Have I really got it right?" And you go and try prove it sixteen other different ways, but you still come back to the right answer, so that was Paterson. The others…it's just a question of trying to find the right faces for the roles, the right talent and the right look, and that's hopefully what we did.
(SPOILER ALERT: If you haven't watched the first episode of "Survivors" yet, then you'll want to head off for a bit and pop back 'round after you've had a chance to see it.)