He's back.
That's right, the summer 2010 press tour of the Television Critics Association – that's TCA to you, see? – has come and gone, leaving in its wake a piece that I love to compile but hate to finish. It's just that kind of experience: there's always something else to write about.
I know I say this every time, so you'd think my mindset on the tour would've changed by now, but I still continue to get excited when I fly to California and spend the better part of two weeks ensconced in a hotel, watching and listening as closely as possible (which, admittedly, isn't often as closely as I'd like) to various stars, directors, producers, and writers as they do a dog and pony show to promote their program. I know they get sick of it sometimes, but for my part, I still haven't. I spend the better part of 48 weeks of the year in Chesapeake, VA, a place where I do not regularly cross paths with the people that you see on your TV screen. As such, I remain excited about the opportunity to participate in these ridiculously cool opportunities, and I still feel like I have to share the experience with you, the reader, lest they begin to seem normal to me.
It's not normal.
It's the TCA press tour.
And trust me, unless you're actually in show business, life doesn't get much less normal than this.
Most entertaining panel by a broadcast network: "Circus," PBS. Given the subject matter of the series – yes, it really is about the circus, specifically what it's like to be part of a traveling circus in 2010 – it wasn't entirely surprising that the panel kicked off with acrobat Christian Stoinev demonstrating some of his gymnastic abilities, but that didn't make his performance any less impressive.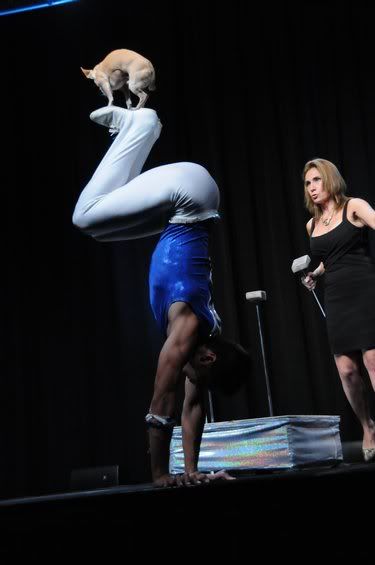 Plus, he earned bonus points for incorporating a cute little dog named Scooby into the act, who jumped onto Stoinev's butt, strolled down his back, sat on his feet, and looked as calm as possible as Stoinev balanced semi-precariously on his parallel bars.
Most entertaining panel by a cable network: "Kids in the Hall: Death Comes to Town," IFC. When I walked into the ballroom and found that we'd all received autographed DVDs of the Kids' latest endeavor, I thought, "Can it get any better than this?" (I'm a sucker for anything autographed.) Indeed, it could, as the Kids – minus Mark McKinney, who'd been called back to Canada because of a family emergency – held court and kept us in stitches.
Some of my favorite moments:
QUESTION: How long had it been since you had cross-dressed professionally before ("Death Comes to Town"), and was that sort of a difficult readjustment for any of you?
SCOTT THOMPSON: Define "professionally."
QUESTION: With a large crew.
SCOTT THOMPSON: Oh.
DAVE FOLEY: Not just any exchange of money.
BRUCE McCULLOCH: So if you shoot porn with a small crew, that wouldn't count…?
KEVIN McDONALD: That's not cross-dressing professionally.
DAVE FOLEY: Yeah. If you put on a nice shirt and give a handjob at the bus station, that still is professional.
SCOTT THOMPSON: Yes, it is.
BRUCE McCULLOCH: And by "handjob," we mean "Bible reading," as we like The Bible.
* Dave Foley on the audience response to Scott Thompson's cancer being in remission: "I'm getting a sense that a lot of these people are on the cancer side. Well, I hope you are proud of yourselves. 'Oh, dammit, not another one beating cancer. Poor cancer. When will people learn to love cancer?'"
* Scott Thompson: "I had a much easier time making ('Death Comes to Town'), even though I was fighting cancer, than I did with 'Brain Candy,' honestly. It was tougher to fight Paramount. Because, at least with cancer, you can win."
QUESTION: Do you find that people, when they see you, wanted to just squash your head? Because, like, I'm sitting here, like, resisting.
DAVE FOLEY: Yeah, a lot of time it has no reference to that gesture. It's people actually want to crush our heads.
KEVIN McDONALD: The first apartment I ever moved to in Los Angeles, 1996, I was in bed the first night, and a couple were having a fight in the floor above me. And he was crying, "I'm going to crush your head," and I thought they were fans, but it turned out they weren't.
DAVE FOLEY: Yeah, it was a bloody homicide.
KEVIN McDONALD: It was a bloody homicide, yes.
DAVE FOLEY: But still, you felt flattered.
KEVIN McDONALD: But still, I felt flattered.
* When asked about their current relationship with Lorne Michaels, who introduced them to the U.S., McCulloch said, "I watch him get a haircut once a year when I go to 'Saturday Night Live,'" while Foley claimed, "I chill his Amstel Light." ("And drink it," added McDonald.)
* Kevin McDonald made the bold choice of using the word "guff" at one point, receiving no end of ridicule from his fellow Kids. "It's a tough word," said McCulloch,"I know it's tough to hear." Thompson gasped and shrieked, "You said 'guff'!" Foley, however, offered a practical solution to the assembled journalists. "You can put asterisks in that. Just G-asterisk-asterisk-asterisk for your print," he said, adding, "Of course, you online media people can just change it to 'fuck.'"
* "Death Comes to Town" was filmed in North Bay, ON, but Foley said that it was a rarity for locals to come up and acknowledge their recognition of the Kids. "Canadians don't do that," explained Thompson. "Yeah," agreed Foley. "They'd just come up and start talking to you like they knew you. You know, you would be in the grocery store, and somebody would just come up behind you and say, 'Special K is marked down today. I'm getting the Special K as well. What are you doing later, Dave?' And that was how you knew they recognized you."
* The miniseries features Foley playing "the kindly old town abortionist," which made it a bit difficult to scout for locations. Foley said that they had to keep making up stuff to tell the people of North Bay, saying things like, "Yeah, this scene, it's a gynecologist's office," or "Oh, it's an obstetrician's office." Or, as Scott Thompson claimed, "It's a very bad day care." At this, the crowd of critics erupted with a mixture of boos and laughs. "That was good," Thompson assured us. "That was bad," Foley assured him. At this, Thompson nodded, grinned, and admitted, "Very bad."
Most out-of-control panel by a broadcast network: "Raising Hope," Fox. I'm not going to pretend that I didn't laugh really hard at Cloris Leachman's antics as she wrestled control of the panel away not only from her co-stars but, indeed, from the assembled critics as well, demanding that her chair be moved from one end of the stage to the other and requesting that those asking questions stand up and/or sit down.
At some point, though, I think most of us were left wondering how much of the chaos we were witnessing was intentional and how much was a woman not knowing when to stop trying to be funny. About halfway through, Leachman finally calmed down, going almost completely quiet and giving the others a chance to answer a few questions. By that point, it was very much appreciated.
Most interactive panel by a broadcast network: "Masterchef," Fox. Last time, Gordon Ramsay had the assembled critics compete to see who could whip up the best topping for Baked Alaska.
This time, he tested our palates by passing out little cups of gazpacho to everyone and asking us to determine the ingredients contained within. The critic who determined the final of the 15 ingredients won a free dinner from one of his restaurants. Sadly, that critic was not me.
Guilty-Pleasure Panel of the Tour: "Jersey Shore 2," MTV. Love them or hate them, the "Jersey Shore" gang are ubiquitous in any discussion of 2010 pop culture, so it was nigh on impossible not to at least be intrigued when MTV quietly added a "Jersey Shore 2" panel to their proceedings. But who, we wondered, would be in attendance? The answer: every last (CENSORED) one of 'em.
(Actual panel wardrobe not pictured.)
Inevitably, though, it was the one and only Snooki who pulled the best quote of the panel, adding a new word to the vocabulary of American and Canadian TV critics: "snookin'."
"Snookin' is when you're lookin'," she explained. "So if I say I'm snookin' for love, I'm snookin' for a guy. If I snooked the night, then I took the night. Get it?"
Um…
"My snooktionary is coming out, and you'll understand my language," she assured us…and, yes, she claims she's serious about that.
5 Greatest Moments of Complete Honesty During The Tour:
1) Alex O'Loughlin on "Hawaii Five-0": "If this one doesn't go, I'm completely bewildered. I have no idea how television works at all."
2) Carrie Fisher on how it felt to walk onstage wearing a Princess Leia wig: "Like an asshole. A complete, undignified jerk-off. But other than that, really good."
3) Snooki on her run-in with the law: "Obviously, it wasn't a good time, but, you know, I didn't hurt anybody, and I just went out to have a good time on the beach, and you know, stuff like that happens in Jersey. I was in the drunk tank for a little bit. I had too many tequilas."
4) Billy Gardell ("Mike & Molly") on his waistline: "I think I'd like to lose some weight. I mean, everybody'd like to be a little bit better than they are, you know, but everybody has a different tick, man. Mine just happens to be pizza. It's okay. You can laugh at that. I've got a mirror. Lighten up."
5) David Cross on poor decisions he's made in his life: "I shit myself one time. I mean, it wasn't a decision. I just thought it was going to be a fart. So it turned out be a bad decision. What's another poor decision? Oh, telling the thing about shitting myself. That was stupid. Why would I do that? It was unnecessary."
Most common recurring question during the panels: I'm pretty sure that every single actor whose ancestors can be traced back to India in any capacity whatsoever was asked for their opinion about NBC's "Outsourced."
Most awkward segue into an equally awkward question: During the panel for TV Land's "Harry Loves Lisa," the reality series starring Harry Hamlin and Lisa Rinna, a critic casually brought up the fact that Prop 8 had been repealed, then added, "Which reminds me of 'Making Love,' with Harry and Michael Ontkean. What are your thoughts about maybe a sequel to that movie with Michael? And Lisa, when you see that movie, what do you think? Does it get you going?"
The "So, Paul, What Do You Hear About Ringo's New Album?" Award: During the panel for "Mr. Sunshine," Matthew Perry…and, indeed, virtually the entirely assembly of critics, I'd have to guess…was left dumbstruck when he was asked, "Do you ever see David (Schwimmer), and does he talk to you about his goals?"
Strangest rant by a panelist: Yoko Ono. This probably isn't too much of a surprise, given the widow Lennon's tendency toward eccentricity, but many critics – including myself – were left flabbergasted by her explosion over one critic's innocuous question about why she decided to remain in the Dakota after John's murder. First, she declared it to be "a slightly racist remark, and maybe sexist, too," but then she really went off.
"You guys are doing that, but when somebody like me, who is probably not part of your culture, how you think, 'Why she still living there? We wouldn't live there. Well, maybe because she has a different tradition and she doesn't care about the fact that he died there.' You know, something like that. A little bit more barbaric or something. No. I think that you would want to live there, too, because you cherish the memory of that person. That's one. But also the other thing is, for you to be able to say something like that, 'How dare she's living there?' is sexism, because I know that all guys wouldn't care. They would just live in the house, you know,whatever happens. They may not even care that they got a divorce or whatever happened. They would just live in the house, and no one's going to comment. No one's going to comment that you would go to maybe a whorehouse or something like that right after your wife died. 'I'm so sorry. He must be so sad.' I was still sad, so I'm still living in that house. Do you mind?"
I felt so bad for the guy who'd asked the question, who – once he could get a word in edgewise – explained, "Okay, I did not mean to be racist nor sexist, and I don't know where whorehouses got into this conversation, but when my dad passed away, my mom wanted to go live in Florida, and it's just…people grieve differently." Yoko halfheartedly tried to backpedal, saying, "I was being a little bit facetious, I'm sorry," and she probably was. But, wow, talk about lashing out…
Panelist most likely to have one of his comments thrown back at him when his series premieres: Joseph Fiennes, who plays Merlin in "Camelot," Starz's new take on the classic Arthurian legends. Fiennes said of his character, "I think of Merlin as a sort of cross between Obi-Wan Kenobi and Donald Rumsfeld." This, of course, resulted in an immediate follow-up question, requesting a bit more clarification on the resemblance to Rumsfeld. "Well, I don't want to draw too many parallels and be boxed in a corner too much," Fiennes replied, "but I just think it's really about political agenda." Toward the end of the panel, the matter was brought up again, leading him to muse that he'd basically shot himself in the face by having made the comparison in the first place. Muttered executive producer Chris Chibnall, "I knew that was going to get us in trouble…"
Panelist who looked the least thrilled to be in attendance: Maura Tierney, "The Whole Truth," ABC. I'm sure it was mostly because she wasn't looking forward to people quizzing her about her health, but she looked perpetually like she was going to burst into this song:
Cable series with the least sense of history: "Mad Genius," Fuse. Any music fan worth their salt would be intrigued by a show which, according to the network's description, "delves into the minds of musicians, the eccentricities, the world view, the influences of some of the major artists in the world and connects them to their artistic contributions to the groundbreaking music that they create." We're sitting around thinking about the possibilities: Syd Barrett, Roky Erickson, Peter Green, Brian Wilson, and the like. Who does Fuse cite among the show's subjects? Britney Spears and Li'l Wayne. Wow. Just…wow.
Most unintentionally off-color moment from a broadcast network panel: During the "$#*! My Dad Says" panel, executive producer Max Mutchnick had a moment of uncertainty about the proper verb to describe the process of sending out a message through Twitter and accidentally referred to "Dad" creator Justin Halpern's "beautiful Twat." Realizing his slip of the tongue, Mutchnick stammered, "I don't know how you say it," but not before William Shatner shook his head with mock dismay, saying, "That's twisted."
Later, Shatner used the phrase "people who Twit," after which executive producer David Kohan smirked and countered, "I think it's Twat." A chagrined Mutchnick suggested that the proper verb was "Tweet." Shatner snapped back, "Well, I know it isn't 'Twat'!"
Best use of a panelist's absence: Peter Tolan. It's not like his cohort Denis Leary was supposed to be there for the lunchtime "Rescue Me" session, but the fact that he wasn't gave Tolan the opportunity to relish the solitude of the stage. "I'm so glad to be here by myself and not with Denis Leary," he said, "because he is an attention hog, and the secondhand smoke, really, I'm lucky to be alive, frankly, at this point. It's been seven seasons, and of course "The Job," the show we did before, which was my idea, as was 'Rescue Me.' I am really lucky to be alive. I'm sure there are tumors just waiting to take me pretty much after this lunch."
Most promising new cable program that I didn't know much about before going into the tour: "Teen Wolf," MTV. Turns out it's being executive-produced by Jeff Davis, the man behind "Criminal Minds," so suffice to say that it's darker than the original film. Bonus: the pilot was directed by Russell Mulcahy, who's had an affiliation with MTV since the day the network began…literally, since he directed this video:
Least promising new broadcast network program that I didn't know anything about before going into the tour: "My Generation," ABC. It always takes me forever to check out ABC's new series, as I hate watching screeners on my computer (the network stopped sending out DVDs of its programs long ago), so I hadn't investigated "My Generation." Turns out it's a look back at a high school class from 2000 and how they've changed since they graduated. As I said to a compatriot during the panel, "I'm pretty sure the only thing that's going to make me want to tune into this show is if a killer starts picking off the twentysomethings one by one." Mind you, I haven't seen the pilot yet, but the trailer pretty well served to cement my theory.
Coolest anecdote(s) from a press scrum: Actually, it was less a scrum than an impromptu roundtable, but after PBS's "Pioneers of Television" panel, my esteemed peer Marc Allan invited me to grab a chair and join the conversation he was having with Martin Landau, and others soon had their recorders out as well. It was Marc, however, who asked the two big-money questions.
First, Marc asked Landau if he had ever had the opportunity to meet Bela Lugosi, who he portrayed (and won an Oscar for doing so) in Tim Burton's "Ed Wood."
"No, I never met Lugosi," replied Landau. "But I met Karloff…and had tea with him! I was doing some post-synching on a television show, and we both left our respective studios at the same time and met in the hall. At the time, Jack Nicholson was actually my student. Jack studied with me for three years, and Jack had just finished a picture for Roger Corman with Karloff. Jack wasn't very good in it. He was much too contemporary. But, anyway, I saw Karloff in the hall, and we greeted each other. I said, 'You just worked with a friend of mine.' And he said, 'And who might that be?' And I said, 'Jack Nicholson.' And he said, 'Oh, yes. Poor boy. Where are going now?' I said, 'Home.' He said, 'Would you like some tea?' I said 'yes,' and we went to the commissary and had tea and little sandwiches, and I got to spend a little time with him."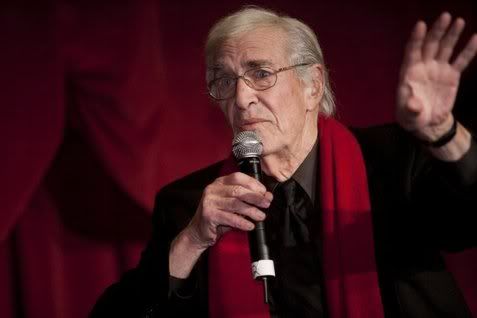 Then, as if psychic, Allan asked Landau about the one project I'd been chomping at the bit to hear his recollections about: "The Harlem Globetrotters on Gilligan's Island."
"I had a good time doing that!" said Landau, offering surprising enthusiasm as he reminisced about working with "Chick Hearn and a bunch of robots, noting that it was the last time he'd worked with ex-wife Barbara Bain, who'd been his co-star on "Mission: Impossible" and "Space: 1999." "People say that it was the worst moment in my career," he said, with a laugh, "but I actually had fun on that show. The first day I was on it, though, was the day that Reagan was shot, so when we got to the set, everyone was…well, you know. So I told about three or four jokes and loosened everyone up, and from that point on, we had a good time."
Really, I could go on about the conversation for several more paragraphs, since the next topic of conversation was how he was offered the role of Mr. Spock on "Star Trek" before Leonard Nimoy. Suffice it to say that I hope to get a one-on-one with Mr. Landau one of these days…but if it never happens, sitting in on this one was still pretty damned cool.
Favorite one-on-one interview at a TCA function: Tom Selleck. I'd been trying to confirm or deny the possibility of talking to Tom about his new CBS series, "Blue Bloods," but it was all very sketchy about how long he'd be at the CBS evening event. I therefore set up camp near the front door of the function, waiting for him to arrival. When he did, I followed behind him and his publicist, and once they reached their table, his publicist turned, saw my nametag and recognized my name, and waved me over to him. Tom smiled at me beneath his mustache and said, "No one will sit with me. Will you sit with me?" So I sat with him…and he was just as nice a guy as you'd want him to be.
Favorite one-on-one interview which took place elsewhere: Brad Meltzer. I've been a fan of Brad's thrillers for several years, and when he made the jump into writing comic books, by God, I was right there with him. I've even traded the occasional E-mail with the guy. This, however, was the first time I'd ever actually met him. It was worth the wait.
Most intimidating one-on-one interview: Spike Lee. Spike seems like someone who could be a prickly pear if you don't know what you're talking about, so I blew off a concert by Vinyl Candy (sorry, guys) in order to make sure I'd seen his new HBO documentary, "If God Is Willing and Da Creek Don't Rise," before our conversation. Fortunately, it paid off: Spike was great.
Best party: CBS. These guys almost always take home the gold. Not only does lots of their talent show up, but they always hold them somewhere that you can actually move around without feeling like you're bumping into someone or on the verge of knocking someone down.
Worst party: Sony. It was a tremendous turnout of talent, so much so that in another locale it might've ended up being cited as the best party, but it was so freaking packed that you could barely move and rarely hear anyone well enough to do a decent interview.
Party that I usually don't enjoy but this time did: Fox. They like to use their "American Idol" money to rent the Santa Monta Pier for the night and let us and their talent go nuts with the food, the drinks, and the rides. Normally, I complain about how it's not terribly conducive to doing interviews, what with the loud music and the noise of the rides. This time, my wife was there with me. I still didn't do many interviews…but I did get to ride the Ferris Wheel with the woman I love. Yeah, yeah, we're disgustingly cute. Get over it.
My 5 Favorite Cheap Thrills of the Tour:
1. Getting a hug from Jayma Mays of "Glee." Yes, my wife was standing right there. (So was Jayma's husband, Adam Campbell, for that matter.) But even my wife thinks she's cute.
2. Talking to both David Cross and Bob Odenkirk on the same tour. Hopefully, there are "Mr. Show" fans out there who will appreciate this accomplishment as much as I did.
3. Telling Tom Hanks that I really loved "Mazes and Monsters" / Having Tom Hanks use me as a prop while telling a story (TIE). This was the third time I'd met my generation's Jimmy Stewart, and each time I'd told myself that I was going to bring up the classic TV movie from early in his career, but when my fellow Bullz-Eye buddy Ross Ruediger broached the subject of "Splash!" and got five minutes worth of stories about working on the film, I decided that this was my time to shine. All I got for my trouble was a smirk, followed by a look that may or may not have been pity.
In retrospect, I probably should have just stuck with my Hanks encounter from earlier in the evening, when he'd been telling some story or other and, since I was closest to him, used me to illustrate how the person in his story kept poking someone in the chest. Anyone who tells you that I was considering getting a tattoo of the resulting bruise is a dirty liar. (That was just drunk talk.)
4. Bill Lawrence telling my wife that I'm awesome. I've lost track of how many times I've talked to Bill Lawrence on the phone and in person, but my wife had never had the pleasure. At the ABC party, however, she spotted him holding court and decided to approach his assistant just to see if she could slip in long enough to introduce herself. She hadn't gotten past the words "my husband is Will" before she was informed that "we love Will" and quickly hustled over to Bill for introductions, where the good Mr. Lawrence echoed his assistant's statements. I should clarify that it's not the compliment itself that made for the cheap thrill but, rather, the fact that Bill Lawrence made my wife feel good about her lot in life. I mean, she's married to a TV critic, fer crissakes. She needs all the reassurances she can get.
5. Having William Shatner abruptly end our interview by clapping me on the shoulder and saying, "Thanks for your time." Ah, it wasn't going that well, anyway. And, besides, who cares? Captain Kirk touched me!
Cast most likely to get me into trouble: "NCIS." I don't know what it is about Michael Weatherly and Pauley Perrette, but I always end up finding myself on the verge of breaking some rule or other when I'm around them.
With Michael, he loves to tell stories when he knows you're not recording him, and they're invariably filled with some tidbit or other where you'd feel guilty running them intact. As such, I can't tell you about what happened when he gave Robert Wagner's E-mail address to Roger Moore…but if you ever meet Michael, ask him about the time he and Jessica Alba met Elvis Costello and Peter O'Toole. It's a good'un.
As for Pauley, it's become a TCA tradition that we take a picture together whenever we see each other: she holds the camera in front of us and takes the picture herself, and heaven help anyone who tries to take it for us. Unfortunately, as I learned after my first tour of duty with the TCA, it's a no-no for members of the organization to take pictures with the stars. Pauley knows this. She just doesn't care. This time, she assured me, "It's seven years bad luck if we don't take one every tour!" I'm pretty sure she didn't have any documentation to back this up, but she took the picture anyway. Seriously, the woman's a force of nature. Fortunately, I think everyone in the TCA knows this about Pauley, so I think they'd probably see her as an exception to the rule…but, just in case, I'm keeping the picture to myself.
Most awesome visit to the set of a network show: "Friends." Don't get me wrong, visiting Wisteria Lane is cool whether you watch "Desperate Housewives" or not, and the intricacies of the "Parenthood" set were remarkable to behold, but the power of pure sentimentality trumped them both. No, it's not where the show actually filmed, but it's all of the original items, and they look exactly like they did when they originally filmed the show. What I'm saying to you is that I stood in the middle of Central Perk. It doesn't get much better than that.
Most disappointing visit to the set of a network show: "Undercovers." This new NBC series has a certain amount of potential, and in fairness, the sets – one of which is a working kitchen – did look pretty cool, but the fact that none of the cast nor the producers could be bothered to make it to our visit ultimately made it feel like a bust.
Most pleasant reminder that, once in awhile, you make enough of an impression on the people you interview on the phone that they actually still remember you when you meet them in person: A month or so ago, I interviewed Nate Torrence in conjunction with "She's Out of Your League" hitting DVD, and when he mentioned that he was in the cast of ABC's "Mr. Sunshine," I said, "Well, then, I'll look for you when I'm at the TCA tour." Flash-forward to ABC's post-panel party, where I see Nate and go up to introduce myself, but before I can finish reminding him who I am, he quickly lets me know that he needs no reminder. "I get up there for the panel," he said, "and I'm, like, 'No one is going to ask me anything. I'm just going to sit here.' But then I go, 'Hey, wait a minute, what about the guy from Bullz-Eye? I think he said he was going to be here! Maybe he'll ask me a question!'" Of course, when he said this, I immediately felt awful that I hadn't actually asked him a question…
Most unpleasant reminder that, no matter how much you've enjoyed someone's work on television, they still see you as a journalist and therefore don't really want to talk to you if they can help it: Chandler was always my favorite Friend, I really liked "Studio 60 on the Sunset Strip," and unlike some of my peers, I laughed pretty hard at the pilot for "Mr. Sunshine," but I can't say that I'm as thrilled with Matthew Perry as I used to be.
I tried to be as polite as possible while waiting to chat with Perry during the ABC party, but on two separate occasions, although he clearly knew I was loitering in his vicinity for that purpose (the recorder in my hand was, to my way of thinking, kind of a dead giveaway), he pointedly opted to continue conversations with co-stars and friends rather than acknowledge me. One of my peers stopped by during my lengthy loiter and told me that I had the patience of a saint to wait the guy out, but in the end, even Francis of Assisi would've given up on Perry: once he finished the conversation, he turned to try and leave without turning toward me. Before I could stop him, though, the writer standing next to me snared him, then kindly gestured in my direction and said, "I was waiting for you, but he's been waiting even longer." Perry endured questions from both of us for a few minutes, but then he said, "I'm going to walk away now." And he did.
I know the guy's dealt with plenty of these TCA parties during the years that he was part of the NBC family, but given that he's not only the male lead in "Mr. Sunshine" but also the creator and one of the show's writers, I really expected him to be more enthused about the chance to promote the series.
I should add, though, that my wife – simply by speaking the truth – ended up kind of getting the last laugh on Perry. At the Sony party, she was talking to Megyn Price ("Rules of Engagement") when Perry came up and started talking to Pryce. My wife waited politely for Perry to finish, but when he did, he turned to my wife and, with a decidedly dejected look on his face, said, "I suppose you want to interview me." She looked right back at him and said, "Oh, God, no!"
Admittedly, all she meant was that she was just a guest at the party and therefore wasn't doing interviews with anyone, but I am assured that the look on Perry's face was priceless nonetheless.
Most awesome live performance of the tour: Michael Feinstein jazzing it up and occasionally even kicking out the jams with his 17-piece band as part of a dinner-and-a-show performance to promote his upcoming three-part PBS miniseries, "Michael Feinstein's American Songbook." I've respected Feinstein's work since I heard him cover "Both Sides Now" on an Elektra Records compilation entitled Rubaiyat, and somewhere around here I'm pretty sure I still have a copy of his Isn't It Romantic album on cassette, so I figured I'd get a polite but somewhat easy-listening performance that would make for a nice wrap-up to the evening.
My bad.
My jaw was left on the floor by how much energy the man put into the seven songs he played for us, which began with "The Lady Is a Tramp" and ended with "For Once in My Life." Suffice it to say that I became the proud owner of Feinstein's The Sinatra Project the next time I visited a record store…which, as it happens, occurred only a few days later.
Best off-site visit that was in no way connected to the tour: Amoeba Records. I usually make a point of swinging by my favorite Hollywood record store whenever I make it into town, but my schedule in January didn't lend itself to a visit, so it'd been a year since my last dig through Amoeba's always-awesome bargain bins.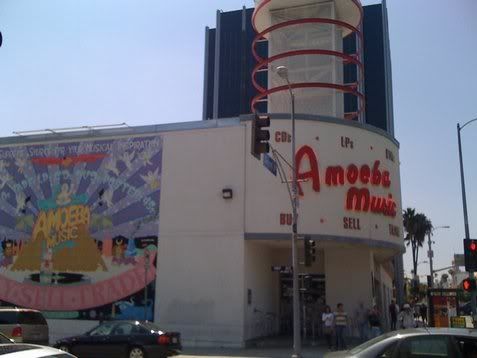 Unfortunately, when I arrived, I found that what would've otherwise been a pretty cool coincidence – Elijah Wood was doing a DJ set for the store – totally screwed up my fun, as they'd set up a barrier to keep people from getting too close to Elijah as well as to keep too many people from rushing the DJ booth…and it was right in front of the store's fabled $1 bins. So if you happened to be there that day and heard a bearded and bespectacled gentleman grumbling, "Fuckin' Frodo," now you know why.
Best piece of swag: HBO's "Boardwalk Empire" flask. I think this is actually the third flask I've gotten in the last year: The CW gave them out last summer with the "Melrose Place" reboot, possibly because I needed a lot of alcohol to make the show endurable, and then Fox sent one out in conjunction with "Family Guy" not terribly long ago. What made this one so special? It was all in the presentation. Everyone was presented with a copy of The Anti-Saloon League Yearbook 1920…and when you opened it, you found a flask-shaped hole carved into the pages which housed our gift. How awesome is that?
Worst trends of the tour:
1) Networks attempting to squeeze as many panels into one day as possible. In fairness, CBS and Fox were fantastic with their respective families of networks, dividing their presentations into two days. Not so NBC-Universal, who forced us to endure a single day of panels and even between-panel events in order to cover series from NBC, SyFy, USA, Oxygen, Bravo, and MSNBC. And as an FYI to the Discovery Networks, if you've got things scheduled so that, after two questions, the moderator has to say, "We've got time for one last question," you've got things scheduled way too tightly.
2) Networks neglecting to include panels for existing shows. It makes sense, given the tight quarters on the schedule, but it's no less disappointing. CBS gave us a "Big Bang Theory" panel, The CW offered "Gossip Girl," and Fox gave us "Glee," but for the most part, existing series were relegated to between-panel events in the lobby of the ballroom. Sure, it's nice to have coffee with the cast of "Modern Family" in theory, but the end result is lots of scrums and limited opportunities for one-on-one questions. I'm not saying I'm the most gregarious when it comes to asking questions during the panels, but it sucks to not even have that chance.
3) Networks missing from the tour altogether. AMC made a major splash at Comic-Con with "The Walking Dead," and, hey, fair enough, the show's based on a comic book. Similarly, Matthew Weiner seems to be pretty pissed at the press right now, so that'd probably explain the lack of a "Mad Men" panel." But given that other members of Rainbow Media family of networks were in attendance (IFC and WeTV), it felt like a slap across the face that we didn't even get a state of the union address from an AMC exec, especially when they announced their new series, "The Killing," a mere three days after the tour wrapped. And wherefore art thou, Turner? All of those new series on TBS, TNT, Cartoon Network, and the like, and we don't get a single panel for any of them? I know Conan doesn't really need more promo for his new show, but it sure seemed like an opportunity missed.
And, as ever, we wrap things up with a bitch session…
Most annoying moment of the tour: having my request for a one-on-one chat with Tony Danza declined because, as his personal rep purportedly said, "This isn't his kind of interview."
Now, granted, this came through channels rather than directly from the rep, and I can't imagine that Tony Danza himself has anything to do with declining the interview, but that's the reason that was cited in the E-mail from A&E, home of Danza's new reality series, "Tony Danza: Teach."
As someone who's the son of a retired teacher and the husband of a woman who works with autistic students, I'm well aware of the importance of education and how students affect the lives of teachers just as much as teachers affect the lives of students, so I was immediately intrigued by the concept of the series. Additionally, one of my friends had once had dinner with Danza and had nothing but nice things to say about the guy. No surprise here: I put in for an interview.
Now, please understand that I've been turned down for more than a few interviews in my time, and I've come to accept the heartbreak of rejection when it comes to an actor's busy schedule, even when it's patently clear that "busy" translates into "he only talks to the bigger, better-known outlets, and, frankly, I've never even heard of your site." In the end, it really all comes down to this: I'm someone who needs closure on things, and if a rep is going to tell me that their client is opting out of talking to me because "this isn't his kind of interview," then I don't think it's too much to ask why it isn't his kind of interview. I mean, maybe it's something I can change, y'know? So I asked. But I never got an answer.
Do you know why? If so, drop me a line…or, better yet, if you're already that deep into the Danza camp, anyway, then go ahead and tell Tony that I'd still really like to talk to him. After hearing him talk during his panel, there's absolutely no doubt in my mind that this teaching gig was a full-fledged life-changing experience for the guy. As such, I'd like to do whatever I can to help promote "Tony Danza: Teach"…and, yes, even after all of this whining, I do still think you should watch it when it premieres on A&E on October 1st.