It's been somewhat surprising, even given my own innate skepticism about practically everything, that for the last week or so there's been very little compelling movie news — really very little that I could bring myself to even mention here. To be honest, I kind of liked that way. Much less time consuming and more fun to just throw trailers and stuff at you guys. The last 24 hours or so, however, have been a very different story.
* I often wonder where George Lucas went wrong in a number of departments. Today he's King Midas in reverse with actors — who else could actually make Samuel L. Jackson boring? — but he directed the very well acted "American Graffitti." His first two "Star Wars" movies were imperfect but great, great fun — and he had the great good sense to bring in the best writers available, and a very strong director, for the second one. He insisted on doing the three prequels himself, however, and in my opinion and lots of other people's, showed how borderline unwatchable a space opera could be.
What went wrong? I don't know but one thing that did happen to Lucas was the departure of producer Gary Kurtz, he of the Abe Lincoln beard who I honestly haven't thought about in decades.
While usually far from publicity hungry, Kurtz is back for a "Star Wars" mega-con hosted by Lucas's company. This L.A. Times interview is absolutely required reading for anyone interested in this crucial chapter in Hollywood history and I'm guessing that's most of you.  A quote that won't please the Lucasfilm folks:
"I could see where things were headed," Kurtz said. "The toy business began to drive the [Lucasfilm] empire. It's a shame. They make three times as much on toys as they do on films. It's natural to make decisions that protect the toy business, but that's not the best thing for making quality films."

He added: "The first film and 'Empire' were about story and character, but I could see that George's priorities were changing."
* I've never read Jonathan Franzen — I'm not sure I even know anyone who's read any of his stuff — but I gather he's the subject of quite a backlash, perhaps inevitable when you're the first author in a very long time to be cover of Time. Of course, his new years-in-the-making book has been optioned. Franzen's last novel, The Corrections, is still in development by the same powerful but less than universally beloved producer, Scott Rudin.
* On the other hand, I've always sort of planned to read, Salman Rushdie's breakthrough novel, Midnight's Children. The highly acclaimed novel that catapulted Rushdie into the literary big leagues will apparently finally be filmed by Toronto-based helmer Deepa Mehta. Coincidentally, Satya Bhabha, who plays evil-ex Matthew Patel in the very Toronto-centric "Scott Pilgrim vs. the World" has got the lead role. Mehta's 2005 period melodrama, "Water," was hugely critically lauded but not my cup of chai and I failed to get through the DVD. I've been wrong about this kind of thing before, however.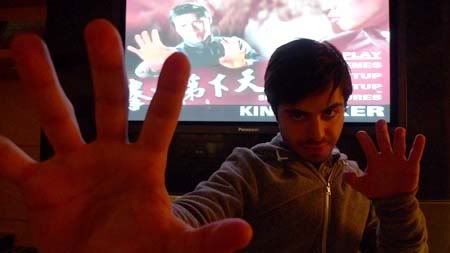 * Good news/bad news time. There's going to be a new whack at making a film of the British Judge Dread comics series that was made into an unmemorable and silly Sylvester Stallone film some twenty years ago. The good news is that, via the Playlist, we now know the Judge this will time will played by Karl Urban who did such an amazing job as Bones McCoy in "Star Trek." The bad news is that the director is Pete Travis, who did such a mediocre job directing the overall uninspiring "Vantage Point" and, in my view, did a genuinely dreadful horrible job directing the docudrama, "Endgame." Emmy nomination or no Emmy nomination, truly one of the most misconceived directorial jobs I've ever seen. However, Travis's apparent inability to stage a simple dramatic scene in a simple and understandable way may not be as fatal a problem in an action tale as it was in the story of ending South African apartheid.
* Given the quality of the Road Runner clip that's been floating around, the idea of doing a live action/CGI animated Bugs Bunny movie could possibly work, but my hunch is I'll wish they'd just re-released "Who Framed Roger Rabbit?"
* A new chapter in the ongoing Terminator rights saga includes a cease-and-desist letter to a company that  had sent a press release touting a proposed 3D animated entry in the unkillable franchise.


* Earlier in the week, a story from tabloid press ran in which one of my favorite living actresses disses the thesping skills of a not-living actress I'm quite fond of. Well, we're all entitled to an opinion and I guess Emma Thompson might be more entitled than most to disparage Audrey Hepburn's performances but I can't agree. My new word for the day, however, is "mumsy."
* Kevin Jagernauth is absolutely right, the "Daniel Craig is still eager to collect another 007 paycheck" story is not news. He's made that very clear several times and the news would be if he felt like blowing off the lucrative and iconic gig off after only two films. That's the sort of thing that was making me not even wanting to do one of these posts. I guess it's this insatiable beast of the 'net at fault, but a lot of stories have a huge "Generalissimo Francisco Franco is still seriously dead" quality to them which we see so much of on cable news. News where the news is that there is no news.
On a different matter, Jagernauth is also entirely right that it's major bummer that the very interesting looking black comedy, "Leaves of Grass" is apparently not going to have a theatrical release, despite featuring what sure looks like a real tour de force performance from Edward Norton as twins. You can see the trailer and read about some earlier good news about the movie directed by the luckless Tim Blake Nelson, which I gather was wrong, in a post by me from April.
* There's a John Huston blog-a-thon going on. I remember when I was a little baby blogger and had time for stuff like that. Good times. I just realized, however, that I've never seen "The Life and Times of Judge Roy Bean" or "The List of Adrian Messenger," both of which are totally up my alley. How'd that happen?