I know, you all secretly envy the glamorous life of we entertainment writers. The high pay, the fast cars, the loose women, the expensive perks, the free bottled water — okay, it's only really the last of those that I've come to expect as a matter of course. That's especially the case when I'm in a red carpet line and expected to stand in direct sunlight on a very warm day for three hours waiting to talk to people of note who never stop by.
Yes, we entertainment writers do occasionally get  free food and beverages in return for showing up to cover red carpets and press days and the like.  It's all part of the PR machine and I suppose you could argue that sometimes it goes too far. However, most of it is is far from gourmet quality, very few of us are well paid, and if all takes to influence you to cover something positively rather than negatively is a free hoagie, some pasta salad, and a cupcake, integrity wasn't exactly your middle name to start with.
Still, if people are going to be forced to stand around outside on quite a hot day for close to three hours, quite literally risking a case of mild sunstroke (my mistake for not bringing a hat, I suppose — and thanks to the nice guy next to who allowed me to use his freebie sunblock), then providing access to water might be a good idea. No one I saw fainted or became ill, but no one around me seemed very happy either. Of course, what we all really wanted was a chance for some fun and shallow conversation with celebrities. Since I mainly cover movies, and this was, after all, the MTV Movie Awards, people somehow related to them would be nice. Television is good, too, though my knowledge is not as broad there. Reality television is something else again.
And this is  part where I have to confess that I went to the MTV Movies Awards Red Carpet and I only got a few odd celebrity photos and two brief interviews with young and, I'm sure, quite skilled young actors who are anything but household names. Considering the huge crush of better known media outlets, I wasn't likely to get a moment with any genuine superstars — just, you know, someone. Okay, so Samuel L. Jackson, Scarlett Johansson, or Michael Cera or even Betty White or Zach Galifianakis or Ed Helms and Ken Jeong might be off the table, but, well, give me somebody or don't bother to put me there at all. I've got better things to do than to make celebrities feel important by trying to get pictures of them as they rush into the air-conditioned confines of Universal's Gibson Amphitheater.
Given the high ratio of big stars and the small number of mid-level personalities, interesting newcomers, or behind-the-camera talent, I had my suspicions early on. When I saw the costumed and photogenic young lady below, who turns out to ace celebrity stalker La Coacha, the "first protege" of Perez Hilton, I figured I'd better request a picture. It was just possible the attractive junior gossip hound would be the most famous person I'd meet. She was, as it turns out, definitely the prettiest.
Which isn't to say I didn't get some okay pictures of the extremely famous. Certain celebrities really do seem to enjoy mugging about before cameras and I was lucky that a guy with a large TV camera from an Asian outlet connected to a major telcom company was right next to me. There was no way any big stars were going to give even a quick interview to him or me, but a 10 second shout-out might be in the cards. The best happened when a certain world renown martial artist actor-comedian stopped when my neighbor yelled to him in Chinese.
It's actually amazing how many pictures you can take when a truly world famous person drops by for 7.5 seconds. Of course, if Jackie Chan had stopped by for an actual chat, it would have taken me longer than that to compose myself. I'm a fan of his Hong Kong work during the eighties and early nineties and he wasn't even on the tip sheet. So, I was genuinely surprised to see him — though with "The Karate Kid" coming out fairly soon, his appearance certainly made sense.
That was followed by another major celebrity, there to support "The Hangover," who I'm sure would have been an interesting interview. Still, my memory of certain moments in his past would make me afraid to interview him without wearing earmuffs.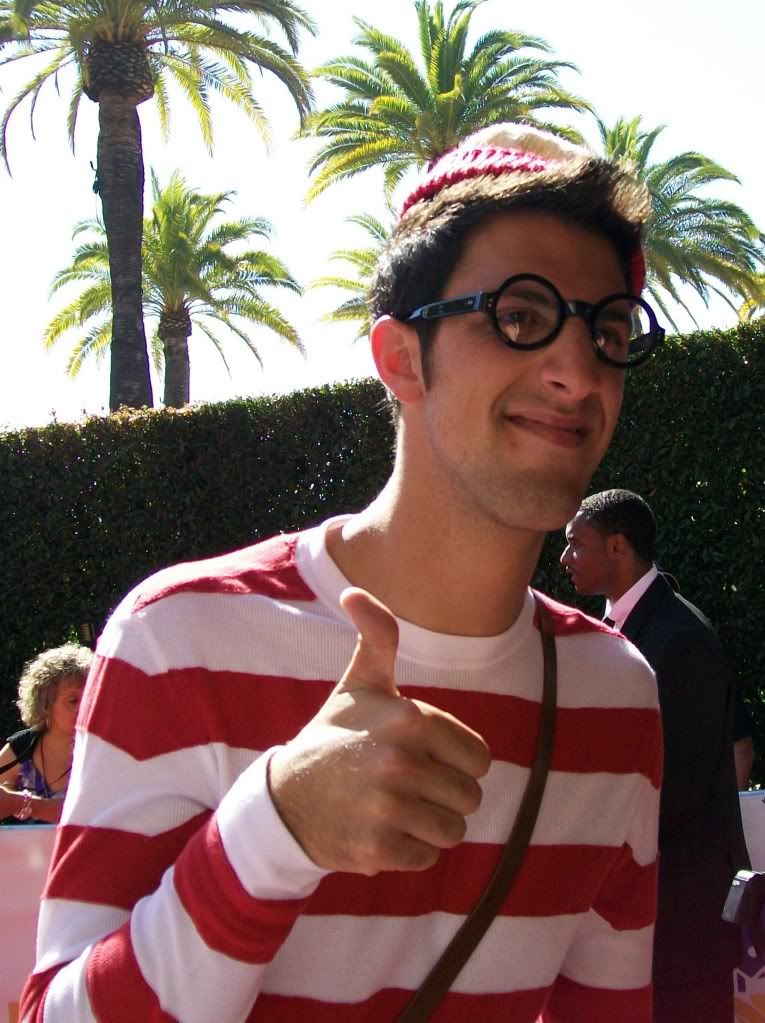 Jason Segel of "Forgetting Sarah Marshall" was also one of many celebrities running by us at warp speed, but he saw the camera and was requested to give a shout out, he ad-libbed, "Hey [giant telcom company], congratulations on your super-fast Internet and great cable service!" He also acted true to celebrity form in that, while rushing to get inside, he couldn't resist stopping for some pictures with a guy dressed as Waldo of "Where's Waldo?" fame. Alas, my pictures of Segel's quite funny clowning were just shy of being up to technical snuff, though I did get a good Waldo pic, ace paparazzo that I am.
Of course, part of the trick at something like this is actually figuring who the celebrities are. People run together in your head and an awful lot of the guests just look vaguely famous and clearly want to be recognized. Still, if they want to be recognized, they're probably not quite full-fledged stars. If, say, a flamboyant ice skater famed for being a flamboyant ice skater stops by and I had no clue who he was — well, I guess I missed something, I suppose. Nothing to do with movies or much of anything, but something.
Also, some celebs practice a clever sort of misdirection. A very large African-American man came down in front of us, beaming with a definite celebrity glow. A bunch of us started taking pictures just in case he really was famous, but it was only as he was past us when we realized the large man was running visual interference for Samuel Jackson who succeeded in entering the Gibson unmolested by all. The man is crafty.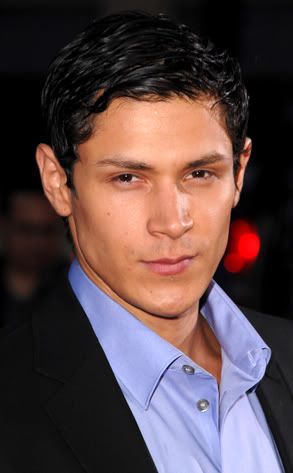 I did manage to talk briefly with two young gentlemen who may not quite be stars at the moment, but who appear to be going somewhere. First, there was a (please don't swoon) genuine "Twilight" werewolf in Alex Meraz, the young actor who plays Paul in the films which, I now must confess, I have yet to see.  However, I had been following with interest the different directors who've been chosen to direct installments in the lengthy romantic monster saga — all associated with critically acclaimed past projects, which are then entirely forgotten upon the release of the latest "Twilight" entry. Did Meraz have anything any thoughts about the recent choice, Bill Condon, of "Dreamgirls" and "Gods and Monsters," among many other projects?
"I have no thoughts on it. There are still negotiations that are being done. I'll cross that bridge when I get there. "
Okay, so strike one. So, how does Meraz — who, sorry ladies, I've since learned is married and has already started  a family — deal with all the fan adulation of involved with being a perpetually shirtless lycanthropic hunk?
"It's kind of an exciting thing to get. It's like winning the lottery. When you get a job you just happen to get anything to comes along with it. When anyone gets cast in one of these films, you congratulate them, because you know it's a long process to get in."
True enough, and Meraz is keeping busy. "I just came back from Peru about two days ago. I'm shooting a movie out there. Milo Addica wrote it — he wrote 'Monster's Ball.' It's called 'The City of Gardens.' It's a really exciting film. I was in a prison for about a month filming with actual inmates, so it was really intense…I play this bad boy who slit someone's throat." In other words, good, clean fun.
My meeting with Meraz was actually more or less happenstance. Usually, there is some effort made at these events to make sure we press have someone to talk with, and publicists will approach us with suggestions. This time, though, there wasn't a soul. The one exception to that were some of the cast members of the a show which, guess what, was going to be premiering right after the Movie Awards on MTV. Still, I can't blame young Paul Iacono for getting in line with his employers' promotional plans and, judging from the trailer to "The Hard Times of R.J. Berger," he's a solid, low-key performer with a good sense of comic timing — though I hope the show as a whole is better than its trailer.
An interviewer for an online video site within earshot was asking people about their worst kiss (a twist on the "Best Kiss" MTV award). Iacono told a genuinely funny and slightly gross story involving a fairly innocent 7th grade kissing game and a sinus infection. "And no one has kissed me ever since then," he concluded, convincing me the 22 year-old might be the real deal as an actor with his storytelling abilities. I figured I'd better talk to him.
In case you are as unfamiliar as I was about his new show, I'll let you Iacono give you the elevator pitch.
"It's MTV's first original scripted comedy in quite some time. It's about a fifteen year-old loser kid in high school who is exposed for being extremely well-endowed and all about how his life changes from there on in."
The representative of the Asian outlet next to me jumped in and asked what the show said to "people" — presumably boys and men — who might be a less endowed than the arguably fortunate Mr. Berger.
"Honestly, the message of the show essentially is that size is only what you make of it." I had a feeling he'd say that. I'm only glad he didn't feel the need to start discussing the motion of the ocean.
Quizzed about his favorite comics, Iacono went on to mention that he idolizes Tina Fey. The kid obviously has good taste — in comedy, at any rate. If we are to believe the gossip press, Iacono's long self-reported kissing dry-streak came to an end at the after party just a few hours after I spoke to him. It was reported that the formerly unknown young actor was engaged in prolonged lip-locking with, wait for it, Paris Hilton. (One can never be sure about such things, but the picture at E! looks incriminating. Still, considering Hilton's ties to the show and the slightly dramatized look of the photo, it's very likely a publicity stunt. Ah, the sacrifices actors must make for their art.)
Nevertheless, Iacono seems like a nice, hardworking kid and I'm glad someone got some fun out of the MTV Awards. Okay, I'm sure lots of people did. Just not us online media types.
Oh, and MTV writes in their rather sternly worded credential confirmation that bloggers "must provide a link to www.mtv.com." So there it is. You've got better things to do than to click on it.