Since I'm currently sitting in southern California with a bunch of TV critics and watching the Golden Globes, it seems a little ridiculous for me to do anything other than live blog the thing…well, the TV portion, anyway. I wouldn't dare take away anything from Mr. Westal's coverage of the film portion. With that said, however, I can't exactly ignore the show's host, Ricky Gervais, so I'm definitely planning to give him a shout-out whenever he offers up a great line.
I've never done this before, so be gentle with me…
8:01 PM: Gervais suggests that most people probably know him as the guy from the original British "Office," then shakes his head and says, "No, you don't, do you?" The highlight comes when Gervais suggests that "quality, not quantity" makes his version of "The Office" the better one, which results in Steve Carell's mouthing of "I will break you" to Gervais.
8:02 PM: "I'm not used to these sort of viewing figures. Then again, neither is NBC."
8:03 PM: "Actors: they're just better than ordinary people, aren't they?" Hugh Laurie seems amused by Gervais's remarks about he plays a doctor on television better than a real physician would, while Kiefer Sutherland is perhaps less so by the suggestion that some of the fights on "24" aren't scripted.
8:04 PM: "Let's get on with it before NBC replaces me with Jay Leno."
Best Performance by an Actress in a Television Series – Musical or Comedy: Toni Collette, "United States of Tara." Although I'm a little surprised that Tina Fey didn't take home the award, I acknowledged in my nominations piece that I figured a lot of people might favor Collette. I guess it was an easy pick. It just wasn't mine. I still think it's John Corbett and the kids who are the real stars of that show.
Best Performance by an Actor in a Supporting Role in a Series, Mini-Series, or Motion Picture Made for Television: John Lithgow, "Dexter." I still haven't seen his performance yet, and yet I still picked it. That's how strong the buzz was. Glad to see it paid off.
8:29 PM: "We've seen some worthy winners…aaaaaaand we've seen some not so worthy winners."
8:30 PM: After observing that one can't officially buy a Golden Globe Award, Gervais concedes that he's probably never going to be allowed to do the show again.
Best Performance by an Actor in a Television Series – Drama: Michael C. Hall, "Dexter." I think that, at three (TV) awards in a row, you can officially begin to suggest that Showtime is dominating the proceedings. Given the acclaim that this season has received, I'm not surprised that Hall beat out my pick (Hugh Laurie), and once you've factored in the fact that he's battling back from lymphoma, who could complain, really?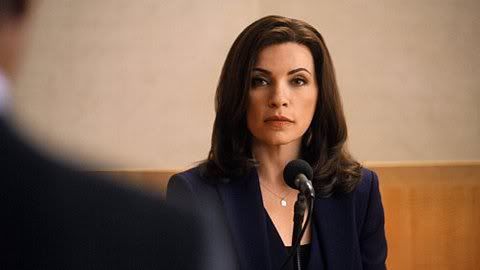 Best Performance by an Actress in a Television Series – Drama: Julianna Marguiles, "The Good Wife." Holy crap! My dark horse pick took home the win! What an awesome line from Julianna about CBS keeping the faith by continuing to air quality drama at 10 PM. I announced to my fellow critics that I'd gotten this pick right, and I was accused of being Nostradamus. Somebody cue up "We Are The Champions," please. I'd like to enjoy this victory as long as possible.
8:43 PM: Gervais bashes Paul McCartney by claiming that he shared a flight with the former Beatle, with Gervais in first class and Macca in coach because he's "saving money." After receiving several boos for his trouble, Gervais assures the crowd, "Uh, I think he's still doing all right!"
Best Mini-Series or Motion Picture Made for Television: "Grey Gardens." No complaints. I picked "Taking Chance" for this category, but I picked Drew Barrymore for her performance in the film, so I can hardly argue with this selection.
8:59 PM: Gervais decries the boozing, brawling Irish stereotype, then introduces Colin Farrell. (Farrell admits, "When I heard Ricky Gervais was gonna be introducing me, I said, 'Oh, balls…'")
9:09 PM: When Helen Mirren said, "Life," then paused, I was really hoping she was going to follow it by saying, "Don't talk to me about life." But she didn't.
Best Performance by an Actor in a Mini-Series or Motion Picture Made for Television: Kevin Bacon, "Taking Chance." Same situation as above. I wanted to see Chiwetel Ejiofor take it home for "Endgame," but given how much I loved "Taking Chance," I've no complaints.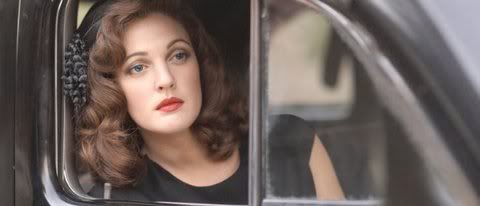 Best Performance by an Actress in a Mini-Series or Motion Picture Made for Television: Drew Barrymore, "Grey Gardens." Exxxxxxxcellent. Someone here just referred to the performance as "her first acting award," and there's a certain amount of truth to that, as she offered up more in "Grey Gardens" than most people would've expected that she had in her. You know, I've watched "Fast Times at Ridgemont High" a lot of times, but that reference to "Jeff Spicoli's girlfriend" flew right over my head. Anyone…?
9:22 PM: Gervais notes how actors want to be ever-changing and constantly moving, then says, "Please welcome Rachel from 'Friends' and that bloke from '300.'"
Best Performance by an Actor in a Television Series – Musical or Comedy: Alec Baldwin, "30 Rock." You can never go wrong with Alec Baldwin, I guess. But I still wanted Steve Carell to win it, if only to hear what Gervais had to say about it.
9:36 PM: God love Zachary Levi and Amy Poehler, but…really? Those were the best jokes you could provide for the stars of two of NBC's best shows? The network needs all the help it can get!
Best Television Series – Drama: "Mad Men." This is a category where there were no losers, but with that said, I really couldn't imagine any other series than this one taking home the win. Look at the beard on Jon Hamm..and the breasts on Christina Hendricks! I couldn't believe the music kicked in so quickly on Matthew Weiner, but as someone here said, it's a basic-cable network. That doesn't buy you much time, no matter how much acclaim your show gets.
Best Performance by an Actress in a Supporting Role in a Series, Mini-Series, or Motion Picture Made for Television: Chloe Sevigny, "Big Love." The only thing more upsetting than her win is her dress. I kid. Well, about the win, anyway. (I love Rose Byrne, but after seeing her today at the TCA panel for "Damages," I was beginning to wonder if she was even capable of smiling anymore.) Seriously, though, that dress is horrid.
9:48 PM: Gervais sips from what is almost certainly a glass of real lager, then struggles to get a laugh from his "Catwoman" joke…which is probably almost as much of a struggle as it took to get Halle Berry into that dress she's wearing.
9:57 PM: Am I the only one who was just creeped out by DeNiro's bit about Scorcese having sex with film?
10:00 PM: Great clipfest for Scorcese. Methinks it might be time to go order a copy of "The King of Comedy" from Amazon.
10:12 PM: The lager's back, as Gervais admits, "I've had a couple, I'm not gonna lie to you." He then blames the alcohol for anyone he might've offended, after which he quickly offers up the most incredible introduction of the night: "I like a drink as much as the next man…unless the next man is Mel Gibson." And just like that, Ricky Gervais is officially the best host of the Golden Globes EVER.
10:16 PM: James Cameron wins for "Avatar," and Dileep Rao's Golden Globes party suddenly gets kicked up a notch. I only mention this because he went to that party instead of having dinner with me. You got lucky, Rao!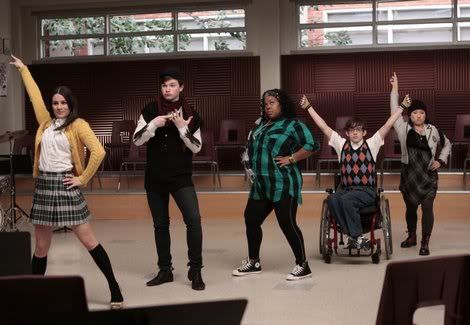 Best Television Series – Musical or Comedy: "Glee." That's going to be one happy set when I go visit it tomorrow. Nice shout-out from Ryan Murphy to Miss Barbra Streisand and the show's "fake sexy teen cast," as well as the dedication to everyone who ever got a wedgie in high school. Aw, that's so sweet of you to include me, Ryan…
Well, that's it for the TV awards, but I have to hang in there to see if Ricky Gervais has anything else left to say…or anyone else does, for that matter. Like, say, the governor of California…
10:34 PM: Damn, even Schwarzenegger can't resist getting in a jab at NBC!
10:35 PM: Gervais really must be scared of Mickey Rourke if the best he can offer up is, "I haven't gotten a bad word to say about him, mostly because he's got arms as big as my legs."
10:42 PM: I hope the kazillion ads they've shown for "Parenthood' actually earn the show some viewers. I really liked the pilot. I can't say the same for "The Marriage Ref," partially because they haven't produced a screener for us yet, but mostly because of my feud with Jerry Seinfeld. But that's a story for another time.
10:52 PM: Do you get the impression that, were it not for Chrysler, we might've been stuck listening to the Golden Globes on the radio?
10:55 PM: What? Straight into Julia Roberts and Best Motion Picture – Drama without a last appearance from Gervias? Gyp! Oh, well, at least "Avatar" won. Congrats again, Mr. Rao. I just hope that party was worth it…
10:59 PM: Ah, there we go. "If I had one wish, it would be for peace on earth. No, wait, can I change that? It would be for everyone to watch 'The Ricky Gervais Show,' on HBO on Feb. 19th." Way to end on a plug, sir.
So there you go: my first-ever live blog. I hope it made for at least a semi-entertaining read, and stay tuned for Bob Westal's movie portion of the proceedings, coming soon!