Reality TV was kicking into high gear in the early part of the decade, and in 2002 Fox's "American Idol" changed many things about how we watch TV, how we view the music industry, and how we view Paula Abdul. These are all shows that I blog about, so suffice to say that while I have become somewhat knowledgeable about each show, I do enjoy watching them, and enjoy them immensely. Here is how I rank them…..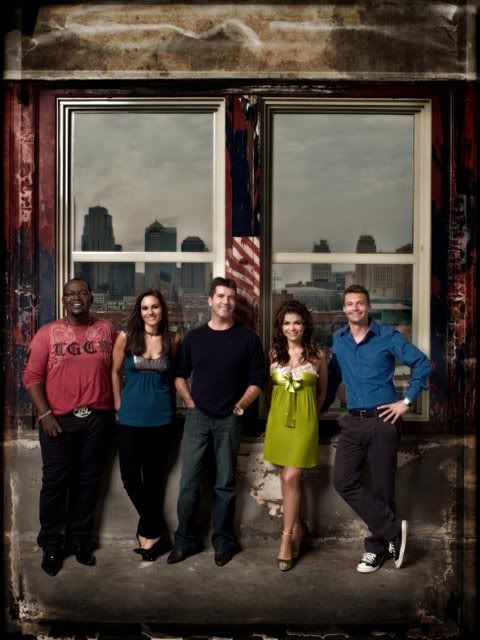 "American Idol" (Fox)—It's hard to argue with ratings and how this show has become the #1 show, maybe of all-time. And while we have taken issue with the judges, the producers and oftentimes, the talent, the fact remains that the concept of "American Idol" is awesome –to let viewers determine who they want to be a pop star. And it's likely exceeded the expectations of producers and industry execs, particularly with the careers of Kelly Clarkson and Carrie Underwood. In fact, without Idol, what would those two be doing right now?
"The Biggest Loser" (NBC)—It's hard to believe no one thought of a show like this long before reality TV came to be. And what could be more inspiring to Americans than to prove that those of us getting fat while watching reality TV and eating bad food and not exercising, that we can actually lose weight, and a lot of it, if we put the effort in. But seeing how the show transforms the lives of its contestants is must-see TV, and can be downright heartwarming. Sometimes, however, the producers let gameplay take over, which can cloud the purpose of the show. But still, the show is already in its 8th season and shows no signs of slowing down.
"Top Chef" (Bravo)—Admittedly, I only started watching this one in Season 5, but became hooked faster than I've been hooked by any reality show. It's so well done, and has made me notice things in the production, like lighting and music and continuity, that I've never noticed in shows like this before. Then there is the competition itself, and it's a show that pits, well, top chefs, against each other—chefs that know fine dining but have to stay on the cutting edge of cuisines and techniques for survival on the show.
"Hell's Kitchen" (Fox)—The boisterous Gordon Ramsay became a fixture in our living rooms a few yeas back, and "Hell's Kitchen" was an awesome concept for the first two or three seasons. After that, it began to lose some of its appeal—mostly because they have stuck to the same format again and again without much variation. Still a great show, but after six seasons, they need to take a break or change things up.
"The Next Food Network Star" (Food Network)—This show gained all of its credibility after the fact, once Season 2 champ Guy Fieri became a rock star almost overnight. But in the three seasons since, it's failed to produce anyone like Guy, and maybe never will again. Plus, you can't keep crowning a champ, and then give them 5-6 shows before letting them fade into oblivion. At least in my book, that hurts this show's credibility.
The Emergence of Food Network and Other Food Shows
The Food Network has been around since 1993, but over the last five years or so, has really taken off and become both a powerful network and powerful brand at the same time. With shows that appeal to just about everyone that likes to eat and/or cook, no matter what level they are at, the network has done a fine job of delivering quality programming and making stars of folks like Guy Fieri, Bobby Flay, Sandra Lee, Rachael Ray, Tyler Florence, and Paula Deen. Here are my picks for the food network's best shows of the decade and a few other food related shows on other networks that have been feeding off its success:
"Diners, Drive-ins and Dives" (Guy Fieri)—The guy gets to travel around in his vintage red Camaro and sample amazing food and talk to the owners and chefs of America's finest (but humble) eateries. Dude has the best job ever, period. Of course, he's a natural, and Food Network producers struck gold with this one.
"Throwdown with Bobby Flay" (Bobby Flay)—Flay competes with the best of the best across the country at what they specialize in. Which means he's at a decided disadvantage unless he's making Tex-Mex anything. But the guy shows why he's both an Iron Chef and a fierce competitor time and again, and it's always fun to see the reaction of these chefs when they realize they've been duped and that Flay has come to town to issue a throwdown.
"Tyler's Ultimate" (Tyler Florence)—Watching Tyler Florence make the ultimate fried chicken, tacos, ribs, or anything will make your mouth water, and make you want to cook whatever he's making, right now. But if you're watching your waistline, you might get squeamish at his use of butter, full fat everything and real sugar (as well as loads of salt) that would make even Paula Deen look like Ellie Krieger. Still, I've made some of these items, and let me tell you, the word ultimate is no joke. The guy knows how to cook and knows how to entertain, and you can even play a drinking game by doing a shot every time Florence says "absolutely delicious."
"Man vs. Food" (Adam Richman, Travel Channel)—Along the lines of "Diners, Drive-Ins, and Dives," Adam Richman gets to sample great food from across the nation. The difference? He ends each episode with a challenge, hence the show's name, and has to eat mass quantities of something or has to consume food hot enough to burn a hole in the ground in order to win. Currently in its second season, this show is absolutely awesome.
"Top Chef" (Bravo)—Deja vu? Yeah, but this is probably a show Food Network wishes it had, and it only keeps getting better. Sure, the chefs often make dishes and use ingredients many of us have never heard of, but that's also part of the charm.