Never before on "American Idol" have I seen more of an example of Simon Cowell trying to will America to vote a certain way, and last night he was making a case to oust either Kris Allen or Allison Iraheta, while draping unnecessary praise on Matt Giraud and expected praise on Danny Gokey and Adam Lambert. So no, I don't think he's on crack, but this big-headed music exec has intentions, and honestly I don't think they are good or fair intentions. But more on that in a bit. We're down to the final 5, and the competition is fierce and heated at this stage. Last night the remaining contestants sang crooner type standards, and while having Jamie Foxx be their mentor was sort of an oxymoron, the dude gave everyone excellent advice, something you can't say for, you know, the Q-man a few weeks ago (yeah, telling Anoop to growl when singing sappy Bryan Adams ballads….that's money!).
I don't usually comment on what the judges are wearing, but Paula was wearing this red dress that looked like the man-eating plant from "The Flintstones." Adam Lambert, you've been warned. So here we go, and we're just going to do this in order since almost everyone was good or very good:
Kris Allen went first, something that is always risky to begin with, and sang a near-flawless version of "The Way You Look Tonight." Jamie Foxx was blown away in the mentoring session and seems to be pulling for Kris. Okay, this is my boy regardless….but I want to say Kris knocked this thing out of the park. Randy said it was Kris' best performance to date, Kara said Kris set the bar very high for the other four, Paula said he's made an amazing transition to a handsome, sophisticated singer, and then Simon burst the bubble by saying Kris wasn't as good as the other three guys, that he sounded like a well-trained spaniel, that the performance was "wet," (What????? Even Ryan Seacrest laughed at that), and that it wasn't incredible and Kris can't win based on this performance. Damn….could it be any clearer that Simon is trying to push Kris out? I was so pissed that I did something I haven't done yet this season…I voted.
Allison Iraheta went next and sang "Someone To Watch Over Me," and it was also amazing and flawless, with Allison showing yet another side to her that could and did run rings around Lil Rounds and Megan Joy.
Randy said Allison looked like Brittany Murphy and sounded like Pink times 10, Kara said she isn't nervous for Allison's ouster this week and that she's not a one-trick pony at all, Paula she was waiting for Allison to sing a ballad and was "proud," and then Simon burst her bubble.
He said he still doesn't believe Allison has the confidence needed to win, and he has a horrible feeling she may be going home this week. To which Kara said, "Simon, I love you but you're crazy." Good call, and correct call, Kara.
Then it was Matt Giraud, someone you would expect to be quite at home in this genre. Foxx had Matt change the key of the song to suit his voice better, but to me it seemed a bit pitchy in spots and not at all as good as the first two performances. Randy said it's a hard song and that it was somewhat pitchy and that he gave it a 6 out of 10, Kara said the competition is getting stiff and that Matt is not the leader of the pack at this point, Paula said she loved what Matt did with the song, felt a connection and that he did an excellent job, and Simon agreed with Paula, saying he was the only believable performer of the night so far, and then uttered this nugget: "brilliant." Are you kidding me Simon? I was so with Randy and Kara on this one, and again I think this is Simon's way of getting rid of Kris now because he knows Matt has no chance going up against Adam or Danny. He also wants to make he and the other judges look good for saving Matt a few weeks ago. I'm getting pissed just thinking about this, because Simon was so wrong.
Danny, who many are getting a bit bored with lately and who at times seems like a one-trick pony himself, sang "Come Rain/Come Shine" and there was a hilarious mentoring moment where Jamie Foxx got up in Danny's face and dared him to sing to said close face.
Yikes.
For half the performance, I was worried for Danny, but then he shifted into like 10th gear and lifted the song into the stratosphere. Randy said Danny could have an album of standards and used his trademark "you can really sing" line. Kara said Danny had a "rat pack swagger" and was "unbelievable," Paula said she would use one word, "stellar," then proceeded to throw a few more drunken words on top of that. Simon said Kara was 100% correct, and that it was outstanding. Do you all see Simon's diabolical plan now?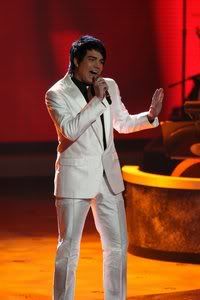 Then it was Adam Lambert, about as sure a thing to make the final 2 as this show has ever had. Adam sang "Feeling Good" and it was weird in spots and had a 20-second glory note with way more of Adam's tongue than I ever want to see. But dude can belt it and never misses a note. Randy said it was a little too drama for his taste, but that Adam was in the zone, Kara said her mouth drops open every time Adam performs and used words like "shocking" and "sleazy"…Paula said she likened Adam to Olympic swimmer Michael Phelps (pass the bong!), and then Simon said Randy saying Adam being too drama is like saying "a cow moos." Ha! He then said that Adam looks like he wants to win, and with that he under-handedly took a jab at Allison.
I don't know if there will be a bottom 3 tonight, but if there is it will clearly be Kris, Allison and Matt. A bottom 2 would probably be Kris and Allison, which is ridiculous, but the order of performers will make a difference as will Simon's ridiculous and unfair comments. The only thing I have faith in is this….America is not stupid….and they need to stick it to Simon and get Matt out of this thing now. America did try to vote this imposter off once, and it backfired, so will they do it again? I have a bad feeling…I have a bad feeling it's going to be my man Kris or my girl Allison when it shouldn't be anyone but Matt. We'll see…..and we'll see you all tomorrow with the results.
But first I want to know…who did you like last night and who didn't you like?