We were all looking forward to Disco Week on "American Idol" the way we look forward to watching a train wreck, weren't we? Who would butcher a disco song more than everyone else? How would Adam and Danny and Kris stay above the pack? Well, not Adam…that dude can do anything. Anyway, some performances were mind-blowing last night and others fell short, and it was the same singers who were awesome and the same who were awful, regardless of genre. Here we go…
THE VERY GOOD
Kris Allen, for my money, gave the best performance last night. He took Donna Summers' "She Works Hard For the Money," strapped on his guitar and turned it into a pop/rock version, ala David Cook last season. Skip the fact that this song came out in the mid-'80's and has no ties to disco, and just look at the performance, which was absolutely stellar and fun to watch. Kara said Kris took a big risk and it paid off, Paula said it had a classy Santana feel, Simon said it was the polar opposite to Lil Rounds' performance (who went before Kris) and then Simon (yes, that Simon) used the word "fantastic." Randy said Kris knows who he is and is ready for the big-time. Folks, this kid could win…I'm telling you now.
THE GOOD
Allison Iraheta also took on a Donna Summer song, "Hot Stuff," and also did a rock version of it. It was a weird arrangement, kind of slow and sultry, but really good. There really is no question about Allison's vocal ability. Randy said he didn't love the arrangement but that Allison is one of the best singers this season, Kara agreed with Randy (this is becoming a theme with Kara), Paula said the word "compromise" is not in Allison's vocabulary (what?) and Simon disagreed with everyone else, saying the performance was "brilliant."
Danny Gokey sang Earth, Wind & Fire's "September" and while he is sometimes awkward trying to dance and move around on stage, the guy can just belt it vocally. Randy said it was a great song that Danny made his own, Kara said she was worried about the choice but that Danny is an incredible vocalist who is always on pitch, Paula said it was "brilliant" and "sexy," and Simon agreed with everyone on the vocals but said it was a "clumsy" performance. I can't say I disagree with that.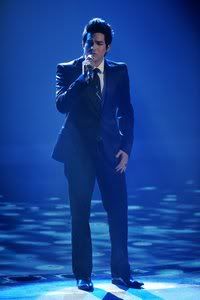 Adam Lambert sang the Bee Gees' "If I Can't Have You" and it was a weird, slow arrangement just like Allison's, but just like Allison and Danny, Adam is a great singer and he proved it again last night. He toned down the metal screams, and just delivered. Paula's face while Adam performs is priceless….sort of like a grandmother watching her grandchild in a play for the first time. Simon's faces watching Paula are even more priceless…sort of like a class clown watching someone give himself a wedgie. Anyway, Randy said Adam showed great range, Kara said it was brilliant and memorable, Paula said she felt Adam's pain and that he will be in the finals (what?????). Simon laughed and said he didn't quite feel the "pain," but that Adam's performance was original and that his vocals were "immaculate."
THE IN BETWEEN
Matt Giraud sang the Bee Gees' "Stayin' Alive" and it was just okay. I'm kind of annoyed right now that Matt is still in this thing, but he may stick around another week based on worse performances by Lil and Anoop. Randy said he didn't love the song choice or arrangement but that Matt can really sing, Kara said Matt brought the real disco back while everyone else was changing arrangements and that the vocals were good, Paula said Matt sings like she bowls, and that tonight he rolled a strike. Holy crap, I just wrote that because Paula really said it. Simon, meanwhile, didn't like the performance at all.
THE BAD
Lil Rounds is getting annoyed with the judges' comments every week and is confused about what to do and how to do it, but the bottom line is this, Lil: You are not as good as the other six remaining contestants. She was great in the audition rounds but is just lacking star talent and charisma. Lil sang Chaka Khan's "I'm Every Woman" and it was just blah. Randy said he's still not seeing Lil as an artist, Kara said Lil is not worth waiting to hear, which was about as low a blow as there could be, Paula said Lil was sick this past week and did a nice job considering that, and Simon said he's glad Lil had fun, because it was "copycat" and the vocals were a mess. Pretty much, Simon.
Anoop Desai had the pimp spot and sang Donna Summers' "Dim All the Lights." It was boring and just kind of okay. Randy didn't love the arrangement but said Anoop, like everyone else in the Top 7, can really sing. Kara said it was a great choice and she dug the arrangement, Paula said he looked good and it was a great vocal, and Simon disagreed with everyone, saying it was "mediocre at best," a "horrible version" and perhaps Anoop's worst performance. Wow. I didn't think it was that bad, but I agreed more with Simon than with everyone else.
So it should be a clear-cut Bottom 3, and the same as last week–Lil, Matt and Anoop. But this week, Matt should stay alive (ha!) and Lil and Anoop should be sent packing. That doesn't mean it will happen that way, but let's face it–it's a four person race between Adam, Danny, Kris and Allison and we're just going through the motions with the other three. Once we get there, this competition is going to heat up, probably more so than any season in AI history. I'm not saying that to help FOX boost ratings, I'm saying that because those four, as Randy Jackson would say, "can really sing!" And they each bring a unique artistry to the table.
It should be interesting as we move toward the finale, but tonight's elimination will be anti-climactic at best. Especially now that the ridiculous "judge's save" has been used. See you all tomorrow with the results!