Last night's "American Idol" results show began with another new twist of rules announcement. I was afraid of the judges throwing themselves more into the mix, but what they announced was something pretty cool. They flashed on a big screen folks like Tamyra Grey, Chris Daughtry and Jennifer Hudson, and Ryan Seacrest asked what they all had in common. That would be that they finished third or fourth in the voting in past seasons, and subsquently went on to have huge careers. The judges will have the option this season to "save" one eliminated contestant and give them another chance, to make up for a bad week, or because they feel so strongly about the contestant. Keep in mind they can only do this once in the next 10 or 11 weeks.
They then showed the finalists in their new digs at the American Idol mansion…are you kidding me? And then they showed the new Ford video, where the group covered Queen's "We Will Rock You." And then there was another awful group performance of The Jackson Five's' "I Want You Back." Blech.
Finally, down to business. Michael Sarver and Allison Iraheta, both safe. Jasmine Murray was asked to come out to the front of the stage. Matt Giraud and Kris Allen, both safe. Megan Joy Corkrey, out to the front of the stage. Her or Jasmine would be going home, and it was Jasmine. She had showed so much promise but is still a very young 17 and didn't quite have enough to take this thing all the way. After she performed, the judges decided not to "save" Jasmine, not after she was voted off once before and then invited back as a wild card.
Then Kanye West performed, and I have a comment. Can we not use studio toys like pitch correctors as vocal EFFECTS? This has become a standard practice for pop/dance and now hip-hop vocalists and when used in a live performance sounds absolutely hideous. After Kanye, Scott McIntyre, Alexis Grace, and Danny Gokey, all safe. Anoop Desai, out to the front of the stage. Adam Lambert and Lil Rounds, both safe. Jorge Nunez, out to the stage. So as Anoop and Jorge were left dangling, we had a commercial break and then a performance by the first Idol champ Kelly Clarkson, who is looking older and less attractive by the minute. Sorry, I call it as I see it. She also doesn't sing anymore, and on her new single, "My Life Would Suck Without You," she shouted and shouted some more. Blech. The music industry really is in a funk, isn't it?
Then it was the result, and I and probably many of you viewers were feeling like it would be Anoop, but it was Jorge. Dude wowed us a few weeks ago but just didn't have enough on Tuesday, and he proved that again when he sang "Never Can Say Goodbye" one more time. Simon Cowell announced that the judges would not save Jorge, so that was it. Starting next week, only one finalists will be eliminated each week, and you can bet the judges will save their save for much later in this competition, and rightly so.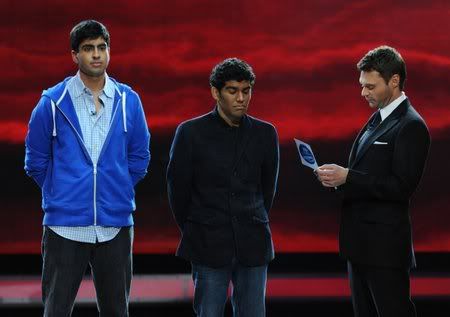 There you have it…11 finalists remain and we are barreling along. What will the theme be next week and who will be invited to perform? Will Scott McIntyre's brother forget to escort Scott onto the stage and let him fall down? Will Adam lengthen his tongue like Gene Simmons? Will Lil come out dressed like a giant orange? Will Allison try any harder to be Kelly Clarkson? Will Paula Abdul say something really, really stupid? Those questions and more will be answered next week. See you then….