You know you're on the right bus for Comic-Con when a guy comes aboard wearing a Flash t-shirt…and he's followed a guy toting two enormous bags in which to carry swag…and then that guy is followed by Darth Vader.
Actually, now that I think about it, maybe Lord Vader wasn't actually on the bus with me, but he was most certainly present – and in various heights, weights, shapes, and sizes, no less – during the course of the New York Comic-Con, which took place at New York's Javitz Center from February 6th through the 8th.
Our man Jason Zingale has been our resident San Diego Comic-Con attendee for the past couple of years, but Bullz-Eye was also in the house for last year's NYCC, thanks to our man in New York, Jonathan Flax. (Granted, he's often a quiet man, but he's still there for us when we need him.) This year, however, I couldn't resist the chance to take in Comic-Con for myself. The San Diego event takes place immediately after I've already spent two-and-a-half weeks in L.A. for the July TCA Press Tour, and by that point, I just can't be away from my wife and daughter any longer; fortunately, the NYCC takes place long enough after the January TCA tour that I was able to feel comfortable heading out of town to attend. It was disappointing that I had to take in all of the sights, sounds, and events all by my lonesome, but lord knows there were plenty of other people with whom I was sharing the experience. I might've come by myself, but I was in no way alone.
Day 1:
Having never been to a Comic-Con before, I spent the first few hours just staring in wonderment at the controlled chaos going on around me. The booths, the displays, the costumes (you couldn't move without running into a superhero or a sci-fi icon), the comic books, and the free stuff…oh, my God, the free stuff. There were posters, postcards, and buttons just about everywhere you turned, with other folks offering up t-shirts, keychains, and even inflatable swords. But not everything in life is free, of course, which is why there were a ton of ATM machines stationed in the midst of the myriad of booths, so that folks could stock up on comics, trade paperbacks, hardcovers, DVDs, statues, shirts, and virtually anything that your mind could conceive. And that is not hyperbole. I didn't go completely nuts in my spending, but I did pick up a "Kingdom Come" shirt with Alex Ross art on both the front and back, a Fred Hembeck anthology, a collection of Green Arrow / Black Canary tales, and…oddly enough…DVDs of "The Magnificent Seven" and "Yankee Doodle Dandy."
See what I mean? Virtually anything your mind can conceive.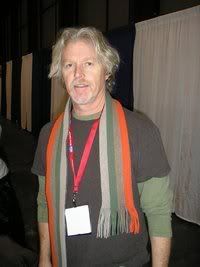 As I continued to wander, I found my way over to the autograph tables, where I spotted none other than William Katt, the man who once portrayed the title character on "The Greatest American Hero." He's still acting – you may have caught him on a recent episode of "Heroes" as the sleazy journalist who was frozen and shattered by Tracy – but he's also writing comic books as well. Look for my interview with him to appear on Premium Hollywood sometime in the near future, where he details his current goings-on. I must admit, however, that it was also pretty damned cool to realize who was sitting at the autograph table right next to him: Robert Culp, who played Bill Maxwell on the series. I wish I'd been able to snap his photo, but it seemed as though I either surprised or annoyed Mr. Culp by asking him not about "Hero" but, rather, about when he re-teamed with his former "I Spy" co-star on "The Cosby Show." (I had just seen the episode, so it was fresh in my mind.) He had little to say about the experience, aside from assuring me that Mr. Cosby was and is the best friend he's ever likely to have, but immediately thereafter, he wandered back to sign more autographs.
As I contributed to stroll around the Con, I found myself over by the booth for DoctorWhoStore.com, and to my surprise, there was an actual Doctor sitting there: Colin Baker, otherwise known as the Sixth Doctor, who was kind enough to give me a smile for the camera. Upon snapping the shot, I promptly called Bullz-Eye's resident expert on the "Who"-niverse, Ross Ruediger, to tell him of the encounter, and he assured me that Mr. Baker was, by his recollection, a heck of a nice guy. I'd have to second that. Other guests in attendance at the show on Friday, though I didn't actually get a chance to speak with them, were Lou Ferrigno ("The Incredible Hulk") and Peter Mayhew (otherwise known as the man inside the Chewbacca suit), but I also spotted Scott Adsit, a.k.a. Pete Hornberger from "30 Rock," not to mention one of the men behind "Morel Orel," wandering around as well. Soon, however, I had to leave the floor of the Con behind and head down to the first of the panels that I'd wanted to attend.
Alien Trespass: As soon as I read the description for this panel, I knew it was right up my alley, since it immediately reminded me of "The Lost Skeleton of Cadavra," except with a cast of more familiar faces, like "Mars Attacks!"
"A lost Sci-Fi epic's recently been unearthed! Not seen since 1957, this film by legendary producer Louie Q. Goldstone is essential viewing for anyone who considers themselves a science fiction fan. Be one of the first of this generation to glimpse vintage 'Alien Trespass' broadsides and meet the creator, veteran 'X-Files' director R.W. Goodwin, as well as descendants of the original cast. Eric McCormack ('Free Enterprise'), Robert Patrick ('Terminator 2'), and Dan Lauria are scheduled to be in the room, too."
Well, as it turned out, neither McCormack nor Patrick managed to make it, but Lauria did, and as a longtime fan of "The Wonder Years" (he played Kevin's dad), that was good enough for me. He and Goodwin offered up a very cool clip which explained the mock origins of the film and displayed just how close the look of "Alien Trespass" approximates '50s sci-fi flicks. Granted, Lauria insisted on telling everyone just how much the creature in the film looks like a giant dildo, which was a little disconcerting, but his good humor about the experience of working on the film combined with Goodwin's enthusiasm about the project as a whole was infectious.
R.W. Goodwin and Dan Lauria
Goodwin assured us that it's not intended to be a laugh riot, however, but rather a loving, if occasionally tongue-in-cheek, tribute to the creature features of the 1950s, and that people have admitted that they did indeed find themselves getting scared while watching "Alien Trespass."
"Our first choice (for the lead) was Eric McCormack," said Goodwin. "He's a wonderfully funny man, but he's a really talented and trained actor, and the thing about making this movie was that you couldn't try to make it funny. You had to be real about it and earnest about it, and in doing that, it becomes funny."
All told, it looks like a real hoot. I can't wait.
Futurama: Into the Wild Green Yonder: Although the excitement about the premiere of the latest – and, for the moment, last – new "Futurama" movie was considerable, it was highly disappointing that the event occurred without an appearance by anyone from the cast or crew. Still, it was cool to be able to watch it as part of a large audience, and although it shares the same problem as its predecessors by dragging sporadically and featuring unnecessary subplots, "Into the Wild Green Yonder" does feature well-utilized guest appearances by the heads of Snoop Dogg and Penn Jillette, plus an ending that will make longtime fans cheer. Or, at least, that's what happened at Comic-Con, anyway.
Wonder Woman: After having had to get up for my flight to New York at 4:30 AM, then dragged my bags around NYC and wandered around Comic-Con for several hours, I was ready to drop by the time 8:30 PM rolled around, but there was no way I was going to miss the screening of the latest DC animated film, "Wonder Woman." For one thing, it's been far too long since the Amazon princess got her due in any medium outside of comic books, but you also can't go wrong with a voice cast that features Keri Russell, Nathan Fillion, Alfred Molina, Rosario Dawson, Oliver Platt, Virginia Madsen, and David McCallum. Unfortunately, no-one from the cast turned up, but we did get a special video introduction from Mr. Fillion, who unabashedly teased the crowd by assuring them that he couldn't make it because he was busy filming "Serenity 2," then waited a beat and said, "Nah, just kidding."
Although I was excited, I can't necessarily say that I went in with any specific expectations, aside from knowing that, at the very least, I'd get an enjoyable ride. As it turned out, however, "Wonder Woman" was probably the best of the DC Universe animated films that I've ever seen. Purists will no doubt moan about how Diana's origin story doesn't match up precisely with the way it's been presented in the comics, but, really, it's not a big deal. All of the major points remain, there's a lot of action and way more humor than you might have expected (Steve Trevor comes across as a major horndog, but, really, can you blame him?), and it's a tight, concise storyline which offers an ending that totally sets up a sequel. Frankly, though, I think we should root for Wonder Woman to score her own animated series. She's been around for almost 70 years now. It's about time, don't you think?
Day 2:
Watchmen: You can well imagine that this was the panel that really had the fanboys…and I include myself among their number…chomping at the bit, given that Dave Gibbons, the co-creator of the original "Watchmen" comic book, was in the house to introduce the first 18 minutes of the film, then field questions from the audience afterwards. The big surprise that he had for us, however, was that those 18 minutes would be followed by the world premiere of a brief but highly memorable scene taken directly from the pages of the comic: when Rorschach is being taunted while in the prison cafeteria line and decides to silence his tormentor in a profoundly horrifying manner.
But let's talk about those 18 minutes first, shall we? Those familiar with the original source material already know that the opening sequence of the film involves the murder of the Comedian, and we were able to witness it unfold in all its glory. I still say that Dennis Farina would've been the perfect person to play the Comedian had this film been made a few years earlier, but I have no complaints about the way Jeffrey Dean Morgan handles the role. The combination of the onscreen violence and the sound system in the theater made for some seriously gripping viewing, and from there, it was on to the opening credits.
I gotta tell ya, Zack Snyder did a great job with these, offering up key moments from the universe of the Watchmen that will fill newbies in on how things are different in this world from our own while giving the fans a constant barrage of snapshots taken directly from the pages of the comic book. You get the group photo of the Minutemen (the WWII-era predecessors to the Watchmen), along with a series of moments from their subsequent history that clarify how they got from where they were then to where they are now. We see the institutionalization of one hero, the deaths of a few more, Dr. Manhattan shaking hands with Kennedy followed by clarification of who really shot JFK, and footage of Richard Nixon earning a unprecedented 3rd term in office.
From there, it's back to the Comedian's apartment, where the police are giving the place a onceover, trying to figure out what happened and who's responsible. Again, we get shots of lots of photos and knickknacks around the place, each of which will inspire a giggle of recognition from the geeks (just lke they did in me). The real fun begins, however, when we head to the street and meet Rorschach for the first time. The growling narration from Jackie Earl Haley was perfect, and seeing Rorschach fire his wirepoon or grappling gun, whatever you want to call it, was almost as cool as the resulting leap through the Comedian's window and into the apartment. Immediately after Rorschach found and explored the Comedian's closet, the film cut to black, and it was time to move onto the aforementioned cafeteria scene. I don't want to spoil the effect for anyone who isn't familiar with the moment in question, but for those of you who are, let me just say that it's perfect. Haley manages to look completely benign up until the moment when he's decided that he's had all that he can take; at that point, things go down just like in the comic book, and you will gasp, cringe, and if you're a big Rorschach supporter, you will be unable to resist cheering at the end.
I've been psyched for this film ever since I heard that members of the cast were going up to Snyder and asking him if he could add more scenes from the original comic book, but even with that kind of enthusiasm, you still never know what to expect from the finished project. Having seen what I've seen of "Watchmen," I no longer have any doubt: it will be one of my favorite films of all time.
Friday the 13th: I'd be lying to you if I said that I really gave a crap about this film. I was never a huge fan of the original films, and the idea of rebooting the series earned a vague shrug and little else. Still, this panel took place after "Watchmen" and before "Terminator: Salvation," and there was no way I was going to lose my primo seat, so I just sat quietly and endured the panel and the footage.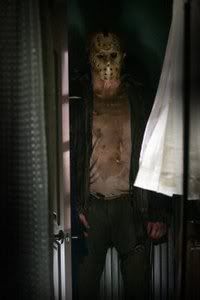 As it turned out, the stuff they showed really wasn't that bad. Well, I guess "bad" is relative, but it looked and sounded good, there was plenty of gore, and the first thing to appear on the screen was a gentleman giving his lady the gift of some canine-influenced sexual gratification…so, y'know, basically, it could've been a hell of a lot worse.
There were a couple of funny moments while the producers and cast were onstage, most notably when Derek Mears pretended to storm off the stage after a woman from the audience began her question by saying that she wasn't really a horror fan, but the highlight of the panel had to be when a guy got up to the mike and asked the question that a lot of other people were thinking: "Why do we need a twelfth 'Friday the 13th' movie?" And to the producers' credit, their response was, "I don't think anyone is saying that we do. We decided that we wanted to do it, and if people don't want to see it, they don't have to. But we had a great time doing it."
Terminator: Salvation: When I walked away from this panel, it was with an opinion that I never would've expected: that I like McG. It's not that I haven't enjoyed his movies – even the "Charlie's Angels" flicks were good popcorn-eating fun – but he's just never seemed like a guy who had any interest in being particularly substantive with his projects. Well, either I've underestimated for all this time, or he just really, really wants to do a good job with "Terminator: Salvation," because you'd be hard-pressed to find anyone who came across as more interested in the fans' opinion of what he can do to make this the best possible "Terminator" movie…short, of course, from having James Cameron direct it.
He did, however, cop to having conversations with Cameron (the director, not the Terminator played by Summer Glau on "The Sarah Connor Chronicles") about the flick, which was a little intimidating, since he knew that Cameron had felt like the "Terminator" tale was done at the end of the second film.
"He wanted to know my take on the material," said McG, "and I said, 'Jim, the reason why this story is worth telling is that this is a look at the future war, and it's a look that's more expansive than anything you gave the fans in the early pictures. Just those little glimpses got us all excited, and the only way I could justify furthering the story would be if we made a film that was post-Judgment Day. That would be interesting.' And he said, 'Look, I can't condone your making this movie, but I'm not going to shit all over your making this movie. I hope it's a good movie; it sounds very interesting.' And then he went on to tell me the story about how he was following Ridley Scott in making the second 'Alien' picture, and people thought, 'Who the fuck is this guy Jim Cameron? He did a 'Piranha' picture, and he's trying to follow Ridley Scott? We don't feel good about this!' But he thought he could honor the mythology and continue to move forward, and he did, and I think we're all very happy that he made 'Aliens.' So I wouldn't say I got Jim onboard, but I'm getting ready to go down there and show him the movie, and we'll see. He might kick me in the balls and tell me to fuck right off. But he was very good about it…and, okay, I wanted a little more coddling and warm, fuzzy 'you're going to do it,' but he didn't say, 'You're an asshole, get out of here.' He wished us well."
"How 'bout Bale?" asked McG, after we watched some new footage from the film. "Christian Bale is a bad motherfucker!"
Indeed, he is, which is why no-one was surprised that the very first audience question involved Bale's recently-released on-set outburst. So what did McG say when queried about how that situation affected the production?
"What don't you fucking understand?" he demanded of the poor woman, and then declared, "You and me are done professionally!"
After the laughter died down, McG said, "The whole thing got a little bit heated, but the set is a safe place, and, frankly, the bigger violation is that anything that would ever happen on a movie set would leak out. That's really not fair, and I hope it doesn't color filmmaking in the future, insofar as to make actors cautious about really going for it, or anything that goes into the creative process. Christian has taken responsibility for the way he acted. It's a matter of fact that he and Shane (Hurlbut) are buddies; we finished the movie together, we did some additional photography about a month ago, and it was just one of those moments. I think I can speak on all of our behalves that we've all gotten a little fired up, and if anybody would take that moment and take it out of context, it would seem very, very strange. And that's what happened. But it's really that as big of a deal. I wanted that level of passion to show up in the John Connor character, because it's a war movie, and I didn't want him to be lightweight. As Christian said himself, he was sort of half-Connor, half-Christian, and it just happened.
For those of you who have been wondering what to expect from this flick, McG said that it will incorporate the mythos of not only the first two films but, indeed, the oft-maligned third film as well.
"We honor Judgment Day as articulated in 'T3,'" he said. "The story of this movie is about Kyle Reese seeing people make sacrifices for the benefit of others, because that day's going to come, some ten years from when our movie takes place, when he's going to have to come forward and say, 'I'll go back and try to save Sarah Connor,' knowing he can never return to the world he knows as his home."
It will not, however, be linked directly to the TV series, and although McG digs "The Sarah Connor Chronicles," his feelings are that they're doing their own thing over there. And as far as all the rumblings about an appearance by Schwarzenegger in "Salvation," he hemmed and hawed, then finally approximated an answer by saying that CGI has come a long way, which is good, since he wouldn't be interested in the Schwarzenegger of today. "I want the idealized, Bill-Paxton, tire-track-on-the-face archetype," he said, "and we'll see what we can do about that."
Other fun tidbits: Gustavo Santaolalla and Thom Yorke from Radiohead will be contributing "some sounds" to the film, but the predominant soundtrack will be done by Danny Elfman. There were discussions with Brad Fiedel, who scored the first two "Terminator" flicks, but when it came down to it, the feeling was that this was less a sequel than a new beginning, and it would be more appropriate to start with a fresh new soundtrack.
Up: I don't want to say that Pixar has a free pass with me, but…wait, yes, I do want to say that, because it's true, really. Though I'm still not what you'd call a huge fan of "Cars," there's not a single film bearing the Pixar name that I can't put on, sit through in its entirety, and come out the other end saying, "Well, that was totally worth seeing again." They've done consistently good work…and based on the clips they showed of their latest picture, "Up," it's clear that their streak remains solid.
Those who live their lives solely by demographics would say that it's a fool's game to release an animated film with an elderly man as its lead character, but there are enough kids out there who have a favorite grandpa…and plenty of adults with fond memories of their own…to make it a more than viable prospect, and "Up" looks to be about as sentimental as they come. Ed Asner provides the voice of Carl Fredricksen, a widower whose greatest regret is that he and his wife never got to take the trip to South America that he'd always sworn they would. Now, he's a grumpy old man who lives alone and is about ready to be shipped off to an old folks' home…but he's not having any of it. Instead, he does something that could only happen in a cartoon (even if you wish you could do it in real life): he fills his house with enough helium balloons to cause it to lift off, then steers it using curtains as sails and heads off to South America as a tribute to his wife. The only problem…? As he floats through the clouds, he discovers that there's a kid on his back porch.
The boy's name is Russell. He's the equivalent of a Boy Scout (though the organization is called something else in the film for legal reasons), and Carl had sent the poor kid on a snipe hunt, but the trick backfired when Russell claimed to have found the snipe and was sitting on the porch, waiting for him to come back out. At first, Carl refuses to even let the boy inside, but he eventually relents, and the two head off to South America together. (The only alternative would be to try to drop Russell onto a building, which isn't exactly a viable plan.) We saw five different clips from the film during the panel, and, man, I was swooning. It's a perfect Pixar picture: it looks great, the music will make your heart soar, the characters are funny and sympathetic, and there are even talking dogs…sort of. Actually, the dogs are owned by an inventor who has built them collars which translate their barks and howls into English, which is particularly funny when, in mid-conversation, they suddenly shout, "SQUIRREL!"
My greatest regret of Comic-Con is that, due to a scheduling error on my part, I was unable to attend the panel where they screened the first half of "Up." That's right, the entire first half of the film. My only consolation is that the five clips that I did see were so damned good that I know full well that seeing more would've only made me more upset that I have to wait 'til the end of May to see the whole thing.
Surrogates: Unfortunately, I don't have a whole lot to say about this Bruce Willis vehicle. No-one from the film was there, so all we got was a screening of the trailer, followed by the emergence of a tremendous number of smartly-dressed individuals who passed out business cards with the film's website printed on them. The premise of the film involves a future world where people live their lives using robot surrogates; the people stay in their homes, and the surrogates go out into the world. As a result, murders are down because there aren't any real people in the streets anymore. Unfortunately, there's a sudden problem with surrogates being destroyed and, as a result, the people connected to them are dying. Enter Bruce Willis to try and solve the mystery. The problem…? He has to go out into the real world for the first time in many years. It looked interesting enough, but I'm reserving judgment until we get closer to release.
Torchwood: Eve Myles, who plays Gwen Cooper on "Torchwood," is a cheeky young lady. She'd never been to a New York Comic-Con, so she hadn't known what to expect from a NYC audience, but despite being bombarded with questions ranging from the sublime to the slightly naughty, she gave as good as she got…and then some. It was certainly depressing to find that BBC America hadn't been able to commit to a premiere date for "Torchwood: Children of Earth," but both Myles and the show's director, Euros Lyn, managed to make it a thoroughly entertaining panel despite the lack of real detail about what to expect from the upcoming episodes. Lyn assured us that, "by the end of the season, you'll be holding onto your seats," while Myles gushed, "There's so much in store for you guys. This series is absolutely epic. It's been written and directed and performed beautifully."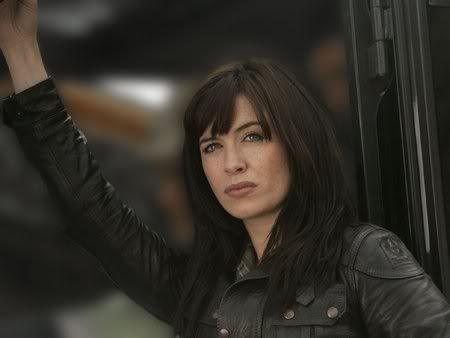 Don't look for Martha Jones and Mickey Smith to rear their heads, however: scheduling conflicts prevented either character from making it into the script. Captain John (James Marsters) will also be MIA during these episodes, despite several members of the audience pleading for him to pop up. There'll be no Weevil either, sadly. We will, however, be seeing Rhys (Kai Owen) integrated into the Torchwood team somewhat. Also in the mix: a new character named Mr. Frobisher, played by Peter Capaldi. "He finds himself in the middle of the biggest terror to face the Earth so far," said Lyn. "He's a very reluctant protagonist. Or antagonist. He's somewhere in the middle!"
Will there be a fourth season of "Torchwood"? We can only hope, but there's no formal commitment as of yet. Certainly, Ms. Myles seems quite happy to continue with her role, though, so keep your fingers crossed…and keep waiting for "Children of Earth"!
Day 3:
Chuck: God love Josh Schwartz and Chris Fedak for creating this great show, but I'm not going to lie to you: the best part about this panel was being able to see Yvonne Strahovski live and in person. She's very hot…and she's also very tall. I have to say that I was woefully disappointed with the pre-panel press roundtable, though, which was supposed to last for 45 minutes but, because of the amount of journalists who'd requested to participate, the small size of the room designated for the roundtable, and the late arrival of Strahovski, Schwartz, and Fedak, they had to A) split us into two groups, and B) gave each group a grand total of 10 minutes with the trio. Right about the time I got the chance to open my mouth to ask a question, our time was up.
Fortunately, Alan Sepinwall (of What's Alan Watching? fame) moderated a nice panel for the Con, one which began with a lengthy collection of never-before-seen footage which was filled with spoilers about what we can expect to see in the second of this season. We got to see Chevy Chase, whose upcoming appearance I'm very excited about (it's well-documented that Schwartz and Fedak are big "Spies Like Us" fans), but we also learned that we'd be introduced to Chuck and Ellie's dad, played by Scott Bakula. The funniest bit, though, is probably the revelation that Big Mike has got himself a new woman…but I can't bring myself to tell you who she is. You'll just have to wait and see.
As far as the fate of the show, Schwartz said, ""It's feeling as positive as it can without saying it's actually coming back," basing his comments on the ungodly amount of promotion the show's 3-D episode got during the Super Bowl. He was, however, a little testy – albeit in a good-humored way – about the fact that, after the promotion paid off and gave the show great numbers for that episode, they couldn't follow it up with similar success the next week because they're being pre-empted by the Presidential news conference on the east coast, resulting in a re-run on the west coast. "Clearly, Obama's first plan as president was to destroy 'Chuck,'" said Schwartz.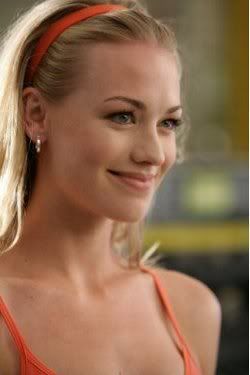 I have to say, though, that the panel began to fall apart once it made the move into giving the fans the opportunity to ask questions…mostly because the majority of the questions involved asking Yvonne if she'd be willing to sign something for them. Sepinwall did as good a job as he possibly could of holding things together through the presentation of a stuffed bear to Yvonne by the webmaster of Strahotski.com and through a representative of a local Polish-American society trying to invite her to be grand marshal at their annual parade. Ultimately, however, it never recovered from the kid who stepped up to the mike and…well, here's how the exchange went.
Kid: In the Christmas episode, when Casey's toe got shot off, did he get a robotic toe?
Schwartz: He does now, as of today.
Fedak: It's actually a toe and a missile.
Kid: Does that mean he's like Darth Vader?
It took an autograph to get the kid to finally sit down and be quiet…and even that proved to be an ordeal, since he didn't have a pen.
Dollhouse: When Joss Whedon comes to Comic-Con, there ain't an empty seat in the house. The pisser, however, was that Comic-Con didn't actually have a press area set up, nor were press allowed into the "Dollhouse" event any earlier than anyone else. As a result, I left the "Chuck" panel, rushed to the "Dollhouse" panel, and still had to stand in line forever, only barely managing to find a lone seat at the last second. I'm not trying to say that the press should be guaranteed special privileges, but, honestly, if you've come to Comic-Con with the established intention of covering as many panels as possible, you'd think that the organizers could at least assist you with that task in some capacity.
Ironically, this was the panel I was probably the least excited about. It's not that I don't like Joss. I totally love Joss. But I admit it: I've been spoiled by the TCA. I toured the "Dollhouse" set in July and got to talk to Joss one-on-one for a minute or two, I was able to talk to Eliza Dushku last month, and I've already seen the pilot for "Dollhouse" in its entirety, so seeing the portions that were being screened at Comic-Con wasn't a big deal for me. When it came right down to it, however, this was an excuse to hear Joss hold court for an hour, so I couldn't turn it down…and, y'know, I lasted right up until the point when a fan walked up to the microphone and asked him about his love of Sondheim and which of his plays he might like to tackle someday. (The answer, for the record, was "Sweeney Todd," though he admitted that he wouldn't dare touch it 'til after the memory of Tim Burton's adaptation has dwindled a bit.) At that point, I realized that we probably weren't going to be getting a whole lot of hard-hitting questions, so I bailed out.
Until my posting about the show goes up, I'll just say what I've been saying in passing ever since checking out the pilot: "Dollhouse" has a great premise, but we'll see if Ms. Dushku can live up to the challenge of having to play a different personality every single week.
Fringe: Most disappointing panel of the Con, bar none. Being a fan of the show, I'd really gotten my hopes up, particularly given that pretty much the entire cast of the series was going to be in attendance. Sure, I knew that we probably weren't going to get much in the way of hard facts about what to expect, just because it's that kind of a show (you don't tend to get much info out of "Lost" panels, either), but I was still excited about having guys like Joshua Jackson, John Noble, Kirk Acevedo, and Lance Reddick in the house. Oh, right, and the just-as-hot-in-person Anna Torv was there as well, and as the adjective clarifies, she was looking very good, indeed.
The problem, however, was the moderator…and I'm not calling him out by name, because he admitted that it was his first-ever time serving as a moderator, but he was all over the freaking place with his questions. Worse, neither he nor the majority of the cast members tended to speak very closely to the microphone, which meant that you couldn't hear them 3/4 of the time without literally cupping a hand to your ear. About all I got out of the proceedings is that the dude in the fedora is not an alien, that it's not coincidental that the word "transmogrification" is used on a show which has "Calvin and Hobbes" fans within its writing staff, and that the eyeball incident really, really freaked out Joshua Jackson.
Life on Mars: First and foremost, the show is not canceled. Not yet, anyway. When the question was asked, Michael Imperioli shrugged and said, "I gotta be at work tomorrow, that's all I know." Still, there wasn't exactly what you'd call a huge amount of confidence from anyone onstage, either. Someone asked how many seasons the producers had the show mapped out, and the response was, "We'll be happy to get through this one."
I'm sure that, within a few minutes, they were more likely thinking how happy they'd be to get through this panel. While most of the questions were pretty straightforward, there was this one guy who leapt up to the mike on two separate occasions, and neither time did he have anything of substance to ask. Once, he addressed Imperioli, fondled his own face, then pointed at him and muttered something about his mustache and beard and whether he would've grown it if he hadn't been doing the show. Then, he spoke to producers Josh Applebaum and Andre Nemec and pleaded for the return of an earlier show of theirs: "Fastlane." "Bill Bellamy is the man!" declared this gentleman, to nothing but laughter from the audience and blank looks from the panel.
The best story from the panel came from Applebaum, who talked about a recent experience with Harvey Keitel on the set.
"The other day, they were interrogating this witness," began Applebaum, "and as Harvey's walking onto the set, he sees a hammer that happened to be on the floor. It wasn't even a period hammer – it was a 2009 hammer – but he picked it up and he's, like, 'I can use this.' So he walked in, and the witness…he was a guest star…Harvey decided that he was going to hit the guy in the stomach with the hammer. And the guest star was a little freaked out about it, but Harvey literally goes, 'Are you kidding me? I've been hitting guys in the stomach with a hammer since you were wearing short pants!' That's Harvey."
If you've noticed a bit of continuity confusion over the course of the past few weeks, it's because the network and the producers mutually made the decision to rearrange the order so that a more powerful and semi-standalone could serve as the show's big return to the airwaves after "Lost." I don't think it helped nearly as much as they would've liked, but I'm certainly hoping that ABC manages to at least give "Life on Mars" a shot at a second season.
Closing notes: Comic-Con is an exhausting experience. Don't get me wrong, it's awesome, but by the end of it, you're very much ready for it to end. Still, I have a lot of photos to remember it by, and just to wrap things, I thought I'd offer up a few really good reasons why any red-blooded American man would enjoy the experience, even if they don't consider themselves to be a geek.
Reasons #1 and #2:
Reasons #3 and #4:
Reason #5:
Reason #6:
Reason #7: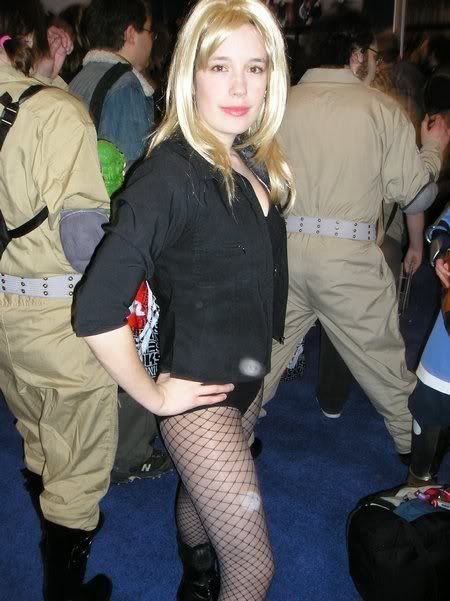 Reason #8: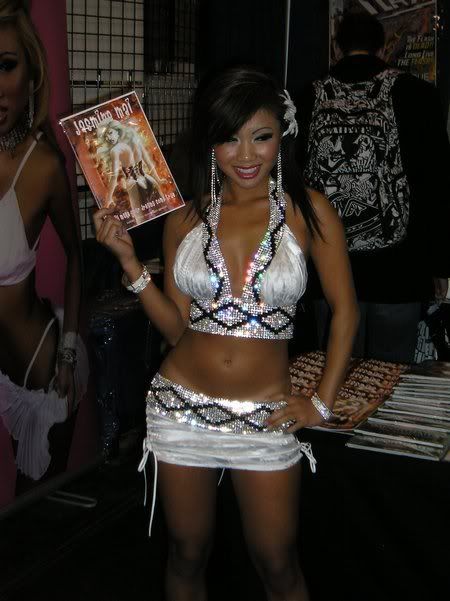 Reasons #9 and #10:
Okay, granted, these ladies aren't quite of the same physical mold as Carrie Fisher during the era of "Return of the Jedi," and my wife's first observation was, "Would it have killed them to put on a little make-up?" But in the end, they and at least a dozen other women had the cajones to go out in public dressed as slave-girl Leia…and, frankly, isn't that enough?