Those who read Premium Hollywood know that I have a tendency to discuss the deaths of celebrities by remembering what they meant to me, and when I heard that Patrick Swayze died, my mind immediately went back to January 2009. Obviously, Swayze's cancer diagnosis had led everyone to fear the worst about him, but I think I'm safe in saying that most of were rooting for him to beat the disease, and when it was announced that he was going to be starring in A&E's new crime drama, "The Beast," I don't know about you, but that was a moment where I was, like, "Yeah! That's so Swayze of him to say, 'Screw the cancer, it's time to get to work."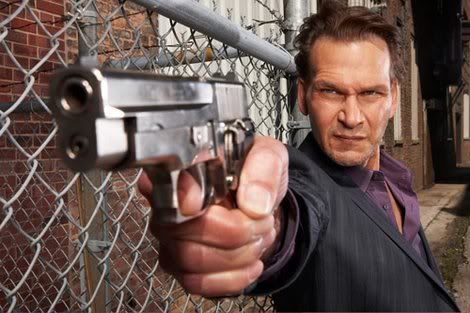 I'd hoped to get a phoner with him in the midst of the press blitz for "The Beast," but due to his treatment, he'd limited the majority of his media time to E-mail interviews and the one-off Barbara Walters conversation, so I immediately sat down and tried to come up with a list of 15 thoughtful, intelligent questions which covered his entire career rather than just shit like, "Could Dalton kick Bodhi's ass?" I was damned proud of what I came up with, and I promptly sent them off to the publicist. Not long after that, I learned that Swayze was going to be attending the TCA press tour in order to help promote the show, and since I still hadn't gotten my responses back, I found myself venturing into my usual naive optimism, thinking, "Hey, maybe I can get the answers to these questions in person!" Instead, we arrived at the panel to find ourselves with an unfortunate scoop: Swayze would not be in attendance, owing to the fact that he had checked himself into the hospital for observation after having contracted pneumonia. Rumors immediately circulated that Swayze was on death's door, that the end was nigh. Me, I immediately felt like an asshole, because – for better or worse – the first thought that came to my mind was the incredibly selfish, "Oh, man, now I'll never get those questions answered…"
And I didn't. But it's a testament to Swayze's reputation as a tough guy that he managed to battle back from the pneumonia and fight the cancer for another nine months, and anyone who's lost someone to cancer knows that, after a fight that long and hard, his departure was one well earned.
As I looked back over Swayze's work to put together this piece, I realized that the reason I'd had that selfish thought upon learning that he wouldn't be making it to the TCA panel was that I really, really liked Patrick Swayze. I didn't necessarily love every movie he ever made, but there was just something about the guy that was cool and likable and yet still pretty damned bad-ass, but…well, I don't believe that the term "big-brothery" actually appears in the dictionary, but that's how I saw the guy. (It probably stems back to my having seen "The Outsiders" during my formative years.) And if truth be told, I don't think Swayze ever actually saw my questions. He always seemed like the kind of guy who, if he had read them, would've written back and said, "Say, buddy, you actually put a lot of thought into these, didn't you? You know, I really appreciate that!"
Damn, now I'm starting to get depressed…and if you're a Swayze fan, too, then you're probably already there with me, so let's look back at ten classic quotes from ten of the man's most memorable films and just think about the legacy he left us.
10. "Boy, you just discovered the oldest sexual position in the book: the foolish position. You just got to remember, your brains are between your ears and not your legs." – Ernie "Slam" Webster, "Grandview U.S.A."
9. "I don't give a shit where I play as long as I go number one in the draft and I sign the biggest contract I can. I've been busting my ass in this league for four years, and I'm gonna get what's coming to me." – Derek Sutton, "Youngblood"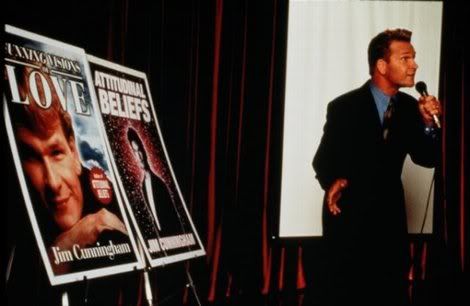 8. "Son, it breaks my heart to say this, but I believe you are a very troubled and confused young man. I believe you are searching for the answers in all the wrong places." – Jim Cunningham, "Donnie Darko"
7. "Well, pumpkins, it comes down to that age-old decision: style…or substance?" – Veda Boheme, "To Wong Foo, Thanks For Everything, Julie Newmar"
6. "I love you, Molly. I've always loved you." – Sam Wheat, "Ghost"
5. "It's kind of strange, isn't it? How the mountains pay us no attention at all. You laugh or you cry, the wind just keeps on blowing." – Jed Eckert, "Red Dawn"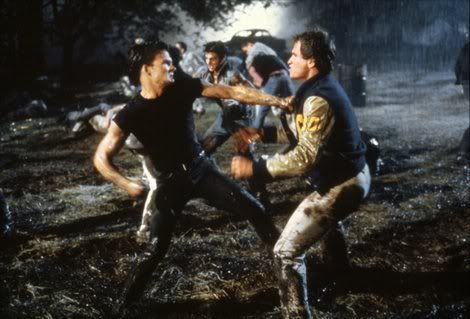 4. "Listen, with your brains and grades, you could get a scholarship, and we could put you through college, ain't that right, Soda? But you're livin' in a vaccuum, Pony, and you're gonna have to cut it out. You just don't stop living because you lose somebody. I thought you knew that. And anytime you don't like the way I'm running things around here, you can just get out, all right?" – Darrel Curtis, "The Outsiders"
3. "I'm gonna do my kind of dancin' with a great partner, who's not only a terrific dancer; somebody who's taught me that there are people willing to stand up for other people no matter what it costs them; somebody who's taught me about the kind of person I wanna be." – Johnny Castle, "Dirty Dancing"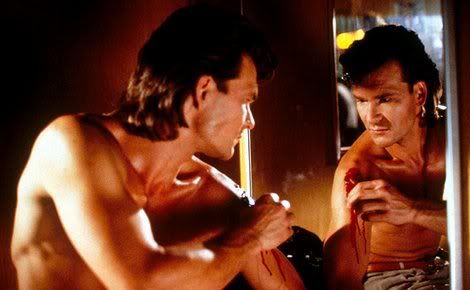 2. "All you have to do is follow three simple rules. One, never underestimate your opponent. Expect the unexpected. Two, take it outside. Never start anything inside the bar unless it's absolutely necessary. And three, be nice." – Dalton, "Road House"
1. "If you want the ultimate, you've got to be willing to pay the ultimate price. It's not tragic to die doing what you love." – Bodhi, "Point Break"
So long, Mr. Swayze…