It occurs to me that, although I'm trying my best to cover the TCA tour in a chronological manner, there are some panels that you'd like to know about more quickly than I might otherwise get to them. As such, I'm instituting a new category called the TCA Jump-Ahead.
First up: "Curb Your Enthusiasm."
It's kind of a running joke in the entertainment industry about how every season of "Curb" should be considered the last season of "Curb" until Larry David says otherwise…and, generally, Larry David is glad to tell you that he's done, he has no more ideas, and he can't be bothered to try and think of any. Thankfully, David announced last year that he would indeed be moving forward with a seventh season of the cringe-worthy comedy (and I mean that in the best possible way), and since then, there have been multiple rumblings about how various members of the cast of "Seinfeld" would be popping up. In the "Curb" panel yesterday, David finally provided some context to exactly how they'd be appearing.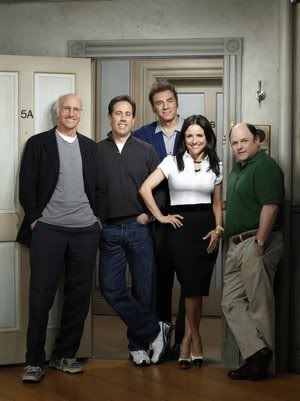 "For years, I've been asked about a 'Seinfeld' reunion, as has Jerry and the other cast members," explained David, "and I would always say, 'No, there's no reunion. There's not going to be a reunion show. We would never do that. It's a lame idea.' And then I thought, 'But it might be very funny to do that on 'Curb.' And I kept thinking about the idea. I started to think of different scenarios and how we could pull this off. I called Jerry, and Jerry was game. And I said, 'Well, I'll call the others,' and I did. And we did it. So we're doing a 'Seinfeld' reunion show on 'Curb.' We're going to see writing. We'll see aspects of the read-through, parts of rehearsals. You'll see the show being filmed. And you'll see it on TV.
"What will you see? You won't see the entire show; you'll see parts of the show. You will get an idea of what happened 11 years later. And within the show, it will be incorporated into regular 'Curb' episodes. So the cast members will be playing themselves on 'Curb' while all this is going on. You're not going to see a 'Seinfeld' show from beginning to end, but you will see parts of the show."
And will there be any reference to Michael Richards' sordid post-"Seinfeld" problems?
"It's possible."
The reunion is scattered through the season, and by David's admittedly questionable recollection, the cast will be on five shows, though they won't all be on the five shows. ("Jerry's on five shows, I think," he said. "The others will be on at least four. Maybe one or two of the others will be on five. I'm not sure.") The season finale will be about the reunion show and will possibly be an hour long, though David admits that he hasn't finished editing it yet and can't say for sure.
There's just one thing, though: anyone who's been watching "Curb" for the previous six seasons has to figure that the odds look good for Larry – the TV Larry, that is – to somehow screw up this reunion.
"He might," said David. "Do you need a staff job for next season? My guy might consider wrecking something like that, yeah. We'll see what happens. My guy could very well wreck it. I'm not saying he did…"
Want a few more tidbits about the upcoming season…?