NBC's "Parks and Recreation" suffered through a first season which impressed only a handful of viewers and critics, only to return for its second season with everyone suddenly trumpeting it as one of the funniest shows on television. Now, this is certainly not unprecedented for shows from executive producer Greg Daniels, who endured the same fate with "The Office," and when you think about it, every series has to endure a certain amount of growing pains. But what's required of a show's creative team to take a confused show and straighten it out?
"Well, I think it's fair to say that we make some kind of change to the overall idea of the show for every episode," said co-creator / executive producer Michael Schur. "It's a constant process of learning what is good and what is not so good, and there is a little bit of an arbitrary pause, in that our first season is only six episodes, so that was the time that we had the most amount of time to sit around and think about what we liked and what we didn't like. But there wasn't, like, a 'Eureka! Oh, here's what we do' moment. It's just a constant kind of process of shooting episodes and writing episodes and cutting them together, seeing which way the characters seem to be developing and talking to the actors and getting their input. I think that…again, we had this sort of weird mini season of six episodes like 'The Office' did, and then we took, whatever, four months off, so when it came back, I think there was a temptation to say, 'Oh, what has changed now?' I would like to think that, if we had just been airing continuously, the episodes would have turned out the same way and that it would have seemed like a more gradual evolution, because I think that's what character comedies are all about: evolution."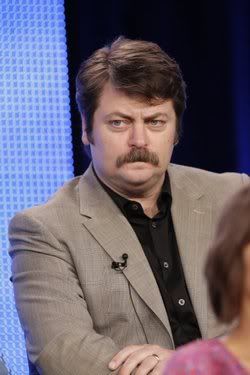 I don't know about the rest of the cast, but at the very least, Nick Offerman remembers precisely when he firmly grasped his character, Ron Swanson. "When I was originally auditioning for the role, Mike said, 'I think this guy has a really big mustache,'" he recalled. "I think that was probably the moment. I was, like, 'Ah, yes, I see…'"
Nonetheless, Ron has evolved a bit since then, something which Greg Daniels spoke to. "I guess it was the ethics episode in the first season where he kind of stepped up and defended Leslie," he said. "Originally, he was more of an antagonist, I think, because he was a person who didn't believe in the mission of the department that he was in, she was so optimistic, and they were so at odds. But then they developed a nice kind of grudging friendship, and when we saw how well that worked, we wrote towards it."
Amy Poehler chimed into the discussion as well, adding, "What was discovered, too, was (that) Ron liked Leslie because she made his job easier."
"It's a very symbiotic relationship at this point," said Schur.
"Co-dependent," corrected Poehler. With a wink and a nudge, she added, "But we all know what those relationships are like, right?"