To my knowledge, the adjective "Rooker-esque" has yet to take off in any significant fashion, but when Michael Rooker calls you and says that he's in the midst of driving across the country to get to his next job…I don't know, it just sounds like exactly the sort of thing you'd expect him to be doing. Although he's played many a crazy mofo in his career as an actor, Rooker still manages to possess the sort of everyman quality that makes it very easy to accept that he'd take a pass on a plane ride in favor of spending a couple of days taking in the scenery on a cross-country drive. Premium Hollywood had the chance to chat with Rooker in conjunction with the release of his latest film, "Atlantis Down," directed by Max Bartoli, but we also got a bit of insight into his character on AMC's "The Walking Dead," learned about his experiences working on "Mallrats," "Sea of Love," and "Slither," and heard him sing the praises of "JFK."
Bullz-Eye: So how's the drive going?
Michael Rooker: Actually, quite good. I'm in a little thunderstorm right now, but I'm just fine. I'm about to get back on the road and have a little chat with you.
BE: Where are you right now?
MR: I'm in Texas, near Odessa. I'm on the 20. I was on the 10, but then 10 and 20 split, and I'm heading basically up toward Dallas. Through Odessa and Midland, and then I'll get into Fort Worth and Dallas.
BE: I told my wife there was something very Rooker-esque about that fact that you were on the road, driving to your next assignment.
MR: (Bursts out laughing) I do this all the time, and it's kind of crazy, but I just do. My better half is sort of always wondering, "Why don't you just fly?" But, you know, it's nice and relaxing. It helps me get ready and prepare for the job, and then afterwards it helps me defrag on the way home.
BE: Sounds like the perfect combo.
MR: So far, so good. It's worked thus far…and I've got about 280 thousand miles on my vehicle to prove it! (Laughs) I think by the end of this trip I'll have another 10 thousand on it, so it ought to hit 290 thousand.
BE: I've got over 150 thousand on my Hyundai Elantra, but I'm pretty sure I haven't seen half the things you have.
MR: (Laughs) Still, you guys must do some traveling, huh?
BE: Well, we did a lot more of it before our daughter got here.
MR: For sure, man!
BE: So how did you first get hooked up with "Atlantis Down"? Because I know it's certainly a labor of love for these guys.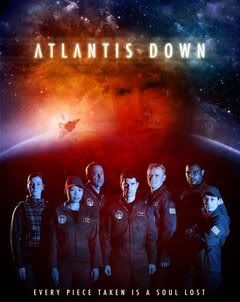 MR: Dude, this was, like, a last-minute phone call…for me, anyway. It was really quick. I was working on a movie, I think it was down in the Wilmington area, and I got the phone call. Then I got the script, and it was kind of cool. But it was really fast. But I just said, "Yeah, you know what, I'm here, I'm on the east coast, and I think I can do it." I snagged a couple of friends, who read lines with me, and I drove up, did my role all in one day, and came back.
BE: Wow.
MR: (Laughs) It was really quick…and painless, really. It was just a very quick little job that was kind of crazy. I've never accomplished my entire role in one day before. It was nuts! I don't want to do that too often, but it was a crazy experience, and I'm still friends with everyone involved, like Max. Like you said, the whole thing was a labor of love, and I was honored to be a part of it.
BE: Can you speak a little bit about your character in the film without giving too much away?
MR: Well, you know, my guy is… (Hesitates) I'm an alien. I'm an alien being that is having a joyous time playing around with these human creatures, basically. (Laughs) I don't want to say too much more, so that's kind of about it, really. I just give 'em hell. I goof around with their brains and mess around with their thought patterns, what they think they see and what they don't see. So it's kind of freaky and weird for them. And, of course, for my character, I obviously didn't have a lot of time to prepare, so I just went and did it. I learned all the lines real quickly, and then I got there, and Max said, "Ah, forget about the lines. Just say what you would normally say." And I'm, like, "What?" (Laughs) "Uh, okay, Max, okay…" So, basically, the entire role is improv. We improvised the whole piece. Having the lines as my base, I riffed on them and changed them, thought of new ways to say stuff, used new patterns of putting things together, and…we did it all in one night. It was crazy, dude. Crazy! I still don't know how the hell we got it…