Given how long Rob Riggle has been doing stand-up, it's actually kind of funny to think that there are lot of folks who don't even know that he does stand-up. Then again, given that he's been on "Saturday Night Live" and "The Daily Show," as well as in "Talledega Nights" and "The Hangover," it's not like you can't understand why some people only know him for his TV and movie work. On March 5th, however, Riggle will be taking the stage once more for an episode of "Comedy Central Presents," where he'll be giving viewers 22 solid minutes of stand-up. I had a chance to chat with him about the special, as well as his work on "SNL," his two and a half year stint as John Oliver's officemate, and some of his upcoming film projects.
Bullz-Eye: Hey, Rob!
Rob Riggle: Hey, Will! How are you doing?
BE: Pretty good. Well, welcome back to the stand-up scene on Comedy Central!
RR: I know! I'm excited! Very excited…and I haven't even seen it yet!
BE: It's very good. I caught it on the online screening room.
RR: Oh, well, thank you. I'm glad to hear that. I've literally only seen a couple of clips, so that's good. You never know how those things go, because I think I did, like, 34 minutes, and they cut it down to 22, so you're, like, "Uh, okay, I hope it's good." I'll be very interested to see what they cut!
BE: I can only presume that the 10 minutes they cut were the slowest minutes. (Laughs) So how often do you even get to do stand-up? Because you've certainly got plenty of acting keeping you busy.
RR: Yeah, well, actually, I've been very lucky with the acting, but I try to get out as often as I can…which, in my humble opinion, is not often enough. But I book gigs whenever I can, and to answer your question directly…I dunno, I'd say probably two times a month. At least right now. There was a time where I was a lot more consistent. It just depends on the work schedule, y'know? If there's a gap, I'll get out there and pound it out three or four times a week, but it just depends on my work schedule, that's all.
BE: So are you forever honing material, just in case you might have a free night for a gig?
RR: Yeah, that's the constant work, I guess. I'm constantly waking up in the middle of the night and jotting down notes, and I have a stack of notes and thoughts and premises that I am dying to explore… (Laughs) …and I hope to have the time work them out, but I just haven't been able to get to them yet. But one of these days I will, and hopefully I'll be able to develop a new set. That's what everybody's got to do.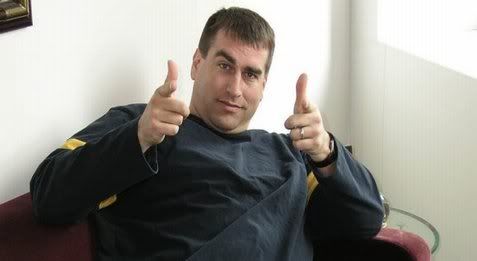 BE: So what was the case with this Comedy Central special? Was it planned out well in advance, or did you just get a last-second phone call saying, "Hey, Rob, come on back to the family"?
RR: No, y'know, I was just very fortunate that they came and saw me do stand-up at…I think it was right there in New York, at Comics Comedy Club. I was doing a weekend there and they came down, saw me, liked what they saw, and asked if I wanted to do it. And I was flattered. I was, like, "Yeah! Count me in!" So that's how it all came about. And, y'know, I love Comedy Central. The people over there are awesome, and I have a good relationship with them, so…it's all good.
BE: Well, in particular, the routine during the special that hit home for me was the bit about men's rooms in stadiums.
RR: (Laughs) Oh, how true is it, my friend?