When a music geek is handed an episode with a title like "The Eclipse," you're given a lot of different choices for lyrical references as the title of your blog entry. Should I go with Pink Floyd (All that you slight, everyone you fight…), or should I go with Bonnie Tyler (Once upon a time, there was love in my life…)? Instead, I went with a relative obscurity – a line from the closing track of the Beta Band's Hot Shots II – but given the way the series has been going, it seemed rather appropriate.
Let's split this week's blog into two parts, shall we?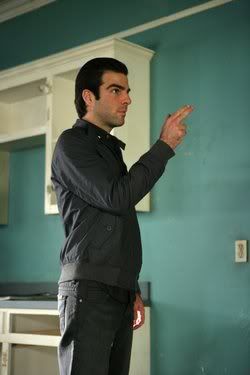 Before the Eclipse:
Arthur has just been a sketching fool since taking on the power of poor Usutu, but, wow, he's really let his people skills drop off. Really, though, can you blame him? Thanks to his new abilities, he knows what's coming…and, yet, he can't seem to do a damned thing to change it.
The relationship between Sylar and Elle turned darker this week than I expected. I mean, I know I made a comment a few weeks ago about how Sylar's so freaking wishy-washy that he'll probably switch sides half a dozen more times before the end of the season, so I shouldn't have been surprised that he left his touchy-feely side behind, but I just didn't expect Elle to be the one who turned him. She's a complex character, that one. (Her throwaway description of HRG as "Glasses himself" was hilarious.)
Mohinder really just isn't a very good scientist, is he? "I, uh, didn't think the eclipse had anything to do with it," he mutters. Whoops. From there, it was back to "Return of the Fly," unfortunately.
Matt and Daphne's quest to find Hiro turned out to be a short one when he and Ando turned up, courtesy of their comic book intel. I loved the interplay between Ando and Daphne, not to mention Hiro and the turtle, but I'm wondering how long this whole back-and-forth thing between Matt and Daphne is going to go on. That said, once the boys followed Daphne to Lawrence, Kansas, I had to laugh at Hiro's exclamation: "Holy crap!"