If you're not an ABC Family aficionado like myself, then you may not be aware that the often-underrated network is preparing to launch a new series on July 7th: "10 Things I Hate About You," based on the film of the same name. It's hard to say whether this is a good idea or not, though the fact that Larry Miller has carried over his character from the film – patriarch Walter Stratford – is certainly a step in the right direction, but we can say one thing: there have been worse ideas. It's been a television staple to transform motion pictures into weekly TV series, but not every attempt actually makes it to the airwaves. Here's a list of 15 such swings and misses, many…okay, most of which deserved to fail.
1. "The African Queen" ("The African Queen," 1962 & 1977) – It seems only appropriate to start this list out with an attempt at transforming a classic film into a TV series. The first time around was in 1962, when James Coburn took on the role of Cap'n Charlie Allnot, while Glynis Johns played the Hepburn role of missionary Rosie Sayer, but although it aired as an episode of NBC's "The Dick Powell Theater," it never made it any further. Fifteen years later, CBS took a stab at it, with the leads played by Warren Oates and Mariette Hartley. No dice. If the actual movie ever makes it to DVD (can you believe it's still unavailable?), perhaps one or both of these pilots will be included as part of the bonus material.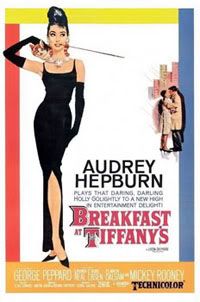 2. "Breakfast at Tiffany's" ("Holly Golightly," 1969) – It sounds nuts, right? Granted, if there was anyone in the late '60s who was the TV equivalent of Audrey Hepburn, it was probably Stefanie Powers, but Hepburn's performance was so iconic that it's hard to even wrap your head around the idea of anyone else playing the role of Ms. Golightly. As it turns out, the original author of "Breakfast at Tiffany's" – Truman Capote – didn't like the movie, either, calling it "a mawkish valentine" to Hepburn, so he was even less ecstatic about the idea of a TV series. In an interview with Time Magazine, Capote predicted that the show would be even more "jerky" than the film and that he would not stand for the TV version "if they give me all the money in Christendom." One doubts that his position on the matter had anything to do with the series not being picked up, but the end result no doubt pleased him, anyway.
3. "Diner" ("Diner," 1983) – This one had a lot of potential, with the film's writer/director, Barry Levinson, doing the same duties on the pilot. There was only one original cast member willing to return, however, but, hey, at least it was Paul Reiser (Modell). Plus, Mickey Rourke (Boogie) and Kevin Bacon (Fenwick) were traded out for Michael Madsen and James Spader, respectively, which ain't half bad, really. In an interview with Venice Magazine, Levinson said, "We had a great cast, but CBS thought otherwise. They thought it wasn't compatible with the current programming line-up they had." The fools!