For all of the panels that NBC-Universal offered us yesterday, none of them were really chock full of memorable quotes, so I thought I'd go a slightly different route with today's retrospective and just cite some of my favorite moments from throughout the course of the day…and if you think this is mostly just a way for me to avoid having to trudge through the transcripts, give yourself a hearty pat on the back. Give me a break: it's Day 9, and I'm very tired from arguing with Kara DioGuardi fans.
And on that note…
1. Bravo's "Platinum Hit" session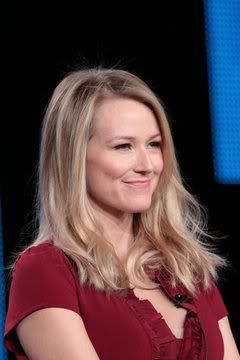 You've hopefully already read my open letter to Ms. DioGuardi about my disappointment with the way she handled the inevitable question about her departure from "American Idol," but that wasn't the only part about the panel that grated on my nerves. One of the other judges on this songwriting-competition series is Jewel, and…okay, first of all, let me acknowledge that I'm not really a Jewel fan and under threat of death wouldn't be able to come up with a more recent Jewel song than 2001's "Standing Still," but even when it comes to artists I do actively like, I don't enjoy it when they slip into braggadocio. After Jewel dropped these lines during the panel…
* "I was talking to Steven Spielberg…"
* "I bought my house from all my hits."
* "Bob Dylan took me under his wing when I was about 20. My first record was considered a failure, but he liked it and he was like, 'Don't sell out, don't change, don't start doing grunge, just do what you do, stay on the road, stay solo acoustic.' And I did because he believed in me. And Neil Young was the same way."
…I pretty much tuned out. I'm sure Jewel's a very talented songwriter, but as I walked away from the panel, it was more with the feeling that she's much more talented at namedropping.
2. Oxygen's session for "The Glee Project."
Actually, I couldn't tell you a thing that was said during the session. I was too busy looking at the mike girls – they bring you the microphones to ask questions, then take them to the next person when you're done – who were dressed in cheerleader outfits for the panel. Yeah, it's definitely time for me to get home to my wife…
3. Keith David talking about the development of his awesome voice during the panel for "The Cape."
"I was always a second tenor," said David. "I was never, you know, Alfalfa. But when about 13, and I was a singer before I was an actor, and all I could sing was loud, and certainly I came into this I came into that Alfalfa transition where all I could do…"
At this point, he switched into a wobbly voice… "is talk like that all the time."
Back to his regular voice. "And then something began to switch, and now I sound like I sound, you know. I'm grateful to be here because I do get a chance to use all you know, in the first episode, I say I'm using my stage voice. Well, you know, I mean, that was one of the when I read the script, that was one of the funniest moments for me because it's, like, when I'm auditioning for things, many times I'm told, 'Can you tone that down a little bit? Can you bring that back?' So this is one of the few times I'm not always told that. That's kind of nice."
4. The "Harry's Law" panel discussing the age of the show's star.
By the time someone asked about the fact that Kathy Bates is 60 years old, which is pretty elderly when you consider the demos that the broadcast networks tend to look for, she'd pretty well charmed most of the audience. First, she said she decided on doing the show because, in her character's first scene, "she had her feet up on the desk, she was smoking pot, and watching 'Bugs Bunny.' After that, I was in." Then, when asked if it was hard to sustain her character's grumpiness, she admitted, "I come naturally to that. Not to be flip, but I can be a naturally grumpy person…and adjusting to the long hours on the set helped that right along!"
When the topic of age was addressed, which series creator David E. Kelley took it in stride. "Not many networks have come to me recently and said, 'Can you give me a series with a 60-year-old lead?'" he admitted. "But I have to believe that, given the universe of 500-plus channels, there has to be room on the landscape for one. When we landed Kathy to play the character, (NBC) were beyond thrilled. You can say it's one thing to have a 60-year-old lead. It's quite another to have Kathy Bates as your lead. So they probably, with a grain of salt, said, 'Gee, do we want a series with an older actor?' But once it became Kathy, there was no hesitation whatsoever."
5. The cast of "Community" offering a panel which was hilarious and yet defined the concept of "you had to be there."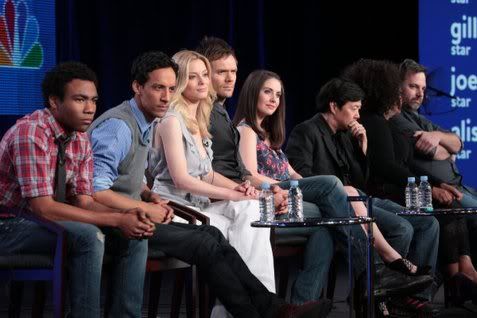 The only person not in attendance was Chevy Chase, who was described as being "very under the weather,' but his co-stars more than made up for his absence. If I tried to tell you about it, though, you'd probably just stare blankly at me. Some of the funniness came from the giggling of the various panelists, some it involved one-liners which would require a lengthy amount of set-up for you to appreciate, some of it was totally visual, and…well, you get the idea. But it really was hilarious, I swear. The most easily-translatable moment is probably Donald Glover's story about how they had to teach Betty White the lyrics to Toto's "Africa" on the set. "I assumed she knew 'Africa,'" he said. "I was, like, 'Everybody knows that song!' But, like, that song was out when she was already old. She was already 50-something."
6. Asking various cast members of "Outsourced" which of their number was, upon discovering that viewers were digging the show, the first to yell, "Suck it, critics!"
Parvesh Cheena (Gupta) said it was Rizwan Manji (Rajiv). Rizwan said it was Parvesh. Both of them then tried to pin it on Anisha Nagarajan (Madhuri), who immediately looked as though she was going to cry. Ultimate presumption: no one actually said it, but all of them thought it…as well they should have.
7. Talking to Paris Hilton.
It was weird enough to have her walk past me on two separate occasions while I was on the phone with my wife (I swear, honey, she never had a chance with me), but it was thoroughly bizarre to score a few minutes in one-on-one conversation with her. It wasn't quite as weird as talking to Kim Kardashian last year, since I could actually ask Paris about a variety of projects – her album, her movie with Jason Mewes ("Bottoms Up"), her "BFF" series for MTV – but it was still pretty odd to find myself talking to one of the most recognizable women on the planet. Oh, and if you're wondering, she is indeed quite gorgeous in person.
8. Spending more time not interviewing Danny Pudi and Alison Brie than interviewing them.
God bless the publicist for "Community," who recognized me and asked if I'd like to talk to some of the cast. I jumped at the chance, of course, and started into an interview with Danny and Alison…until Oscar Nunez of "The Office" came up. At first, I was part of a four-way, but I was quickly phased out as they continued to chat with each other. Then Yvette Nicole Brown came up and briefly joined their conversation. Finally, Danny and Alison returned and apologized for having gotten distracted…at which point Michael Ausiello and Matt Mitovich swung by. And then they left…and a few others folks popped in. Somewhere along the line, Donald Glover briefly jumped into the mix. I really can't complain about any of these "guest stars," though. The whole experience was a blast.
9. Jack McBrayer asking me not to record our end-of-the-party conversation.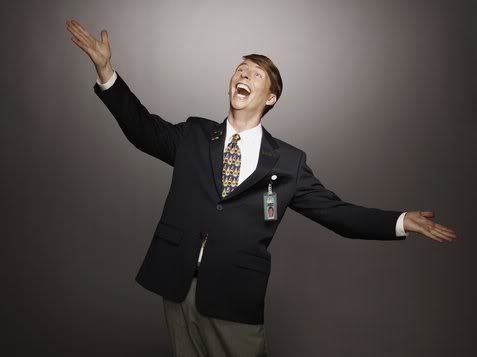 When I approached the man who plays Kenneth the Page on "30 Rock" to ask him a question, he agreed, but then he looked down at my recorder and said, "Oh, my! You're not going to record this are you? I'd rather you didn't." At this point, he performed a perfect mock aside, holding a hand to his mouth and whispering, "I'm a little bit tipsy!" So I turned off my recorder. Kudos to you, Mr. McBrayer. Would that more actors had that blend of good humor and common sense.