If, like me, you grew up a weird kid compulsively watching the Marx Brothers, Abbott and Costello, Laurel and Hardy and, yes and alas, the Three Stooges, then you might well enjoy "Backwash," an enjoyably dippy web series with its final episode to be uploaded on Crackle this Monday night, December 20. The series stars Joshua Malina, who also wrote it, as the grumpy and conniving Val, who is, for whatever reason, charged with the care of the childlike and lovably idiotic Jonesy (Michael Panes). When they accidentally rob a bank with a sausage — you kind of have to be there — and hook up with a flamboyant ice cream truck driver, Fleming (Michael Ian Black, who I was unable to nab for a quick interview), the on-the-lamb trio begins a cross-country odyssey of sorts.
The enjoyably lowbrow but sometimes surreal silliness is book-ended by introductions from a rogues gallery of comic and acting talent, the funniest being a mysteriously bearded Jon Hamm, Allison Janney, John Cho, Dulé Hill, and Sarah Silverman. Somehow, Victorian author William Makepeace Thackeray is maligned as being the originally author of this more or less contemporary travesty lovingly directed by Danny Leiner, who also helmed "Harold and Kumar Go to Whitecastle."
It was my privilege to chat with with some of the actors and creators of "Backwash" at the theatrical premiere of a somewhat shortened feature-length version of the web series. I started with Josh Malina, an actor I've been rather fond of since I stumbled over "Sports Night," the show that convinced me that the writer of "The Social Network" was something more than an entertainingly glib semi-hack, actually a lot more.
In person, Malina is less nerdy than character on "Sports Night" and his somewhat similar character on another show written by Aaron Sorkin, "The West Wing," but just as humble as some of his onscreen personae. When I asked about some of the press materials stating that "Backwash" is in the spirit of the Marx Brothers, he was cautious.
"It's something we aspire to. I venerate them so I don't want to say their name in the same breath. I was weaned on this anarchic and joyful slapsticky spirit of the Marx Brothers. It's certainly an attempt to capture a little bit of that."
So, if they characters are sorta kinda somewhat an attempt to be in some way in the same universe as the Marx Brothers, would Malina's character be, in some way, Groucho-like?
"No. I wouldn't say we quite follow those archetypes. I would say, however, that my character is sort of a combo. A little Groucho. a little Moe from the Three Stooges, a little [Bud] Abbott from Abbott & Costello, maybe a dash of W.C. Fields and then, sadly, a great deal of myself," Malina said. Adding that, "in terms of slapstick he's doing more of the slapping than being the slappee. You can tell that I wrote it. I'm the one beating everyone else up."
That was about it for Malina. whose next gig is resuming his current recurring role on the USA Network's "In Plain Sight."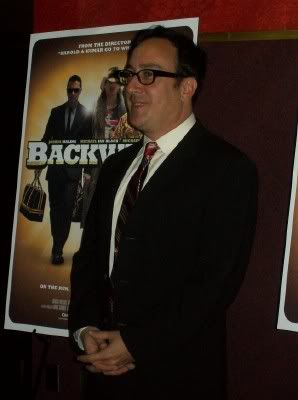 Next up was Michael Panes, a very unusual multi-talented performer who is both a violinist and a comic actor with an odd resemblance to the younger, slightly pudgier Peter Sellers. I glommed onto to him through his role in Jennifer Jason Leigh and Alan Cumming's 2001 dark comedy-drama, "The Anniversary Party," in which he plays, strangely enough, a violinist with an odd resemblance to the young Peter Sellers. In the film, he finds himself hitting it off, so to speak, with an ambitious starlet played by Gwyneth Paltrow. Though I've seen Panes onscreen from time to time since, I told him that I've been wondering about him ever since the Leigh/Cummings movie.
"I've been wondering about me too. What happened to me?"
Well, I answered, it's not every day you see a guy in a movie who looks like the pudgy young Peter Sellers, plays violin, and gets lucky with Gwyneth Paltrow (well, her character, that is).
"I thought that would have some legs. Apparently there is only one part that called for that, and I got it. After that, it's slim pickings."
But I knew I'd seen him in something — and his IMDb listing indicates he's been working. I didn't know until I researched it that he played author and gadfly Gore Vidal in "Infamous," the movie about Truman Capote writing In Cold Blood that's was not "Capote" but came out within a year of it and was all but completely buried.
"The truth is, just between me and [Premium Hollywood], I am usually the kiss of death to any project. The reason that you haven't seen me is that all the work I've done, those projects sink. I haven't told Josh Malina this yet. He's probably going to find out soon enough." Then, Panes changed his tune. "I hope that maybe 'Backwash' could be the one [that doesn't sink]. I think it probably will be. It's really good."
While Panes puts on a pretty funny Eeyore-act, not all is terrible for him other than "Backwash." He plays violin regularly with his singer-songwriter friend, Ryan Adams, and will be in the next Cameron Crowe production, "We Bought a Zoo," "If I'm not cut out." Let's hope for Panes' sake it's more in the tradition of "Almost Famous" and "Say Anything" than "Elizabethtown" or "Vanilla Sky" and that he's actually in it.
Panes did leave me with an evocative description of his "Backwash" character. "He's a simple man. Without a lot of talent, or intelligence, or ambition, or knowledge, or insight, or intuition. He has hunger and bad dreams. I think a lot of people are going to be able to relate to him. There are people out there who are hungry and have really bad dreams. I represent them.'"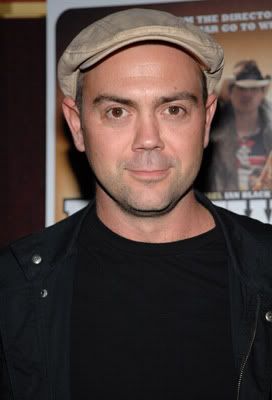 That was followed by a brief chat with actor Joe Lo Truglio, who is perhaps best known for hitting Jonah Hill in "Superbad." He portrays one of the cops who are pursuing our comical heroes. My brief chat with Lo Truglio — who I at first mistook for director Danny Leiner — was marked by my complete lack of knowledge of his career (I can't even remember his "Superbad" part) and, therefore, nearly complete incoherence.
I did come away with the knowledge that the actor is a tolerant, good-humored guy and that he will be seen playing an FBI agent in the company of Bill Hader in the upcoming science-fiction comedy "Paul" with Simon Pegg, Nick Frost, and the voice of Seth Rogen. He will also be a nudist winemaker in the upcoming Jennifer Aniston/Paul Rudd comedy, "Wanderlust."
The next person I talked to was the actual Danny Leiner, whose claims to fame includes the aforementioned "Harold and Kumar Go to Whitecastle" not to mention the brilliantly titled "Dude, Where's My Car?," and the recent episode of "The Office" centering around WUHF, an abortive web venture set-up by B.J. Novak's character.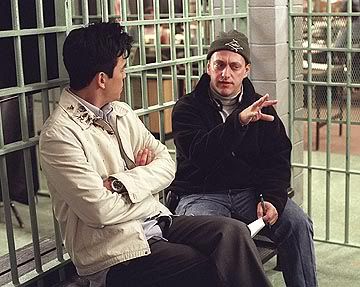 I started out by mentioning that "Harold and Kumar" and "Dude" (which I've never seen due to my severe Ashton Kutcher allergy) are probably about as close to the spirit of groups like the Marx Brothers as any recent movie. Leiner thought there might be one or two others, but then we moved on to the topic of web series and where he sought to take "Backwash."
"It's a very ambitious world to try to get into. In our thing, we went with a lot of production value. It's a road trip movie. It's got a lot of stunts. It's got animation. There's really a lot elements to it. I don't think anyone's been crazy enough to try it on our relatively low budget."
We talked about the format of the show, and how the feature-length version I saw that night, which will eventually be available in various formats, differed from it. Most episodes, Leiner told me, were roughly 7 minutes long (about the length of a classic-era Warner Brothers cartoon), condensed from 9-11 page scripts by Joshua Malina. The primary difference between the web and feature length version is that the faux "Masterpiece Theater" style introductions omit most of the plot recaps and stick with the sometimes hilarious shtick provided by the hosts.
Leiner, who did not direct the first "Harold and Kumar" sequel but jokingly confesses that he kind of wishes he had and says he's heard "good things" about the currently in post-production "A Very Harold and Kumar Christmas," is moving on in a significant way. He's taking on a "little indie movie" which is, wait for it, not a comedy. It's called "Big Sky" and is, as of our conversation, uncast.
"It's a little, noirish movie that takes place in the desert. It's about an agoraphobic girl who gets lost and has to survive as she tries to save her mom." Leiner is looking forward to the big change in tone, though he adds the movie will have some humorous elements.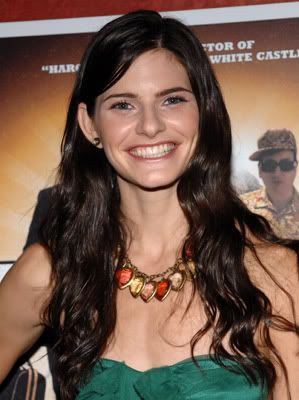 And finally, I spoke there with the charming and very attractive Lindsay Kraft. When I admitted I didn't recognize her, she was understanding, though she has had a recurring role on "Southland" as the girlfriend of Ben McKenzie's Officer Ben Sherman. She's also been on "Lie to Me," "Without a Trace," "Third Watch," "The Sopranos" and "Epic Movie," and will appear in the upcoming films, "NoName" and "See You in September."
Rather than playing the more typical role in this sort of comedy of the ultra-sensible and strangely sympathetic woman who helps the wacky protagonist(s) (say, Kitty Carlisle in "A Night at the Opera," the leading lady in any Adam Sandler flick, etc.), Kraft appears throughout in a number of guises. The first is a not-so entirely stable bank teller who falls for Jonesy (once again, a Michael Panes character enjoys remarkable romantic luck) as well as a prostitute, a homeless woman, and eventually a femme fatale of a waitress who may be out to lure the vulnerable boy-man to his doom.
I asked Ms. Kraft whether she was familiar with the comedy-team genre, and particularly the Marx Brothers, prior to working on "Backwash."
"I've seen some of them but I've seen all of Josh [Malina]'s stuff, all of Michael Ian Black's stuff that he's done like 'Stella.' Josh is so funny. I'm so glad he followed through on doing this because I think it's really something we haven't seen in a long time."
So, where there any big things coming up for Kraft in the future that she wanted to brag about before I let her go?
"You're looking at it," she joked. "There's a few things. You'll see."