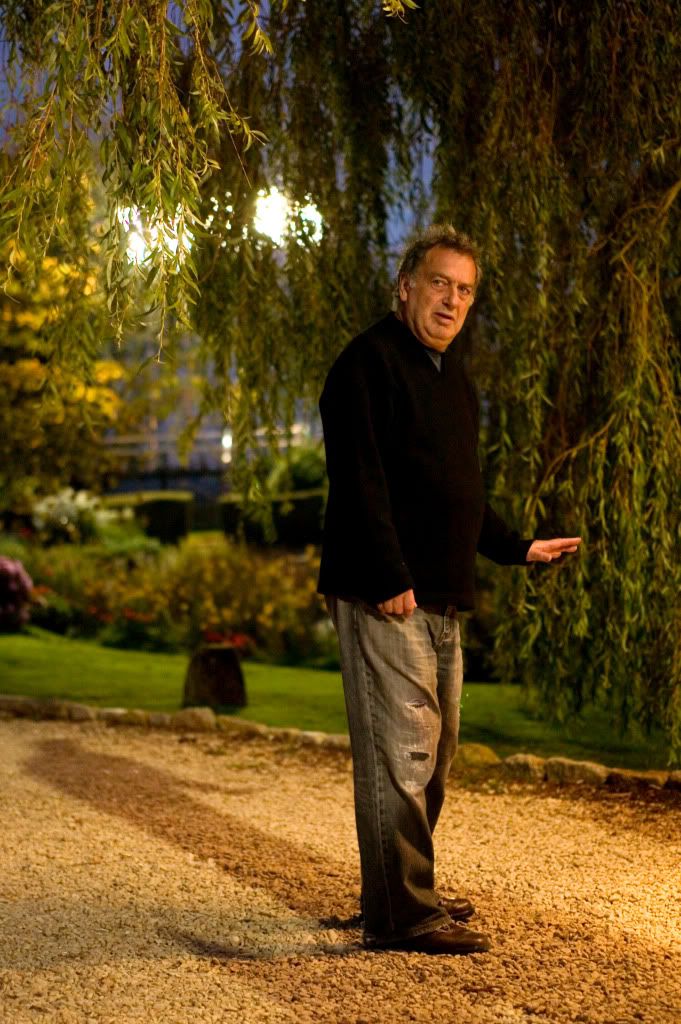 Anyone who thinks that the only interesting directors are the ones with obvious personal styles needs to take a long, hard long at the filmography of Stephen Frears. Something of a contemporary, English throwback to such versatile craftsmen of pre-auteur theory Hollywood as William Wyler, George Stevens, Robert Wise, and Michael Curtiz, the Cambridge-educated Frears began his career neck deep in the English New Wave cinema of the 1960s as an assistant director on Karel Riesz's "Morgan!," and Lindsay Anderson's 1968 surreal youth revolt drama, "If…" Later moving on to directing for the BBC, his second theatrical feature, 1984's "The Hit," was mostly ignored despite an all-star cast, but did gain a cult following of which I am a proud member. Frears' follow up collaboration with writer Hanif Kureishi, a then-bold cross-racial same-sex romance, "My Beautiful Laundrette," co-starred a young Daniel Day Lewis and got more immediate results. It was a hit in arthouses on both sides of the Atlantic and helped make Lewis a star; it also paved the way for Frears' smashing mainstream Hollywood debut, 1988's Oscar-winning "Dangerous Liaisons."
Since then, Frears has enjoyed success both here in the U.S. and at home in England with numerous BAFTAs and films as diverse as "High Fidelity" and "The Grifters" — for which he was nominated for an Oscar — as well as the ultra-English "The Queen" and "Mrs. Henderson Presents." He's dealt with modern-day cowboys (1998's "The Hi-Lo Country"), English fascism (2000's "Liam"), the monarchy (2006's "The Queen"), and the illegal trade of human organs (2002's "Dirty Pretty Things"). When George Clooney decided he wanted to try a live television remake of "Fail Safe" back in 2000, Frears handled the chore to no shortage of acclaim.
Frear's latest, "Tamara Drewe," has fared reasonably well with critics on the whole, though not so much with this particular longtime admirer. An adaptation of a graphic novel originally serialized in England's The Guardian by cartoonist and children's book author Posy Simmonds, the tale is a comic, modern-day homage to Thomas Hardy's tragic 1874 novel, Far From the Madding Crowd starring Gemma Arterton as a formerly large nosed "ugly duckling" whose swannish post-operative return to her family's estate sparks chaos at a writer's retreat in ultra-picturesque rural England.
Apparently taking the casualness of California fully to heart, the 69-year-old Frears, who bears some resemblance to the late Rodney Dangerfield, arrived unshaven and in a t-shirt that had seen better days. If the "just rolled out of bed" look was disconcerting, however, we needn't have worried. Frears was in good spirits and clearly enjoys sharing his views with the press.
We started with a declaration that Frears is something of a throwback in another way, in that he's not exactly a member of the Comic-Con generation. "I've only read one graphic novel in my life," which, of course, was Posy Simmonds' Tamara Drewe, which began it's life as a weekly strip in England's The Guardian.
So was this project different than anything he'd done before?
"Yes, but they always are. That's what's nice about them. I thought it was great."
The next question shifted gears somewhat, asking whether the "Tamara Drewe" cast and crew were welcomed by the locals in the idyllic and pricey section of the English countryside where the movie was filmed.
"They were very nice to us, but I also have a house in Dorset… so I know a lot about it. No, I make no attempt to integrate with my neighbors, which I think they really like. If you try to integrate, they don't like [that]."
From there, we moved on quickly to the topic of working with some potentially dangerous members of Frears' cast for "Tamara Drewe" — a herd of cows and two scene-stealing teenage girls, Jessica Barden and Charlotte Christie.
"The girls were wonderful. We were just lucky. You choose them and you take care, but in the end it's a fluke. Sometimes they turn out to be infinitely better than you ever imagined. And the cows… I made a Western, so I'm a master of directing cows. I must certainly now be the only man in the world who's ever directed both a cattle drive and a stampede. Is that right? Did Clint ever do it? He doesn't make films about cows."
I assume Frears meant living directors. I know for a fact Howard Hawks directed a stampede in "Red River," and the entire movie is pretty much a cattle drive, and I'm sure he had company among other Western directors of the classic era. On the other hand, Hawks and the rest mostly avoided movies with more than one teenage girl in the cast.
Speaking of female teens and things that they like, someone brought up the topic of the fictional rock band, Swipe, led by Dominic Cooper's neurotically prissy Ben Sergeant. The film features a few original songs by the fictitious band that were actually written by Nathan Cooper, which may open the film to charges of movie nepotism. Did Frears' make the selection?
"I'm an elderly gentlemen. The film is produced by [British pop star] Lily Allen's mother [Alison Owen]. I said to her, "You know far more about this. You do this. I'm not quite sure of the pedigree of Dominic's brother, [but] one day I went down and they sounded great and I said, 'You do that song rather than that song.'"
[Note: You can read more about the Cooper brothers' band, Dagmar, in this previously posted roundtable chat with Cooper and "Tamara Drewe" co-star Luke Evans.]
So, how did Frears select Cooper and leading lady Gemma Arterton for their roles?
"Dominic I'd seen for another film and said he wasn't right, which he'll tell you about rather bitterly. And my casting director said, 'You want Dominic Cooper," and I said 'Oh, okay' because I'm a good boy. And Gemma, she more or less said 'You want Gemma.' I'd been told how good she was. I met her and she was wonderful. She was gorgeous, she was witty, and nice. Everyone said what a good actress she was, and she looked like the girl in the book."
Another one of us brought up Frears' DVD commentary for "High Fidelity." He asked whether what sounded like a somewhat loose casting process for this recent film was much different than the process that led to the breakthrough casting of Jack Black in his breakthrough role as a record store clerk who acts a lot like Jack Black.
Not really. "I remember saying, 'Who should play this part?" and the boys [presumably John Cusack and creative partners D.V. DeVincentis, Steve Pink, and Scott Rosenberg] said 'Jack Black.' And Jack came in to see me and after ten minutes I said, 'Well, you'll be fine.' And that freaked him out."
"Tamara Drewe" was kind of the same then?
"What I mean is that someone comes in who makes sense of everything. I mean, I didn't know that Jack was going to act the way he acted. Nobody told me that. I had to learn that, but you meet him and say, 'Yes, this bloke seems great.'"
Then, I finally got my chance to express my Frears fandom and ask about how it seems to me that his films fall into two broad categories. There are complex interlocking tales with multiple subplots like "Tamara Drewe," "Dangerous Liaisons," and his underrated 1987 "Beautiful Laundrette" follow-up, "Sammy and Rosie Get Laid," while others tend to involve very intense relationships among a smaller group. I mentioned my personal favorite, "The Hit," which boils down to four people in a car. I got some interesting news for my trouble.
"We're going to try and do a remake of 'The Hit," said Frears dropping a small bombshell and quickly moving on. "I like handling all these stories — no, it's not that," Frears stopped himself. "What I really like is a sort of complete universe. If someone comes to me with a complete universe, people are bound to have complex relationships. All these peoples' lives intersect in unexpected ways."
I had to follow up about that remake news.
"Somebody bought the remake rights. Some American studio. We said, 'Why, was it that bad?' I once flew on a plane next to [British cult writer] David Bailey, who said 'I'm coming out to do a remake of your film.' And then the producer came to me and then [I] thought, 'What a good idea to remake it with Americans.' It might well be set in Mexico. I think they're going to Mexico in a few days time." (The original version, written by novelist Peter Prince, was set mostly in Spain.)
And how will Frears be involved in this new version? As a director?
"I'd like to be asked — it has to be written first. I think it's a bloody good idea."
Then came a question about Frear's style of working with actors. Those are loaded words with Frears.
"I don't really have a style. I'd scarcely describe it as 'work.' I choose them carefully and then I really leave it up to them. They generally seem to me to be intelligent, sensible people and do what I more or less expect. If something's odd, I have a conversation with them. I prefer it to come from them than to come from me."
From there, we returned to the topic of working with animals and teenage actors Jessica Barden and Charlotte Christie after one of the writers referred to the need to have handlers for both animals and minors.
"These girls were over 16, so we didn't have handlers," Frears said, making a semi-mumbled joke about "children wranglers."
What about the actual animal wranglers? They've been known to get in the way of a filmmaker's intention at times.
"There was a farmer — you had to deal with him as a human being. There wasn't anybody [who was a problem]. The woman who handled the dog, for example, was an extremely sensible woman. I remember there was sort of a row about geese and ducks, but I mean it was quite straightforward. The truth is that, if people are irritating, you hope to God they won't end up working with you."
But what about the scene where canine performer Boss, who won the Palm Dog at Cannes for his troubles, appeared to be chasing a herd of cows? Didn't that require a lot pre-planning and discussion?
"I don't remember one conversation about it. We put the dog in amongst the cows and shot it, probably on two cameras. You'd see the cows being chased, and slowly the cows would turn 'round and start to attack the dog. It was very very funny… You sort of do it. I could see the farmer didn't like us putting the dog [close] to his cattle too many times. You try to be sensible."
But Frears was making the filmmaking process sound like such a breeze, even during some fairly ambitious scenes in a relatively low-budget environment. There must have been some difficult days?
"The stampede was very difficult, but I say this openly, it was very well thought out, it was very well designed. You're basically funneling them into a bottleneck where there was a water trough. Then, you run wires down the sides and I guess you probably don't feed the cattle for a few hours so that they want to get somewhere."
After some brief talk about weather, it segued to a question about what led to his choice of production designer Alan MacDonald, who also worked with Frears on "The Queen" and 2009's "Cheri."
The answer was simple. "He's good. The truth is, you work with these very clever people. I first heard about this on ["Dangerous Liaisons"] where we worked with dazzling design people. What you're trying to find is a way of holding a conversation with them. What I can't do is compete with them. I really trust the designers I work with. They know far more about it than I do. If something's wrong, I'll say it, if it's wrong, but I more or less trust people. I've no reason to feel let down."
How did having Posy Simmonds' graphic novel available, which Frears described in the "Tamara Drewe" press notes as a sort of de facto storyboard, affect his manner of shooting?
"It was just there. Because it was a graphic novel you sort of wanted the film to honor the spirit of that, but it was just there so I can't remember where I used it or didn't use it. Sometimes, we'd go out to recreate a particular frame because it was so beautiful. Posy had told the story very wittily."
Had he read Posy Simmonds' column in The Guardian as well as the graphic novel?
"I'd read the column. I've known her for about 30 years. She's such a brilliant woman and she tells the story very, very wittily. I've come to see that she does what I do. 'I'll do the scene in a long shot,' 'I'll do the scene like this.' She's really making the same kind of decisions that I have to make."
Since "Tamara Drewe" deals with writers, who are sometimes afflicted with this thing called "writer's block," was there some kind of directorial equivalent?
"Sometimes you just get bored of yourself. I go and teach to try and deal with other people's problems because my own head becomes so repetitive. It's not like you get 'blocked,' you just want a sort of rest. There's a sense in which, you make a film. Well, then what do you do? You make another film. That's if you're lucky. So it can be repetitive."
Is that why he jumps around so much with different types of films?
"I think it's boredom, yeah. The idea of repeating myself [is not appealing]. If you said to 'Now go down to Dorset and make another film,' I wouldn't be very enthusiastic, but I had the most wonderful time doing it."
The next question was about cinematographer Ben Davis, described with some accuracy as "one of the stars of the film" because of the sumptuous countryside visuals. Davis is probably best known for his strong work with another versatile British-born director, Matthew Vaughn, on "Layer Cake," "Stardust," and "Kick-Ass." Aside from being "a lovely fellow" as Frears described him, what went into the choice to work with him for the first time on "Tamara Drewe"?
"I had a choice of three cameramen. For some reason it came down to three people, I don't know by what principle. He came to see me and he talked very intelligently about the book. He was very modest and someone said he's very fast."
"You know, a film like this — I think the photography's wonderful, but if the photography's the star, you're sort of sunk, really. In the end, it's about the actors and it's about the jokes. So, you want someone who is instinctively quite self-effacing. He was a joy. Really lovely. Very straightforward with a good sense of humor."
After some praise for the endless invention of veteran British performers, I was allowed another question which, on reflection, Frears must have heard a few thousand times before. Are there any genres he hasn't yet worked in that he'd especially like a whack at?
"I don't know. I don't think like that. What I really like is the surprise. Someone sends you a script and you open it, and you think, 'Blimey, I never thought of that before.'"
So, someone else asked, Frears won't be directing "The Hobbit"? (This was before Peter Jackson officially came on board the project.)
"There's already about 17 people making 'The Hobbit.'"
Then another question brought up the fact that, by her count, six actresses had received Oscar nominations for working in his films. What in Frears' style, a style which Frears once again reminded us he doesn't possess, might be associated with this track record?
"If I was being provocative, I'd say that it's the fact that I don't have a style. In other words, I make the film. I don't worry about my oeuvre. I just get on with it. You deal with what's in front of you."
And what does he hope audiences will take away from his latest film?
"I hope you had a good time. When I grew up, you went to see films, I guess most of them made in Hollywood or at British studios. They were, I suppose, what you would call 'commercial' films. They were also generally rather intelligent and made by people — really good, really intelligent — like Hawks or Hitchcock or George Stevens. Then, somehow, cinema got separated and these terrible things called "art films" appeared. I expect, if I go to the cinema, to be entertained, among other things. I also expect films to be perceptive and interesting and whatever it is. I don't separate."
Then Frears referred to the death of Tony Curtis, with a nod to "Some Like It Hot." "When you went to see a Billy Wilder film, you didn't sit around thinking, 'This is commercial' or 'This isn't art.' It was just good and generally entertaining. But I'm rather old fashioned and I can see I'm rather foolish. You just went to see something that was enjoyable and generally was intelligent, as though intelligence and enjoyment weren't separable. "