MONDAY
The Event (Mon., Sept. 20 @ 9:00 PM, NBC)
* The competition: "Dancing with the Stars" (ABC), "Two and a Half Men" and "Mike & Molly" (CBS), "Lone Star" (Fox), "Gossip Girl" (The CW)
Starring: Jason Ritter, Sarah Roemer, Blair Underwood, Laura Innes, Scott Patterson, Ian Anthony Dale, Zeljko Ivanek
Producers: Steve Stark ("Medium"), Evan Katz ("24"), Nick Wauters ("The 4400," "Eureka"), Jeffrey Reiner ("Friday Night Lights," "Trauma")
Network's Description: an emotional, high-octane conspiracy thriller that follows Sean Walker, an Everyman who investigates the mysterious disappearance of his fiancée, Leila, and unwittingly begins to expose the biggest cover-up in U.S. history. Sean's quest will send ripples through the lives of an eclectic band of strangers, including: newly elected U.S. President Martinez; Sophia, who is the leader of a mysterious group of detainees; and Sean's shadowy father-in-law. Their futures are on a collision course in a global conspiracy that could ultimately change the fate of mankind.
The Buzz: NBC ain't playing around with this one: the big question of the summer for TV fans has been, "What is 'The Event'?" Most of those who've seen the pilot seem to at least be hooked enough to come back for Episode 2, though I'm sure no one is counting on finding out what 'The Event' is anytime soon. On a related note, there's some very reasonable concern from folks about whether they're going to be let down by a promising sci-fi pilot that starts strong but then either peters out early in the season or never gets properly resolved before it's canceled. ("FlashForward," anyone?)
Pilot Highlight: There are several moments which will have you raising your eyebrows both at what you're seeing and what it means, particularly the final scene, but the most effective sequence begins when Sean – who's on a cruise with Leila – returns from a solo outing to find things aren't quite the same as he left them.
Bottom Line: The rapid-fire back and forth between past and present combined with people getting the sensation that NBC's trying for the next "Lost" is going to make it a tough sell for some, but, damn, the first episode sure intrigued the hell out of me.
Chase (Mon., Sept. 20 @ 10:00 PM, NBC)
* The competition: "Hawaii Five-0" (CBS), "Castle" (ABC)
Starring: Kelli Giddish, Cole Hauser, Amaury Nolasco, Rose Rollins, Jesse Metcalfe
Producers: Jerry Bruckheimer ("CSI"), Jonathan Littman and Jennifer Johnson ("Cold Case"), KristieAnne Reed ("The Forgotten," "Miami Medical")
Network's Description: a fast-paced drama that drops viewers smack into the middle of a game of cat-and-mouse as a team of U.S. marshals hunts down America's most dangerous fugitives. U.S. Marshal Annie Frost is a cowboy boot-wearing deputy whose sharp mind and unique Texas upbringing help her track down the violent criminals on the run. The members of Frost's elite team are Jimmy Godfrey, an East Texas kid who never grew up and is a true American cowboy; Marco Martinez, a good intelligence guy who loves to talk; and Daisy Ogbaa, a weapons/tactical specialist and a woman of few words. Rounding out the cast is Luke Watson, the fresh-faced newcomer, whose Washington, D.C., upbringing did little to prepare him for the Lone Star State.
The Buzz: It ain't great. For one thing, Bruckerheimer was nowhere to be seen at the panel for the series (he was apparently on the set of the new "Pirates of the Caribbean" movie, but he somehow managed to make it in for ABC's panel for "The Whole Truth" a couple of days later), and then the panel itself was notably shorter than the ones for some of the other new entries on the NBC schedule. Maybe we shouldn't make too much of either of these things, though. It's more likely that it's just a case where the show was too pedestrian to inspire much in the way of unique promotion.
Pilot Highlight: Nothing, really, and I can't help but recall that I had this same problem with one of NBC's pilots last year, too. (Would you please rise from the grave and take a final bow, "Mercy"?) Sometimes, a show arrives, follows its formula, and departs without leaving much of an impression. "Chase" is one of those shows.
Bottom Line: Don't let the Bruckheimer name suck you in this time. "Chase" is the most by-the-book, formulaic cops-and-robbers drama I've seen in awhile, with no "hook" to make it stand out from the pack. If "Hawaii Five-0" doesn't blow it out of the water, then I'll have to echo Alex O'Loughlin's sentiments and concede that I'm completely bewildered and have no idea how television works at all.
WEDNESDAY
Undercovers (Wed., Sept. 22 @ 8:00 PM, NBC)
* The competition: "The Middle" and "Better with You" (ABC), "Survivor" (CBS), "Hell's Kitchen" / "Lie to Me" Nov. 10 (Fox), "America's Next Top Model" (The CW)
Starring: Boris Kodjoe, Gugu Mbatha-Raw, Gerald McRaney, Ben Schwartz, Mekia Cox, Carter MacIntyre
Producers: J.J. Abrams ("Alias," "Lost," "Fringe"), Josh Reims ("Brothers & Sisters," "Dirty Sexy Money")
Network's Description: a sexy, fun, action-packed spy drama that proves once and for all that marriage is still the world's most dangerous partnership. Outwardly, Steven Bloom and his wife, Samantha, are a typical married couple who own and operate a small catering company in Los Angeles — with help from Samantha's easily frazzled, handful of a sister, Lizzy. Secretly, the duo were two of the best spies the CIA had ever known, until they fell in love on the job five years ago and retired. When fellow spy and good friend Leo Nash goes missing while on the trail of a Russian arms dealer, the Blooms are reinstated by boss and agency liaison, Carlton Shaw, to locate and rescue Nash. With assistance from resourceful CIA field agent Bill Hoyt, whose professional admiration for Steven isn't hard to miss, the pair is thrust back into the world of espionage, disguises and hand-to-hand combat. Following leads that take them to cities spanning the globe, Steven and Samantha quickly realize that perhaps this supercharged, undercover lifestyle provides exactly the kind of excitement and romance that their marriage has been missing.
The Buzz: Relatively strong, although it's rather odd how little we've heard from Abrams on the project, given that he's usually out front and ready to pound the pavement to promote his series. Still, you've got "Mr. and Mrs. Smith" fans who can't help but notice a similarity between that film and this series, and you've got those who are curious and/or excited about the idea of a spy drama with black leads, so there are definitely folks who are ready to check out the show.
Pilot Highlight: Maybe it's just because I'm a sucker for the classics, but the bits with Bill treating Steven as a god among spies were extremely funny. It's not something that I'd want them to try and sustain for the long haul – I expect that a constantly-fawning Bill would get pretty annoying pretty quickly – but it worked great for the introduction of the character, anyway.
Bottom Line: I still don't think it feels like a J.J. Abrams production, and the idea of the couple maintaining their catering company while working as spies seems like the kind of thing that's primed to be dropped during a mid-season retooling, but Boris and Gugu do make the sparks fly when they're together. Given that it'll be the only drama in its timeslot when it first premieres ("Lie to Me" doesn't come back 'til November), I'd say it has a good shot at taking off.
Law & Order: Los Angeles (Wed., Sept. 22 @ 9:00 PM, NBC)
* The competition: "The Whole Truth" (ABC), "Defenders" (CBS)
Starring: Skeet Ulrich, Corey Stoll, Wanda De Jesus, Alfred Molina, Terrence Howard, Regina Hall, Megan Boone, Teri Polo
Producers: Dick Wolf, Rene Balcer, and Peter Jankowski ("Law & Order"), Blake Masters ("Brotherhood," "Rubicon")
Network's Description: the classic ripped-from-the-headlines storytelling with the distinctive backdrop of LA – delving into the unique attitudes, cultures and crimes of the West Coast. Detectives Rex Winters and Tomas "TJ" Jarusalski pursue cases through the diverse City of Angels as members of the Los Angeles Police Department's elite Robbery Homicide Division. Winters is a straight-shooting ex-marine with a clear-cut world view as stubborn as he is, while "TJ," who grew up the son of an Oscar-winning Polish cinematographer, knows too well the dark underside that is behind-the-scenes Hollywood. Protecting the detectives who serve under her is Lieutenant Arleen Gonzales, and is driven, focused, and meticulous. She is a twenty-year vet with a background in military intelligence who now oversees the Homicide 1 section of Robbery Homicide Division. Deputy District Attorney Morales is a sarcastic realist who believes moral righteousness is great in theory, but ineffective in a street fight. Though he knows how to manipulate both his public image and the behind-the-scenes politics, he is still a killer in the courtroom who lives to see justice served. At Morales' side is Deputy District Attorney Evelyn Price, an idealist and a true believer. She has faith that the system she serves is capable of drawing clean lines between good and evil, a belief that her boss, the pragmatic DDA Morales, does not share.
The Buzz: Originally, the only buzz was surrounding the strange decision by NBC to cancel the original "Law & Order" series just as they're greenlighting a new "Law & Order" series, but as the cast has begun to take shape, people are beginning to take note of the caliber of talent that Dick Wolf has pulled together for what originally seemed to be just another "L&O" spin-off. Skeet Ulrich and Teri Polo? Alfred Molina and Terrence Howard?!? Well, if nothing else, they're getting people's attention.
Pilot Highlight: As of this writing, we still haven't received a copy of the pilot. Word on the street is that Ulrich's character will be introduced in an episode of "Law & Order: Special Victims Unit" first, but, uh, we haven't gotten that yet, either. Basically, all we're willing to commit to is that the highlight will either involve law or order. Probably not both…but you never know.
Bottom Line: It's a proven franchise. If you love any other "Law & Order," there's a pretty good chance you're going to love this one, too.
THURSDAY
Outsourced (Thurs., Sept. 23 @ 9:30 PM, NBC)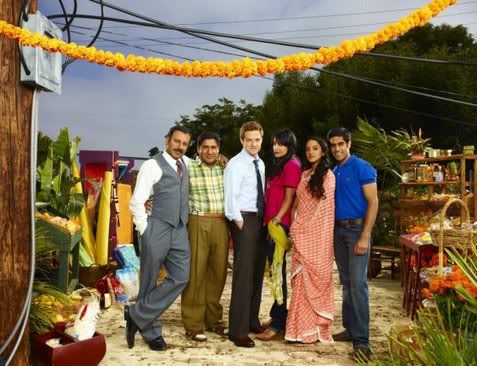 * The competition: "Grey's Anatomy" (ABC), "CSI: Crime Scene Investigations" (CBS), "Fringe" (Fox), "Nikita" (The CW)
Starring: Ben Rappaport, Rizwan Manji, Sacha Dhawan, Rebecca Hazlewood, Parvesh Cheena, Anisha Nagarajan, Diedrich Bader, Pippa Black
Producers: Ken Kwapis ("The Office"), Tom Gorai and David Skinner ("Outsourced," the film that inspired the series), Alexandra Beattie
Network's Description: After recently completing Mid America Novelties' manager training program, Todd Dempsy learns that the call center is being outsourced to India, and he is asked to move there to be the manager. Having never ventured out of the country, he is unprepared for the culture shock. Overwhelmed, Todd discovers that his new staff needs a crash course in all things American if they are to understand the U.S. product line and ramp up sales from halfway around the world. The sales team Todd inherits includes Gupta, a socially awkward employee, Manmeet, a young romantic who is enamored with America, Asha, a smart, striking woman who finds herself intrigued by Todd, Rajiv, the assistant manager who wants Todd's job and Madhuri, a wallflower who suffers from extreme shyness. Todd also discovers other transplants working in his office building, including an American expatriate, Charlie Davies, who runs the All American Hunter call center, and Tonya, a beautiful Australian who runs the call center for Koala Air.
The Buzz: It seems pretty much split down the middle: either people think it's really, really funny, or they think it's really, really racist. Personally, I've got it sitting in the former category, but, I mean, I'm not Indian, so that might have something to do with it…although the members of the cast seem to think it's funny, too, so I feel like they've kind of got my back.
Pilot Highlight: There's certainly a lot of funny stuff happening as the staff hones their pitches in order to properly sell American novelty products, but if I had to pick a single moment, it's when Gupta busts a move.
Bottom Line: I can see where people might perceive it as racist, but when I watched it, I just saw a culture-clash comedy…and a very funny one, at that. It feels like it'll fit perfectly in NBC's Thursday night comedy line-up.
FRIDAY
School Pride (Fri., Sept. 24 @ 8:00 PM, NBC)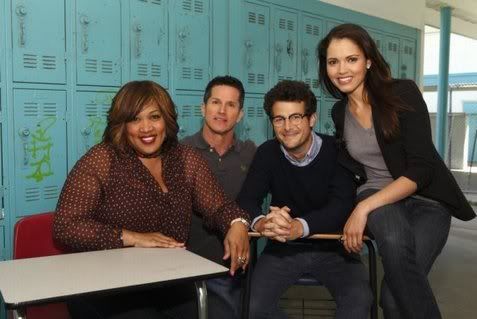 * The competition: "Secret Millionaire" (ABC), "Medium" (CBS), "Human Target" (Fox), "Smallville" (The CW)
Starring: Susie Castillo, Jacob Soboroff, Tom Stroup, Kym Whitley
Producers: Denise Cramsey ("Extreme Makeover: Home Edition"), Melissa Stokes ("True Beauty"), Adam M. Neal ("Stylista"), Cheryl Hines ("Curb Your Enthusiasm")
Network's Description: a proactive, alternative series that tells the stories of communities coming together to renovate their aging and broken public schools. While transforming the school, the community also restores its sense of value and school pride. The cameras follow students, teachers and parents as they roll up their sleeves and rebuild their own schools, concluding with the unveiling of a brand new, completely transformed school. They are motivated by a quartet of community organizers and personalities — a SWAT Commander, an interior designer Susie Castillo, a comedian and former substitute teacher, and a journalist. Together, the team of experts will lead the community through the makeover process.
The Buzz: None to speak of, aside from the fact that Cheryl Hines is one of the executive producers.
Pilot Highlight: We haven't been provided with a pilot yet, so I couldn't say.
Bottom Line: You'd think that the lack of buzz and a pilot would have me saying, "This thing's D.O.A.," but you never can tell with inspirational reality shows like this. Sometimes they take off ("Undercover Boss"), sometimes they don't ("Breakthrough with Tony Robbins"), and I'm not going to pretend that I have any clue which way this one will go.
Outlaw (Fri., Sept. 24 @ 10:00 PM, NBC)
* The competition: "Blue Bloods" (CBS), "20/20" (ABC)
Starring: Jimmy Smits, David Ramsey, Ellen Woglom, Carly Pope, Jesse Bradford
Producers: John Eisendrath ("Alias," "My Own Worst Enemy"), David Kissinger, Conan O'Brien and Jeff Ross ("Andy Barker, P.I.")
Network's Description: Few jobs are guaranteed for a lifetime, and a Supreme Court appointment is a position that no one ever quits — unless he is Cyrus Garza. A playboy and a gambler, Justice Garza always adhered to a strict interpretation of the law until he realized the system he believed in was flawed. Now, he's quit the bench and returned to private practice. Using his inside knowledge of the justice system, Garza and his team will travel across the country taking on today's biggest and most controversial legal cases. Garza's team includes his best friend since childhood, Al Druzinsky, a brilliant defense attorney with liberal beliefs; Mereta Stockman, a hopeless romantic who is Garza's loyal law clerk; Lucinda Pearl, a wildly unorthodox private investigator who uses her sex appeal and wit to gather information for Garza, and Eddie Franks, a tightly wound, rabidly ambitious Yale-educated attorney, recently hired as Garza's law clerk.
The Buzz: At first, it was about the irony that NBC had picked up a show executive produced by Conan O'Brien, then it was about how the show was so completely preposterous that it could be a Conan sketch. ("He used to be on the Supreme Court, but now he's ridin' the rails delivering his own brand of justice!") Right now, I think most people are just waiting to see if viewers really will watch Jimmy Smits no matter what role he plays.
Pilot Highlight: It's a tough call between Justice Garza getting thrown out of a casino for counting cards and unabashedly committing sexual harassment in a discussion with an attorney. Basically, it's the moments where he's being way more raucous than any real Supreme Court Justice would ever be, not the legal drama, that really stand out.
Bottom Line: Absolutely preposterous, yes, but Smits's character is so over the top that "Outlaw" is actually kind of entertaining. Still, I can't see the show being able to top CBS's built-in buzz for the return of Tom Selleck to series television.