The 4th day of the TCA tour started out not with a panel but with a poolside breakfast with the cast of USA's new series, "Covert Affairs." Like several of my fellow critics, I'm not a huge fan of events where the network publicists divide with the cast members and conquer the room by bringing the actors by the various tables and saying, "Oh, have you met (INSERT ACTOR'S NAME HERE) yet?" I'm not saying it isn't kind of cool to be finishing up your danish and have Peter Gallagher and Keri Matchett stroll up…which, as you might've guessed, is exactly what happened to me…but at the same time, my concentration is on my breakfast, not on whatever questions I might have for them, so it's kind of a stilted conversation. I mean, c'mon, man, I haven't even finished my coffee yet! I did manage to ask Keri if this new gig meant that we wouldn't be seeing her pop up on "Leverage" again anytime soon, and, alas, she sighed and admitted that it probably did. Damn.
Before I headed back upstairs to the ballroom to get ready for the first proper panel of the day, I waited around for a few minutes in hopes of chatting with Sendhil Ramamurthy and Anne Dudek, but after loitering for 10+ minutes as they talked with someone from TV Guide, I could see no signs of their conversation abating. I finally gave up and decided that I'd just try to grab them at the NBC party that evening…which, FYI, I successfully ended up doing.
The Event
When I watched the pilot for "The Event," a new sci-fi / action series that will immediately remind viewers of "Lost," "Fringe," and possibly even "24," I was instantly captivated and loved every minute of it. Even as I watched it, though, I knew that my wife would be far less thrilled, owing to the fact that there is a tendency for the proceedings to bounce back and forth in time…and she hates that. Clearly, she's not the only one, since the topic was addressed almost immediately during the show's panel, but the show's executive producers – Nick Wauters, Steve Stark, Evan Katz, and Jeffrey Reiner – reassured us as much as possible.
"It's definitely something that we're going to keep using, at least in the near future, as long as it serves character and story," said Wauters. "But you may not see as much of it as we go along."
"Also, I think if you look at the pilot, the pilot was about 50 percent flashbacks, believe it or not," said Stark. "A little over that, actually. That's not going to be the idea moving forward. In episode 4, there's a whole series of just getting to know Sean and Leila from a character standpoint, but it's just that."
"Time will move forward from episode 2 on," said Katz. "It will be a more linear approach, and there will be flashbacks, but the story will continue to thrust forward."
I don't know if that'll make my wife feel a heck of a lot better, but it's something, anyway. It also serves as a reminder that, although "The Event" has a tremendous cast, one which includes Zeljko Ivanek, Laura Innes, Jason Ritter, Sarah Roemer, Scott Patterson, and Blair Underwood (as the President of the United States), as a serialized drama, it's the producers who hold the answers to all of the truly important questions. Heck, the actors don't really know anything…and they're not afraid to admit it!
"Before we each shot the pilot, we each got these character dossiers that explained to us who we were so that we weren't just blindly going into it and not knowing anything, so that's what we knew when we first started," said Ritter. "Now, as the episodes come out, we learn more about who they are. But generally we don't know a whole heck of a lot!
This begs another question for the producers, then: how quickly will viewers start to get answers to the questions that are posed in the pilot?
"I've been a big fan of '24' and 'Lost' and 'Battlestar (Galactica),' all those shows for years and since I was a kid, so that definitely influenced my writing and I'm very conscious of that, which is why we're going to try and reveal as many answers as we can as we go and then set up new mysteries," said Wauters. "So in a way, you will have more immediate answers to your questions, but you still have to kind of go on faith that we know what we're doing. I came in with this bible, and all the characters were really developed from the beginning, even though that's not really shown in the pilot because the pilot had so many characters and so many things going on. The pilot is kind of an invitation to the series, really. It's an appetizer. I think as a viewer myself and a fan of 'Lost,' I think I'd ask for people's trust."
"We're not waiting till episode 4 to find out more about these people," confirmed Katz. "The pilot is very unique and very fragmented and really, really good at keeping things moving forward. I mean, it's terrific, but, yes, you don't know a terrible amount about these people. Starting in episode 2, episode 3, episode 4, you will not only find out about their backstories and more about, literally, their biography, but in how they react to the dilemmas, you will learn who they are as well. I think it's about what you emotionally connect with. I think the pilot is emotionally affecting. I think you connect with the people. People, I think, connect to their dilemmas, and frankly, it's whether or not you're posing questions that you want to come back next week to see answered. And, you know, right now the show is really designed with a lot of cliffhangers at the end of episodes and a lot of, you know, what I call 'holy-crap' moments…although I use a different word."
"Before NBC bought the pilot, I think the bible that we developed was longer than the script," said Stark. "They were very clear where we're going. So we have sort of tent-pole benchmarks we're going to hit as the series progresses into even season 3. The dance of intrigue and satisfaction is what we're going to be doing all the time, but ultimately we have these sort of benchmarks plotted out."
"We would hope that the pilot elicits some trust," said Reiner, reiterating Wauters' point. "We would hope that it's a good enough hook. That's what we all set out to do. You know, in television sometimes the pilot is the hook, you know, because you're 22 episodes. So I would hope that the pilot has served that purpose."
"In my opinion," said Katz, "the pilot speaks for itself."
As far as I'm concerned, it does. I'm not yet willing to go out on a limb and declare that it's my favorite pilot of the new season, just because we haven't gotten final versions of all of the series yet, but I will say that it's the one that I find most intriguing. When it premieres, I'll be there…and I'll definitely be sticking around to see what happens.
Undercovers
You've probably already read my comments about how disappointed I was by the "Undercovers" set visit on the first day of the TCA tour, since none of the cast members were in attendance. That wasn't a problem with the panel for the show, thankfully, although I couldn't help but notice that series co-creator J.J. Abrams was once again MIA…though given that I don't get a whole lot of the Abrams feel from the pilot beyond the premise (a husband and wife who have been retired from the spy game for half a decade are asked to return to their former profession), maybe that's not a coincidence.
One element of "Undercovers" that stands out – even though, obviously, it shouldn't – is the fact that its lead actors, Boris Kodjoe and Gugu Mbatha-Raw, are both African-American. According to executive producer and co-creator Josh Reims, it's a development that came about organically during the casting process.
"When J.J. and I wrote the script originally, we decided we wanted to write it like 'The Philadelphia Story,'" said Reims. "You know, Cary Grant and Katharine Hepburn? But they're dead, so we didn't hire them. So when we finished the script and went into the casting process, we started out by saying, 'Let's just see every possible incarnation of a person. We don't want to see the same people we've seen on TV 10 million times because it will look like many other shows that are on TV, which are perfectly good, but we want it to look different.' And so we saw a bunch of people. And when Boris and Gugu came in, which was much later in the process, we sort of knew immediately, like, 'OK, these are them.' We didn't go out of our way to say, you know, we're hiring two black people to be the leads of the show, but we certainly did not ignore the fact that it would be great if we could do that and if we found actors who were great enough. And luckily, we found one of them in Gugu, and then we hired Boris, too."
A fair enough answer, perhaps, but it was one which was accused of being somewhat disingenuous, resulting in a follow-up question wherein Reims was asked what he thinks the decision to cast two African-American actors means.
"We don't consider that we're revolutionizing TV, but at the same time, we do realize it is a big deal," said Reims. "Yes, we all wish it wasn't such a big deal at this point in time that there are two black characters who are the leads on a major TV show on a major network, but unfortunately that's the way it is right now. And, you know, even since the casting of this show was announced, we've seen other shows have cast black leads that maybe, who knows, wouldn't have happened. So if we can do that and other people realize, you know, 'Oh, look, this is working well,' then that's great. But our plan was not, like, 'Let's, you know, revolutionize all the history of TV and cast black actors.' It's, 'OK, if we can cast black actors who are great, it will be great.' And it worked out. We're already writing episode 7 or something, and they're already shooting episode 4. It's much more important now that we're just trying to figure out who the characters are than worrying about how we cast at this point."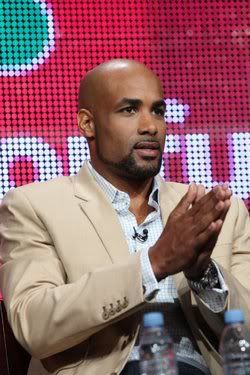 Kodjoe agreed with Reims but also wanted to offer his two cents worth. "I think it's important to recognize the fact that it is somewhat…I don't know if you want to call it revolutionary, but it's not the norm," he said. "Although it should be the norm, because that's what the world looks like. The world is diverse, and we come in all kinds of different shapes, sizes, and shades, but as you mentioned correctly, traditionally in TV it hasn't been the case, and therefore it needs to be commented on. So I want to make a point that it is important that we get a chance to, I don't know, be trailblazers or door openers or whatever you want to call it. On the other hand, let's keep in mind or let's inspire people to regard it as normal, so that more and more people don't consider it taking a chance but just being creative. And at the end of the day, that's what we all try to be. Even though it's a corporate industry and even though it's show business, to have that freedom is something that we aspire to. So Josh and J.J. have, I think, led the way, and hopefully the world will open up to it."
As far as what we can expect from the series itself…since, really, isn't that more important?…Reims said that we can expect the proceedings to be far easier to follow that Abrams' previous spy series, with episodes that are more self-contained.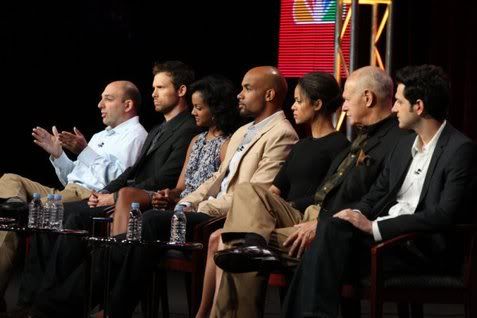 "The idea is, certainly, that every week you will have a case come to a conclusion," said Reims. "That's happening no matter what. As far as over-reaching stuff, you know, they are married, they do have their own business, there will be certain secrets that will be coming out that will be hinted at, so there will be some stuff that is carried throughout the season. Some of it will not be revealed until much later. Some of it will be revealed earlier. The great thing about the concept of the relationship is that they didn't tell each other anything about their pasts. So they can find out stuff about each other the same way the audience can find out stuff about them because they don't know anything from the past five years, you know, before that. So we will be laying certain things in there that will then play out, but there is no big, over-riding arc, though there will certainly be twinges here and there of stuff."
Executive Session
The last time we saw Jeff Gaspin, Chairman of NBC Universal Television Entertainment, and Angela Bromstad, NBC's President of Prime-Time Entertainment, it was in the midst of the great "Tonight Show" wars, so you can imagine that the duo were breathing a little easier this time around, if only because there wasn't such a pressing agenda on the table. They still had plenty of new information to impart, however, and here are the highlights:
* There will be plenty of special premieres this season. First, "Parenthood" will be returning on Sept. 14, placed behind the next-to-last episode of "America's Got Talent" in order to give it the greatest possible chance for strong ratings; similarly, after the "America's Got Talent" season finale on the 21st, "Outlaw" will get a sneak-preview airing. Then, on the 23rd, "The Apprentice" – now with 100% less celebrities! – will have a two-hour premiere from 9:00 – 10:00 PM before settling into its regular 10 PM timeslot. Lastly, "Law & Order: Special Victims Unit" will also kick off on Sept. 22 with a two-hour premiere, s 9 PM slot the following week.
* "30 Rock" will be doing a live episode on Oct. 14, not from their usual set but, rather, from the famed Studio 8H, home to "Saturday Night Live."
* "Law & Order: Los Angeles" has added Terrence Howard and Alfred Molina to the cast as district attorneys. Molina's character is Deputy District Attorney Morales, the name of Howard's character has yet to be revealed, but the actors will be alternating episodes.
* Rob Lowe's status on "Parks and Recreation" – he plays state auditor Chris Traeger – has been upped from guest star to series regular. Series co-creator / executive producer Mike Schur said in a statement, "I am beyond thrilled that Rob will be joining the cast for more episodes. I have truly come to value his fashion sense, grooming habits, and workout tips. Also, he is hilarious and adds a wonderful dimension to the cast. But, really, it's the workout tips."
* On the guest-star front, Drew Carey will be appearing on "Community," Kathy Bates is returning to "The Office," and "Law & Order: SVU" is providing roles to Henry Ian Cusick, Joan Cusack, and Maria Bello,
* Speaking of "The Office," Bromstadt said of Steve Carell's impending departure that "Greg Daniels and Paul Lieberstein do have a plan in terms of who's going to replace Michael, and so there will be a lot of storylines leading up to that, and there will be some mystery as to who that will be."
* When asked about the differences between "Heroes" and NBC's upcoming midseason superhero series, "The Cape," Bromstad was predictably diplomatic on the subject of the lessons she may have learned from the network's experience with the former. "I think that 'Heroes' was a great show, we had four tremendous years with that, and it was a very good business for us," she said. "So if we could replicate that, we absolutely would. 'Heroes' was so much about the discovery of their powers. This is really more of a procedural, and this character in 'The Cape' doesn't have super powers. He's trained in a way that he just is able to manipulate things, but he doesn't actually have super powers the way that the 'Heroes' characters did."
* Other midseason series include "Love Bites," "Harry's Law" (the David Kelley series starring Kathy Bates), "The Paul Reiser Show," "Perfect Couples," and "Friends with Benefits."
* Peter Berg and his production team will be taking on the long-promised adaptation of the BBC series, "Prime Suspect." It's being written by Alex Cunningham, late of "Desperate Housewives" and "NYPD Blue." According to Bromstad, there's a story outline which is planned as a two-hour pilot, and having heard that outline, the network is very excited about it.
Law & Order: Los Angeles
Although Dick Wolf began his appearance at the TCA Press Tour by saying, "We are here today to talk about the future, and basically the past is the past," no one has ever accused TV critics of being able to take a hint, which is why the very first question unabashedly went against his explicit statement:
Can you confirm that "Law & Order," the mothership, is dead?
Even though I think most of us were resigned to its demise, you could nonetheless hear a slight rumbling in the crowd as Wolf replied, "I can confirm that it has moved into the history books." Damn. I'd really been hoping that someone might save the day.
Oh, well, at least we won't be completely without "Law & Order" series. In fact, technically, we'll still have the same number. Since nature abhors a vacuum, in addition to "SVU" and "Criminal Intent," we'll now have "Law & Order: Los Angeles," starring Skeet Ulrich, a man who, by his own admission, has seen almost no episodes of any entry in the "Law & Order" franchise. (The only exceptions, apparently, were a few episodes of "Criminal Intent," and only then because it stars his friend Vincent D'Onofrio.)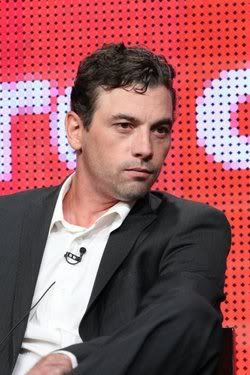 "Basically," said Ulrich, "we had a meeting, we talked about what the show was going to be, and fortunately Dick
felt like I fit into that mold. I'm just grateful to be here."
Ulrich admitted that, having only read one script thus far, he couldn't really offer up too much about his character, but he gave us as much as he could. "He's a second-generation LAPD," said Ulrich. "I imagine there's a lot to come, obviously, in terms of the character development, but he's sort of a brass-tacks kind of guy. I mean, he's to the point. I think one of the descriptions given is whereas it takes (Corey Stoll) many, many words to say something, I can sum it up rather quickly. So he's pretty much an all-business kind of guy in terms of what he sees in his time at work."
Stoll knows even less about his character, but, like Ulrich, he did the best he could to tell us about him. "I think our characters really play off each other in a great way," he said. "I'm a second-generation American, and my father was a DP, and so I come from the entertainment industry. And there's just sort of a skepticism and a street smartness within the entertainment industry that I think I bring."
"I've never played a cop," admitted Ulrich, "and as I've started to delve into this lifestyle — I have friends who are on LAPD and are on the L.A. County Sheriff's Department and stuff – and it's fascinating. I can tell you, living here, I'm extremely grateful for these guys, having gone on a homicide scene recently and seeing what they do. And we are very fortunate to have the police department we have here. And I hope to live up to what it is they do on a daily basis because it is honorable to the nth degree."
Rene Balcer balked at the suggestion that Los Angeles, in addition to having been done to death on cop shows over the years, simply isn't nearly as interesting a setting as New York. "As far as divide between rich and poor, I don't think you get any more dramatic a divide between East L.A. and West L.A.," said Balcer. "The essential difference between New York and L.A. is New York is a big stew of people. It really is the melting pot. And it's also been the site of innumerable TV shows, like 'The Naked City.' So I could argue that New York has been mined as much as L.A. has. L.A. is a mosaic of communities, and I think that's going to be part of the fun of these shows is each episode can focus on a separate community, a separate piece of that mosaic. And though New York has Central Park, we have the beach, which is the great equalizer. It's where everybody goes to. We even have an episode about surfers and the beach and how that played a part in the mythos of Los Angeles. So I think there's all kinds of territory that has not been mined by a lot of shows. We have an episode on an oil rig, for example. So, you know, a lot of things, we can do here that have not been done by other shows."
"One other thing to put to that is that, overall, the shows that have been in L.A., most of them show you one facet," said executive producer Blake Masters. "More often than not, if they're a cop show, they're in one specific area of L.A.: 'The Shield,' 'Southland,' etc. The beauty of our HD is they cover all of L.A. County so that we can go and show very specific areas, and we only have to be there for one episode. We can go to Koreatown for an episode. We can go to East L.A. for an episode. Then we can go to the beach for an episode. So the idea is you'll actually get a much wider variety of socioeconomic places."
Facing Kate
I'm always embarrassed to go into a panel without having seen the show that it's dedicated to, but in my defense, it's not like we were provided with an advance screener. Our only option to watch the pilot was on the Beverly Hilton's TCA channels, but although the networks kindly provide us with the opportunity to watch their shows' pilots, they only show them late at night and early in the morning, and…well, I tend to be asleep at both those points, frankly.
Here, however, is what they have to say about "Facing Kate" on the USA Network's website:
"Facing Kate" centers on Kate Reed (Sarah Shahi), a top litigator who has grown frustrated with the endless bureaucracy and injustice she has witnessed on a daily basis and decides to become the ultimate anti-lawyer — a mediator. Using her knowledge of the law, along with intuition and a whatever-it-takes approach to resolve conflict, Kate finds the middle ground for a wide variety of adversaries — from Fortune 500 corporations to bitter divorcees. Following the unexpected death of her father, she finds herself at odds with her new boss, her stepmother (Virginia Williams) — and back in bed with her lawyer/ ex-husband (Michael Trucco). Helping her keep all of this chaos at bay is her trusted, geek-chic assistant Leonardo (Baron Vaughn).
Executive producer Michael Sardo went into a little more detail on Kate's profession, for those of us who aren't legal scholars.
"A mediator can be someone who's just trained to resolve conflicts, or lawyers can resign from the bar, which is what Kate
has done, to become a full-time mediator," he explained. "In mediation, you basically bring people into a room who are in a conflict, and you resolve it according to the way that they want to resolve it. Mediation is exploding in this country. It's exploding all over the world. In China last year there were 7 million mediations. In Florida, you can't get divorced in a court until you've gone through a mediation. And what it requires is simply sitting down face-to-face with the person you're having a conflict with and talking it out. In courts, on a regular law show, you have all this artifice around, and you have someone speaking for you and speaking instead of you, whereas we just get right to the heart of it and do our little anti-law law show where you put two people in a room in conflict, send in Kate, and things happen."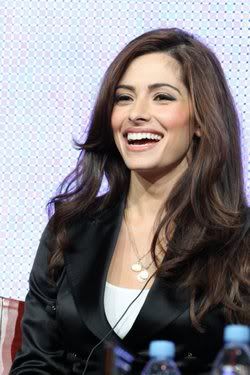 Shahi was cast for the role of Kate because, unlike those who auditioned before her, she impressed Sardo with the way she reacted to a moment within her scene: she's waiting in line for coffee, a guy comes in to rob the store and pulls out a gun, and another guy pulls out a bat.
"The reason we cast Sarah, in addition to her loveliness and her acting ability, is that we had looked at 100 women, and in that scene, whenever someone pulled out a gun…and there was no gun, it was just someone saying, 'Give me the money'…100 people backed up, and Sarah was the only one who moved toward it and went, 'Whoa, whoa, whoa!'" said Sardo. "Because you can't solve conflicts from a distance…and in life, I think (Sarah is) a little bit of a conflict divining rod. Kate is someone who's very comfortable with conflict and moves toward it and solves it, and if she walks into a room where there is none, she stirs some up."
"Except in her own life," added Shahi. "She doesn't have as much gumption in her own life as she does in the work force to confront some of her own issues."
As far as what we can expect from the series, Sardo says that cases will come to Kate in different ways.
"Each one, in the writers' room, we discuss in terms of a question," he said. "'What is your identity?' 'What is a life worth?' 'What is a hero?' The episode after the pilot involves Kate negotiating a settlement between the City of San Francisco and the lawyer for a man who was wrongly imprisoned for 22 years for a crime he didn't commit, and though initially it's about the settlement, what it becomes for Kate is about healing this man who hasn't dealt with this 22-year lapse who wants to go right back to where he was when he was 19. The show we just shot is 'Who is a hero?' and 'What is a hero?' and involves a woman who served two tours of duty in Afghanistan, but not until high school did she find out that she wasn't a legal citizen of the United States. So she bought a Social Security number from a woman she believed to be dead and served two tours in Afghanistan as a hero, and it wasn't until she came back to the States and tried to get a credit card that she found out the woman was alive. That gets reported to immigration, and Kate, in trying to clear up the credit problem, winds up with a woman in jail in immigration who's going to be there for nine months and sent back to a country where the language spoken is not one she's ever spoken because her parents raised her to be the all-American girl. So each one deals with a fundamental precept of the human behavior."
The Last Word with Lawrence O'Donnell
I'm not a news junkie, so the name "Lawrence O'Donnell" doesn't mean anything to me personally, but if you're a regular MSNBC viewer, you almost certainly know him, since – as Phil Griffin, President of MSNBC, noted in his opening remarks – he's been with the network since the very beginning.
"We debuted July 15th, 1996," said Griffin, "and Lawrence was the first guest in the first hour, at 9 AM. Now, here we are 14 years later, and he has a show at 10 PM."
"Yeah, I've said it before: I've been working part-time there for 14 years, and we've finally gotten to know each other well enough for me to go full-time," said O'Donnell, laughing.
As for the title of the show, it came to him on a flight. "I just started thinking about, 'What should I call this thing?' And I started thinking about, 'Well, it's going to be the last word of the day,' and I realized there was a title in the concept that I started thinking about, which is the last word. For people who have been following what's been going on from 'Morning Joe' maybe through the day through our primetime schedule, at 10 o'clock we'll be able to deliver a succinct and real last word on that subject or where a particular news story stands at the close of our news cycle. And I think what we'll also have in the show is my last word on certain things: 'This is what I think you need to know about this. This is what it comes down to.'
"There will be nights when I'm handing the last word on a subject to a guest, and it could be someone who I agree with. That will be very likely. It could also be someone who I'm not sure of or who I might not agree with. It's conceivable to me, for example, that somewhere in the hundred days of the BP coverage, I might have given the last word to a BP executive on whatever their tactic was on that particular day that they thought was going to be the new advance on how to solve this problem. That doesn't mean that what that person is saying is the final truth on something, but it might be the most important point to know as of this point in the development of a story.
"I'm at the beginning…or maybe it's the middle…of the creative process of coming up with this show," O'Donnell said. "It's an interesting experience for me since I've only done this on the entertainment side and the drama side, creating television. And I'm finding that…at first I thought there were no translatable skills from that side of the TV box to this side, but it's been a great few weeks now sitting around with Phil and others, trying to figure out how to deliver what it is I think we want to get delivered at 10 o'clock. And so we're in the middle of that. I think some of the questions you might have about what this show is going to be like…? The truth is I don't know yet. Some of it I do. Some of it is in my head in a way that I can't really articulate. But it will be broadcast quality by September 27th."
Outsourced
Most controversial series of the new season? Possibly, though having seen the pilot for "Outsourced," it strikes me as little more than a tempest in a teacup. Not being in any way Indian, perhaps my perception of what is or isn't offensive to Indians shouldn't be considered the definitive barometer of good taste, but I just saw the show as a culture-clash comedy which is more about poking fun at clueless Americans. Again, though, that's me, ever a possible poster boy for Very White Americans everywhere.
"I think where we approach this is certainly not a mean-spirited place," said executive producer Robert Borden. "A lot of us have a life experience that's relevant, and a third of the writing staff is Indian, so we're not going to be wallowing in (Indian stereotypes), but we are going to have a lot of fun with characters who behave like relatable characters in a workplace comedy. For example, Parvesh, his character is modeled after that guy that everyone works with that will not stop talking to you. If you talk to them in the break room, they're going to follow you out and talk to you on the floor, so you can't get rid of the person. That's neither American nor Indian. That's how we're approaching the show.
"We're going to deal with culture clashes," Borden continued, "and both sides of view will be represented. For example, down the road we're going to have one character, Asha, starting an arranged marriage, something that the Western characters perhaps don't understand and disagree with. And she's going to represent her point of view by questioning Western marriages. 'You know, 50 percent of your marriages end in divorce,' and our character here, at a loss for words, will say, 'Well, we crushed you in the Olympics.' Like, he has no response for that. So we're going to be dealing with cultural clashes in that way."
Diedrich Bader is particularly excited about his character, Charlie, one of the resident Americans on the show, because it gives him a chance to be the guy who says what everybody else is thinking.
"It's not exclusively American," said Bader. "You know, like a Frenchman will want to go and hang out in the French community when they go to, say, Germany or something like that. I remember when I was a kid in France, there'd be a Mickey D's there, and I would think, 'Why would an American come all the way here and go to Mickey D's?' Well, a guy like Charlie would be that guy. He would be that guy that would be at McDonald's going, 'I just want what I want. Give it to me. I want it hot.' He just tries to replicate his world wherever he goes, and for him, it's really just a job, but it's not without interest, you know. But the interest is mostly that he gets paid."
For what it's worth, the Indians amongst the cast don't seem to be terribly offended by the show. Yeah, I know, they're getting paid, so there's an incentive to not be offended…but, dammit, for some reason, I believe them.
"I think a lot of people are commenting on the East, the Indian side," said cast member Sacha Dawan. "I think with 'Outsourced' it's very much about the West as it is the East. I think people assume that the gap between the East and West is so huge. I think what 'Outsourced' is doing is kind of making that gap very small and making loads of comparisons and similarities. Like my character, Manmeet, or 'Man Meat,' is, you know, very close to Todd. You know, they're kind of roughly the same age, and they have a lot in common even though they're from different sides of the world."
"I'm Indian, or that's what my parents told me," said Rizwan Manji, "and my friends and family, they've seen the trailer, some of
them have seen the show, and surprisingly, they are very supportive and find it hilarious and quite accurate."
"Also, a call-center job back in India is a really, highly prestigious job," said Parvesh Cheena. "My mom was back in India when I found out, just visiting, and I called right before I got on the plane, and the whole family at the wedding just freaked out and erupted, and they're excited."
"I think all my family and friends are just really excited to see such a large Indian contingent on television," said Anisha Nagarajan. "They're just really excited that that's happening and that we're getting out there."
Outlaw
"Outlaw" may be the fastest moving and most preposterously plotted drama of the new season, with Jimmy Smiths playing a conservative Supreme Court Justice who decides to throw caution to the wind and quit the Court in favor of traveling the country trying cases, some of which go against everything he's ever believed in his legal career. So why is it that I walked away from it, thinking, "Ah, maybe I'll give it a chance, anyway"?
Behold the power of Jimmy Smits.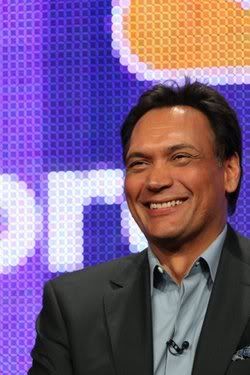 "One of the joys about doing this show with Jimmy in the part is that he has a body of work that I think the public feels is virtuous and liberal," said executive producer John Eisendrath, "and he's going to play a character filled with vices who is conservative, so I feel like we will have a great deal of leeway to lean into the vices, to let Garza do and say things and be certain ways that we might not otherwise be able to do without someone with Jimmy's persona playing Garza. I think that there will be many instances where he will play with fire, and he will risk a great deal in order to seek the justice that he's set out to do. And I wouldn't suggest that it's just in his professional life that he's going to toe that line. I think there will be many instances in his personal life too where he will do things that the audience will be like, 'Oh, wait, he can't do that. Oh, but I love Jimmy Smits. He's got to be doing it in a way that we like.' So I think that we will have him pay a price sometimes, but I think part of the joy will be to see him toe that line and find a way around the barriers that other lawyers and other judges live by. The whole point is that he's going to not stop at the line that everyone else stops at in his quest for justice. He's going to find a way around the barriers."
There's another thing that's kind of ridiculous about this show, and that's that the character of Garza is about 100x more in-your-face than any Supreme Court Justice we've seen in many moons: he's a gambler, he employs a sexy private investigator who wears leather and flirts up a storm whenever an opportunity to do so presents itself…in short, he couldn't be less private if he tried.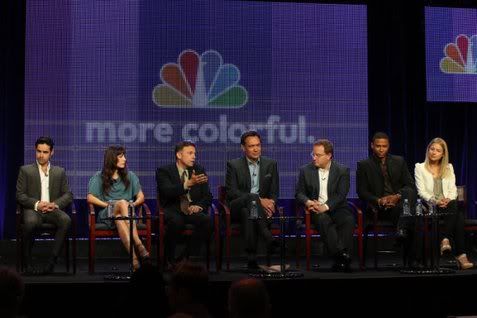 "I would say that the point-of-view character on this show is unlike any point-of-view character on another legal show you'll ever see," said Eisendrath. "It is about, yes, a Supreme Court Justice. None of them ever leave that way, so is it a heightened reality? I would say that it is in some ways a little bit of a fantasy. Every week they are going to go to a different city, taking up a different cause. One week it will be Detroit, Miami, Los Angeles. And wherever the case is that Garza thinks needs the most attention, looking out for the little guy, fighting against the system, this group will parachute in. Wouldn't you want this lawyer and this legal team to come to your city to represent you in the case that matters the most to you? "
"There's a certain amount of license," admitted executive producer David Kissinger. "But, you know, the reality is there were colorful Supreme Court Justices. I'd say the current group is probably, given the process that they have to go through, a little bit tamer. But people like William O. Douglas, who we talked a lot about in the development of this, had some very Garza-like qualities. So it's not as far-fetched as I think you're suggesting."
"For me, the bottom line is what's on the page," said Smits, "and I think it was an opportunity to deal with legal matters and hot-button issues that are substantive in terms of a legal show but, at the same time, have a character that is outside the box in a lot of different ways. And since we're at a point where we're logger-jammed in terms of the political right and left, the fact that, because of what happens to him in the pilot, has made such a radical switch and then surrounds himself with a team of people that have different types of political viewpoints, it does give an opportunity for us to tackle these hot-button issues in a new and kind of fresh way."
Chase
I hate to break it you folks, but I found this to be the least interesting pilot amongst NBC's crop of new series for the fall. Sure, it's full of action, but by the time the closing credits rolled, I couldn't tell you a single thing about a single character…and it's an ensemble show! Some of my fellow critics have shrugged and said, "Well, that's what you expect from a Jerry Bruckheimer produced series," but, look, I like most of Bruckheimer's productions and I still think this is a big ol' bore…and the fact that NBC could only spare 20 minutes for the panel for "Chase" made me suspect that perhaps the network felt the same way.
Apparently not, though…or, at least, that's what executive producer Jennifer Johnson thinks. "NBC has been so incredibly supportive," she said. "I believe them when they tell us that it's their favorite show. We are thrilled to be with NBC."
Maybe NBC does feel that way. After listening to "Chase" star Kelli Giddish talk about the series, I'm beginning to think I might've missed something. I mean, I'm pretty sure I didn't, but, damn, she's just so enthusiastic…
If Giddish looks familiar to you, then you must've been one of the few people who saw her as the star of Fox's short-lived midseason series "Past Life." Obviously, she managed to land on her feet, but if you go back and check the dates between when "Past Life" was canceled and when she was picked up for "Chase," you'll see that she barely left the ground in the first place.
"I think Fox had made the call after a couple of episodes it aired, and thank goodness they did and let me go, and Warner Bros. as well, because they're the studio that did the show. They let me come over here, and I got it," said Giddish.
Giddish launched into her new endeavor with all due enthusiasm, proving from the moment she stepped foot on the set that she was ready for anything. "It's called 'Chase,' baby," she said, laughing. "I show up on set the first day of filming, and they say 'All right. You signed on. Go.' So I did, and I was sprinting the entire first day."
Prior to moving to Texas to film "Chase," Giddish was in decent enough shape, but there's more to playing a U.S. Marshal than just being fit. "I went down to train with the U.S. Marshals because…I mean, I'm from Georgia, I've been around guns, but, you know, I hadn't gone and actually trained," she said. "I got to do five days with them, riding around for 15-hour days, hearing the stories, serving warrants, and going out and really getting with the guys. A whole day of firearm training with five different types of firearms. It was absolutely awesome."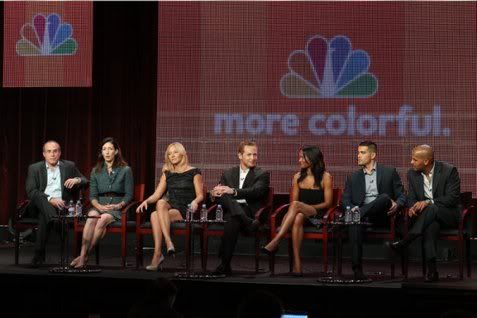 That's as may be, but I'm still not convinced that "Chase" itself is absolutely awesome. Still, Johnson's assurances about what we can expect from the series sound good, anyway.
"We hope to keep the audience on their toes with very unexpected moments with the fugitives," said Johnson. "With my background on "Lost" and "Cold Case," a big difference of this show is we are really going to get to know the fugitives and then really get to know our U.S. Marshals, so the two points of view really make the show stand out."
We'll see about that.
Hunting Hollywood
I won't be spending long on this show…not because it doesn't sound interesting, but because it serves to remind me of how, when Sci-Fi changed their name to SyFy, they did so with the comment that they could therefore open up their programming and not limit it solely to science-fiction-related series. That really pissed me off. I mean, what, like there's not enough room on the cable dial for a network that's 100% science fiction…? Instead, they've taken to putting shows like this on their schedule…which, annoyingly, I would probably watch if it was on another network. I just don't want to personally encourage SyFy.
Still, you deserve the right to watch it if you so desire, so here's the deal with "Hunting Hollywood." Treasure hunter Joe Maddalena tracks down some of the most sought-after showbiz and pop-culture memorabilia, ranging anywhere from Margaret Hamilton's original Wicked Witch of the West hat from "The Wizard of Oz" to Mary Poppins' carpet bag to original art from issue #12 of "The Fantastic Four" (first crossover with the Incredible Hulk), featuring Stan Lee's original notes in the margins.
See what I mean? It's an awesome concept…dammit.
Executive producer Jerry Shevick swears that SyFy was always his first choice for the show. "We had several offers for the show," he said, "but we thought Syfy was perfect for us for two simple reasons. One, obviously, all the sci-fi, fantasy, horror stuff — that's a big portion of Joe's business in the memorabilia and collectible market, so, you know, we had a good overlap on Syfy's core audience. The second big reason is…what we liked a great deal is with Syfy's expanded branding now with 'Imagine Greater' and everything, all of these kinds of objects that Joe and his team are going to be tracking down really are so much more relatable to a broader audience, and so again, we thought that with where they're going, it fit our show just perfectly. We really have the best of both worlds."
Make no mistake: Maddalena's got some terrific tales to tell, including one about a client who found an original poster for "Frankenstein" – valued at a million dollars, the most expensive movie poster in the world – in a trunk at a yard sale…and they'd gotten the trunk for free! Great story. I just wish "Hunting Hollywood" was airing somewhere else, so that I'd have more of a desire to watch it.
Destination Truth
I have to admit that I don't regularly watch the show, but I do at least know that it's at least an appropriate show for the network, so it gets a pass. (I know, I'm sounding ridiculously hard-ass about this. But I feel very strongly about it.)
According to host / executive producer Josh Gates, "New episodes come back on September 9th, and we're going to be in the Pacific and Micronesia, the world's very first overnight at Angkor Wat in Cambodia. They've never allowed cameras in there before. So we're really excited about that. Our season premiere is going to be in Pompeii in Italy which is a really terrific episode, and then a bunch of stuff in various countries in Africa. So it's a big season."
School Pride
Cue Will's inevitable comment about not being a huge fan of reality shows, but even if I probably won't watch this one, it certainly has its heart in the right place. From executive producers Cheryl Hines and Denise Cramsey, "School Pride" is described by NBC as "a pro-active, alternative series that tells the stories of communities coming together to renovate their aging and broken public schools."
Hines got involved in the series as a result of her daughter…sort of. "Don't ask me why, but I was inspired to reach out to schools," she said, "and my first thought was to reach out to schools in other countries that were in need. And my friend said, 'Well, what about our country? What about our schools?' And I foolishly said, 'Oh, I think we're OK.' And he said, 'No, we're not OK.' And at the time, I was volunteering with Read Across America, a reading program. And I was volunteering at this school in Compton. And I literally just picked up the phone and cold-called the principal there, a woman named Dr. Jackie Sanderlin. I said, 'I don't even know why I'm calling. Do you guys need help there?' And she said, 'Yes, we do. When can you be here?' And I got in my car; I drove over. And Jackie and I started working together. We started renovating her school. And my friend said, 'This should be a TV show. You should show the country what you're doing and how to do it.' And I said, 'That sounds really hard.' And then Denise Cramsey and I met, and she made it seem easy. It's not easy, but she makes it seem easy."
"The whole idea of 'School Pride' is to bring the community together, to empower the community to make changes in the school," she said. "We're not going in and changing the infrastructure of schools. We're going in and saying to that school, 'Reach out to your community, to local businesses. Everybody join together with the district. Work together and show the kids that you care about their school.'"
"And we've had great cooperation from the cities and the towns that we've been in," said Cramsey, "so that, you know, everyone gets behind the idea of the school project, and they just help us get it done."
"When people in their own community get together and say, 'Regardless of what what's going on in the world, we're going take care of our community and we're going to take care of the people around us,' I think you can make changes because it doesn't seem like we have to change the world," said Hines. "It seems like we just have to take care of our community and each other. And I think when you break it down…you know, I was calling one other person. I wasn't going to Capitol Hill and banging down their door, not to say that I wouldn't do that because it's probably in my future, but…what you can say is, 'What can I, as an individual, do to make one tiny bit of difference?' And you find out, actually, you can do a lot. And even if it's just on one Saturday out of the year, it could really mean a lot to those 600 kids that walk through the door of that school. It doesn't feel so overwhelming, and it feels doable. That's what we're trying to do with 'School Pride.' We're trying to show people what they can do."
Late Night with Jimmy Fallon / The 62nd Primetime Emmy Awards
The last time we saw Jimmy Fallon at a TCA event, he was just preparing to start his talk show and seemed more than a little bit nervous at the prospect of stepping into Conan O'Brien's shoes as the host of NBC's "Late Night." These days, he's had enough to success to earn himself a pretty high profile side gig, too: serving as emcee for the 62nd Primetime Emmy Awards. But don't expect to see too much crossover between the two shows.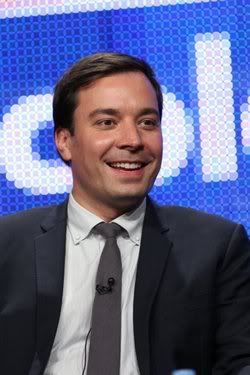 "The Emmys, I think, is not 'Late Night with Jimmy Fallon' hosting," said Fallon. "It's me hosting. So I don't want to push too hard. I want the Academy to be happy, and I want Don Mischer to be happy, and I want NBC to be happy. You know, it's not really about me. It's more about celebrating television and getting all of those face time."
Fallon took a few minutes to step into the Wayback Machine and reminisce about his very first show, which featured an interview which he's able to admit wasn't exactly the best of all possible starts.
"First of all, I just want to say how cool Robert De Niro was to come on the show," began Fallon. "He had nothing to promote. He just did it because he's a New Yorker and I've worked in the past and he did me a favor. That being said, he does not like to talk. It's a lot of head-bobbing and one-word answers. But I figured, 'Baptism by fire. Jump into the fire, baby, let's see what it's going to be.' And there's so many things that I wish I could have done. I wish I could have made the temperature cooler, because I was sweating so much flop sweat during that first show. It was like I just came off a water slide. Oh, my God, I was so dewy during that interview. And I was like, 'Whaaaaaaa…' And, of course, it's your first show, which…I don't know why anyone does this, but my mom and dad want to come to the first show. And I go, 'Can't you come to the tenth show? Can't you come to anything, but not the first.' There's so much pressure, you know. And I'm worried about if my mom. Is she going to sit in her seat? What if she has to go to the bathroom? Who's going to take her? I got to worry about these things. I gotta worry about the show!
"I just remember going, like, 'Well, now, this is it.' I was behind the curtain, you know, just standing there. Higgins was announcing. If you go back and listen to it…oh, my God, Higgins is even off. He's, like, 'Live from Studio from 6H…NBC…Jimmy…' It's like the worst intro ever. And I was just standing, like, all right. And it's almost like when the curtain opens, like you've seen that shot in movies before where, like, the curtain opens and you just see the silhouette of the comedian walking out like a gladiator. And I was, like, 'It's on. This is it.' It's, like. game on. And I think I had a good first joke. I forget what it was. I think someone was…was Rush Limbaugh rooting for me to fail? I think that was the first joke, I think. He just said it about Obama. It's a dated reference now. But I remember going out there, and I go, like, 'This is just it. You just have to do it.' And I was so nervous about time cues and going out to commercial and, like, OK and just the story's getting good, I cut him off and go like, 'Thank you. We'll be right back, bye. Thank you, bye.' And it's like…now, a year later, I know to just keep going, or if it's not working, to go to commercial. I'm much more calm, and I kind of understand it better now. It's, like, 'Oh, we don't have anything to worry about.' But the best way to learn is that you have to just do it."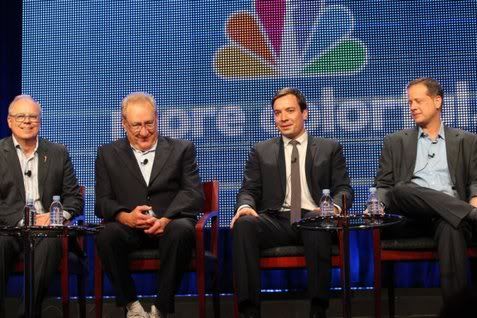 Okay, back to the Emmys to bring this thing home. What can we expect from Fallon as the host of the show?
"Personally, as a fan of the Emmys and a fan of awards shows in general, you just want them to move along," said Fallon. "You just want to keep them moving and keep it fast and tight. And so I think…I mean, we're all with the same goal in mind. I mean, even the people in the crowd. I mean, there's just like, 'OK. I already lost. Let's get this over with. I mean, I want to keep it moving and keep it fresh and fun and respectful, too. We're going to do something with Twitter. We haven't figured that out yet, but we have a couple of ideas for that just so maybe the people at home can somehow get involved with the award show somehow, make it a little bit interactive."