And there may be some actual news mixed in here. Maybe.
* The big story today is that a lot of people have sussed out the the 23rd James Bond movie is, according to the possibly not-so-super reliable UK tabloid "canned." Obviously, the same fiscal black hole at the once mighty MGM that is screwing things up royally for "The Hobbit" is also at least delaying the latest entry in what has to be the longest-running franchise in movie history.
He may be a bit emotional, but it's hard to disagree with the passion of Harry Knowles on this, while Kevin Jagernauth provides some necessary background to the story. I agree that it's a bummer this is happening during the era of Daniel Craig. As far as I'm concerned, Craig is easily the best Bond since Connery.
* There's been a bit of a debate on Facebook about the appropriateness of some people's more humorous/snarky reactions to the news that Lindsay Lohan is going back to jail for ninety days for parole violations. I'm of two or three minds on this, but I think the bottom line is that of course these things are tragedy but that, as we all know, comedy is tragedy in longshot. Also, I think some of the derision is based on Lohan's reputation for not always acting like a particularly gracious person, to put it mildly, and also her getting some unusually open criticism from some highly venerated costars.
Of course, being nice to people isn't always easy to do when you stoned out of your mind and being a good coworker is all that much harder. On the other hand, there's never an excuse to be cruel and Hollywood has plenty of schadenfreude already. In fact, I'd like to call a permanent moratorium on it.
I will say that Robert Downey, Jr. — despite being quite well liked in Hollywood and one of the best actors of his generation — took his share of lumps from late night comics and others for his years long drug related problems. Whether or not it's right to make fun of Lohan for her troubles, practically speaking, she would be well-advised to develop a thicker skin and a sense of humor about all of it the way Downey did, assuming she can stay alive of course.
In any case, her speech to the court was a good one. Aside from staying clean and sober, what she really needs to do when she gets out is to knock everyone's socks off with some really good performances.
* I can almost feel the cinephile backlash building as it eventually did — to a limited degree — for "The Dark Knight," but the early — somewhat geek heavy — reviews for "Inception" are looking extremely good. You might expect someone like AICN's Mr. Beaks to have a cineorgasm over the film from geekdom's favorite director, but the geek friendly but nevertheless discerning and cinephile-esque Anne Thompson dares to call it a "Kubrickian masterpiece." I like Nolan's films overall quite a bit, but he's lost me before ("The Prestige" did nothing for me) and I don't really consider him a great even in the making, but we'll just have to see.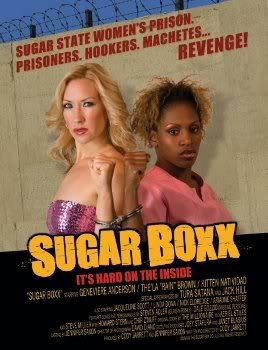 * The pulse-pounding women-in-prison spectacle of all time, "Sugarboxx," which includes yours truly as a featured extra who meets an unpleasant end at the hand of rampaging female convicts and features exactly one line co-written by me with auteur Cody Jarrett, is available on demand on several cable systems including — though not limited to — Time Warner, Cox Cable, Bright House Networks and Charter Cable for just a couple more weeks — and then, that's it, at least for now. I'm going to start reminding you about this again, so be prepared.
* Speaking of movies made for budgets that wouldn't cover the coffee budget on a standard Hollywood film, Anne Thompson has a much needed update on Insurge, the micro-budget division that Paramount set up some time ago, with the idea of giving out $100,000 for edgy projects. There have been some roadblocks because the unions and guilds won't stand for Paramount trying to get all the perks of being an impoverished indie producer, which I think is only fair. Still, doing a lot more films for vastly smaller budgets is a great idea and I hope they figure this thing out.
* Memo to Nikki Finke: The recent college grad son of a powerful and respected Hollywood player gets a job in the mailroom of a management company and it's news? On the other hand, I'm glad Sam Grey is a Preston Sturges fan. Way to get on my good side. And, yes, I'm convinced Hollywood would be a better place and make better movies if more people would watch films made before 1980. Or 1960. Or 1940. Or…
* Returning to the topic of "Inception," Joseph Gordon-Levitt is apparently the film's action-star in terms of having to do some pretty complicated and apparently quite painful stunts. This Details profile cover story, which got e-mailed to me by someone there, makes him sound like somewhere between a blissed out cartoon character, a pot-appreciative Jimmy Stewart, and an interesting, manic, guy who gleefully subjected himself to all kinds of punishment while working on Nolan's film. Also, apparently he likes to be called "Joe," which, as a Bob, and never a Robert, I can appreciate.